Expert Electrical Enclosure Manufacturer
Fabricated electrical enclosure for any of your specifications and industry, NEMA 4R to NEMA 12.
Both standard and custom enclosures are available. High strength stainless steel and carbon steel panel. Full Certification and Testing Report.
Your Premier Electrical Enclosure Supplier
KDM electrical enclosures are made of steel, stainless steel (including 201 stainless steel, 304 stainless steel, and 316 stainless steel), and galvanized steel. As a professional electrical enclosure manufacturer, KDM can provide any type of custom-made metal electrical enclosures based on your detailed requirements. KDM electrical enclosures are ideal to protect your components and electrical wiring against different weather conditions, such as rain, dust, dirt, oil, etc. You just send us your drawing ,and KDM will make perfect enclosure or box for you.
KDM Electric Enclosure Series
Free standing electrical enclosure is similar with the free mount electrical enclosure.
Wall mount electrical enclosures are usually installed on the wall. You can use them for both indoor and outdoor.
Floor mount enclosures can be made as stainless steel and carbon steel. Fully customized as your industry need.
High quality modular electrical enclosure to protect your net wire and components such as wire system etc.
Stainless steel enclosure, Customized to any designs, with/without window, All NEMA grade etc
KDM is Your professional galvanized steel enclosure manufacturer, custom your enclosure for your specific industry.
Electrical Enclosure by Materials
(6)
Electrical Enclosure by Features
(6)
KDM Electrical Enclosure Features
Protection
Electrical enclosures are conformed to specific standards of different classes. It complies with different protection criteria such as rain/corrosion resistance and submersion protection.
Safety
The main function of an electrical enclosure is to provide safety to workers and equipment. It can protect the equipment from hazards such as arc flashes. It also features safety designs like access ports and viewing windows.
Climate Control
Controls and electronics within the enclosures can be protected if the enclosure's heating and cooling loads are managed effectively. Thus, providing lower energy consumption. Options for climate control enclosures include enclosure heaters, heat exchangers, etc.
Load Bearing
KDM electrical enclosures can support more than 3000lb without the cost of thick-skinned and all-welded construction.
Electrical Enclosure & Cabinet Solution
KDM Electrical Enclosure precision:+/- 1mm tolerance for overall cabinet size
Standard Configuration: Gland plate, radiating fan, fluorescent lamp, lamp switch, ground connections, PU foaming seals.
Warranty: 1 year warranty for KDM electrical enclosure, you will get free accessories within our warranty
Advanced Electrical Enclosure Manufacturing
KDM has the advanced equipment to produce first-class enclosures. 4000W laser cutting machines can work with +/-0.05mm tolerance.
They cut steel sheets in great power so no burr or marks will leave in the cutting area. The Germany multi-functioning flexible welding equipment enables us to weld all enclosures in the same standard without deformation.
Custom Options for Your NEMA Enclosure
KDM can custom your enclosures to suit different applications. We offer different enclosure materials for different environment applications. We also provide various accessories options such as din rail, roof canopy, bakelite plate, etc.
We can install enclosures with standard electrical parts such as ventilation fans, light, and so on. For details, please inquiry us.
More Manufacturing Process for KDM Electrical nelcosure
All KDM electrical enclosures are manufactured to satisfy the NEMA standards with specific ratings according to your requirements, including NEMA 1, 3, 3R, 3S, 4, 4X, 6P, 12, and 13 ratings. As the industry-leading electrical enclosure manufacturer in China, KDM is able to provide you with the highest quality NEMA enclosures at the most competitive price.
Electrical Enclosures According to NEMA Standards
Type 1 NEMA electrical enclosures are referred to as general-purpose electrical enclosures. It is commonly used for housing indoor appliances and equipment. These electrical enclosures are primarily used to prevent contact with the equipment's live part that will cause electric shock.
Aside from that, Type 1 NEMA electrical enclosures are constructed to protect the equipment from water splashing, dust, dirt, and other foreign objects.
Type 3R NEMA electrical enclosures are constructed for outdoor and indoor electrical equipment. It is designed to provide protection to the equipment against falling ice, snow, and rain.
Mostly, this equipment features bottom and side knockouts. Thus, preventing the water from contacting the equipment's live part or operation interference under specific conditions. It also protects the user from getting electrical shock by preventing contact with the live part.
Electrical Enclosure for a Wide Range of Applications
Electrical enclosures are used for low voltage lighting to protect electrical equipment from weather elements. It also provides maximum protection to users from the dangers of touching naked wires. Aside from that, electrical enclosures can also add an accent to the lighting.
For outdoor power projects, the circuit is well-protected by using an electrical enclosure. Telecommunication, internet connection, and other equipment that needs waterproofing are protected using electrical enclosures.
Waterproof electrical enclosures are used for pool installations to ensure that the pool electrical wiring will not be exposed to the water. Using a waterproof electrical enclosure to pool installations can protect electrical equipment. Thus, preventing fatalities or injuries to those swimming in the pool.
Electrical enclosures are used for protecting wire connections on-farm, lawn, or garden. It also holds the electrical wiring of the energy source in place. Thus, protecting the user from electrocution.
Why KDM is Trusted By Over 1000 Global Clients
Enclosure Manufacturing
2D Drawing
3D Drawing
Buying Guide
Electrical Enclosure: The Complete Guide for Importers
If you're looking for an electrical enclosure, then this article is for you.
Reason?
I am going to take you through every important aspect about the electrical enclosure.
From electrical enclosure design, material, safety standards, installation, etc. – you're going to learn everything here.
Guess what, by the end of this guide, you will be an expert in electrical enclosures.
Let's get started straight away;
What is an Electrical Enclosure?
Broadly speaking, an electrical enclosure refers to a casing for electrical and electronic components and equipment.
It somewhat looks like a cabinet and has doors which are incidentally lockable to for safety and preventing interference from unauthorized personnel.
Different types of electrical enclosures
This equipment allows for mounting of items such as knobs, switches, as well as displays.
Well, the primary purpose of this tool is to protect the electrical and electronic parts.
Again, it helps to protect individuals from coming into contact with these components which can be hazardous.
Primarily, this equipment prevents you or any other person from possible electrical shock or propagating explosion.
It is also useful for protecting the electrical items from the environmental factors that would trigger accidental electrocution.
Interestingly, it is only the electrical enclosure that is visible among users.
In most cases, the design of this unit is always to fit the utilitarian reasons.
But in some instances, it can be designed to appeal to the eyes.
Nonetheless, the regulations may somewhat determine the specific properties and performance of these enclosures.
For instance, in areas regarded as high risk such as coal mines and petrochemical plants among others.
The bottom line, however, is that several factors tend to determine the packaging of these enclosures.
By the way, we will discuss more of these later on in this guide.
So ensure that you read it until the last paragraph.
For now, though, let's first look at some of the common types of these equipment you'll probably come across from time to time.
Benefits of Electrical Enclosure
Well, we all know that electrical devices generate heat hence raising the temperatures within the surrounding.
But for efficiency, it is only appropriate to make sure that you figure out effective ways of maintaining ideal temperatures of the instruments.
So the electric cages present quite a lot of benefits all round.
And since these are equipment that you've always seen in different environments, try to imagine life without them.
This way, you can be able to know the pros of these devices.
Electrical boxes
Clearly, it can be horrible, messy, hazardous and life-threatening in all aspects.
Some of the advantages of electrical enclosures include the following;
§ Enhances the Safety of Employees
As you'll find out later on in this guide, almost all applications of electrical cages revolve around the involvement of people.
Mostly, I'm trying to say that in most of the uses of electrical enclosures, people are always within the surrounding.
So it is vitally important to safeguard the life and wellbeing or individuals as they undertake various tasks inside and outside the factory.
Use of electrical enclosures guarantees the safety of employees whom some work close to the locations of these items.
Ordinarily, the devices inside this cage can at time generate excess heat which tends to make the people around somewhat uncomfortable.
The workers can also get electrical burns and shock when they come into contact with any exposed electrical components.
And in the worst instances, they might as well succumb due to severe electrocution.
But electrical enclosures prevent such incidents from occurring.
It is also ideal because it prevents you from hefty avoidable compensation should employees file workplace injury lawsuit against you.
§ Improves Safety of Equipment
Typically, most electrical devices generate heat.
This heat can seriously damage the equipment in any case you do not find a way of removing it.
For instance, it can lead to insulation damage, failure of the entire system and in some instances failure of particular components.
So generally speaking, when you use electrical enclosure you can lower the temperatures of the heat that dissipate from the equipment.
Still, on the same subject, these enclosures prevent the devices from environmental elements such as chemicals, water, and dust.
What happens is that in many cases electrical appliances when openly exposed they risk getting in contact with such elements.
And so the cages enable them to stay away from such elements, which in a significant way safeguard them.
It is imperative because in a significant way it helps to enhance the durability of the equipment.
Consequently, it prevents you from unnecessary repairs or in some instances replacements.
And as you know, safe equipment increases efficiency hence improving overall productivity.
§ Reduces Risks of Fire
Overheated electrical equipment can easily explode or be a cause of the fire.
When the insulation damages, short-circuiting is more likely to occur which again results to fire.
High temperatures that the equipment generate also increases the likelihood of an explosion resulting from flammable elements.
And if you have flammable gases or vapor, the heat from the devices might as well increase chances of auto-ignition.
Incidentally, you can prevent all these from happening especially if you can have all the electrical equipment in a controlled setting.
And it is the reason it would be vital to have all such devices inside an electrical enclosure to prevent them from happening.
§ Ease of Operating
You see, the electrical cages often offer a central position for connection of all the electrical equipment.
And this is particularly important in relatively large industries or applications.
Fundamentally, synchronization of all these connections happens at this central point thus making it easy for you to operate the machines.
And this makes the entire production process quite easy, systematic and useful in a considerable aspect.
You wouldn't necessarily need to repair the electrical system of the entire unit from specific equipment.
§ Appealing to the Eye
Yes, this is an advantage!
The design construction of electrical enclosures adds suitable attractiveness in the areas they're located.
In fact, even the arrangement of the electrical devices inside this cabinet is incredible, well-organized and maintains visual appeal.
It is unlike leaving all the cables and switches scattered all around the premises of the factory or even the office.
So you'll come to realize that these cages are also helpful in enhancing the overall appearance of the surrounding location.
Types of Electrical Enclosures
Different projects require a variety of electrical enclosures ranging from small wall mount to walk-in buildings.
So it generally means that you may need to use a specific type of cabinet depending on the type and size of the application.
Again, the applications also determine the type of electrical cage that you'll use.
I know it can be somewhat hectic to make the right selection, especially if you aren't sure of the exact one that you require.
But to make it easy for you, let me explain all the major types that you'll possibly need for your particular project;
1. Floor Standing Electrical Enclosure
It is one of the most popular forms of electrical cabinets around.
This enclosure is fully sealed, usually on legs and often designed to stand on a relatively flat floor.
The legs of this floor standing electrical cage elevate it comparatively high to enable easy access.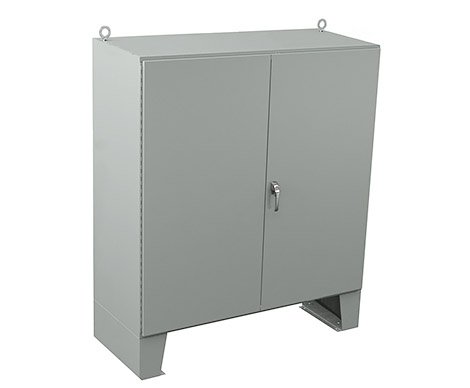 Floor standing electrical enclosure
Another fundamental element of this cabinet is that it's also easy to install. Indeed it's the stands that facilitate this easy mounting thus reducing the chances of compromising the cage's reliability.
In some instances, you may find other floor standing electrical enclosure comes with optional casters.
So the addition of these casters allows you to move the cabinet, in any event, you'd wish to relocate it to a specific position.
Most of these types of electrical cages are made of high-quality materials that enhance durability.
Furthermore, they come in different forms, but you can as well get a customized design that suits your specific needs.
Side view of floor standing electrical enclosure
What's more is that they also come in different sizes. So it makes it possible for you to find the right size depending on the number of components you want to fit in.
And in many cases, the floor standing electrical enclosures are common in various industrial and large-scale applications.
2. Wall-mount Electrical Enclosure
This refers to a class of electrical cabinet common for housing electrical devices like switch gears, and instrumentation among others.
It is available in a wide range of off-the-shelf sizes, but you can as well get customized sizes from a reliable manufacturer.
Wall mount electrical enclosure
Wall mount electrical cages are available in different in various types.
They include a single door, double door and integrated single and double door.
Ideally, different types of material can also be used to manufacture this electrical enclosure box.
Also, the particular application for this type of electrical cabinet is dependent on the selection of material.
For instance, you can go for stainless steel electrical enclosures for relatively hazardous and harsh environments.
Fundamentally, the design of wall mounted enclosures is for attachment to a flat wall surface.
3. Modular Electrical Enclosures
This type of enclosure is commonly designed to include electrical equipment or automation.
You can place them in different positions such as back to back, side by side or side to back depending on a few factors and preference.
Modular electrical enclosure
Nowadays, most manufacturers can deliver this unit either pre-assembled, in kit form or on request.
It's vitally important because it makes your works somehow easy depending on the intention of the task.
A modular electrical enclosure has a galvanized construction making it ideal to reduce electromagnetic interferences.
Moreover, you obtain a specific configuration that meets the needs of your application and other elements including color and dimensions.
In general, a modular electrical enclosure is ideal for bearing advanced loads and harsh environment applications.
At the same time, it is easier to use and also faster to populate.
4. Junction Box Enclosure
This type of enclosure is also popular among various small-scale applications.
The design and construction of this unit are among some of the essential elements that give it an edge in the market.
Primarily, the design features a durable and economical continuous hinge which provides relatively smooth maximum axial rotation.
Junction box electrical enclosure
This design is fundamental because it provides easy access to the internal equipment
Also, it has a clamp cover style door which is entirely removable.
And the good thing is that it's waterproof and resistant to corrosion.
The availability of a wide range of sizes and styles of this unit indicates that you can easily find a suitable one for your needs.
Moreover, you can get it in customized designs.
5. GRP Electrical Enclosures
GRP electrical enclosures are often common along roadsides used typically for storing street lights electrical components.
You can, however, find them also in other industrial applications as well as residential uses.
They come in two major designs that feature single or double doors as well as locking mechanisms to fit your needs.
Some also come with forced or natural ventilation depending on your preference as well as needs.
6. Pad Mount Enclosure
Also known as a ground mount box, refers to an electrical cabinet which features an open bottom and often mounted over a concrete pad.
You'll realize that when installing this type of enclosure, you'll need to add slotted holes.
The essence is to fit the anchor bolts which are fixed in the pad to lock the box.
If you're looking for one to use on outdoor applications, the ideal material to go for would be stainless steel.
Pad mount electrical enclosure
And if you need it for indoor uses, you may go for other materials as long as they are resistant to various conditions.
They are suitable for several types of uses including traffic control, telecommunication, street lighting and solar power battery, etc.
However, due to the nature of the installation, you can rarely use them in large sizes, which can be disadvantageous at times.
7. Traffic Control Enclosure
As the name suggests, this refers to an electrical cabinet for holding a wide range of equipment related to road traffic control.
It's mounted on various locations along the roads as well as space that experience traffic from time to time.
Traffic control enclosure – Photo courtesy: Western Telematic
You can find them in various materials, but in most instances, they come in stainless steel due to the nature of the environment of the installation.
An important aspect regarding these types of enclosures is that they tend to vary from one city or town.
Mainly it's because each municipality has specific considerations when installing the traffic control boxes.
They also feature effective locking systems to enhance the security of the equipment from vandalism.
Also, the lockable mechanism enhances the safety of other road users from electrocution and electric shock among others.
8. Pole Mounted Electrical Box
Again, just as the name suggests, this type of electrical enclosure is installed on interior support poles, light poles, and outdoor phone poles.
They are ideal for a wide range of uses including garden lighting, street lighting, and other small-scale outdoor applications.
And since they are common for outdoor uses, it means that it'd be great to obtain one made of stainless steel material.
Pole mount electrical enclosure
Alternatively, you can choose any other material you're sure is resistant to unfavorable environmental conditions.
But in general, they're always common in several small-scale applications.
Another essential element is that the pole-mounted electrical cabinets also come in different sizes and shapes.
So depending on the number of equipment you want to install, you may choose the particular one which fits you.
9. Walk-in Electrical Cabinets
As at now, you understand that it's quite evident that electrical boxes can be fabricated to a wide range of designs and sizes depending on the need.
And the walk-in type is arguably one of the largest designs of this equipment that you can ever find in the market.
Ordinarily, the design intends to serve in relatively large buildings and industries.
In most cases, the structure of this device has more than two entry doors.
Walk in electrical enclosure
They often have an open bottom but can you can as well go for one equipped with full floors.
Also, the choice of material that you choose for walk-in electrical boxes is dependent on the particular application and surrounding.
So due to their gigantic size, it would be ideal to go for one that has some additional accessories for efficiency.
For instance, you can choose one that has lifting eyes for easier removal or placement.
The only significant disadvantage is that they occupy relatively large space hence not suitable for small-scale applications.
Materials for Manufacturing Electrical Enclosure
Parenthetically, this is one of the most important aspects which you have to consider when buying an electrical enclosure.
What I mean here is that in many occasions, you'll find these cabinets available in different types of materials.
The truth nonetheless, is that a wide range of factors determines the choice of material for making specific types of enclosures.
For instance, if the purpose is for outdoor installation, it definitely implies that it has to attain some properties to endure the environment.
Then you also have to consider vandalism, which is apparently becoming a great concern these days.
In a nutshell, you have to choose the material for your electrical cages carefully before importing.
In that case, read on to find a quick guide for the available alternatives to choose from;
i. Stainless Steel Electrical Enclosure
This is arguably one of the most common types of material for manufacturing electrical enclosures.
Necessarily, it is an alloy which contains varying quantities of chromium and nickel.
It's this combination in addition to other elements that enable this material to be virtually resistant to staining and corrosion.
In many applications, whether indoor or outdoor, this material becomes vital since it has all the ideal properties for both environments.
Stainless steel electrical enclosure
The truth, however, is that this type of material is also available in a wide range of grades.
This results from the ratio difference content of the main elements which make it up.
But what are some of the most common types in the market?
304 and 316 are the popular ones especially for making electrical cabinets.
304 contains 18% Chromium and 8% nickel whereas 316 contains 16% chromium, 10% nickel and 2% molybdenum.
Stainless steel is quite harder than mild steel and can be challenging to work with.
The best part nevertheless is that it is structurally stronger. Also, it has a relatively low thermal conductivity.
Again, you can use it to make these structures in a virtually uncoated state, whether for indoor or outdoor locations.
Of course, this because it presents a high resistance to corrosion.
But in many instances, you'll find that the uncoated stainless steel electrical enclosures are polished.
The reason for this is generally to enhance its aesthetic appeal.
It is however somewhat costly than mild steel due to the composition of more expensive metals.
But still, you can use it in many different applications comfortably especially in corrosive environments and coastal areas among others.
ii. Carbon Steel Electrical Enclosure
This is the other type of material that many manufacturers also consider to use in making these appliances.
Carbon steel is suitable for manufacturing safety rated electrical enclosures.
They are ideal for general indoor and outdoor applications where corrosion won't specifically be an underlining issue.
Carbon electrical enclosure
This material is also widely popular for making these items since it has comparatively several advantages.
Well, in some instances you may refer to it as wrought steel.
One of the best properties of this material is that it's highly malleable.
So how is this important anyway?
Listen, this malleability is vital in the sense that you can use this material to form any shape with it.
Ordinarily, you can classify carbon steel into four major types, of course depending on the composition of carbon.
Low steel, medium steel, high steel and ultra-high steel are the major categories of this material.
The most important aspect of this material, in this case, is that you can all the different categories to produce enclosures.
It is thus helpful since you can customize it to get what best fits your specific needs.
iii. Aluminum Electrical Enclosure
Aluminum is also typical in manufacturing different types of electrical enclosures for wide-ranging sectors.
This material tends to be comparatively lightweight but not necessarily as strong as stainless steel.
In that case, it means it would be essential if you use thicker sheets.Moreover, aluminum is non-magnetic.
You know this is vital in electrical enclosures since it gets rid of eddy-currents within the cage.
And that's one of the vital aspects that make this material popular for making these electrical cabinets.
You may not want to read this about the aluminum material, but here we go:
One shortcoming that makes it somewhat unpopular option in comparison to stainless steel is susceptibility to corrosion.
Nonetheless, on a positive note, it rapidly builds up a layer of a whitish substance known as aluminum oxide.
It's this substance that then seals it from oxygen thus preventing further corrosion.
Again, you can use uncoated aluminum for outdoor applications quite safely.
But remember you have to get painted or powder-coated for enhancing aesthetic appeal.
Some of the applications where you can use this material include outdoor switchboards and coastal areas.
iv. Polycarbonate Electrical Enclosure
A polycarbonate material refers to an unequivocally strong thermoplastic which contains carbonate groups but in their chemical state.
It's actually one of the best non-metallic material for manufacturing electrical enclosures.
Notably, it has high resistance to corrosion and acidic surroundings making it arguably the best material to go for.
Surprisingly, plastics are some of the best materials with high resistance for impact, scratch, and dents.
You see, what often happens is that you can integrate a polycarbonate material with some coating technologies.
Polycarbonate electrical enclosure
That's what enable them to develop and maintain the respective properties even when you subject them to harsh conditions.
The other good thing with polycarbonate is that its non-conductive nature gets rid of the need for earth bonding straps to covers.
However, you'll find out that polycarbonate electrical enclosures are variedly common in smaller applications.
For instance, enclosures for local control stations, meter boxes and marshaling boxes among others.
Ideally, you'll find several options in the market.
The most significant thing is choosing the right type you know suits your particular needs.
You also need to have it mind that environment for installing this device is also a significant concern.
But in general, all the above material can suitably fit in both outdoor and indoor environments.
And before I forget, you also have to make sure that the particular material you're choosing meets the standard specifications.
Talking of specifications, let's find discuss the common standards for electrical enclosures to comply with;
Electrical Enclosure Standards
Listen, industry standards in electrical cabinets aim to promote safety and encourage efficiency.
So you'll find that the authorities in several countries across the western world enforce the standards for such reasons.
Again, you'll find out that these units vary dramatically in regards to size, material, structure, and design, albeit sharing common objectives.
These standards are also vital in defining the least levels of product performance.
And it's the reason you should be particular when buying any type of electrical enclosure. So let's look at some of the common standards that these devices should comply with.
§ NEMA Standard Enclosure
NEMA refers to the National Electrical Manufacturers Association.
This body defines the standards of electrical boxes of various grades common for different applications in America.
This organ also rates each unit to protect against personal access to hazardous components and additional environmental conditions.
Typically, a NEMA enclosure standard might be rated against environmental vulnerabilities like dust, water, coolant, oil, etc.
Ideally, you must also be aware of the fact that NEMA ratings can as well be a source of considerable confusion.
But the standards that they publish are helpful to users in regards to ensuring compatibility safety and proper functioning.
Ordinarily, NEMA ICS 6 classifies types of enclosures depending on their ability to safeguard against damage against liquids, dust and corrosive substances.
Also, you have to know that NEMA defines and publishes the standards of various electrical cabinets and manufacturers' compliance.
So in summary, NEMA merely conveys ingress progression.
Additionally, it addresses the construction, performance, suitability and other relevant tests.
In general, NEMA basically rates the electrical enclosures by Type and not IP.
It also allows for self-compliance which is vital considering that it won't be necessary to make manufacturing site assessments.
§ IP Standard
This standard is also known as International Protection or Ingress Protection ratings.
Ideally, it's defined to the international standard to the extent of sealing efficiency of electrical boxes against intrusion from foreign objects.
Generally, this standard consists of two prefix letters IP and two digits.
The digits are inherently the level of protection which the cabinet provides against solid bodies.
IP rating
The second digit, on the other hand, indicates the level of protection of the equipment inside the cabinet against water.
You'll come across the different type of IP rating given that various electrical enclosures have different IP standards.
And that's the reason you must be careful when choosing one that suits your needs.
Alternatively, you may choose to seek the help of a professional electrician to guide you in making the right selection.
§ IEC 60529
This standard is common in European region for measuring the performance criteria of an enclosure by different elements.
IEC rating for every IP level specifies the amount of water that should get into the enclosure.
On the other hand, this standard doesn't specify the extent of protection against the dangers of explosions, unlike NEMA which does.
So in a nutshell, the IEC 60529 codes identify the levels of ingress protection.
His standard also describes the ability of the cabinet to protect its components from dust, moisture, and people among others.
Additionally, the IEC standard also allows for self-testing.
But some manufacturers often consider having their products tested by an independent testing facility to enforce compliance.
§ UL 50 and 50E
Primarily, the UL's standards are on the basis of NEMA's specifications.
Nonetheless, they also enforce compliance via the third party testing on-site assessments.
So if you purchase an enclosure with a UL certification, it's an indication that the manufacturer is complying with NEMA standards.
Basically, these are some of the conventional electrical enclosure standards in the market.
As you've come to see, these ratings are vital especially when it comes to determining performance and safety.
In general, the standards play a significant role in the efficiency of any electrical box.
Components of an Electrical Enclosure
Well, knowing the parts of an electrical enclosure is one of the most critical elements.
Incidentally, this equipment doesn't necessarily have quite a lot of parts owing to the fact that it's quite simple.
 An example of an electric enclosure
So in this case, let's look at some of these parts that you'll possibly come across when dealing with the type of cabinet;
§ Terminal Boxes
These refer to the electrical components used for converting overhead services to underground services in the multi-circuit wiring.
You install them inside the enclosure boxes for protection, convenience, time-saving and wire splices connections.
Manufacturers use different types of materials to make these devices and also available in various sizes.
Fundamentally, they also come with ideal ingress protection and a wide range of ambient temperatures.
§ Human-machine Interface
This is interface hardware for machine level and stand-alone small process applications connected to a controller.
In electrical enclosures, it enables advanced visualization and integration of various operations into supervisory-level solutions.
In fact, it's a suitable component for electrical cabinets which require control from an operator from time to time.
Furthermore, it adds aesthetic value to the machine and also provides security of the equipment from unauthorized users.
§ Thermal Management Unit
This is an instrument that monitors various temperatures and cooling methods within the electrical box.
It is typical for controlling the overall temperature of the entire cabinet and that for individual ICs.
Of course, you know that a combination of various electronic devices and circuitry tend to generate excessive heat.
So this is an important component because it provides the ideal temperature to prevent the box from overheating.
The essence of this is that it enhances the general efficiency of the electrical cabinet and preventing any functional failure.
§ Cable Management
Cable management in this case essentially refers to the configuration of electrical cable in a box.
In many instances, depending on the size of cabinet you're using and a number of devices, the cables may be tangled.
So this in most cases makes it relatively difficult for you to work with the cables effectively.
And in some instances, it may lead to unplugging of devices accidentally as you attempt to move or shift a cable.
It is also vital because it enables installation and subsequent maintenance of the cables within the enclosure somehow easy.
§ Frame
Electrical Enclosure Frame
Frame refers to the entire build of the enclosure.
It's determined by the shape, size, and material of this particular product.
In most cases, the frame may vary depending on several factors.
It's mainly the cover of this product which houses all the other components.
§ Lock
The electrical enclosure has entry points irrespective of the design or size.
So these entry points have a lock which is typical for securing the components inside the unit.
Therefore, a lock generally is a part that allows you to safeguard the electrical equipment inside the electrical cabinet.
The importance of this is to provide necessary safety and preventing interference of contents of the box.
§ Earthing
Earthing is a type of low resistance wire that transmits immediate discharge of electrical energy to the earth.
This is a component that connects specific parts of the installation with the conductive surface of the earth.
It is commonly applicable in the electrical enclosure to provide safety and functional efficiency.
Earthing is necessary for this component because it protects you from inevitable short-circuit current.
This parts also protects you and the components inside the electrical enclosure from lightning discharge and high voltage surges.
Well, these are the key parts and components of an electrical cabinet.
However, you may also find additional parts of this device depending on the design, size and applications intended.
Parts and components of the electric enclosure
For that reason, it would be ideal if we look at some of them here albeit briefly
Sun Shield- it's the parts that guard the unit against direct sunlight hence preventing it from obtaining unnecessary high temperatures.
Roof – It refers to the uppermost part of the enclosure that covers the equipment from sunlight, rain or any other foreign object.
Leg Stands – These are the components that provide support to the unit and raising it relatively above the ground.
Vent – It refers to specific openings on the frame of the electrical box which helps to facilitate air circulation within the cabinet.
Window – It is a relatively large open space also on the frame of the cabinet which you can use to access the components. The window also helps to provide sufficient air circulation inside the box.
Coupling – This is a device which you use for connecting two shafts at their ends to transmit power.
Drip Shield – It refers to a type of part that prevents water or any liquid substance from getting into the electrical enclosure.
Door Stay – It is a device for holding the door in position whether closed or open. It is also helpful in preventing the door from opening too widely or from swinging through when closed.
In some instances, you may refer to it as a door stopper, door wedge or doorstop.
Dead Front – It refers to the operating side of the electrical enclosure that doesn't contain any live component. The essence is to prevent exposure of an individual to the operating section of the box.
Gland Plate – It is a device for attaching and securing the end of electric cables inside the electrical box. It is also essential for sealing wires that pass through bulkheads.
Thru-Hole- It is a hole drilled entirely through a surface material of electrical enclosure object.
Necessarily, these are some of the additional components and parts of the electrical box that you may also come across.
Importantly though, is to understand that they can be available on specific cabinets depending on the suitability of each application.
Well, now that you've known the parts and components of these devices, it would be imperative also to comprehend the basic installation process.
And that's what leads us to the next sub-section in this guide. So let's have a look;
How to Install an Electrical Enclosure
Now, you know that an electrical enclosure has to be appropriately configured then mounted on a specific position.
But before we talk about the installation process of this device there's a vitally essential aspect you must know;
The installation process is considerably dependent on the type of application, the environment, and the size of the enclosure.
Steel electrical enclosure
The importance of understanding this is merely to let you know that there could be a few variances in steps for installation.
Projects that would require this component vary from the smallest wall-mount to boxes to entirely walk-in buildings.
And it's thus important to get an enclosure design that can adapt to any mounting configuration.
Some of the typical applications for mounting this device include wall, pole, pad, walk-in and freestanding among others.
In this case, we want to look at a general perspective of installing this equipment on a wall.
Step 1: Identify the Parts to Fit in the Enclosure
Basically, you have first to ensure that you list down all the electrical components that you want to fit inside this cage.
This will undoubtedly give you an idea of the ideal size you require for your application, whether residential or commercial.
After this, you can now tell the approximate size and design of the enclosure you'll need thus giving you an easy time to purchase the suitable one.
Step 2: Get the Right Tools
Ideally, installation of an electrical cabinet requires a bunch of tools, of course depending on its size.
Some of the most obvious tools include electric drill, wire stripper, nylon cable ties, safety gloves, masks, and drywall saw.
In other instances, you'd also require utility knife, assorted screwdrivers, network tester, electrician's snip, and goggles among others.
Just ensure that you have the right tools to enhance convenience and efficiency when installing this component.
Step 3: Mark and Prepare the Enclosure Area
This is actually the first intensive aspect of this installation that you have to undertake.
You must be meticulous at this point because of the availability of live wires running through the studs horizontally.
And if you mess here, then you jeopardize the entire installation system.
To be safe, you should use live wire detectors to determine the right place for locating the enclosure.
Then group all your cables together.
And take a utility knife to start a hole in the drywall.
After that, use the drywall saw to cut the opening.
It is advisable first to cut a small opening to enable you to probe the internal side of the cavity for wiring.
Step 4: Connect Electricity to the Cage
By doing this, you must make sure that you separate low voltage from low voltage.
If possible, get a duplex receptacle to run voltage into your electrical enclosure.
Meanwhile, keep all the line voltage connection outside the enclosure.
The ideal thing to do to achieve this is to run the line voltage below the enclosure.
Step 5: Mount the Enclosure
While doing this, you must consider a wide range of elements because it's probably the point of no return.
So primarily, you have to get it right since it's the key aspect of the entire process.
There's an opening at the bottom of the box which you should leave to allow for easy wiring of the enclosure.
Pull all the necessary wires into the cage and make sure they're all well-marked.
But never cut the wires that you've already pulled inside the box.
In case they're excessively long, you can always push them into the cavity that's above the enclosure.
Step 6: Configure the Interior Components
It's also another fundamental aspect because you need to lay out all the components that will go inside the enclosure.
Essentially, this gives you an overall idea of how you'll place such devices in the enclosure.
The type and arrangement of the layout will also depend on the number of components that you want to fix.
Again, it's the size of the enclosure that determines how you configure the interior components.
Step 7: Install the Interior Components One by One
At this point, you're almost completing the task.
It means that you're now fixing all the components by the particular layout you'd configured earlier.
When installing these components always ensure that every bit goes to the respective wire.
You should never make a mistake of confusing the cables for specific equipment.
This can be risky since it's exposing yourself and the components to immeasurable danger.
And if need be, you can seek the services of an expert to help you out.
Step 8: Complete the Wiring Process
Now that every equipment is intact, you can finalize on the wiring of any hanging cables.
It's at this point that you also need to tighten any loose nut or bolt just as a way of ensuring that all the components are secured.
At this stage, you should also mark the components upon completion of all the wiring processes using unique codes.
This is vital as it enables you to easily access the particular component later on for repair or replacement should it develop issues.
The most important thing on the same is to make sure that you use all the standardized tools to enhance safety in case of an unfortunate event.
Well, as you can see, it is not necessarily a complex process.
Once you have the basic knowledge and the right tools you can quickly complete this task effortlessly.
Also, remember that installation areas may vary depending on the application.
But the installation process is more or less similar. You'll only have to adjust a few steps.
Nonetheless, the most critical element you should always emphasize on is safety.
Do everything possible to ensure that the entire process is safe before, during and after installation.
Performance Parameters of the Electrical Enclosure
Here's the truth;
One of the major reasons for electrical enclosure standardization is to guarantee you ideal performance.
You see, several manufacturers are out here producing these products in variety and obviously promising better performance.
However, if you're not keen or knowledgeable enough, you'll realize later on that you got a raw deal.
And trust me this equipment can be a considerable investment since some of them are unquestionably expensive.
And for that reason, there's absolutely no reason to acquire an electrical enclosure that won't serve you as necessary as possible.
Steel electrical enclosure with a lock
Therefore, you must ensure that you look into various performance factors of the specific model you prefer to purchase.
So let's look at some of the essential performance elements of electrical enclosures that you need to consider;
i. Thermal Management
Understandably, thermal management refers to the monitoring and regulating of temperature that the electrical enclosure produces.
Undoubtedly, it's a significant aspect because the temperature has a considerable effect on the reliability and service of this unit.
In fact, in most cases, failures and malfunctions of electrical boxes are always a result of the thermal issue.
So is there a way poor thermal management affects the efficiency of this type of unit?
Yes, indeed badly, that's the short answer.
In manufacturing and other sectors like banking, a one-hour downtime can lead to the loss of a significant amount of money.
If you want to manage the thermal activity of the box to the optimum, you have to be meticulous and always plan.
But of essence is to ensure that you strike the right balance between internal and external temperatures of your enclosure.
An ideal way of attaining this is carrying out a thermal analysis from time to time.
In a great way, this factor determines the performance of the electrical enclosure hence inherently critical to consider.
ii. Safety and Environmental Compliance
This is the other fundamental element that you also have to consider as a performance determinant factor.
Incidentally, electrical equipment for that matter has to comply with the safety and environmental standards.
You see, this compliance is an assurance of its suitability and efficiency in various applications.
So you should never consider an electrical enclosure that does not meet any of these basic standards.
Safety, in this case, implies securing your wellbeing as the main user and that of the second and third party users.
And from the environmental perspective, an electrical cabinet should also offer safety not to jeopardize other properties within the surrounding.
Primarily, you'll find out that most of the time strict stipulations concerning human and environmental safety are fundamental.
Considerably, they determine the overall performance of the box.
I bet you can't even bother to get closer to any electrical component that is somewhat risky to your wellbeing.
iii. Protection Features
Another factor that also determines that the performance of an electrical enclosure is the safety features its presents.
Ordinarily, the regulators expect all manufacturers of these units to incorporate a wide range of protection features.
Of course, the interest, in this case, is to enhance efficiency by offering optimum protection when using this equipment.
So protection features play a significant role in the entire process of handling and controlling any electrical cabinet.
Applications of Electrical Enclosures
As you've seen in the earlier sections of this guide, it is quite clear that electrical enclosures can be applicable in various sectors.
But then you must also know that several factors often determine the choice of the preferable enclosure for the specific application.
While we're on the subject, choosing the design or type that is wide of the mark can be a risky and costly mistake.
So let's briefly look at some of the notable applications of this equipment;
§ Traffic Control
The traffic lights obviously use a variety of items which rely on electrical energy in a significant way.
But you see you can never install all the electrical components of traffic lights such as switch control openly.
Traffic control electrical enclosure
And that's where the traffic control enclosures become handy.
Different municipals and traffic departments all over the world use enclosures to store the relevant devices.
Remember traffic control is a critical element and it must be in a systematic manner to prevent unnecessary inconveniences and confusion.
§ Street Lighting
Again, most of the streets in various countries have different types of lights along their roads.
Apparently, all these lights are controlled from a specific point which holds all their necessary electrical accessories.
Street light with electrical enclosure – Photo courtesy: VORPENERGY
Of course, you can't have each street light with its switch or independent connection.
Therefore, electrical enclosures become significant in making sure that the electrical accessories are confined to a central point.
§ Telecommunications
Enclosures are also essential in the telecommunication sector since they protect electrical equipment that conveys voice, data, and video.
Telecom equipment is sensitive hence the need for protecting them especially from elements that might cause unnecessary interruptions.
It follows that most of the telecommunication companies rely on customized enclosures which can meet their different needs.
§ Solar Power Battery
In most instances, relatively heavy batteries for solar panels require a box.
It's this box that helps such outdoor batteries to attain the necessary conditions for maintaining their productivity.
So you'll find that enclosures become handy in such instances because they make it possible for the battery to stay safe.
Solar light with electrical enclosure – Photo courtesy: REXEL ENERGY SOLUTIONS
The design of such boxes also facilitates cooling of the enclosure and removal of gases that such batteries release.
And also remember that this always possible because the solar boxes are durable and come with extra strength.
§ Tower Mounts
Tower mounts are also the other areas where the use of enclosure boxes is common.
Ordinarily, you'll find tower mounts for various applications such as wind, solar, satellite and radio equipment using these boxes.
Free standing electrical enclosure
They help significantly in ensuring that such equipment are useful in playing their particular roles while in ideal conditions.
§ Food and Beverage
A wide range of food and beverage manufacturers also use electrical cabinets for storing electrical equipment for their machines.
Listen, in any ordinary food and beverage company; you'll find various devices that play different roles throughout the process.
Electrical enclosure for PLC
For instance, you'll find electrical boilers, dryers and lifting columns machines among others.
And for that reason, all the appropriate electrical control systems have to be centralized in a central safe place.
And that's where the electrical enclosures become essential.
§ IT and Servers
This is also the other areas where the application of electrical enclosure is predominantly apparent.
Often, you'll find them in different configurations in this sector given that they have to comply with industrial standards.
Electrical enclosure for servers
What happens is that different applications use different types of server racks and cabinets.
But the bottom line is that they are vital in making sure that all the crucial elements of the servers are concealed safely.
§ Cable/Wire Management
If you've been to companies that manufacture various industrial products in bulk, you must have noticed how several cables are interconnected.
These interconnections are a way of integrating various devices to work seamlessly hence guaranteeing top-notch efficiency.
But then, it's always vital to arrange and manage such electric cables within the factory because they transmit large voltage.
So to prevent any possible risks configuring all the cables and consolidating them in one enclosure helps considerably.
Therefore in general, these electrical cabinets help to manage such cables effectively.
§ Oil and Gas Industry
Typically, the environment surrounding oil and gas presents somewhat harsh climatic conditions.
This can be serious to the extent of the various electrical components reacting with the environmental conditions and causing disasters.So to avoid all these, the electrical enclosures become handy.
In fact, there are specific standards of enclosures that you can place within the confines of the oil and gas factory.
And that's why you'll see them in various companies that handle the oil and gas.
§ Wastewater Treatment Plants
It also another vital area where the use of electrical enclosures is common.
Well, the water treatment plants surrounding is often harsh and somewhat unfavorable to many elements.
Electrical Enclosure for pumps
But these design of the devices suitable for such areas incorporate properties that would enable them to endure such conditions.
They are specifically used for storing the electrical devices such as fuses, switches, etc. for the water treatment machines.
§ Industries
Understandably, you can hardly find any factory without electrical enclosure regardless of the type of service or product it offers.
Factories often use various electrical equipment to facilitate production and productivity.
And again, many activities always take place in such environments simultaneously.
So the best way of safeguarding employees and other devices within the factory is by enclosing such components in a cabinet.
Electrical enclosure for IBC bin blender
It also becomes easy to manage the operations of various electrical machines.
Well, these are some of the typical applications of electrical enclosures.
The truth, however, is that these devices are almost available in all areas where there's use of various electrical instruments.
In fact, even in residential homes, you can have them as long as they can serve the specific purposes they're designed to do.
Control Console
Electrical enclosure are widely used for different control console like Vibratory Dryer, Vibratory finishing machine and more.
KDMSteel: Your best Electrical Enclosures Manufacturer for Industrial Applications
There's one fundamental aspect that I've not talked about in this guide, and it would be of great injustice if I don't state it.
Now, as you can clearly see from this guide, electrical enclosures entail several elements.
And incidentally, making the right choice depending on the specific applications and needs might be somehow confusing.
Indeed, the only way of attaining peace of mind upon purchasing and installing this type of equipment is by buying from a reliable manufacturer.
KDMSteel is one of such manufacturers to seek these products from.
With their specialty in manufacturing flawless stainless steel design enclosures, trust me you can never go wrong with them.
It has been in the industry for over ten years with a specialty in customized stainless steel electrical equipment.
I mean, that's a great indication of attaining nothing short of the best and most suitable electrical enclosure for your needs.
So just to make you work easy and save yourself from hustles surrounding purchasing these items, simply make your order to KDMSteel.
Conclusion
Hopefully, this guide has been an eye-opener to you.
I'm sure after reading it in entirety you can now confidently head to a particular store and select the best electrical enclosure.
And of course, that was the intention of this guide.
At least to get you to grasp some basic ideas regarding this electrical equipment to make it easy for you to select and purchase one.
But I also acknowledge the fact that at times, you may need additional information that you probably didn't understand.
Or still, you would merely need to get further clarification regarding the subject of this guide.
If so, don't hesitate to contact us.
Our support staff will always be available to handle your issue or concern any moment you wish to.
"We have been very impressed about KDM's services and quality. The electrical enclosures are very nice. It is very durable and obviously made from high-quality materials. We look forward to growing our business with KDM."

"KDM is a very trusted company to deal with when it comes to electrical enclosures. The customization services are of high quality. Plus, the enclosures themselves look great and reliable for our project."

"Our orders of electrical enclosures from KDM are handled efficiently and quickly by their staff. The enclosures are professionally manufactured and guaranteed high-quality and durability. These enclosures will be great for our business."

"We are very happy with the electrical enclosures ordered at KDM. The products are great and high-quality. We highly recommend KDM as the best manufacturer out there."
Gallery
Your Best Electrical Enclosure Supplier
Electrical enclosures, also know as electrical boxes, or electrical cabinets, are widely used in different industries.
Normally, the electrical enclosure can be divided into Free Standing Electrical Enclosures, Wall Mount Electrical Enclosure, Floor Mount Electrical Enclosure, Modular Electrical Enclosures, Junction Box Enclosure, GRP Electrical Enclosures, Large Electrical Enclosures, electrical enclosure with window.
They can also come with one door or multi-door designs, as well as a combination of different accessories.
KDM has over 10 years of manufacturing experience on different types of electrical enclosures, we have over 20 engineers to support you with your custom design and provide you with the best solutions to your projects.
With all kinds of accessories available, such as locks, rain hoods, mounting feet, KDM is able to provide you with thousands of combinations and you will always be able to find the optimal design for your project.
All these electrical enclosures will be used in different areas to protect your electrical equipment, you will see an electrical enclosure everywhere in your life.
Through our comprehensive support, scientific designs, outstanding manufacturing capabilities, we can not only be your premier electrical enclosure supplier, but also your partner for any commercial and industrial applications.
KDM can custom fabricate your enclosure box with materials like stainless steel, mild steel, galvanized steel, We will design a prototype around 3 days, so you can confirm all details before mass production.
We provide multi custom options like colors, material, mounting panels, hinges, etc, all details will be based on your industry specifications. Just send us your drawing and get an instant quote.
Our delivery time is often 15 to 30 days, request a quick quote on any electrical enclosure and we will quote you within 12 hours.
Electrical Enclosure: Complete FAQ Guide
What is an electrical enclosure?
An electrical enclosure is a cabinet, designed to hold all kinds of electrical and electronic elements and protect them against the external hazards, such as water, dust, heat and other external forces.
What kinds of electrical enclosures KDM can manufacture?
KDM is focusing on all kinds of carbon steel, galvanized steel, and stainless steel enclosures.
These materials show the best qualities when it comes to protecting electrical equipment.
What is wall mount electrical enclosure?
A wall mount electrical enclosure is a cabinet with standard or special flanges and mounting plates to be set on the wall.
What is floor mount electrical enclosure?
A floor mount electrical enclosure normally refers to the electrical enclosures fixed on the floor with nuts or other fasteners.
What features does free standing electrical enclosure have?
The free-standing electrical enclosure is normally with flat bottom or steady feet, not requiring fasteners to be fixed on the floor.
This means that such an enclosure can be easily moved from one place to another.
What materials are used for the electrical enclosure window?
The common material for the electrical enclosure window can be tempered glass, explosion-proof glass, acrylic, and PC.
All of the above-mentioned materials have great qualities in the case of external forces' resistance.
What kinds of locks and latches can be used for the electrical enclosure?
Based on different applications, KDM can apply different locks and latches in order to secure the electrical enclosure, including clamp style la tch, 3 point turn latch, quarter turn latch, clamp cover system, padlock, etc.
Using these mechanisms you can guarantee restricted access to the inner systems.
What is a junction box enclosure?
A junction box enclosure is a protection cabinet to make wire connections clean, safe, and steady working.
What are the features of steel electrical enclosure?
The steel electrical enclosure is fireproof and its structure is made in accordance with high IK standard.
It is the safest choice if you want to avoid unauthorized access, heat, water, and other weather affections.
How can stainless steel electrical enclosure be used?
The stainless steel electrical enclosure can be used both indoor and outdoor with good resistance to the rust.
What applications need the vented electrical enclosure?
Massive enclosures with a big amount of electrical parts or enclosures for high power electrical parts will require the ventilation design with fans.
This helps ensure the good air circulation to maintain the temperature and proper working conditions for such electrical parts.
What hinges can be used for the electrical enclosure?
For different applications, different hinges will be chosen by KDM, such as continuous hinge, concealed hinge, spring hinge, stainless steel hinge and so on.
When you need the recessed electrical enclosure?
The recessed electrical enclosure is a good choice for limited space application and with better electrical parts protection.
When you need your electrical enclosure to be weatherproof?
Weatherproof is an important feature for electrical enclosures, especially when the environment is tough, such as in the case of outdoor use.
What is a modular electrical enclosure?
The modular electrical enclosure is a cabinet with universal design and components.
You can easily add the extra feature you like.
You can even combine individual electrical enclosures to form a large electrical enclosure or enclosure groups.
What enclosure customization options do you have exactly?
KDM offers you various custom features, such as different materials, sizes, surface treatment, and all kinds of accessories.
How can galvanized steel enclosure be used?
The galvanized steel enclosure normally has a powder coating surface.
In this way, it has a higher weatherproof standard than common carbon steel enclosure.
What are the features of the outdoor electrical enclosure?
The outdoor electrical enclosure normally is weatherproof with good rust resistance.
It should be also with a high IP rating to ensure the proper working of the electrical parts.
What is Nema enclosure?
The Nema enclosure is an enclosure rated by the National Electrical Manufacturers Association based on the protection against water, dust and so on.
What is an IP enclosure?
An IP enclosure is an enclosure with Ingress Protection standard rating, which means this cabinet has water and dustproof functions.
The degree of water and dust proof is reflected in the IP rating standard.
What is the NEMA standard for enclosures?
NEMA standards of enclosures are based on the rating of the National Electrical Manufacturers Association, which is similar to IEC IP rating.
It provides a standard to show the grades of water, dust, and ice proof for an electrical enclosure.
What is the IP standard for enclosures?
The IP standard refers to International Protection Marking or the Ingress Protection Class.
It is normally tested under the IEC standard 60529 or EN60529.
The IP standards show the waterproof and dustproof rating of the electrical enclosure.
What recommendations do you have on how to select an electrical enclosure?
First of all, you should consider the environment where the electrical enclosure is used.
According to your future requirements, you can choose the material, the fastening style (wall mount or floor standing), and other settings (like size, lock option, etc).
What time does it take for KDM to fulfill my electrical enclosure order?
It really depends on the order quantity and types of enclosures you want to achieve eventually.
Normally it takes about 7-20 days.
What type of machinery does KDM have on-site?
KDM has all types of the needed machines to make electrical enclosures, including CNC laser cutting machine, bending machine, stamping machines, rubber foaming machine, etc.
Here you can watch a video showing the working process at our manufacturing site.
Is KDM Steel ISO 9001 certified company?
Yes, KDM Steel is an ISO9001 certified manufacturer.
What other certificates does KDM Steel have?
Besides the ISO certificate, we also have IP65, IP66, National Invention Certificates and so on.
You can see our ISO certificate visiting this page.
Is there any warranty for KDM Steel electrical enclosure?
KDM Steel provides one-year accessories warranty for all our enclosures.
If you'll have some problems with your product within one year, we'll replace it for free.
How will KDM Steel pack and ship big electrical enclosures?
Based on different goods, we will pack the goods with foam, cartons, pallets, or wooden case.
KDM Steel has a long-term reliable partner to ship our goods.
Will KDM Steel make the enclosure drawing for us?
Yes, it is not a problem at all. Our designers can provide you with 2D or 3D drawing in 1 working day.
How to get a rough quote for the electrical enclosure?
To get a rough quote, you just need to tell us the sizes of enclosure, the quantity, and the material.
Please inform us your address information if you want to get the shipping cost as well.
How soon can you provide me a sample of your production?
We can guarantee that you'll get your sample product 3 days after your order.
What is the advantage of SS316 electrical enclosure over SS304 enclosure?
These steel types are quite similar in appearance, chemical makeup, and features.
Both types of steel are very strong and can provide perfect resistance to corrosion and rust.
304 stainless steel is the most versatile and widely used austenitic stainless steel in the world, due to its corrosion resistance.
304 stainless steel is also cheaper in cost compared to 316 type, which is another reason for its popularity and worldwide use.
Stainless steel 316 is more expensive because it provides better corrosion resistance, especially against chlorides and chlorinated solutions.
This makes stainless 316 more desirable in the case where salt exposure is an issue.
If you have an application with powerful corrosives or chlorides, the extra cost of stainless steel 316 is totally justified.
How to ensure the smooth surface of electrical enclosures when KDM doing the welding?
In order to make your enclosure's surface extra smooth, our engineers use polishing machines after the welding is done.
What is your welding standard?
There are several international welding standards.
At KDM, we use GB/T16672-1996 standards (ISO 6947:1993).
Do you have raw material stock to ensure the delivery?
Yes, we have a normal thickness carbon steel sheet, stainless steel 304 sheet, and stainless steel 316 sheet in stock, such as 1mm, 1.5mm, and 2mm.
The standard locks and hinges are also in stock.
This ensures that you can get a shorter lead time.
How do you ensure the quality in productions? Do you have inline QC to check every step of productions?
All drawings are provided for customers' approval before production.
For each step, we will have inline QC for checking, and the finished enclosures will be 100% inspected before shipping.
Does KDM accept one piece to start?
Yes, we can accept one piece order.
In addition, we can provide one free sample for checking for bulk orders.
What accessories does an electrical enclosure come with?
The answer depends on the type of enclosure you want to order and requirements for its operational environment.
KDM can provide enclosures with sun shields, leg stands, windows, rain hoods, fans, locks, and other accessories.
Also, we are always adding mounting elements (such as nuts and other fasteners) which are needed to install your enclosure.
What is the cable enclosure?
Electrical cable enclosure is a box which can be used to protect cable routes from different environmental effects.
Basically, this is a long metal cabinet which is covering cables from all sides.
Cable enclosures can be used in offices, factories, and other technical buildings; they can be hanged on the ceiling or put on the floor near the wall.
What is the gasket for the electrical enclosure?
When it comes to additional protection of enclosure from dust and water the gaskets are extremely needed.
Typically, they are produced from weatherproof closed cell sponge rubber and silicone sponge gasket materials.
Gaskets have to be positioned inside the enclosure in places where leaks can appear (seams, doors, windows, etc.)
How to design electrical enclosures?
First of all, you have to understand what kind of electrical equipment will be put inside the enclosure.
Each system has specific requirements in the case of temperature, air conditioning, humidity, etc.
After we figure out all the information about the application, we can come up with size ideas, a list of needed materials and accessories.
We also provide you withdrawing so you can visualize the future product.
What software does KDM use to make the electrical enclosure drawing?
KDM can provide both 2D and 3D drawings, with CAD, Solidworks and so on.
What is the electrical enclosure DIN rail?
DIN rail is the generic name of the metal rail used in electrical engineering.
Depending on the requirements (weight, durability, current), either galvanized steel or aluminum is used for manufacturing.
DIN rail can be used for mounting various modular equipment in electrical enclosures.
What kind of electrical enclosures are for hazardous areas?
This depends on the type of hazardous area we are talking about.
There are three types of hazardous zones in the case of explosion possibility: zone 0 (an area in which an explosive atmosphere is present continuously for long periods of time or will frequently occur); zone 1 (an area in which an explosive atmosphere is likely to occur occasionally because of repair, maintenance operations, or leakage); zone 2 (an area in which an explosive atmosphere is not likely to occur in normal operation but, if it does occur, will persist for a short period only.
So in the case of operation in Zone 0 you have to choose the most explosion-proof enclosures, such as NEMA Type 7 enclosure.
In other cases, you can use stainless steel enclosures with a high IP rating.
Does KDM manufacture electrical enclosures with fans?
Yes, KDM can manufacture electrical enclosures with fans.
We can design the ventilation louver, and install 110V or 220V fans for you.
Which colors does an electrical enclosure often use?
For stainless steel enclosures, normally no other surface treatment is applied.
It is of original stainless steel color.
For carbon steel enclosures, we will have powder coating surface treatment.
The basic colors are grey, white or beige color.
However, we can also make other colors, based on RAL color chart.
What are the benefits of importing electrical enclosure from China?
As a professional manufacturer in China, KDM provides high quality but cost competitive enclosures.
KDM offers all types of steel enclosures for your one-stop solution.
In addition, KDM enclosures can be IP65 and IP66 certified to meet your demand.
KDM can help with the shipping to your warehouse to save your time.
What's the difference between freestanding, floor standing and floor mount enclosure?
Freestanding electrical enclosure is the most simple type of enclosure which is basically a single monolithic cabinet used as a stand-alone enclosure.
You can put it on the floor, a shelf or another smooth surface.
Floor standing enclosure is a type of free-standing enclosures which can be placed on the floor.
Both free standing and floor standing enclosures do not require to be mounted with fastening tools, so they can be moved easily.
Floor mount enclosure is a type of enclosure which has to be floor mounted with nuts or other fasteners.
What are insulated electrical enclosures?
KDM Steel enclosures can be thermally insulated, which means that they have additional protection against sun, heat, fire, and other thermal forces.
What will be the upcoming trends in Electrical Enclosure market?
The green energy penetration rate is expected to increase the demand for electrical cabinets because they act as an effective tool in ensuring the safety and efficient quality of the produced green energy.
For the past decade, renewable or green energy has been a major focus in China.
The introduction of clean energy is still low due to the high technology costs associated with it, and various problems connected with the power system.
However, the path of renewable energy sources creation will certainly contribute to the growth of the electrical cabinet market in the nearest future.
What are the main types of electrical enclosures?
There are lots of ways to categorize electrical enclosures: by used materials (carbonate steel, stainless steel, aluminum enclosures), by mounting method (free standing, floor mounted, wall mounted enclosures), by observed international standard (NEMA, IP enclosures), by operational area (indoor and outdoor enclosures).
There are also separate types of enclosures, like junction box or cable enclosures.
In KDM Steel catalog you can find all the known types of enclosures for various application requirements.
When do you need a heater in an outdoor electrical enclosure?
Not only excess heat can affect the electrical equipment operation.
Extremely low temperatures during cold months may also screw the performance up.
For example, the condensation may form on the inside of a cabinet, and water can get to the inner systems.
In this case, you can use a heating system to keep the temperature within acceptable operational limits.
What material is a better option for weatherproof electrical enclosures/junction boxes?
While manufacturing weatherproof electrical enclosures, KDM Steel engineers use different types of steel, such as carbon steel and stainless steel.
But, in the case of weatherproof cabinets, it is necessary to use additional means, like insulation gaskets and rain caps.
---