KDM Junction Box Enclosure
One Solution for All Your Junction Box Requirement
Outdoor Weather proof Junction box
Different NEMA Grade
Custom Junction Box Manufacturer in China
Low MOQ from 1 PC
Custom Any NEMA Rating Junction box
Stainless steel, carbon steel material
Fast Junction box sample production within 3 days
KDM Junction Box Enclosure Series
Send your Inquiry on KDM Junction Box Enclosure
KDM only manufactures the carbon steel junction box, painted mild junction box, stainless steel 304 junction box, and stainless steel 316 junction box. If you need other material junction boxes, we can also source for you.
Manufacturing Capacity
Buying Guide
Enclosure Designs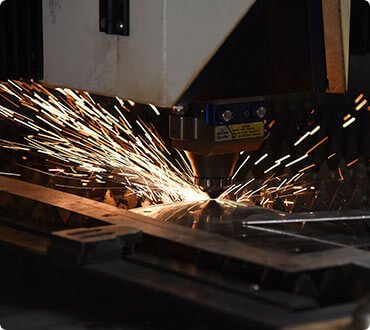 Electrical Enclosure Laser Cutting
4000W high-performance laser cutting machine, +/- 0.05mm accuracy. No burr, no scratching.
Electrical Enclosure Welding
Multi-Functioning flexible welding equipment, high accuracy, no deformation.
Electrical Enclosure Bending
+/- 0.5mm bending precision, smooth surface without bending marks.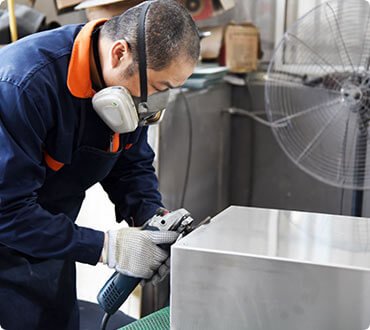 Electrical Enclosure Polishing
10+ welding experienced workers, perfect overall appearance.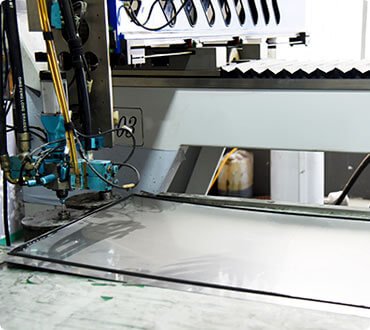 Electrical Enclosure Foaming
High speed and accuracy foaming machines, fast and qualified Gasket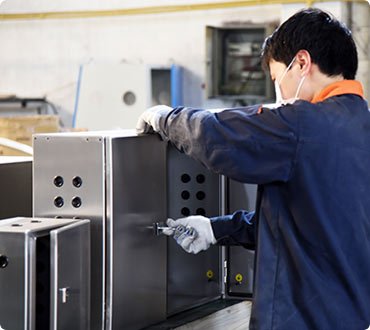 Electrical Enclosure Assembly
The expert assembling team, consistent assembly quality on every KDM enclosure
KDM: Your Professional Junction Box Enclosure Manufacturer
KDM electrical junction box is a protective box where wires are interconnected. Our electrical junction box protects people from coming into contact with live wires, protects your wires from dust and dampness, prevents small critters like rats, from chewing on your wires, also organizes the electrical floor plan into units and prevents fires within the junction box from spreading, only when it is properly covered.
KDM electrical junction boxes are found both indoors and outdoors. These electrical junction boxes are often built into the plaster of a wall, in the ceiling, or within concrete. They are standard within most homes, buildings, and factories. Junction boxes also must be covered with solid covers with no holes. KDM electrical junction box is made of stainless steel (including 201 stainless steel, 304 stainless steel as well as 316 stainless steel), galvanized steel and carbon steel that made it durable and reliable. Our electrical junction box durable design makes it easy to carry with excellent visibility, allowing easy electrical connection in the darkest conditions. There are many types of electrical junction boxes KDM offer, including metal junction box, PVC junction box, ABS junction box, fiberglass junction box, and more.
KDM electrical junction boxes come in many shapes and sizes. The choice will depend on what you need it for. KDM also offers a wide selection of electrical installation accessories, including knockout seals, grounding screws, power wire leads, and more to make the job easier. At KDM, we also provide NEMA rated electrical junction boxes. So they have the capacity to withstand environmental conditions and can protect against dust, light, wind, snow, and other weather conditions. In addition, NEMA rated junction box will tell let you if it's suitable for use in hazardous or non-hazardous locations, and indoor or outdoor use. Further, NEMA indicates how well the junction box is protected against oil, coolants, and corrosives. Knockouts, hinged, wall mounted, or pole mounted are styles available on several of the enclosure series. With both polycarbonate and steel options available in a variety of sizes, it's easy to find the perfect junction box from KDM. Our electrical junction box can be custom configured to meet your concern needs.
electrical junction box lock
At KDM, our electrical junction box goes through rigorous testing procedures and conform to the highest international standards. So you can rest assured that every time you purchase our products, you will get the best value of it. Over 10 years, we strive to comprehend the exacting requirements of our clients. Our well-trained team with their rich skills and strong domain expertise help us in meeting the increasing demand of the industry, effectively. We are also capable of meeting the needs of our clients as per their choice, preference, and requirements. From then on, we are offering world-class electrical junction boxes and provide the best services to our customers. As one of the leading manufacturer of electrical junction box in China, we have been and are able to offer premium quality electrical junction box solutions to our clients and future customers. If you are having a junction box problem, you could visit our website or better contact us! KDM provides a wide range of junction box enclosures which cater to different applications. The junctions box enclosures can come in carbon steel, stainless steel (including 201 stainless steel, 304 stainless steel as well as 316 stainless steel) and galvanized steel.
Compared to polyester junction box enclosures which are only suitable for indoor applications, the steel junction box enclosures provided by KDM are both capable of indoor and outdoor usage and come with a similar or even lower price tag.
KDM has been supplying junction box enclosures for more than a decade and has accumulated a great amount of experience in design and manufacturing as well as reliable partnerships with other specialized suppliers. Junction box enclosures are also called cabinets mostly when they are used outdoors to house electrical components, wiring, circuits as well as other assemblies. Nowadays, all of the junction box enclosures manufactured by KDM are able to meet the requirements of various NEMA and IP protection standards. And KDM can supply you with the junction box enclosures that satisfy your most detailed requirements, including size, layout, latch, accessories, protection standards and mounting hardware options, etc. KDM has equipped its manufacturing facilities with industry-leading manufacturing equipment as well as an experienced tech and customer support team. All of them are ready for your orders and will spare no effort in satisfying your needs.
Waterproof Junction Box
KDM waterproof junction box ideal for outdoor application as it can take the heat, cold, rain, and any type of weather. This enclosure is more favorable for open-air garden lighting connections or expanding electrical power wires. KDM waterproof junction box is very versatile, ready to use and compatible with any individual house outside connector.
Waterproof Junction Box
KDM waterproof junction box keep electrical wiring protected mostly in outdoor areas and even in environments where protection from harsh elements is essential. At KDM, we stock a large variety of waterproof junction box, protecting electrical components from any weather elements. This enclosure is available in economic and affordable price.
KDM waterproof junction box is mainly suitable for residential and industrial applications such as electrical, communication, fire equipment, steel smelting, oil chemical industry, etc. This waterproof electrical junction box keeps your industrial wall connections clean and dry.
Our waterproof junction boxes are made in puncture-resistance high-strength engineering materials. This enclosure varies weather protection levels including IP44, IP45, IP54, IP55, IP56, IP57, IP65, and IP66, making them well protected from rain and water splash back and capable for joining wires inside. This superior engineering material meets the high requirements of the industrial distributing system.
waterproof junction box blending
KDM waterproof junction box enclosure features knockouts, hinged, wall mounted, or pole mounted styles. This waterproof box with an internal terminal block for cable joining can be mounted both – horizontally or vertically with a range of cable compatibility. KDM waterproof enclosure characterized the modern design and innovative components combined with ease of installation.
KDM waterproof junction box comes with a complete terminal block. They are also re-enterable for either rigid or flexible insulated wires. This extremely resistive electrical weatherproof enclosure offers more space internally due to the big cover. Furthermore, waterproof junction box accessories offer grounding screws, grounding wires, brackets, extenders, and plates for use in a variety of applications such as new builds and renovations.
You can also have your weatherproof junction boxes made to order to accommodate custom sizes and special needs. Since at KDM, we often customized waterproof junction box enclosure as per clients' requirements and specifications for their specific applications. Whether you are choosing a corrosive resistant material such as stainless steel or galvanized steel, it is a must for a weatherproof junction box. Choosing the right type of box is the key to ensure your project is strong and secure.
Our weatherproof junction boxes are manufactured by our skilled professionals and efficient team. Our expert team produces these products by making use of technologically advanced machinery. Owing to the fabrication being done, these weatherproof junction boxes are known for high durability and precise finishing aspects.
KDM, as a leading manufacturer of a weatherproof junction box, we aim to help you and assist on technical weatherproof junction box enclosure information. At KDM, we do our best to reduce the risk of duties as we provide the best quality weatherproof junction box enclosure. For more than 10 years, we strive to provide the finest product and quality service to our customers. 
Please contact us for more information about our quality waterproof junction box enclosure, we are here to help!
Outdoor Electrical Junction Box
Outdoor Electrical Junction Box blending 
KDM outdoor electrical junction box suitable for electrical indoor and outdoor, communication, fire-fighting equipment, steel treatment, petrochemical, electronic, electric, railway, construction site, mine, mining area, environmental hazard facilities, etc.
KDM outdoor electrical junction box provides protection of the components against accidental damage from sparks, heat, short circuits and/or loose connections. Outdoor electrical junction boxes conceal the wires, keeping them free of dirt, dust, and dampness while leaving the build looking neat and tidy.
At KDM, we can design outdoor electrical junction boxes using galvanized, steel and stainless steel to ensure your electrical equipment are safe. These boxes offer plenty of space for making wire connections with multiple wires or cables, but other types of boxes can be also used for this application.
Outdoor Stainless Steel Electrical Junction Box Material
Our outdoor electrical junction box enclosure is offered in a wider variety of materials, shape, and size, well-suited according to your needs. We also stock all the additional bits and pieces to fix your outdoor electrical junction box into place, so you'll have everything you need covering in one store.
KDM outdoor electrical junction box continuously welded seams with a smooth finish without knockouts, cutouts, or holes in the door or body to prevent dust and or liquids from entering the electrical box. Thus, a folded lip on the single door enclosure ensures that the inside of the electrical box will be free of any contaminants. This also prevents any liquids from dripping into the enclosure when the door is open.
KDM outdoor electrical junction box also adhere to NEMA rating standards, which the junction box can withstand environmental conditions, such as dust, light, wind, snow, and other elements.
Outdoor Stainless Steel Electrical Junction Box
KDM outdoor electrical junction box is sealed enclosures designed for mounting to the surface of exterior walls, roof overhangs, decks, and other structures. These boxes have an outdoor cover or fixture rated for damp or wet locations, depending on the application.
Our outdoor enclosure junction box can be custom made. We can custom design and create these boxes meeting the perfect size which your component well remain supported and protected from accidental damage and connection wires effect. KDM has extensive experience in creating and developing these enclosures.
As one of the leading outdoor enclosure junction box manufacturers and suppliers in China, we're offering the best wholesale and customized services for our outdoor enclosure junction box in stock. These boxes are both made using excellent quality of raw material. We offer the entire range only after checking them in our internal quality control department. In addition to this, outdoor electrical junction boxes are available at an economical price, with effective & timely delivery.
With our outdoor enclosure junction box, you can rest assured that you will get the best value of our junction box products, whether you need to purchase it in small or a larger quantity. Our outdoor electrical junction boxes undergo rigorous testing procedures and conform to the highest international standards.
If you need help with customizing outdoor enclosure junction box for your project, please feel free to contact us today!
NEMA 4X Junction Box
KDM NEMA 4X junction boxes are constructed to devices which it allows protection where electrical controls and components may be hosed down or be very wet, or in specific applications where corrosion may be a problem. Equipment includes instruments, hydraulic or pneumatic control, electrical, terminal wiring, etc.
Some ideal applications of KDM NEMA 4X junction box are in industrial pump controls, wastewater, solar, marine, pump control, petrochemical facilities, including offshore petroleum sites and other industries where mounting is outdoors.
KDM NEMA rated 4X junction box designed for use mainly to provide a higher level of protection against windblown dust and rain, splashing water, hose-directed water and damage from external ice formation. This enclosure can well-performed in both indoor and outdoor conditions, but it is most well suited for harsh environments.
At KDM, we manufacture NEMA 4 junction box from top grade materials including galvanized steel, 304 and 316 stainless steel or steel. Also, finished with a smooth brush and continuously welded seams with knockouts, cutouts, or holes. The box cover is secured to the body with easy-to-operate stainless steel screw clamps mounted on all four sides, ground stud provided on the cover. Also, bonding stud is provided on the door and a grounding stud is provided on the enclosure.
NEMA 4 junction box parts
At KDM, we offer a wide variety of styles and sizes NEMA 4X junction box, so you could easily find the ideal enclosure well suited to your specifications. Furthermore, we have a lot of features you can add to the enclosure such as footings, air condition, sun shield, windows and many more.
KDM NEMA 4X junction box can be custom made according to your project specifications. You can send us your design or sketch of your box, we can build a specific size, finishes, and other configurations. We can also powder coat your enclosure with the color of your choice. Thus, we provide a lot of option such as interior, back panel, flush or surface mounting available upon your request. Whether you need it for commercial or industrial applications, we have the capability to construct the perfect NEMA 4X junction box to meet your exact job requirements.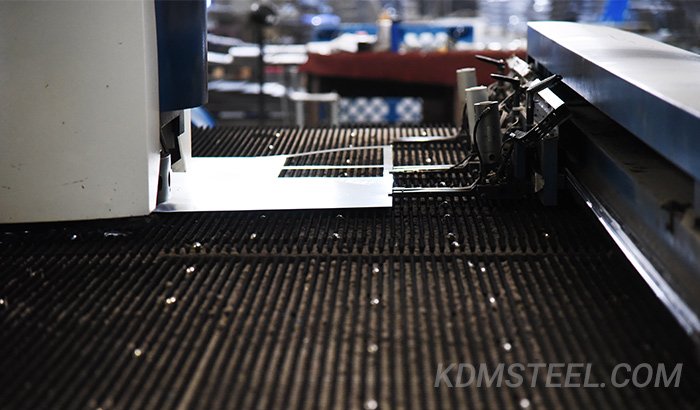 Through KDM well-trained staff and engineers, we develop and continuously provide top-quality, state-of-the-art NEMA 4X junction box on our valued customers. Our 10 years of manufacturing expertise, we are able to offer comprehensive enclosure solutions in each of particular applications.
With KDM NEMA 4X junction box, you can save your valuable time and money along with the process. Our advanced system guarantee that our customers receive consistent quality services each and every transaction.
All our NEMA 4X junction box is manufactured using the highest quality engineered materials. Typically it can withstand extreme, harsh, and corrosive environments which exceed the capabilities of our NEMA 4X junction box enclosure.
Stainless Steel NEMA 4  Junction Box Welding
Whether you want to custom junction box meets NEMA 4X standards, or you are interested in one of our products on our shelves, please get in touch, we're glad to help.
Stainless Steel Junction Boxes
KDM stainless steel junction boxes are strong and suitable for use in hazardous or wet locations, as well as simplifying installations and reducing space requirements in the equipment. Our junction box is manufactured in stainless steel assuring resistance to environmental issues yielding a long durable product life. KDM supply stainless steel junction boxes which are commonly used for connecting additional sockets to circuits, adding lighting points, extending circuits, electricity circuit repairs, cover, and enclosure are natural stainless steel with a smooth brushed finish. KDM stainless steel junction boxes are mostly used in commercial and industrial applications that require the equipment in a corrosive environment. Our offered box is widely used in areas like cable distribution work, petroleum, and chemical facilities, refineries. They can also be used in food processing, dairy, brewing, and other commercial and industrial process facilities. At KDM, our range of junction box which are fabricated in our facility using the finest quality 304 and 316 stainless steel, performed for maximum environmental resistance. Our stainless steel junction boxes are available in a large variety of sizes, styles, and finishes, which allow you to definitely find the enclosure to meet the demands of your installation. KDM stainless steel junction boxes provide comprehensive protection for your applications in industrial environments and in process technology. Our stainless steel junction box contains terminals to allow the installation of solenoid valves, switches, indicators, and other electronic devices. Thus, cable entries can be drilled in the sides or through the gland plates, if fitted, or through the enclosure wall with removable gland plates on any or all of the four sides. Entries may also be drilled through the rear face of the box. KDM stainless steel junction boxes are readily available in all of the most popular sizes, protection categories and configurations – including cut outs, mounting pan, locking hinge, box coupling kit, internal/external earth studs, brackets, padlock hasp and some more options. With over 10 years of industry experience, we have the capability to customize your stainless steel junction box needs. We construct your custom stainless steel enclosures based on your specifications and upon your request, we can expand junction boxes meeting various standards. With KDM, you can get your custom cabinet solution for hazardous areas quickly and from a single source. Our stainless steel junction box is strictly checked on different quality parameters before being dealt with by our customers ensuring its perfect finish standard. With the support of our highly trained experts and the latest technology, we have been able to offer an array of the stainless steel junction boxes. As a trusted stainless steel junction box manufacturer, we designed this enclosure to provide long, dependable service in the most demanding environmental conditions. Thus, constructed designed to prevent wiring circuits and for convenient access on electrical connections and padlocking security. From the very beginning, we provide quality and reliability through the entire junction box production process. For more information on our stainless steel junction box products, send us a quick message today!
Junction Box Electrical Enclosure: The Helpful Guide for Importers
Industries, offices, and homes alike all have some wiring connections that need some enclosure. And to be honest, why you want to enclose your electronics, and electrical equipment doesn't matter. What's important is that you protect them from natural elements. For this, there is a relatively simple solution – use junction box electrical enclosures. More specifically, junction boxes are designed to house and protect electronic and electrical equipment from the environment.
Want to know more about this?
What is a Junction Box Electrical Enclosure?
A Junction Box enclosure is merely a housing and circuit protection system. It is some sort of cabinet that houses electrical wiring and equipment, protecting them from harmful environmental elements. https://youtu.be/fA_eY5q7OpI There are different variations of Junction Boxes suited for specific applications. Nonetheless, most are designed for indoor or outdoor use with different mounting options, i.e., to the walls, floor, etc.
Why do you need a Junction Box Enclosure
Without a doubt, using an electrical enclosure offers many benefits and, junction boxes are no different. First of all, this equipment can serve as a container for the electrical components that you need for regular maintenance and upgrades.
Junction box
It simply makes wiring connections and electrical equipment easy to access. You can also use its wiring to appliances to encase and protect electrically charged wires. Besides, this enclosure also serves to prevent any short circuits. Now, there is another benefit that junction boxes bring that you may not be aware of. This is that from one source enclosed in these boxes, you can easily supply power to multiple outlets. You don't need to worry about finding a new power source for your different connections.
Designs of Junction Box Electrical Enclosure
Junction boxes are available in a variety of structural designs.
Different designs of junction boxes
Depending on your applications and specific requirements, you can get an enclosure in any of the following designs;
1) Hinge Door
Hinge door designs are pretty common in junction box electrical enclosures. These feature an easy to open hinge with screw-down clamps for secure closures. Luckily, these can be used for a variety of applications. So don't be scared to try them out.
2) Single Door and Double Door
Like the hinged doors, single door designs are also popular in Junction Boxes. These, as you can tell come with one door can either be hinged or latched. The same applies to double door enclosures whose only difference is that it has two alternating doors.
3) Latch
Talking of latches- these simply mechanical bars with a catch or lever that are used to fasten doors. So instead of hinges, you could get an enclosure with a latched door.
Quality Standards of Junction Box Electrical Enclosure
As you plan to import a junction box enclosure, one of your biggest concerns has to be safety. You need to ensure that you import an enclosure/s designed with safety in mind. Don't worry though, most electrical enclosures are safe to use, and you can easily tell this by looking for any of the following markings:
§ NEMA 1-13
NEMA has put forth guidelines for the protection of electrical enclosures including that of Junction Box electrical enclosures.
NEMA Enclosure
When looking at Junction Boxes, you will find that some have a NEMA rating. This means that the boxes conform to all the safety standards set forth by NEMA and are safe to use.
§ IP
Along with the NEMA rating, there is also ingress protection (IP). IP-rated enclosures are said to protect against the ingress of foreign solids and water. This means that environmental elements like dust, dirt, ice, rain, and water won't be able to damage enclosed components.
IP rated enclosure
In other words, when importing a junction box electrical enclosure, find one with an IP rating of IP65, IP66, IP67, or IP68.
The Universal Laboratories association guides manufacturers on the proper manufacturing of electrical equipment – junction boxes included.
UL
To ensure that all safety protocols are observed do not hesitate to buy a UL-listed junction enclosure. It will do you good.
In this day and age where environmental degradation is on the rise, it only makes sense that industry guidelines will require products to utilize environmentally safe materials.
RoHS
Lead, mercury, cadmium, and such materials are not very friendly to the environment let alone human health. This is why RoHS standards restrict manufacturers from using them when making junction box enclosures. So if you are environmentally conscious, you will try to look for a RoHS listed enclosure to import. These are the internationally recognized safety markings that you look out for when importing junction box enclosures. If importing to a European zone, however, you'll need to check out for CE markings too. This is essential when importing any electrical products into an EU zone. Otherwise, clearance for entry may be problematic.
Junction Box Electrical Enclosure Specifications
Now, I've told you about the designs and protection. What I haven't told you is that buying junction boxes is not an easy thing, especially if you've limited knowledge about them.
Junction box specifications
To be able to choose the right enclosure for your application, you need to be precise enough in what exactly you want. Factors to consider when choosing the right junction box electrical enclosure include;
§ Material
Junction box electrical cabinets are either made of metal or plastic. Metals boxes often feature steel, cast iron or aluminum build and are commonly designed for outdoor use. This is because they're highly durable and have a higher resistance to impact, and natural elements. Plastic boxes on the other are mostly designed for indoor use since they can't withstand the harsh environmental conditions on the outside. These boxes, I'll be honest, are not as durable or sturdy as their metallic counterparts. But, they are cheaper to buy and very easy to install.
§ Door
I don't think there is much to say here other than you need to decide if you want a hinged door or latch door.
And, if you would wish for a single or double door Junction Box electrical enclosure.
§ Ventilation
Some indoor applications may demand the use of Junction Boxes with additional ventilation. If this is the case with you, look for a cabinet with proper ventilation mechanism, i.e., holes. Otherwise, wires could corrode due to excessive moisture in the box.
§ Protection
As I've already told you, the industry has set guidelines on the quality standards of Junction Box electrical enclosures. These guidelines, note, must be taken into consideration while importing any protection device for electrical equipment. For your benefit, buy a Junction Box enclosure that is NEMA and IP rated. In addition to these, you may want to ensure that the products are RoHS, UL, and CE compliant.
§ Size
When looking for a Junction Box electrical enclosure to buy, the first thing to do is to pick the right size to fit your electrical circuitry. Electrical enclosures as you may already know come in different dimensions. And, the only way that you can know the right size for you is by determining how much content you will be enclosing. Once you know this, picking a size from the wide range available is easy. Remember, specifications for electrical equipment vary from one user to the other.
So do not rely on what you see in online forums to choose the right product for you. Determine the right box enclosure based on your specific application and requirements. That said, here is a company that can help you find the right quality Junction Box electrical enclosure for you.
KDM Steel Junction Box Electrical Enclosure Manufacturer
Well, I know that most of you are avid Do It Yourselfers that wouldn't mind building an enclosure for your electrical components. But while this may serve the purpose, it won't protect your circuitry the same way KDM steel Junction Box electrical enclosures would.
KDM junction boxes
I'm trying to bust your bubble, but it's the truth. KDM Steel Junction Box electrical cabinets are tailor-made for some applications. We design cabinets that meet the set NEMA and IP protection standards that ensure safety at all times for both the equipment and the operator. Our Junction Box enclosures are primarily made out of carbon steel, stainless steel, and galvanized steel. All these materials are known for their high level of durability and robustness. This means that apart from the indoors, you can perfectly use our enclosures in the outside. No need to worry about rain, snow, or even dust damaging your components. The best part about KDM steel is that we also custom make Junction Box electrical enclosures. Whatever design and size that you want, we can custom make the enclosure to suit every little detail of yours. If you need to know more about what KDM steel can offer, visit the KDM steel website or better yet contact us.
Conclusion
When you want to protect your indoor or outdoor electrical equipment, Junction Box electrical enclosures are undoubtedly the way to go.
They are available in a wide variety of designs to choose from, different sizes, materials, and shapes. Basically, there are plenty of options available for everyone, so you should not have trouble finding something that suits your needs. This is whether that might be stainless, galvanized or carbon steel Junction Box electrical enclosure.
Learn More Here:
What Purpose Does a Junction Box Enclosure Serve?
A junction box enclosure is an electrical connector enclosure. 
The enclosure of junction boxes protects electrical connections from the elements and keeps humans safe from electric shocks.
It's generally used in ceilings, under floors, or hidden behind an access panel if built for surface mounting, common in residential and commercial structures.
They aid in the prevention of fires caused by short circuits. 
Besides, built-in connectors for linking wires are sometimes included.
Figure-1 Junction Box Enclosure
What are the Features of Junction Box Enclosure?
Junction boxes enclosure is an essential feature of any circuit protection system which requires circuit stability.
A junction box enclosure serves a variety of features such as:
Protects wire connections from physical damage by enclosing them.

Allows the electrical device to be mounted.

And the electrical cables that serve the device to be secured.

Ensures that no live wires or terminals are accidentally touched.
When Should a Junction Box Enclosure Be Used?
You'll need to have a junction box enclosure when you can't make a connection within a current electrical substation.
Install the junction box enclosure with the entrance facing outwards from the wall to access all the wires within.
Figure-2 Junction Box Enclosure
Is Junction Box Enclosure Safe?
Yes, absolutely.
The objective of the junction box enclosure is to keep your wire connections safe.
Creating power cables outside a junction box can damage the wire and cause heat and explosions.
As a result, any wire connection's application will necessitate the use of a junction box enclosure.
What Makes a Junction Box Different from an Enclosure?
The most significant distinction between enclosures and junction boxes is their size.
Enclosures can be as large as 18″x16," but junction boxes are often smaller, such as 5″x5″.
Junction box enclosures also come with various coverings, including screw covers, hinges with screws, and hinges with latches.
Figure-3 Junction Box Enclosure
What is the Advantage of a Junction Box Enclosure?
The following specified advantage ensures product quality:
Continuous hinge with smooth pivotal action and excellent axial rotation.

Durable and cost-effective.

Reliable performance.

Easy installation
How to Select the Correct Junction Box Enclosure?
The size of your application is the most crucial factor to consider when choosing a junction box enclosure.
It's an easy process to decide the proper junction box enclosure once you know the size of your area and the components.
Figure-4 Junction Box Enclosure
What are the Different Types of Junction Box Enclosure?
There are some different types of junction box enclosure, including:
Battery Terminal Junction Box Enclosure

Custom Stainless Steel Junction Box Enclosure

Fire-Resistant 304 Stainless Steel Junction Box Enclosure

Metal Junction Box Enclosure With Viewing Window

NEMA 4 Stainless Steel Junction Box Enclosure

NEMA 4 Wall Mount Junction Box Enclosure