Custom Your NEMA Outdoor Telecom Enclosure
Meet IP & Nema High Standard
Custom Any Size Outdoor Telecom Enclosure
Fast Free Sample Production within 3 days
Low MOQ from 1 pc to support Your Business
Custom Outdoor Telecom Enclosure Manufacturer in China
KDM outdoor telecom enclosure protects your telecommunications equipment outdoors and will be able to properly withstand outdoor elements such as temperature, extremes, dust ingress, ice, shock hazards, and UV damage.
Other dynamic factors include moisture, condensation, chemicals, and corrosive gases that can affect sensitive components within.
For that reason, our enclosures can be deployed in the harshest outdoor environments both rural or residential.
Outdoor Telecom Enclosure with Different IP or NEMA Rating
Finding outdoor telecom enclosures that meet all of your application requirements are made simpler through NEMA-rated cabinets with a 3, 3R, 4, 4X, 6 NEMA standard are all properly made to withstand the outdoor elements to varying degrees.
Our telecom outdoor cabinets are factory tested, field proven, and worry-free. They feature double-wall construction and a tight seal to safeguard your equipment from moisture and the harshest conditions of your environment. Thus, an outdoor telecom cabinet comes with accessories such as enclosure fans, and power options.
Depending upon where you plan to install them, KDM telecom enclosure also available with an optional built-in air conditioner or heat exchanger. Additionally, each telecom cabinet protected by a powder-coat finish to ensure it will last for a longer period of time.
Custom Outdoor Telecommunication Enclosure for Your Application
If you can't find standard products that quite meet your application requirements, we at KDM can modify the design to create the ideal outdoor product for your needs.
KDM telecom enclosure can be configured to fulfill the exact needs of your online work. Outdoor telecom enclosures are along with the range options including cable management, thermal management, environmental protection, and integration. All the above solutions and enclosure products can be custom-made.
KDM relies on custom and standard NEMA standard telecom cabinets to protect their internal equipment. Custom outdoor telecom enclosures help you constantly adapt off-the-shelf products requirements.
Our telecom enclosures are manufactured with the highest quality standards under stringent ISO 9001:2005 manufacturing & quality management system.
One Stop Solution for All Your Outdoor Telecom Cabinet Needs
KDM, as a leading outdoor telecom enclosure manufacturer located in China, outstands in our quality and manufacturing capabilities. Thus, we excelled in delivering the right product with high or low volume on schedule.
With the help of our expert technicians and professional designing team, we at KDM fabricate as per their customer needs and also assists in design and structuring the outdoor telecom enclosure.
Over the 10 years of experience in designing and production of all kinds of enclosure, we have gained a great reputation. Relying on our professional technique and rigorous quality control, we continuously offer high cost-effective outdoor telecom enclosure products to our valued customers.
If you are looking for the best outdoor telecom enclosure solutions, KDM surely meets your needs, contact us now!
All Enclosure Accessories for Your telecommunication Industry
KDM offers all kinds of outdoor telecom cabinets and accessories. We can also custom the enclosures and accessories based on your specific applications.
Based on different working environments, we can design different kinds of rain canopies, plinths, ventilation fans, surface coating materials to ensure the proper working of the telecom cabinets.
KDM outdoor telecom enclosure is made of stainless steel (including 304 stainless steel as well as 316 stainless steel), galvanized steel, and carbon steel that made it sturdy and reliable.
At KDM, we provide a large selection of outdoor telecom enclosures sizes, types, shapes. We can help size the right enclosure for your site. With outdoor telecom enclosure variety, KDM can produce a weatherproof and durable enclosure that could perfectly be fitted to your enclosure project and solution.
Why KDM is Trusted By Over 1000 Global Clients
Enclosure Manufacturing
2D Drawing
3D Drawing
The Ultimate FAQ Guide to NEMA Outdoor Telecom Enclosures
Why are outdoor telecom enclosures useful?
Outdoor telecom enclosures house important telecommunication equipment and accessories, both for residential applications and street-type applications.
This is necessary for many sectors, such as residential, commercial, and industrial.
Outdoor telecom cabinet/enclosure
Many businesses and services are built around telecommunications, making outdoor telecom enclosures a must in their environment and functioning.
More specifically, outdoor telecom enclosures are used in data centers, office environments, server rooms, internet server providers, mobile operators, and various broadband networks, which are long-distance telecom cables connecting to the end-user.
Outdoor telecom cabinets protect the cables and equipment that processes and reroutes information that we communicate through the internet, television, and other such applications.
These enclosures have organizing racks, thermal management systems, and much more.
What is a fiber cabinet?
Fiber cabinets are basically a subtype of outdoor telecom enclosures, housing optical fibers, and cables for different service providers, hubs, power line networking, high-speed internet, ethernet, cable TV, and more.
These cabinets allow for distribution of networks to different points, such as routers, buildings, homes, and further telecom cabinets.
 Fiber cabinet with fibers and copper
Fiber cabinets have many cables and can have 2 parts: fiber-optics and copper.
Both are used to carry signals, but fibers are often faster, so they are used more nowadays.
How are cables organized in outdoor telecom enclosures?
Cables are organized with clamps and racks.
Clamps and brackets often just hold the cables pressed into one of the enclosure panels, keeping things organized.
Racks and their designs can be more versatile, as they often reroute and lead cables to other enclosures or to each other.
Adjustable racks are very common in outdoor telecom enclosures, allowing the personnel to place levels of the rack at different heights.
Racks have various openings that have their purposes. For example, racks can have euro, rectangular, square, T-shaped openings.
Different shapes of rack openings
Large rectangular openings are usually used to lead cables to an adjacent enclosure or a different compartment of the same enclosure.
T-shaped openings are used for hook and loop cable ties.
Euro holes are for cable managers, while square ones are for additional rack fasteners.
There are also many different fiber organizers, pass-through panels, troughs, partitions, hooks, and rings that all keep cables in check inside outdoor telecom enclosures.
  Pass-through panels
Another additional feature that helps organize and reroute cables in outdoor telecom cabinets is a cable boot.
Cable boots are similar to pass-through panels in the sense that they allow cable through and consist of special gaskets.
  Cable boots
However, pass-through panels are typically in a rectangular or square shape, while cable boots are cylindrical or conical, allowing one cable or a specific bundle of cables through.
So, in a way, cable boots are more selective that panels.
What are thermal management systems that are important for telecom cabinets?
Electrical equipment, such as cables and batteries, produce heat as they work.
Outdoor telecom enclosures have a lot of this electrical equipment, so they need reliable thermal management systems and solutions to keep everything safe and running.
Some good thermal management solutions that you can explore and request include natural convection, phase change materials, heat exchangers, and double-walled enclosure design.
Natural convection includes vents, fans, and air filters.
They work well with low-power enclosures, so they are not the best for telecom cabinets.
Either way, natural convection can be an added thermal management solution to the main one, which would be great for outdoor enclosures since this method eliminates solar heating.
Phase Change Materials are placed inside tubes and they keep the temperature inside the enclosure roughly constant, adjusting to daytime and nighttime changes.
 How PCM works
These work well with fans, and are used to cool down batteries.
Heat exchangers consist of two parts, the bottom part that is located in the battery part and the top part that is located in the electronics compartment, which is cooled down by an air-conditioning system.
Heat exchanger in an enclosure
Heat pipes transfer heat from the batteries into the electronic compartment, where cold air from the air conditioner forms a hybrid refrigerator system of the heat exchanger.
Double-walled cabinet design incorporates fans as well for efficient ventilation.
Fans on the top panel give the best cooling and energy minimization results.
 Double-wall enclosure design
How are outdoor telecom enclosures different in design from regular enclosures?
Besides organizing racks and thermal management systems, a big difference is that outdoor telecom enclosures sometimes have 2 or more compartments for various things.
The typical breakdown is the electrical equipment compartment on the top and the battery compartment on the bottom.
The batteries help the electrical components run since they process and forward a lot of information, so they need a lot of power to do so.
There also could be a battery tray for smaller enclosures.
Telecom enclosures also have ground bars, usually copper ones, for safety purposes, and load centers.
Load centers are basically distribution ports and circuit controls.
Outdoor telecom cabinet with multiple compartments
Finally, outdoor telecom cabinets also frequently have quad receptacles, which help further reroute and connect different cables.
Quad receptacle in an enclosure
What enclosure designs can I choose from?
Designs for outdoor telecom enclosures do not differ from other enclosures we make.
More specifically, we offer free-standing enclosures, floor-mounted, wall-mounted enclosures, pole-mounted enclosures, recessed enclosures, and – of course – custom enclosures.
Free-standing enclosures are perfect for large electrical units that are too heavy to be wall-mounted or pole-mounted. They could be of any height and width.
They are also portable.
       Free-standing enclosure
Floor-mounted enclosures are very similar to free-standing enclosures, only floor-mounted ones are secured to the floor – thus, they are not portable.
Wall-mounted enclosures use mounting brackets, screws, and pads.
They are perfect for small devices, and thus are cost-effective.
 Wall-mounted enclosure
Pole-mounted enclosures are not too different from wall-mounted ones.
They also use mounting brackets, but they are ring-shaped, placed around the pole.
These, and wall-mounted enclosures are very popular with outdoor telecom cabinets.
Pole-mounted outdoor telecom enclosure
Recessed electrical enclosures are installed into a hole in the wall or floor.
They can be of any design, but are recessed into something, so only the door is visible.
Recessed enclosure
Such telecom enclosures can be recessed into the ground or into the outside wall of a building, which works very well with commercial and residential telecom enclosures.
Of course, we also have our custom enclosures, which will suit your special requirements.
Plus, we offer different options for doors, including single, double, and multiple doors.
Single doors are perfect for smaller and less complex electrical units, whereas double doors are used for large and complicated units.
Multiple doors are used for huge industrial applications or for increased security.
Outdoor telecom cabinet with multiple doors
What general accessories can I add to the outdoor telecom enclosure?
You can also request vents, windows, hinged doors, locks, and cable management systems.
Vents, as well as radiating fans, provide a path for heat to escape through, cooling electrical components of the enclosure.
This prolongs their life and decreases the possibility of malfunctions.
Radiating fan in an enclosure
These also stabilize air pressure inside the enclosure, preventing condensation which can damage the electrical components of the enclosure.
Plus, the vents can be further upgraded to air conditioners and heat exchangers.
Windows are used to help workers examine the electrical components in a non-invasive way.
And if something goes wrong, a window helps what is happening to see right away.
Plus, infra-red windows help protect personnel from arc flash accidents.
These are rare on outdoor telecom cabinets because maintenance does not happen that often, and windows can compromise the protection of the enclosure.
 Enclosure with a window
Hinged doors control how and how much the door or cover of the enclosure opens.
This also includes a variety of handles that you can request as well.
Locks add a layer of security to your outdoor telecom enclosure, making sure no one tampers with it or accidentally accesses the telecom cabinet.
Another small feature includes file pockets.
File pockets are used to store files like operating manuals, shift logs, information booklets, and anything else important that pertains to electrical components within the enclosure.
For outdoor telecom cabinets, these are better placed on the inner door of the enclosure since otherwise the files may be damaged or tampered with.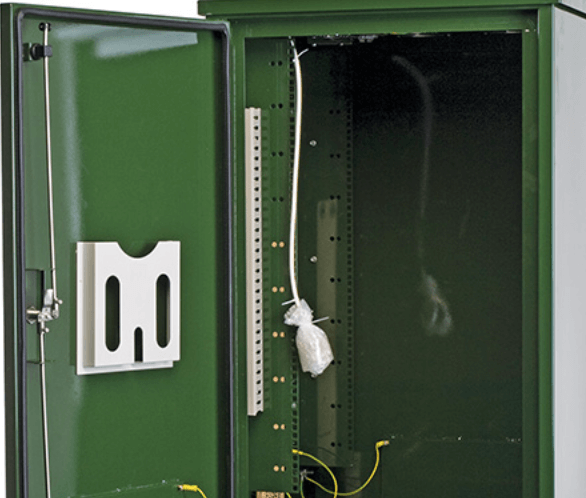 File pocket (in white)
Cable management systems such as cable entry frames and clamps serve to keep wires organized and make them easier to install and maintain.
Cable entry frames reroute and lead cables in and out of the enclosure to an outside source.
Meanwhile, cable clamps hold cables in place.
There can also be various racks and bundles if there are a lot of cables.
Smaller accessories that you can request for outdoor telecom enclosures include solar shields, rain caps, lifting eyes, and even door alarms.
Solar shields are basically another layer on top of an enclosure that reflects solar radiation, controlling the inner temperature of the enclosure to prolong the life of its electrical components.
This, like a vent, is especially important for outdoor telecom enclosures.
   Solar shield (the top plate)
Rain caps are the top parts of an enclosure.
They can be flat, but protruding forth more than the enclosure, or they can be tilted like a roof.
They help divert streams of rain off of the enclosure so the rest of it gets less exposure to the rain.
This prolongs the life of your enclosure.
  Rain cap
Lifting eyes aid installation.
They are little hooks at the corners of an enclosure that you can use to lift it up for transportation of mounting.
This is especially useful if an enclosure is very heavy and the only way to transport it is by lifting it up.
Lifting eyes
Door alarms are another security measure besides locks.
Outdoor telecom cabinets may be subject to vandalism and tampering, so a door alarm with making noise if someone unauthorized opens the enclosure.
To learn more, feel free to contact us for more information about all the different features we offer!
What materials are outdoor telecom enclosures made from?
The materials used for our outdoor telecom enclosures aren't different from materials used for other types of enclosures.
They can be made from carbon steel, galvanized steel, and stainless steel – usually of the grades 304 or 316L.
Keep in mind that each has certain qualities.
Carbon steel is usually duller than stainless steel.
It is also magnetic and more malleable since it only has iron and carbon.
This steel is also prone to corrosion.
Stainless steel is created by adding chromium, nickel, and molybdenum to the iron-carbon alloy.
Stainless steel vs. galvanized steel
The grades 304 and 316 differ in the content of all additives.
Grade 316 is slightly stronger and resistant to saline and acidic water.
Grade 316L has a lower carbon content, making it a little bit stronger.
Galvanized steel is coated with a layer of zinc that gives it corrosion-resistant qualities.
While we do offer galvanized steel enclosures, this metal is vulnerable to salt water.
Please note that galvanized steel is more expensive and heavier than stainless steel.
Plus, we can include windows made from polycarbonate, ABS, and glass-reinforced plastics such as fiberglass.
Polycarbonate is more resistant to corrosion, whereas ABS is cheaper.
Fiberglass is very strong, can dissipate heat, and insulates electricity, lowering the effect of interference and the possibility of shock.
It is made from glass fibers placed in plastic.
How protected can outdoor telecom enclosures be?
Outdoor telecom enclosures need to be protected against any outside hazards, such as dust, rain, snow, UV radiation, shock, impact, and even vandalism.
But besides that, enclosures need to have such a design that even inside hazards do not tamper with your electrical components.
These internal hazards include condensation, fumes, chemicals, and even air pressure.
To combat these, we provide any level of protection that your outdoor telecom enclosures need, both according to IP standards as well as NEMA ones.
IP enclosures use the IP code, which has 2 digits – one corresponds to protection against the ingress of solids, while another against ingress of liquids.
The maximum IP protection any enclosure can have is IP69K, which is fully dust-tight and can be submerged underwater for a long time and sprayed with hot pressurized water.
We offer enclosures up to IP66, which means it is dust-tight and can be sprayed with pressurized jets of water, as well as submerged underwater for 30 minutes.
As for NEMA standards, we offer any type, starting from 1 and up to 13, including subtypes, such as 3R.
Our NEMA enclosures are protected against weather, corrosion, oil seepage, and much more.
 NEMA and IP ratings comparison
Outdoor telecom cabinets are often rated with IP65 and up, or 4/4X and up.
What warnings can be posted on outdoor telecom cabinets?
There are 3-4 main signs that are common on outdoor telecom enclosures, but there are also 3 different levels of warning that are used in conjunction with symbols.
The most common symbol on telecom enclosures is the "shock" symbol, which is a yellow triangle with a lightning bolt in the middle.
Shock symbol
This symbol communicates to personnel that maintenance should be done carefully, discharging static electricity from tools and avoiding shorting connections.
It also means that any flame nearby will be dangerous, as it may produce an explosion, or an arc flash.
Sometimes, a skull is added to the symbol as well, warning people not to tamper with the enclosure.
Another symbol that can be used on telecom cabinets is the VRLA battery symbol.
It is also a yellow triangle with a leaking cell on it.
  VRLA battery symbol
This symbol communicated to personnel that there are VRLA batteries in the enclosure, which contain sulfuric acid.
In contact with skin, it causes severe burns and irritation.
The third common symbol that outdoor telecom cabinets have is the "do not smoke" symbol – a crossed out cigarette.
"Do not smoke" symbol
It tells anyone nearby not to smoke because the batteries inside the enclosure may emit explosive gases.
The three levels of warning are as follows: danger, warning, and caution.
"Danger" means that anyone who does not follow directions may be killed or seriously injured.
"Warning" means the same thing as "danger", but to a lesser degree.
Finally, "Caution" means that anyone tampering with the enclosure may be injured or may damage the equipment inside.
What paint is better to use for coating outdoor telecom cabinets?
Our enclosures are well-protected, but the right coating can add its protection as well.
You can choose enamel or powder paint coats in any color.
Enamel paint has a glossy finish and is resistant to different weather conditions.
Specific enamel paints like epoxy enamel and PU enamel are commonly used for industrial enclosures since they are resistant to corrosion.
Powder paint is deposited with the electrostatic force and is quicker and easier than enamel.
It is also more flexible in appearance, giving you the option of glossy and matte finishes.