Custom Your Battery Enclosure
Expert Battery Enclosure Box Manufacturer
Custom Battery Enclosure .
IP65/IP66 Certification
Fast Sample Production within 3 days.
KDM Battery Enclosure Certification
Custom Battery Enclosure Manufacturer in China
KDM battery enclosures keep your batteries safe from weather and safe against theft. Battery enclosure maintains consistent temperatures and meeting standard requirements.

Our battery enclosure also features locking mechanisms that protect unauthorized people against possible electrical dangers if they happen to be tampering with your equipment.
Manufacturing Capacity
Buying Guide
Enclosure Designs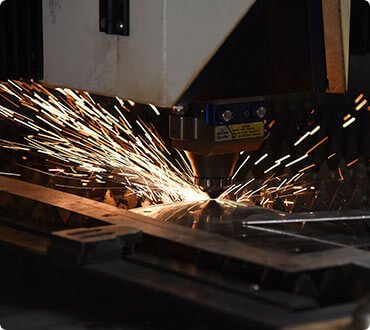 Electrical Enclosure Laser Cutting
4000W high performance laser cutting machine, +/- 0.05mm accuracy. No burr, no scratching.
Electrical Enclosure Welding
Multi-Functioning flexible welding equipment, high accuracy, no deformation.
Electrical Enclosure Bending
+/- 0.5mm bending precision, smooth surface without bending marks.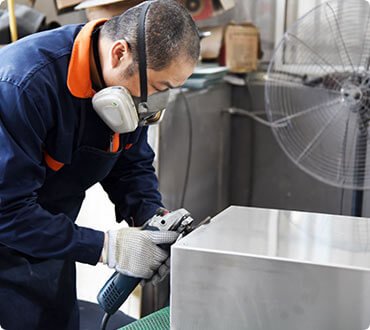 Electrical Enclosure Polishing
10+ welding experience workers, perfect overall appearance.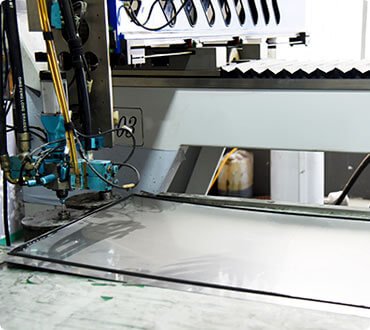 Electrical Enclosure Foaming
High speed and accuracy foaming machines, fast and qualified Gasket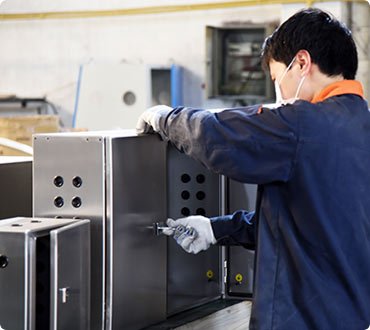 Electrical Enclosure Assembly
Expert assembling team, consistent assembly quality on every KDM enclosure
KDM B
attery 

Enclosure
Our battery enclosures can be pole-mounted or ground-mounted and are suitable for indoor and outdoor applications. KDM battery enclosure is available in various sizes and configurations for housing batteries and support equipment, engineered specifically for the PV industry but also suitable in a wide variety of applications.
KDM battery enclosures are engineered to resist crash and intrusion and to cool individual modules using innovative materials, design and joining technologies. Battery enclosure design is according to your specific applications and requirements of your project. All enclosures include rainproof design, electrical knockouts, and ventilation. The product features and functions differ depending on the location and needs of your system. KDM white powder coating and quality manufacturing ensure a robust enclosure that will survive even the harshest conditions.
Battery Enclosure Detail
KDM offers custom enclosures to meet any of your specifications. These enclosures can be aluminum or polymer and applied to everything from customer's needs for deployment in extreme conditions. Every battery enclosure is manufactured to meet size and weight load requirements. KDM battery enclosure can be designed as a pole mount or free-standing installations. Battery enclosure commonly made from aluminum materials but can also be fabricated using galvanized steel, carbon steel, and stainless steel.
At KDM, you had the choice to select surface finishes, such as powder coat, wet coat or galvanized. Custom designed enclosures are made special order specifically for our customer's applications, we can fabricate and build a variety of sizes and types of enclosure. If required, your enclosure can be built with separate sealed compartments for batteries and electronics.
Battery Enclosure Manufacturing
KDM designs and manufactures each solar battery enclosure to meet these and other crucial requirements at pricing that ensures the viability of alternative energy projects. Our experts keep developing innovative materials to reduce fire hazards while maintaining low battery weights. They can also help by recommending material, assembly simplicity, compatibility with standard requirements, protection status, shape and size, and cost.
With KDM battery enclosure, you can ensure your batteries are protected from exposure to environmental conditions, enhance safety, assure battery longevity. KDM, with over 10 years of expertise in manufacturing all types of enclosure, has the capability of providing a durable and high-performance battery enclosure fitted to your requirements.
We make custom enclosures for almost any battery. All of our battery enclosures are manufactured from heavy materials that don't lose their shape after being loaded with batteries. If you are interested in our battery enclosure, don't hesitate to contact us, today!
battery enclosure 1
Battery Enclosure 2
Questions You May Ask About Our Battery Electrical Enclosure
KDM Battery Enclosure Box
KDM battery enclosure is suitable for industrial off-grid solar power systems, such as those used in the oil and gas patch and in a traffic control system that uses a battery or multiple batteries that need a place to live, sheltered from the elements and kept dry and secure.