Custom Electrical Enclosure
Custom Nema electrical enclosure based on your picture or drawing
2D or 3D drawing in 1 day, sample in 3 days
IP65/IP66 Report for All Customized Electrical Enclosures
Tailor-Made Unique Electrical Enclosure for Your Project
The precision of KDM Electrical Enclosure:
+/- 1mm tolerance for overall cabinet size
Standard Configuration:
Gland plate, radiating fan, fluorescent lamp, lamp switch, ground connections, PU foaming seals.
Warranty:
1-year warranty for KDM electrical enclosure, you will get free accessories within our warranty
Send your Inquiry on KDM Washdown Electrical Enclosures
As the premier manufacturer of all kinds of enclosures, including traffic control enclosures, KDM has the solutions you need. We specialize in high-quality, repeatable control panel assembly. At KDM, we control every step, to ensure your project meets the highest possible standards. 
KDM traffic control enclosure has been manufactured by our experienced engineers along with advanced technologies. Our professional team will work with you in every step of the process, making sure that you will achieve the highest quality traffic control enclosure products. Our goal has always been to build long-term relationships with you.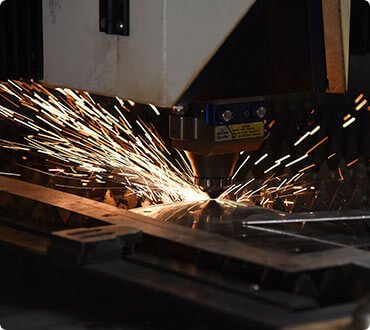 Electrical Enclosure Laser Cutting
4000W high performance laser cutting machine, +/- 0.05mm accuracy. No burr, no scratching.
Electrical Enclosure Welding
Multi-Functioning flexible welding equipment, high accuracy, no deformation.
Electrical Enclosure Bending
+/- 0.5mm bending precision, smooth surface without bending marks.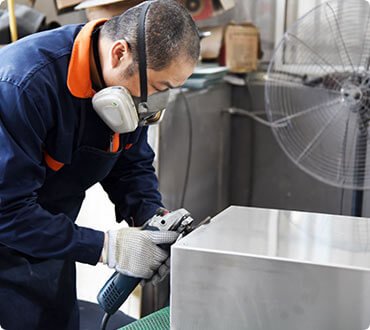 Electrical Enclosure Polishing
10+ welding experience workers, perfect overall appearance.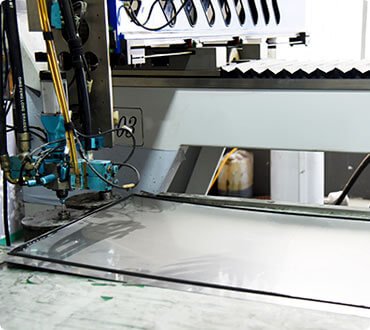 Electrical Enclosure Foaming
High speed and accuracy foaming machines, fast and qualified Gasket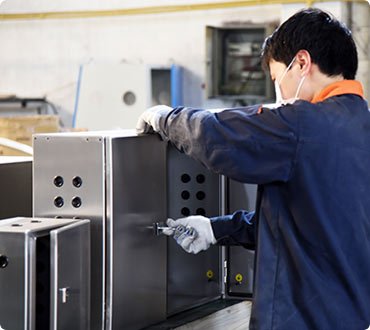 Electrical Enclosure Assembly
Expert assembling team, consistent assembly quality on every KDM enclosure
KDM Electrical Enclosure Manufacturing Capacity
What Types of Custom Electrical Enclosures Can KDM Make?
Custom Electrical Enclosures
KDM is a professional custom electrical enclosure manufacturer in China. They designed electrical enclosures suitable for indoor and outdoor applications. Custom enclosures can be built to virtually any size and dimension. It has a precision-cut opening for the perfect fit. All custom electrical enclosures they produced meet any industry standards including UL Certifications & IEC Ingress Protection.
What are the Elements Must Consider for Custom Design Electrical Enclosures?
Custom electrical enclosures will add value to your product. It is a more application-specific and functional enclosure with a unique appearance.
Some are the elements your manufacturer must consider in custom electrical enclosures productions:
Enclosure sizes
Gland Plates
Standing Types
Box Colors
Specific Cutouts
Windows
Door Types
Mounting Plates
Thickness of sheets
Door Locks
Protective Covers/ Shielding
Special Packaging
Other accessories insulation, lights, fans, and more
How to Manufacture Custom Electrical Enclosures?
The manufacturer should verify your project type
Your manufacturer will consult you to understand the nature of your applications. The team will recommend and advise the best custom electrical enclosures.
Choosing the Right IP Rating
Electrical enclosures for indoor and outdoor installations have their own specific IP ratings. The manufacturer should ensure the right IP rating for your custom enclosures.
Verify the Enclosure Configuration
Confirmation of the interior design details of an enclosure. It includes racks and paneling of your electrical enclosures.
Once it's done confirming the interior designs and features, your manufacturer will create a custom enclosure design. You can review the design for changes and approval before the enclosure is built.
Choosing the Right Enclosure Materials
You can choose the best material based on your applications. Electrical enclosures are available in various materials such as weatherproof custom stainless steel enclosures, corrosion-resistant aluminum, galvanized steel, etc.
Confirming the Enclosure Size ( height, width, or depth )
It is important to know the exact dimensions and sizes of your custom electrical enclosures. Custom-fit electrical enclosures are space-saving, easy to install, and cost-effective.
Special Power Coat Paint and Finishes
Clients will be satisfied with these modifications for branding purposes. If you want your custom electrical enclosure to stand out and represent your brand, it is perfect for you.
What are the Available Materials in Producing Custom Electrical Enclosures?
You can choose the material on the electrical enclosure based on your project or business. Electrical enclosures are available in various materials such as stainless steel, aluminum, galvanized steel, etc. It has different advantages and features. Enclosures must be made using high-quality materials and in strict adherence to NEMA standards.
Stainless Steel Carbon Steel
It is the strongest among the rest materials. These materials are both durable and corrosion-resistant. It is suitable for manufacturing electrical enclosures. Stainless steels are also moisture resistant and chemical resistant. Stainless steel is available in different grades such as 316, 304, etc.
Carbon Steel
Carbon steel is available in hot or cold rolled. Hot rolled carbon steel is utilized for moderate forming applications. While cold-rolled sheets formed from low-carbon steel. It is cold reduced to a certain thickness.
Aluminum
This material is lightweight and low cost compare to stainless steel. It offers relative strength to any application. Aluminum is a corrosion-resistant material. Due to its sturdy features, it can perform well in harsh environments, withstanding high impact conditions. It is used as a barrier against electromagnetic interference.
All of the mentioned metal cabinets can exceed the conductivity essential for electrical safety bonding and shielding. It protects enclosed equipment from electromagnetic interference.