IP Enclosure
Custom IP rating Enclosure
IP65/IP66 Certification
Fast Sample Production within 3 days
Custom IP Enclosure Manufacturer in China
We, at KDM, provide custom IP-rated enclosures to match any of your specific project requirements. You can custom features including windows, fittings, locks, and marking. Electrical enclosure accessories such as rain hoods, inner doors, sun shields, locking, mounting brackets, and inspection viewing window kits are available to suit all sizes.
KDM IP enclosures are designed to house electrical components, protect personnel from accidental injury, and prevent the ingress of environmental conditions. They are also used to define levels of sealing effectiveness of electrical enclosures against intrusion from foreign objects such as tools, dirt, and moisture. IP enclosure is a high-quality brand for every electrical enclosure.
Send your Inquiry on KDM IP Enclosure
We, at KDM, provide custom IP rated enclosure to match any of your specific project requirements. You can custom features including windows, fittings, locks, and marking. Electrical enclosure accessories such as rain hoods, inner doors, sun shields, locking, mounting brackets and inspection viewing window kits are available to suit all sizes.
KDM design IP standard on the enclosure the best electrical enclosure products. We offer 6 levels of protection IP44, IP45, IP54, IP55, IP56, IP57, IP65, and IP66. Each type of enclosure provides the different level of protection against solid object and entry of liquid to hazard part to get into the enclosure.
Manufacturing Capacity
Buying Guide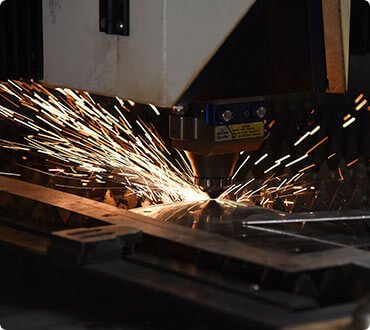 Electrical Enclosure Laser Cutting
4000W high-performance laser cutting machine, +/- 0.05mm accuracy. No burr, no scratching.
Electrical Enclosure Welding
Multi-Functioning flexible welding equipment, high accuracy, no deformation.
Electrical Enclosure Bending
+/- 0.5mm bending precision, smooth surface without bending marks.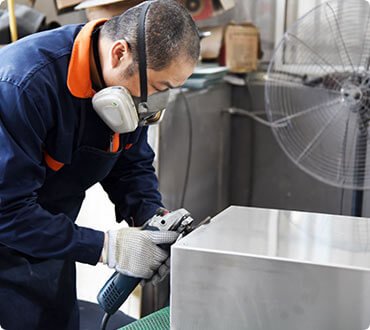 Electrical Enclosure Polishing
10+ welding experienced workers, perfect overall appearance.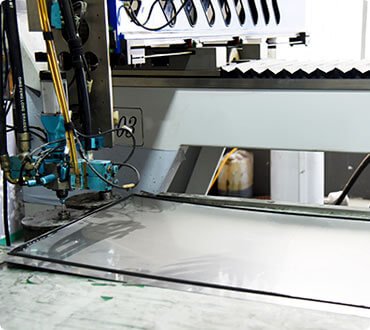 Electrical Enclosure Foaming
High speed and accuracy foaming machines, fast and qualified Gasket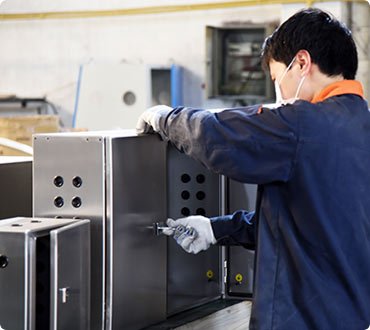 Electrical Enclosure Assembly
The expert assembling team, consistent assembly quality on every KDM enclosure
KDM IP Enclosure
Carbon Steel IP Enclosure 
KDM IP enclosure has been chosen by many organizations as their standard enclosure system because of our extensive range of advanced enclosure designs. At KDM, we produce a selection of standard colors to suit a variety of industries and applications including mining, industrial, fire, security, data, and communications. This range of IP enclosures aims to meet the various requirements of engineers when designing electrical and electronic systems.
KDM IP enclosure can be provided in powder-coated galvanized steel, aluminum or grade 316 stainless steel.That offers an amount of protection and durability on the enclosure. IP enclosure size and shape depends on what is being enclosed. The enclosure may come in standardized dimensions or configurations which can be stacked for assembly, or they can be custom built to particular specifications.
IP Enclosure Detail
IP rated enclosures are available in a large selection of KDM products, including wall mounted, floor mounted, junction box, modular, galvanized, stainless steel, steel and many more.
IP Enclosure Manufacturing
At KMD, we manufacture high-quality electrical enclosures that meet the IP standards for over 10 years. We have been fabricating both standard and custom IP electrical enclosures. Our strong knowledge and experience in designing and manufacturing of electrical enclosure according to the IP ratings, ensure that your enclosure is perfectly suited to its environment.
Our professional team will handle all the process of your customization and achieve the required IP rating and your products unique style and function. We proudly design and manufacture custom enclosure solutions, with no restriction on size or quantity, at our facilities in China. With KDM IP enclosure, you can guarantee that your enclosures are ready to face the extreme conditions. To find more about our IP enclosures, please contact us!
IP Enclosure: The Complete FAQ Guide
IP Enclosure: what is it?
IP enclosure is a protective cabinet which has an IP marking.
IP stands for International Protection Code.
This value shows the ability of the enclosure to withstand environmental factors, e.g. dust, water, intrusion, accidental contact.
How does IP rating work?
Each IP enclosure in our catalog has a 2-digit code (IP44, IP55, IP65 and so on) in its name.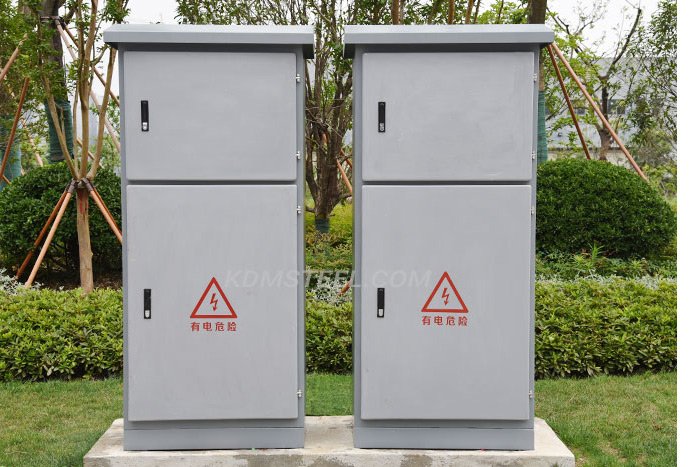 The first digit of the cipher stands for the ability of the enclosure to protect electrical systems from various foreign particles getting inside.
There are 6 levels of particulate protection in total, where 1 means that the enclosure is secure from objects larger than 50 mm in diameter, and 6 means that even small fractures of dust can't get inside the cabinet.
The second digit of the IP code shows us the liquid protection of the enclosure.
There are 8 levels of protection: the first level means that the enclosure can withstand against dripping water for 10 minutes, while level 8 IP enclosures can protect mechanisms underwater for 30 minutes.
You can see the IP rating chart by yourself.
Who sets IP rating standards?
International Electrotechnical Commission (IEC) is the official body that is responsible for publishing IP code standards under the number 60529.
Where IP enclosure can be used?
There is a huge amount of ways how to use IP enclosures.
Basically, IP rating can be implemented in all manufacturing fields, where the water and dust protection need arises.
At KDM Steel, we specialize in enclosures and cabinets which can be used to protect different electronic devices, such as compensators, electrical panels, system units, etc.
Our IP enclosures can be used in different economic fields, such as heavy and light industry, mining, IT, security, and so on.
What kind of IP enclosures are presented in KDM catalog?
In our catalog, you can find IP44, IP45, IP54, IP55, IP56, IP57, IP65, IP66 enclosures.
Their size and model vary from small junction boxes to large standing cabinets and wall hanging enclosures.
All of KDM IP enclosures go through rough testing process so we can guarantee their quality.
What is IP44 protection?
IP44 enclosure protects the inner system from solid objects larger than 1mm (e.g. wires, screws, nails, larger insects and other potentially offensive small objects).
Also, such enclosures can withstand water splashes from all directions.
What does IP45 code mean?
IP45 enclosures provide the same protection from particles as IP44 enclosures.
However, they are more resistant to water influence:IP45 enclosure can stand against low-pressure jets of directed water at any angle (limited access is allowed without harmful effects).
What does IP54 mean?
IP54 enclosure can stand against water splashes (just like IP44 cabinets) but it is more secure from different solid objects.
Digit 5 means that such IP enclosure is dust protected.
There is a possibility of small amounts of dust getting inside but they can't affect performance.
What is IP55 protection?
With IP55 enclosure you can be sure that the inner system is protected from dust and water jets, like in the case of IP45 enclosure.
What is IP56 rating?
The second digit ofIP56 code shows us that such enclosures are invulnerable to strong water jets.
IP56 enclosures are tested with a rate of 100 liters per minute at a pressure of 100 kPa for 15 minutes.
What does IP57 mean?
IP57 enclosure has even better waterproof ability than IP56 cabinets.
The 7th level of IP protection means that this enclosure can stand against water for 30 minutes even while immersed up to 1 meter in depth.
There is a slight possibility of some liquid getting inside but in the amounts which can't cause harmful effects.
What does water resistant IP65 mean?
IP65 water resistance is similar to IP55 and IP45 enclosures: all of them can withstand small jets of directed water from any angle.
However,IP65 enclosures have better protection against particles: they are 100% dust protected without any possibility of dust getting inside.
What does IP66 mean?
IP66 enclosure can be rated as 100% dust tight and fully protected against strong directed jets of water.
You can be sure that it will hold even in in the most severe conditions.
Is IP65 better than IP44?
In general, yes. IP65 enclosure is more protected from dust and water than IP44 cabinets. But it doesn't make IP44 enclosures somehow worse than others.
The difference lies in the mode of application of each cabinet.
For example, IP44 enclosures can be used for street light protection only if they are placed under some kind of roof extension, while IP65 enclosures can be used in the rain even if they are not covered at all.
Which materials are used to manufacture KDM IP enclosures?
There is no clear specification from the regulatory bodies in the case of materials used to manufacture IP enclosures.
Each company can use any type of material, which can guarantee good dust and water resistance.
However, not all protective materials are non-toxic and environmental friendly, which also has to be taken into account.
That is why KDM engineers use only high-quality steel for the production of enclosures (carbon steel,stainless steel 304 and 316).
These materials show great performance level and they are totally safe for the environment.
How can I be sure that KDM IP enclosures are of good quality?
KDM Steel has more than 10 years of manufacturing experience under the belt, successfully meeting each of our customer's needs every time.
But if these words don't mean anything, you can enquire the testing sample from our managers.
What certificates can prove the quality of KDM services and goods?
In general, KDM Steel is operated under the rules of ISO (The International Organization for Standardization).
You can see the KDM ISO certificateon this page.
Speaking of IP enclosure: it is fair to say that the quality of cabinets can't be figured out just with words.
That is why KDM enclosures have gone through the testing process, conducted by international independent verification company SGS.
You can view the corresponding certificateon this page.
How IP test for the enclosure is conducted?
The testing process varies for each type of IP enclosure.
Also, there are different testing principles for dust and water influence.
For example, if we are talking about water resistance, IPX4 enclosures are verified with the rotating tube which sprays water on the cabinet for 10 minutes.
In the case of IPX7, the enclosure is tested while fully immersed in water for 30 minutes.
When IP enclosures are tested for dust influence, we use special equipment as well.
IP5X and IP6X cabinets are placed in special dust chamber where small particles are directed towards the enclosure's surface under various pressure.
IP4X cabinets are tested with 1mm diameter wire: it doesn't have to get inside the enclosure.
What is the difference between Nema and IP?
NEMA stands for National Electrical Manufacturers Association.
This organization has its own standard for enclosure protection.
As you know already, IP rating is used to indicate the degree of protection against water and dust.
And the NEMA classification system also includes resistance to corrosion and operation in atmospheres containing explosive substances.
The NEMA classification system (NEMA 250 standard) is used mainly in the United States and Canada, while the IP classification system is used in the rest of the world.
Unlike temperature conversion formulas (e.g. Celsius to Fahrenheit), there is no direct formal correspondence between the NEMA ratings and the IP classes.
You can find both NEMA and IP enclosures in KDM catalog.
What is the difference between IP and IK code?
As it was said above, IP code shows us the level of water/dust protection of the enclosure.
In addition to the classification of cabinet protection from dust and water, there are also standards for protecting the surface from mechanical impact.
This protection is indicated by an IK code. In the characteristics and descriptions, it is often called anti-vandal.
In this classification, the difference between levels lies in the magnitude of the impact energy (in joules) applied to the enclosure.
It consists of the weight of the hammer and the height from which the blow is carried out.
The standards also specify additional testing conditions: the material from which the hammer is made, its type, etc.
Our enclosures are tested in accordance with both IP andIK standards.
What is the best IP rating for outdoor lighting?
For outdoor (street) lighting, including architectural lighting, highway lighting, the lighting of open areas, logistics areas, the protection level of the enclosure has to be not lower than IP44.
IP44 enclosures can be installed at a small height and are protected from the penetration of small solid bodies, as well as water droplets and splashes.
However, if there is a need to withstand consistent heavy rains, it is better to use IPX5/X6 cabinets.
Although these protection classes are not completely waterproof, the penetration of moisture does not cause any harm to the functioning of inner systems.
What IP rating is rainproof?
All enclosures in our catalog are rainproof.
It is recommended to use at least IPX4 enclosures if you want to guarantee the safeness of your equipment in rainy weather.
However, in the case of incessant downfalls, it is better to choose IPX5 and IPX6 cabinets.
What is the IP rating for waterproof?
The answer depends on what exactly should we consider as "waterproof."
In some way, even IPX4 cabinets are waterproof because they actually can protect the inner systems from average rain.
But if we are talking about serious water impact or underwater conditions, you should use IPX6 and IPX7 enclosures.
Can I customize IP enclosures when ordering from KDM?
At KDM, we provide different design options for our clients.
You can add various custom gear to your order (like locks, windows, fittings, marking, etc).
We also can use various accessories to customize your enclosures (e.g. sun shields, rain hoods, inner doors, mounting brackets and inspection viewing window kits).
You can not only customize enclosures from the catalog but provide us with your own cabinet sketches and mockups as well.
We have all the needed tools to meet each demand.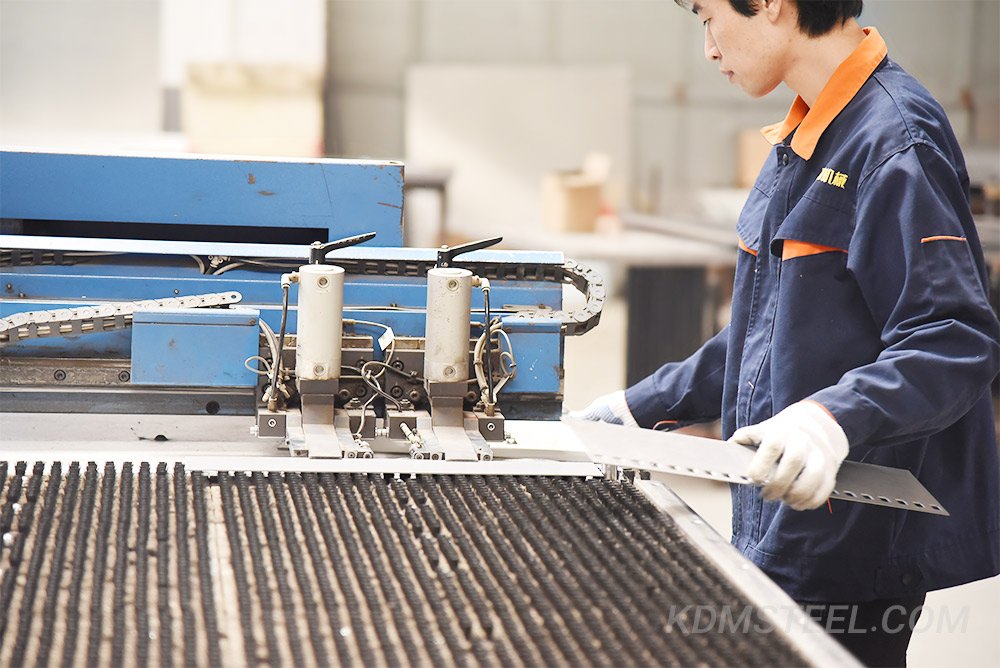 How much time does KDM need to reply on my quote to make the order?
KDM Steel technical support works 24/7 so we can reply each quote within 1 working day.
How fast can KDM fulfill my IP enclosure order?
This is quite a tough question considering the fact that various clients have different demands in the case of their orders' volume.
However, with the help of 50+ employees, 10 modern laser cutting machines and other tools we can guarantee the highest pace of your order processing.
For example, we can deliver enclosure drawings within 1 day and first ready-made samples in 3 days.
Recent IP Enclosure Order
IP Enclosure – Your Ultimate FAQs Guide
What is an IP Enclosure?                                   
IP Enclosure is a pioneering, high-quality brand of electrical enclosures and is a well-known type of enclosures.
IP enclosures safeguard electronic and electrical equipment in particles, dirt, and moisture-prone surroundings.
IP rated enclosures and electronic boxes are intended for interior or exterior usages.
It includes a water-resistant gasket to the foundation and offers wall-mounted and floor-standing electrical enclosures.
IP enclosures are electronic boxes classified according to the level of security they provide with electronic systems.
What is an IP Rating?
IP is an acronym for ingress protection. The IP rating, also known as the IP code.
It characterizes the level of security made available by an enclosure for electrical devices with a rated voltage.
IP (Ingress Protection) rating is used to specify the amount of security an electrical enclosure has against weather changes.
The International Electromechanical Commission (IEC), a global standardization organization, created the IP rating system.
An IP rating is an internationally recognized standard that implies how well an object resists liquids and solids.
The number in the rating indicates the degree of safety; the higher the number, the greater the protection.
What are the Two Digits in an IP Rating?
The rating is comprised of the letters IP preceded by two digits. When a number is changed by an X, it means the enclosure is not rated for that requirement.
First Digit – Solids
It denotes the level of security provided by the enclosure against the ingress of solid foreign objects.
Such as toolkits or fingers that could be dangerous if they come in contact with mechanical parts.
It ranges from 0 to 6, determining the extent of particle defense and security from hazards.
First Digit – Liquids
It specifies how the device within the enclosure is protected from various types of moisture.
The second digit, which ranges from 0 to 8, represents the degree of water protection.
What Materials Does an IP Enclosure is Made of?
The amount of security and reliability provided by an enclosure is largely determined by its material properties.
The majority of enclosures are made of either metals or polymers.
Here are the materials that every IP Enclosure is made of:
Metals
It is more conductive to heat and energy than other material types.
It has strong resilience and malleability.
Stainless Steel
It is commonly used to construct enclosures.
It is used in surroundings where corrosion resistance and lightweight materials are required.
Aluminum
It is less pricey, lighter, and more durable metal with excellent corrosion resistance.
Polymers
Polymers are nonmetal materials that have a wide range of properties.
ABS
It is a hard, rigid, low-cost synthetic polymer with great chemical and damage tolerance.
Fiberglass
It is a strong, long-lasting, reinforced polymer that is resistant to a variety of caustics and excessive heat.
Polycarbonate
It has excellent shock resilience and can be transformed to precise tolerances.
It has a reasonable chemical protection against corrosion.
Polystyrene
It is used because of its sturdiness, toughness, heat resistance, and dimensional stability.
It has an ease of fabrication.
What are the Types of an IP Enclosure?
IP rated enclosure is available in many different of sizes, styles, and materialsthat meets your requirements.
IP Enclosurehas a wide range of types, the most common IP Enclosures aresuitable for use in almost any industry or application.
So, for your convenience, these are defined below:
IP65 Enclosure
IP65 enclosure is "dust tight" and resistant to water projected from a nozzle.
IP66 Enclosure
IP rated as "dust tight" and resistant to high seas or high pressure water jets.
IP 67 Enclosures
IP 67 enclosures are "dust tight" and water resistant. for 30 minutes at depths ranging from 150mm to 1000mm
IP 68 Enclosures
IP 68 enclosures are "dust tight" and resistant to fulfill, consistent submersion in water.
What is the Purpose of an IP Enclosure?
IP Enclosuresare generally appropriate including both interior and exterior usages.
They are typically designed to provide a dependable degree of security, both for protection and to help stop unintentional tampering.
They are progressively being used in different environments to serve the dual purpose of storage space and to protect elements.
To that end, a variety of fixtures, such as enclosing plates, brackets, and screws, are available to make generation systems.
What are the Advantages and Features of an IP Enclosure?
There are many advantages when using an IP enclosure for any purpose. It has great benefits for industrial and commercial applications.
IP enclosures are made to benefit the consumers. Here are some of its advantages:
It accommodates electronic switch and operational requirements in extreme conditions.
It is appropriate for both internally and externally electric equipment.
All IP Enclosures are handcrafted to guarantee adequate high standards of quality.
It secures devices from airborne dirt and debris that could potentially harm circuitry.
Used to shelter secure data networking gear in extreme conditions.
It includes a water-resistant gasket between both the foundation and cover.
It safeguards electrical components from water damage.
It also offers comprehensive dust and dirt particle security.
It protects electrical components from unintended physical interactions.
It is also useful in preventing drainage problems.
It is designed to prevent explosions. It can withstand an internal explosion without breaking open.
IP Enclosures also have many advanced features like the following:
Powder-coated galvanized steel or grade.
Stainless steel is used in construction.
Enhance seal life by incorporating a flat sealing face.
Door connection rails should be included.
To keep the IP rating, involve nutserts for mounting kit and accessories.
Include mounting points for accessories such as inner door escutcheons and rain hoods.
What Should I Consider When Choosing The Right IP Enclosure?
When it comes to IP enclosures, the most important considerations are the proper size and adequate protection.
Material type and expert rating systems are the major elements when it comes to the quality of security.
Depending on the requirements, extra functionality such as ventilated sections or insulation may be necessary.
Sizes and Forms
The size and shape of an enclosure are determined by the contents of the enclosure.
IP enclosures are rectangular or T-shaped and come in a variety of sizes.
It can be formalized in measurements or shapes and stacked for arrangement.
They can be custom-built to specific specifications.
System of Ratings
NEMA ratings indicate whether enclosures are intended for interior or exterior usages.
Ingress Protection (IP) rating system explains the extent to which enclosures safeguard against the ingress.
What Qualities Does IP Enclosure Possess?
Out from the lowest temperature to the toughest environmental conditions, this kind of enclosure has proven to be effective.
A weather-resistant and shock-resistant enclosure for stable and high-quality use in a range of locations and implementations.
It has a powerful and flexible structure that allows it to be entirely personalized to meet any specialized need.
Which Commercial Enterprises Does IP Enclosure Serve?
The IP Enclosurehas have been flourishing at a significant rate over the years.
They come in a variety of shapes, sizes, and materials and can be used in a variety of industries such as the following:
industrial facilities
Infrastructural Facilities
Commercial
Communication Systems
Defense
Marine
Food And Beverage Implementations
What Are IP Enclosure Accessories?
IP enclosure has many accessories for different types of applications and mountings. It includes:
Data Racks
Rain Hoods
Inner Doors
Sun Shields
Locking
Mounting Brackets
Inspection Viewing Window Kits
Led Lights
Ventilation Fans and Filters
Heaters and Controllers