Hinged Electrical Enclosure
Custom Industry enclosure
IP65/IP66 Certification
Low MOQ from 1 PC
Custom Lockable Electrical Enclosure for Your Project
With over 10 years of experience in hinged electrical enclosure design, KDM Steel adheres to strict quality control (QC). All KDM Hinged Electrical Enclosures conform to the IP66, IEC, RoHS, NEMA, and CE standards.
KDM Hinged Electrical Enclosure with continuous hinges are popular for easy alignment, strong door due to equal load distribution through the entire structure, smooth opening, and uniform compression of the door gasket. Another option is the KDM Hinged Electrical Enclosure with concealed hinge known for esthetic value and easy installation.
Over 10 years hinged electrical enclosure manufacturing experience
We can provide any type of thing for your enclosures
Competitive price and short lead time
24/7 online support for your business
Read More
Send your Inquiry on KDM Hinged Electrical Enclosure
Over the years, KDM Steel continues to invest in a safety-rated electrical enclosure, for both standard and custom hinged electrical enclosures. We invest in quality material testing equipment and fabrication machines for steel, galvanized and stainless steel (304 or 316L), for making KDM Hinged Electrical Enclosure.
With KDM Steel's engineering and design know-how, we have hundreds of hinged electrical enclosure designs for your selection. At every stage, we strive to reduce hinged electrical enclosure manufacturing cost while helping you remain competitive in the market.
Manufacturing Capacity
Buying Guide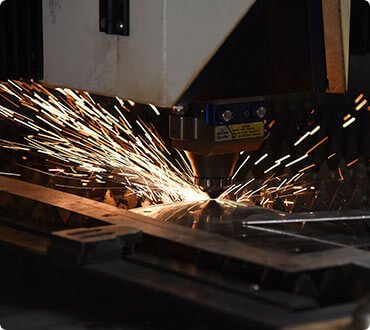 Electrical Enclosure Laser Cutting
4000W high performance laser cutting machine, +/- 0.05mm accuracy. No burr, no scratching.
Electrical Enclosure Welding
Multi-Functioning flexible welding equipment, high accuracy, no deformation.
Electrical Enclosure Bending
+/- 0.5mm bending precision, smooth surface without bending marks.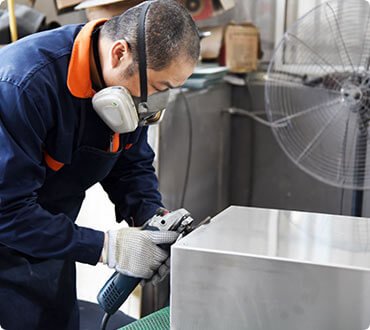 Electrical Enclosure Polishing
10+ welding experience workers, perfect overall appearance.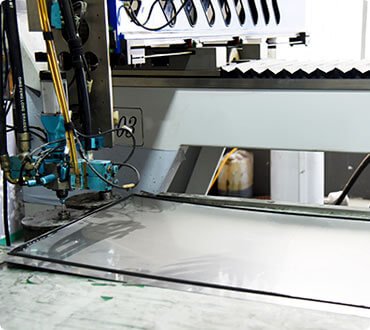 Electrical Enclosure Foaming
High speed and accuracy foaming machines, fast and qualified Gasket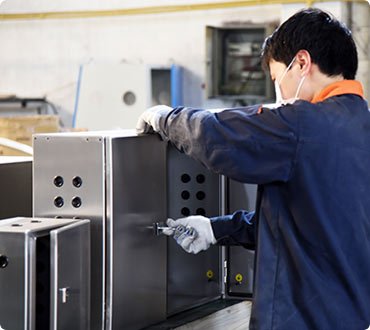 Electrical Enclosure Assembly
Expert assembling team, consistent assembly quality on every KDM enclosure
KDM: Your Premier Hinged Electrical Enclosure Manufacturer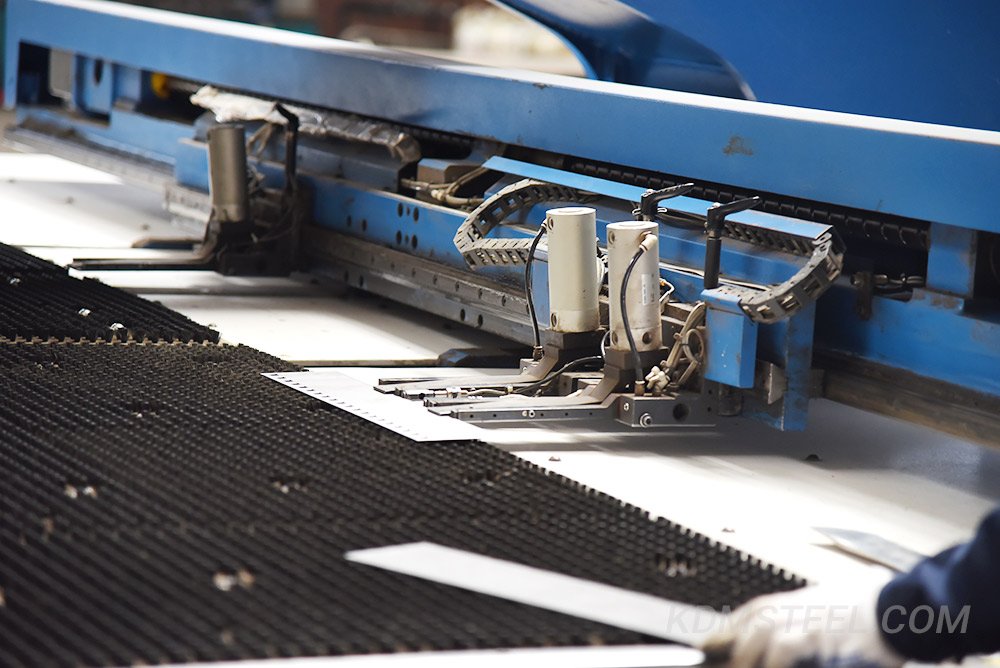 Whether you are looking for adjustable, leaf, spring loaded, offset, pin on, side or concealed electrical enclosure hinges, KDM Steel has hundreds of designs available.
For easy maintenance or installation of large electrical enclosure components, KDM Steel engineers recommend quick release pin hinges. They make removing the electrical enclosure door easy and simple.
KDM Hinged Electrical Enclosures are available as hinged junction boxes, hinged electrical enclosure with windows, freestanding enclosure with hinged door, hinged wall mount electrical enclosure, weatherproof electrical enclosure with hinged door, and many other designs.
KDM Hinged Electrical Enclosure may come as single door electric enclosure, double door electrical enclosure or multiple door electrical enclosure. Irrespective of the KDM Hinged Electrical Enclosure design, our enclosure doors feature a seamless gasket and screw-down clamps (optional) for an effective sealing and protection of components in the electrical enclosure.
Contact KDM Steel technical support for more information on our hinged electrical enclosure.
KDM Hinged Electrical Enclosure, also named hinged cover electrical enclosure, hinged enclosure or hinged electrical box, provides easy access to instruments, switches or electronic components in the enclosure. Our electrical enclosure hinges come as either permanent or temporary, alongside different designs for your specific application requirements.
KDM Hinged Electrical Enclosure is suitable for both outdoor and indoor applications, providing protection against falling dirt, ingress of water, dirt, snow, etc. These hinged cover electrical enclosures allow for easy access and provide maximum protection.
Featuring sealing washers for a watertight enclosure, utility bracket for possible cable management and mounting screws, KDM Hinged Electrical Enclosure offers a perfect solution for both industrial, commercial and domestic applications.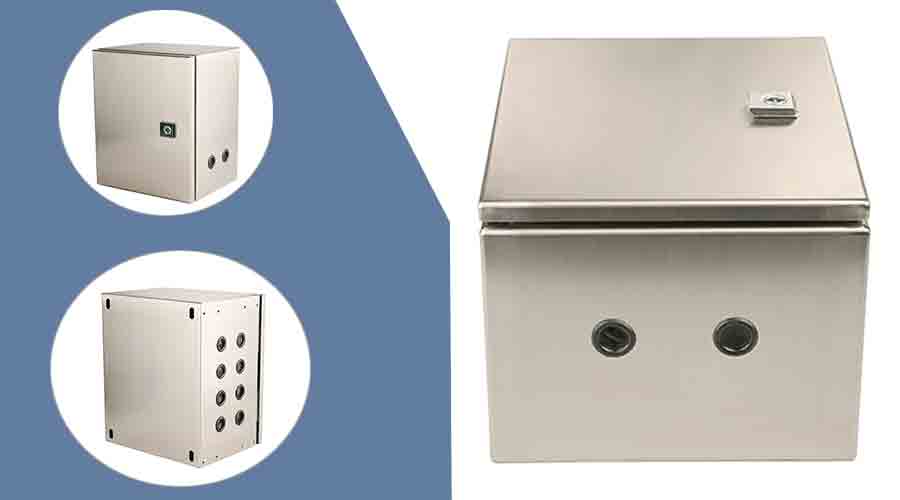 KDM Hinged Electrical Enclosure helps to protect your electrical panels from hazards. It also protects the content from dust and dirt. KDM Hinged Electrical Enclosure can be used outdoor. This prevents the water and snow to harm your electrical panels. KDM Hinged Electrical Enclosure is incorporated with grounding hole that allows easy mounting. It is designed for any electronic and electrical application.
If you need extra depth for mounting, KDM Hinged Electrical Enclosure features raised cover that increased depth by adding to the depth of the cover. The hinged are covered with latch for easy installation and maintenance. KDM Hinged Electrical Enclosure provides easy to install three-point latch locking system. It is also a watertight seal and does not need tools to unscrew all of the clamps.
KDM Hinged Electrical Enclosure has continuous stainless-steel hinges. This allows a smooth pivotal action of the enclosure. Our hinged electrical enclosure is also made up of corrosion-resistance stainless steel. KDM Hinged Electrical Enclosure comes with different styles and sizes. We can find the perfect hinged electrical enclosure that suits your application.
Our heavy-duty hinged electrical enclosure is well suited for a variety of junction and pull box electrical applications. KDM hinged electrical enclosure is a level of safety for a quality enclosure of your electrical components. Our hinged electrical enclosure is made up of metal, steel and stainless steel. It will not be damage even using for a long time. It is also equipped with durable and reliable hinges.
KDM offers floor stand, floor mount, double door free standing and custom door hinged electrical enclosure. We also have carbon steel, indoor use wall mount and lockable operator interface hinged electrical enclosure. KDM hinged electrical enclosure can be modified and drilled to suit the required site. We assure that you will choose the perfect type of hinged electrical enclosure.
KDM provides durable hinged electrical enclosure molded with high quality steel. KDM also offers UV resistance hinge electrical enclosure. Each hinged enclosure comes with different styles and colors. We also have customized designs of hinge electrical enclosure pleasing to the eyes. With your specification and measurement, our experts will customize dimensions specifically for your application.
KDM hinged electrical enclosure is best for indoor and outdoor Wi-Fi and RFID equipment. It is also ideal for security and surveillance systems and concealment of electronic equipment. KDM hinged electrical enclosure has a wide variety of applications including protection of equipment from theft. It is also ideal for industrial controls and automation equipment.
KDM developed high-quality hinged electrical enclosure using high technology and automated systems. We always work harder to satisfy our customers' need. We will give you the best service we have.
With over 10 years of experience, we became China's leading manufacturer of hinged electrical enclosure. KDM provides one-stop solution for all of your hinged electrical enclosure needs. We offer 100% guarantee on every hinged electrical enclosure. KDM always make sure we can give you the hinged electrical enclosure that suits your needs. Contact our team now!
The Ultimate FAQ Guide to Hinged Electrical Enclosures
What are the typical components of a hinge?
A hinge has a pin, a knuckle, and a leaf.
A knuckle is the hollow cylindrical part of the hinge.
Leaves extend from the knuckle and attach to the two surfaces the hinge is meant to connect.
A pin is inside the knuckle and it holds the leaves together.
As the knuckle revolves around the pin, the leaves are moved.
What terms should I know when designing hinges for electrical enclosures?
Some of the terms describing hinges may help you communicate your requirements to the manufacturer and streamline the designing process.
Also, they can help you understand manufacturing reports.
Diagram of terms
Here is a list of terminology and definitions:
End play: the amount of axial, or angular, movement between the leaves that the distance between the knuckles allows.
Pitch: the measurement from a point on the knuckle to the same point on an adjacent knuckle on the same leaf.
Paint clearance: the minimum distance between the outer face of the knuckle to the opposing edge of the leaf. This determines the entire range of pivotal movement of the hinge.
Gauge: the thickness of the material, usually steel, that the leaves are made of.
Hinges typically use gauges from 0.025 to 0.375.
Are there different types of leaves?
Leaves also come in different varieties, such as unequal, perpendicular, and multiple leaves.
Unequal leaves are those that have different widths, so one is slimmer than another.
 Unequal leaves
This is useful if you are replacing a door to your enclosure and the alignments don't match.
Also, could be useful if the door is thicker than the side panel.
Perpendicular leaves are those that have a notch on the end that curves 90 degrees up or down.
Plus, both leaves could have this, or only one.
 90-degree leaf
These may help with a more secure fit to the door.
Multiple leaves can be used if your enclosure has multiple doors or covers, such as if you have a window that is covered with a steel panel.
You can experiment with this design, making the central leaf small for a specific quick-access window or little door.
Multiple leaves
What is swaging?
Swagging refers to the bending of at least one leaf towards the barrel to reduce the space between them when the hinge is closed.
This also eliminates the need for a mortise.
There can be full or half swaged leaves.
You can also have one leaf swaged or both.
When one leaf is half-swaged, the distance between leaves is smaller than if they were plain, but the leaves don't touch yet.
When both leaves are half-swaged, or one leaf is full-swaged, the leaves will touch.
Full-swaged means that the leaf is more curved, so it would be pushed down more when it is closed.
Swaged hinges
You can also have reverse-assembled leaves and those that are swaged to reverse.
Here, the leaves look in different directions, and they are not parallel when the leaves are closed.
This changes the angle to which the door can open, which may be beneficial.
Reverse-assembled hinges
What shapes can openings on the leaves of hinges be?
Leaves of hinges have openings where a fastener goes to secure the hinge in the enclosure.
These openings can be different shapes with their design perks.
Round and square openings are most commonly used.
This is because they allow for the best contact between the fastener – usually a bolt – and the hinge.
However, in this case, the fastener and the opening have to have a similar size.
Obround and rectangular openings offer flexibility.
Here, the fastener doesn't contact the hinge surface as much, which translates to a weaker hold.
However, this connection allows movement for adjustment of the hinge's final fit.
These are used in enclosures assembled by the user, so not readily manufactured enclosures.
Countersunk openings, also called counterbored, are different from other openings since these are modified.
They have chamfers and leads around its edges.
Possible shapes of leaf openings
Chamfers let fasteners have a more snug fit, while leads facilitate the entry of the fastener.
Counterboring refers to a heavier hinge with wider at the top openings to allow for the installation of heavy-duty bolts.
These openings are great for versatility and an extra secure fit.
Finally, let's talk about various notch openings, like the V-notch, the square-end, and the radius-end.
You just need to slide them into a pin that will hold them in place.
These are great because they also allow for versatility.
However, they do not provide a secure fit.
The square-end notch and the radius-end notch allow for more movement than the V-notch does, but they are all easy and quick to install.
All of these are used on continuous hinges but can be used on others if you request it.
Are there different types of pins?
Some of the more useful and more common types of pins are staked, coined, crimped, bent, and welded.
Staked pins look like braids.
This is because a leaf or a knuckle is depressed to prevent movement and spinning of the pin inside the barrel.
 Staked pin
Coined pins are pins with deformed ends, which makes them wedge in place once they are put into the knuckle. It fits like lego.
Crimped pins have their ends cut off.
Then, the knuckle is crimped, or crushed, to prevent the pin from falling out, making the knuckle it's pocket.
Bent pins, on the contrary, are longer than the barrel.
The protruding ends are then bent 90 degrees for easier assembly and taking apart.
However, this type of pin is not very secure for your enclosure.
Welded pins are the most secure ones.
The ends of the pin are welded into the hinge, permanently keeping it in place.
Besides these, there could also be multiple barrels, which can be used in bi-fold hinges to expand the opening angle of the enclosure's door.
Multiple barrels
Are there different knuckle configurations?
Yes, there are!
They are called the X type, the Y type, and the H type.
The X type has knuckles spread out along the barrel, but they don't go up to the edges, leaving some space there.
The Y type has knuckles spread out in a different way, going up to the edges.
The H type is a combination of the previous two types, where the knuckle doesn't go to the edge on one side but does on the other.
There is not much difference functionally, but consult our specialists for more advice!
Knuckle configurations
What types of hinges are available?
As mentioned above, we have adjustable, leaf, continuous, spring-loaded, offset, and concealed electrical enclosure hinges.
An adjustable hinge provides the most flexibility and versatility.
With just an Allen wrench, a worker can adjust the leaf relative to the knuckle both horizontally and vertically for a better alignment of the door.
  Adjustable hinge
Leaf or drop leaf hinges are fairly simple and are usually used on doors or surfaces that open up and down rather than sideways.
You can use them in the same way, if you need the top of your enclosure to open, which is especially great for recessed enclosures.
Leaf hinge
Continuous hinges, or piano hinges, are long and are installed on the full length of an enclosure.
They are aesthetic and provide a secure hold.
Also, these can have leaf openings, or they can omit them.
Any enclosure works with this hinge.
Continuous hinge
Spring-loaded hinges tend to have 2 modes – open and closed.
They do not provide a smooth swing of the door like other hinges do.
This can be helpful with heavy-doored enclosures, so the spring helps you open it.
The spring can be adjusted to different tensions, which would translate into different "open" positions.
Spring-loaded hinge
Offset hinges are when the two leaves are not on the same plane.
This can be applied to any other type of hinge as well.
One leaf can be offset, but both can be as well, protruding farther from the barrel.
This technique changes the pivot point to expand the swing of the door if it is too narrow for adequate maintenance of electrical components of the enclosure.
Offset hinges are also great for windows.
Offset hinge
Concealed hinges come in two main types: the latch and the curved hinge.
There is not much difference functionally between the two, except the latch is more commonly used in residential applications, but this is not the rule.
This type of hinges connects to the door internally, being invisible externally.
Mainly, this serves an aesthetic purpose.
Concealed latch and hinge
Besides these, some other hinge designs include flush, or bi-fold, hinges and flag hinges.
Bi-fold hinges are multi-leaf, which means that they have multiple pivot points that result in a tighter swing of the enclosure door and a larger opening angle.
They can have a single barrel or two parallel ones.
If you wish to make the enclosure more compact, these hinges can expand the angle that the door can fold too.
Bi-fold hinge
Flag hinge only has one leaf that swivels 360 degrees right or left.
Usually, two of these are connected, so the leaves face different directions.
This hinge is an easy do-it-yourself hinge that can be assembled on the spot, which can be more affordable.
Flag hinge
Plus, there are specialized hinges for a hospital, security, and industrial settings.
We have covered the most prominent types, but there are many more that you explore.
How much should the hinges open for?
Typically, 270 degrees is considered open enough.
Of course, you can have a lower or a higher angle, but bigger angles are better since they facilitate maintenance of electrical components of the enclosure.
An enclosure can be fine with just 180 degrees of door swing since there may be neighboring enclosures blocking further expansion, but a smaller angle may compromise maintenance.
Why do some hinges seem to have gears?
There is a type of hinge called the geared hinge.
They are a type of continuous hinge.
They are used for heavy-duty doors, distributing the weight of the door evenly, as well as providing smooth movement thanks to the gears.
Gear hinge
Such hinges can be used with big and heavy enclosures, such as industrial or outdoor ones like highway enclosures.
What are the quick-release hinges?
Quick-release hinges allow you to take the door off the hinges easily to replace it or facilitate various maintenance on the electrical components of the enclosure.
It is also useful for transportation and shipping, as the enclosure can be put together or taken apart quickly.
It works by incorporating retractable pins into the hinge barrel.
If you need to take the door off, a lever can be pushed to disconnect the pins from the barrel, and the door will just slide free, so you don't have to apply force.
Quick-release hinge
How are hinges made weather-tight?
With the use of seamless gaskets, such as PU foam ones, and screw-down clamps.
Gaskets are generally used for waterproofing, so any moisture the hinge will let in, these will stop it.
Screw-down clamps provide a secure fit to repel contaminants as well.
This is optional.
Screw-down clamps
Overall, hinges do not compromise the protection of our enclosures offer.
We design hinged electrical enclosures that comply with both NEMA and IP standards.
We are able to manufacture hinged enclosures up to IP66 and NEMA types 3, 4, and 4X.
What enclosure doors do hinges work with?
Hinges can be installed into single doors, double doors, multiple doors, custom panels, and windows.
Multiple doors can house big electrical components, so each door needs a hinge.
Hinged multiple doors
We produce custom enclosures, so we can integrate hinges onto your custom panels as well.
Finally, if you want to make the window in your enclosure open, hinges can be installed there as well.
It can help personnel access necessary control boards or gauges as well.
You can request a lock on all these doors as well, for security.
What enclosures can I request hinges for?
Basically, any enclosure we offer can be hinged.
You can put a hinge onto a free-standing enclosure, a wall-mounted enclosure, a junction box, any industry enclosure, a custom enclosure.
You can also add other features to your enclosure besides locks, such as vents and windows.
Vents help cool down the contents of the enclosure.
When electrical components are running, they produce heat that can damage these components.
Windows provide a view of the instruments and gauges housed in the enclosure.
This makes maintenance and diagnostic work faster since everything is visible.
How are hinges mounted onto an electrical enclosure?
Usually, by welding.
Besides the method, there are 4 main ways of mounting hinges onto enclosure doors.
These are full-mortise, half-mortise, full-surface, and half-surface mounting.
First of all, what is a mortise? It is a cutout on the surface of something that houses something else.
Mortise
Then, mortised hinges, or rather their leaves, are placed in these cutouts.
Full-mortise hinges have both leaves in such slots, while half-mortise has one in a slot and another on the surface.
This is reversed for half-surface.
Full-surface hinges have both leaves on the surface of the door.
Mortise mounting may be more secure, but it is also more difficult and expensive, whereas surface mounting is faster.
Do hinges use the same materials as their enclosures do?
Generally, yes. Hinges can be made from stainless steel, galvanized steel, and carbon steel.
Galvanized steel is rust-resistant, but it is also heavy.
Carbon steel is not as resistant to corrosion, but it is also affordable.
Stainless steel is good all around, but it may be expensive.
Hinges can also be made from brass and bronze.
What information/specifications should I decide on before production of hinges for electrical enclosures?
Besides the obvious requirements of quantity, purpose, and protection level, you should decide upon or consult with engineers the following.
Physical parameters of the hinge, such as the length, the material and its gauge/thickness, the diameter of the pin, and the open width.
Additionally, you should be familiar with the type of leaves you are using, such as unequal, and the type of swagging.
Finally, consider the finish you want, and any other features of the hinges or the enclosures in general.
Recent Electrical Enclosure Design
What is Hinged Electrical Enclosure?
The hinged electrical enclosure is NEMA rated for waterproof and weatherproof protection.
It can be polycarbonate, ABS, stainless steel, or steel enclosure.
What is the Difference Between Plastic and Metal Hinged Electrical Enclosure?
Plastic hinged electrical enclosure is perfect for many applications.
They are durable, lightweight, and corrosion-resistant.
The metal-hinged electrical enclosure provides outstanding protection for electronic or electrical devices.
They are rugged and sturdy.
However, both plastic and metal-hinged electrical enclosures are the best solution for most industries.
What Are the Applications of Hinged Electrical Enclosure?
The hinged electrical enclosure is perfect for many industries, like:
Alternative energy
Telecommunications
Oil and gas industry
Agriculture
What Are the Types of Hinged Electrical Enclosure?
Hinged electrical enclosure is available in many hinged designs, such as:
Low Profile Continuous Hinge Electrical Enclosure: it is designed for sturdy industrial looks.
Dependable Hinged Electrical Enclosure
Smaller NEMA Hinged Electrical Enclosure
All types of hinged electrical enclosures have matching or clear transparent opaque cover options.
What Are the Safety Ratings for Hinged Electrical Enclosure?
The safety ratings for hinged electrical enclosure includes the following:
UL 508A Listed,
cUL listed
NEMA Type 12, 4X, 4, 3R, 1
IP66, IEC 60529
What Are the Materials to Manufacture Hinged Electrical Enclosure?
The hinged electrical enclosure is made up of 304 stainless steel, 316 stainless steel, aluminum, ABS, polycarbonate, and aluminum.