Custom Your Double Door Enclosure
Material for Stainless Steel, Carbon Steel, Galvanized Available
Custom Any Size for Double Door Enclosure.
MOQ 1pc
Fast Sample Production within 3 days.
Double Door Enclosure Certificates
Custom Double Door Enclosure Manufacturer in China
KDM double door enclosure is for outdoor application with weatherproof and antistatic properties.

These enclosures are suitable for use in some areas like petrochemical plants, pulp and paper processing, pharmaceutical and packaging applications, dairies, breweries, food processing areas.
Manufacturing
Buying Guide
Enclosure Designs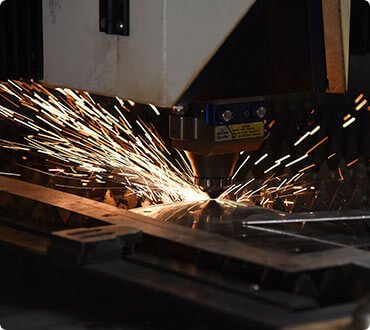 Electrical Enclosure Laser Cutting
4000W high performance laser cutting machine, +/- 0.05mm accuracy. No burr, no scratching.
Electrical Enclosure Welding
Multi-Functioning flexible welding equipment, high accuracy, no deformation.
Electrical Enclosure Bending
+/- 0.5mm bending precision, smooth surface without bending marks.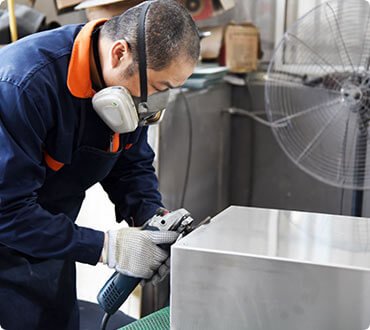 Electrical Enclosure Polishing
10+ welding experience workers, perfect overall appearance.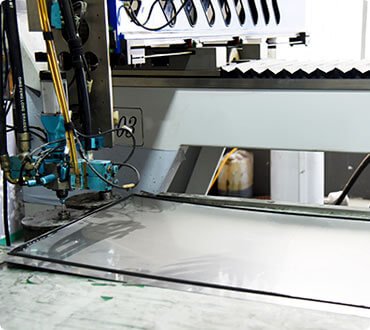 Electrical Enclosure Foaming
High speed and accuracy foaming machines, fast and qualified Gasket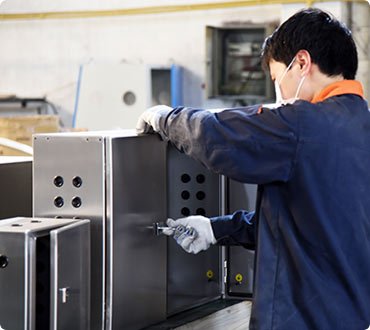 Electrical Enclosure Assembly
Expert assembling team, consistent assembly quality on every KDM enclosure
KDM Double Door Enclosure
KDM double door enclosure comes in a range of materials such as stainless steel, galvanized steel, and steel. Also, this enclosure offered in a variety of dimensions and sizes, colors, and other options. Our double door enclosure also adheres to NEMA-rated standards, these constructions also allow for installation in areas where severe corrosion problems may exist. 
KDM double door enclosures are primarily utilized for front and controlled access to distribution circuits. That makes them suitable where they are subject to frequent high-pressure hosing and generally wet conditions. These versatile double-door enclosures provide industry-leading protection for large equipment or complex mounting configurations in highly-corrosive conditions.
KDM double door enclosure comes with multiple options allow our customers to customize the final product to meet their requirement. Customize your enclosure to your exact size specifications with custom options such as cutouts, insulation, hinges, and latches. Thus, if you require a different color, lock or internal accessory options, our engineers will help you along the process.
Custom build double door enclosure surely meet your exact specifications to satisfy the needs of your industry standards. Depending on the unique application and environmental conditions, KDM custom double door enclosure conforms to the CE, UL, NEMA 250-2014, IECEx, RoHS, ATEX, CSA, and EN/IEC 60529 standards.
With the KDM double door enclosure, you can purchase this enclosure in a productive and cost-effective way. Whether you need to buy it in small or larger quantities. KDM provides you best quality standards of the enclosure and gives you a unique enclosure solution.
Over 10 years of experience, at KDM, we are committed to providing outstanding services to our clients. Our goal is to provide trustworthy, high-quality double door enclosure and solutions to our wide range of customers in various industries.
With the valuable assistance of our skilled team and professionals, we are engaged in manufacturing an extensive range of excellent double door enclosure. Our objective is to satisfy our clients with our kind of services. At KDM, we do not compromise with the quality, genuineness, and craftsmanship.
KDM is one of the most professional double door enclosure manufacturer of standard and customized enclosure solutions for industrial and building applications. For that reason, we can easily adapt our cabinet designs to whatever dimensions you need. At the same time, you can contact us for your custom double door enclosure needs, we would be happy to assist you in creating for your specific needs.
Questions You May Ask About Our Double Door Enclosure
KDM Double Door Enclosure
KDM double door enclosures are designed for use primarily to prevent the penetration of windblown dust, dirt, oil, rain, and splashing water, hose-directed water and damage from external ice formation.
At the same time, this enclosure also used indoors and outdoors, to house such items as electronic and electrical controls, components, terminals, instruments, pneumatic, hydraulic, and machine tool controls.