KDM Walk in Electrical Enclosure
Tailor-made based on your requirement
IP65/IP66 Certification
Fast Sample Production within 3 days
Custom Walk in Electrical Enclosure Manufacturer in China
KDM walk-in electrical enclosure is constructed to provide protection of equipment in an outdoor or adverse environment. The design of a walk-in enclosure intends to serve in relatively large buildings and industries. In most cases, the structure of this device has more than two entry doors. This enclosure often has an open bottom for pad mounting, but can also be equipped with full floors.
Send your Inquiry on KDM Walk in Electrical Enclosure
At KDM, we can fabricate enclosures in all sizes, from huge to tiny, depending on components size, many of the same features found in our stockpile are available in the walk-in electrical enclosures. With our professional technicians and engineers, you can ensure you have the exact design and safety standards needed to complete your project.
KDM walk-in electrical enclosure is mostly made of steel, stainless steel (including 201 stainless steel, 304 stainless steel, and 316 stainless steel), and galvanized steel. The choice of material that you choose for walk-in electrical boxes is dependent on the particular application and environment. At KDM, we are able to manufacture and design a variety of walk-in electrical enclosure exactly of what our customers needs.
Manufacturing Capacity
Buying Guide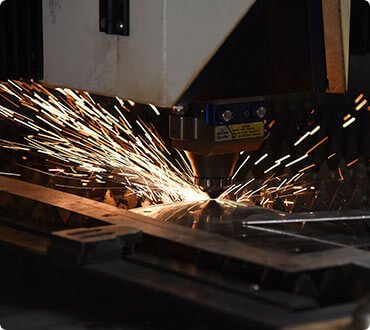 Electrical Enclosure Laser Cutting
4000W high performance laser cutting machine, +/- 0.05mm accuracy. No burr, no scratching.
Electrical Enclosure Welding
Multi-Functioning flexible welding equipment, high accuracy, no deformation.
Electrical Enclosure Bending
+/- 0.5mm bending precision, smooth surface without bending marks.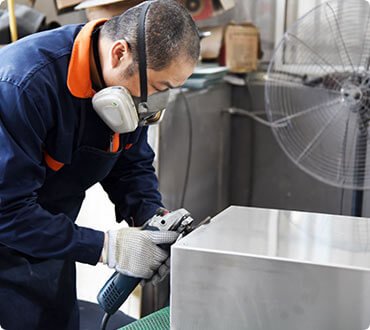 Electrical Enclosure Polishing
10+ welding experience workers, perfect overall appearance.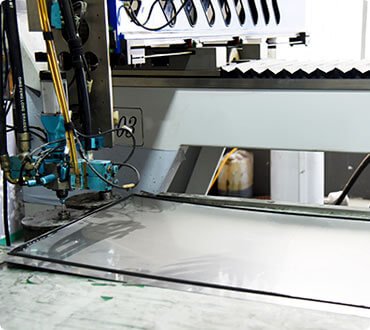 Electrical Enclosure Foaming
High speed and accuracy foaming machines, fast and qualified Gasket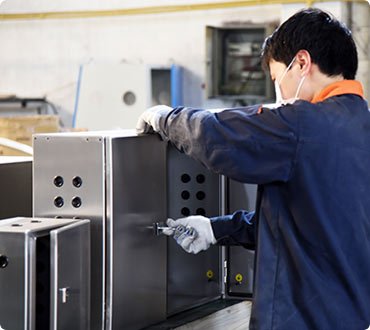 Electrical Enclosure Assembly
Expert assembling team, consistent assembly quality on every KDM enclosure
KDM Walk in Electrical Enclosure
At KDM, our walk-in electrical enclosure is constructed for tough weather conditions and robust duty. This enclosure is suitable not only for electronics but also applicable for instrumentation, industrial process controls, power, and other field components.
Walk in Electrical Enclosure Manufacturing
Our walk-in enclosure can be built with different structure options and a variety of additional accessories and mounting hardware for you to choose from and customize. Walk in the enclosure may also be equipped with lifting hardware such as lifting eyes for easy placement or removal, entry security system. With this, you will always be able to find the optimal design for your project.
These engineers can also help you in choosing the best materials depending on the application of the product. Our lead time is only 15 to 30 days depending on your specification – it can even be less. Considering our kind of services will help you save time, money and effort at all.
Walk in Electrical Enclosure Detail
KDM walk-in electrical enclosure fabricated using advanced technology and automated tools. Set standards materials for electronic components. No matter what your design requirements are, we can help you develop the perfect walk-in electrical enclosure that fits your needs and work well for your project.
As the industry-premier electrical enclosure manufacturer in China, KDM is able to provide you with the highest quality walk-in enclosures at the most competitive price. All of our enclosure is constructed to the highest standards of manufacture and quality control. Our facility is ISO 9001:2005 certified, so you assure that we can provide you a superior degree of excellence by providing the best in service and walk in enclosure products.
walk in enclosure
With over 10 years of experience in the industry, we are able to relay new ideas into our products and solution that creates value in our company. We have the expertise to help you in every stage of the process. If you have any questions about our walk-in electrical enclosure and/or finding the right solutions for your applications, contact us! 
Recent Walk in Electrical Enclosure Order
Walk-In Electrical Enclosure – Your Ultimate FAQs Guide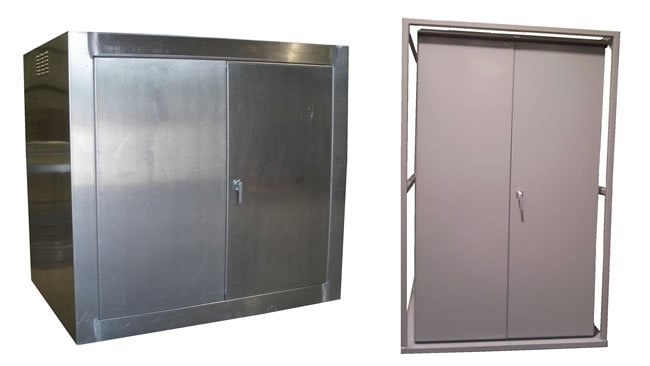 What is a Walk-In Electrical Enclosure?
It is a cabinet or box that provides protection for electronic or electrical devices and hinders electronic distress.
This walk-in electrical enclosure is designed to safeguard devices in an exterior or detrimental environment.
A walk-in electrical enclosure is intended to be used in significantly larger building structures and industries.
It is rated to indicate their resistance to potentially dangerous, non-hazardous, and other environmental factors.
What Materials Does a Walk-In Electrical Enclosure is Made of?
Enclosures are typically constructed of rigid plastics or metals such as steel, stainless steel, or aluminum.
Steel, stainless steel, and galvanized steel are the most common materials used in walk-in electrical enclosures.
Most of the walk-in electrical enclosureis Made of the following materials:
Aluminum Walk–In Electrical Enclosure
It is readily accessible for greater thermal dissipation.
Stainless steel Walk-In Electrical Enclosure
It is accessible for supreme fire resistance and durability.
Galvanized Steel with a Powder Coat
ABS Walk-In Electrical Enclosure
Acrylonitrile-butadiene-styrene (ABS) is a robust, strong, and budget-friendly thermoplastic polymer.
It has a supreme resistance in chemical and dimensional stability.
Fiberglass / FRP Walk-In Electrical Enclosure
It is a robust, durable, reinforced polymer that has a high resistance to extreme weather conditions.
It has less contraction during molding and improved dimensional firmness, unlike common plastics.
Polycarbonate Walk-In Electrical Enclosure
It is a shapeless solid with outstanding power strength, clarity, and optical properties.
It is very hard and has exceptional mechanical assets.
Polypropylene Walk-In Electrical Enclosure
It is a thermoplastic with admirable resistance to many chemicals.
What Are The Other Walk-In Electrical Enclosure Designs and Configurations?
A pretty standard walk-in electrical enclosure is a large structure including one or more entrance doors.
This enclosure is generally constructed with an open bottom for pad mounting, but full floors are also available.
It also includes lifting hardware for easy installation or removal, security systems, and a variety of other accessories.
It comes in any size, stainless steel, aluminum, or powder coated mild steel, indoor or outdoor.
There are multiple doors, interior, external surface, flush, and surface mounting alternatives available.
Walk-in electrical enclosure is typically shipped fully constructed, with all required gear assembled and assessed.
What is the Sole Purpose of a Walk-In Electrical Enclosure?
Walk-in electrical enclosures are designed to withstand extreme weather conditions.
Electronic parts, manufacturing processes controls, power, and other field machinery are housed in walk-in enclosures.
It is used to keep exterior electrical devices protected and far from harm.
What Does Walk–In Electrical Enclosure Protect For?
Walk-In Electrical Enclosuresare boxes that are used to defend electronic systems from the elements.
Walk-In Electrical Enclosures are frequently used to safeguard the following types of equipment:
Construction of electrical and telecommunications rooms
Mines, oil refineries, and gas pipelines
Panelboards and dissemination boards
Utilities
Devices and structures for pressurization and purging
Electrical components
Telecommunications cabinets
Charging equipment for electric vehicles
Plants for manufacturing
Plants that produce chemicals
Devices in a walk-in electrical enclosure are guarded in the following ways:
Snow, sleet, or ice encountered in an outdoor space or in commercial freezers used in food manufacturing
Circumstances are moderately wet, with water drops and illumination splashing.
Indoor, outdoor, and indoor/outdoor settings.
Lubricants, petroleum, solvents, and non-corrosive cooling systems are used in manufacturing sectors.
Areas that are clobbered down on a regular basis or are covered in water on a regular basis.
Dusty and filthy conditions in factories, mines, and oil and gas fields.
Saltwater, acids, and alkaline solutions are examples of corrosive environments.
It does not only defend the covered devices, but they can also help defend people and property in the nearby area:
Explosion-proof or potentially dangerous area.
It avoids explosions from being triggered in dangerous areas containing dangerous chemicals.
It also secures employees from injuries caused by electrical elements contained inside the enclosure.
Locked enclosures prevent unauthorized access from interfering with the electrical equipment housed within.
What are the Features of a Walk-In Electrical Enclosure?
Alternatives for artificial light, heaters, cooling, and ventilation.
Skin-tight or walk-in development styles.
Built in accordance with IBC specifications.
Installation of a drop-over or spatial skid base.
Choices for shipment control, paralleling, and transport.
Aesthetic colored metal structures with modern architecture façade are subject to availability.
What are the Advantages and Benefits of a Walk-In Electrical Enclosure?
The walk-in electrical enclosure has a lot of advantages and benefits to any application and industry. You should consider a lot of things to ensure your business needs.
It is typically used for business purposes and designed to accommodate hardware that isn't used on a regular basis.
It is extremely durable to help avoid corrosion.
Electrical equipment is protected by this enclosure in a variety of constructing, commercial, and industrial applications.
They may also provide electromagnetically and signal amplification intrusion shielding for devices.
It provides a weather-resistant working space in front of and to the sides of the switchgear.
Cabinet cooler systems can be personalized that provide temperature control and potentially dangerous position.
A nonhazardous purge option generates good tension within the cabinet.
It controls dust and dirt from reaching the control panel in unsanitary and dusty surroundings.
One end is specially designed for adequate airflow and cooling.
What are the Things to Consider in Selecting the Best Walk–In Electrical Enclosure?
The primary factors and minor details when choosing the best walk-In electrical enclosure for your application are the following:
Weather Resistant Classification
It provides essential security for housing contents.
It is particularly created and tested to withstand the elements.
Wireless Communication
Make absolutely sure that the transmitter would do its task with such little interruption from the enclosure.
It is more complicated and expensive to modify for the best alignment of the device inside.
Durability and Versatility
Take into account how convenient it will be for a repairman to operate with your enclosure.
If space is tight, look for an enclosure with mounting choices and hinge opening angles that maximize space.
Special Mountings
A specialized mounting, such as pole-mounting, maybe the best option for your implementation.
If you don't choose the correct equipment for the job, you'll be substituting components much sooner.
Material Used
The material you choose for walk-in electrical boxes is determined by the application and environment.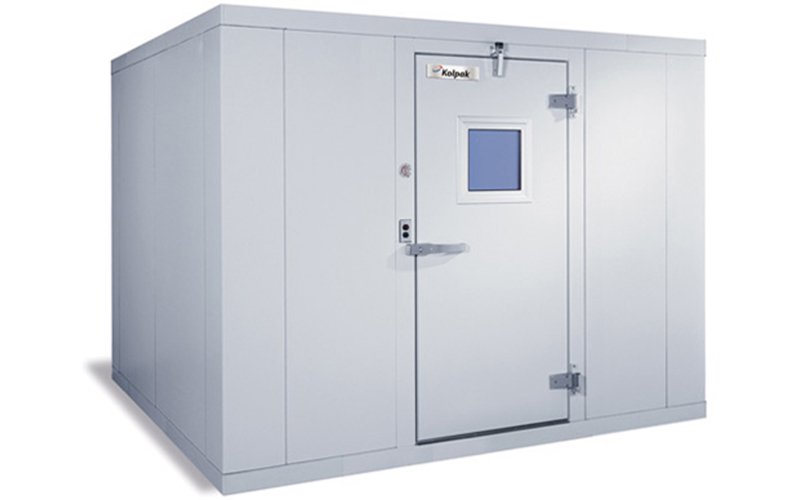 Which Industries Does Walk–In Electrical Enclosure Widely Serve?
Walk-In electrical enclosure is used for various industries that help prevent electrical shock and explosion.
Here are different industries that commonly walk-In electrical enclosure.
Power Generation
Communication Systems
Water Management
Armed Forces
Mining Companies
Power Plants