Lockable Electrical Enclosure
Custom Lock Based on Different NEMA Rating
IP65/IP66 Certification
Free replacement for Your Lock within warranty
Custom Lockable Electrical Enclosure for Your Project
Depending on the specific requirements of end-users, KDM Steel designs lockable electrical enclosures dual locks, tamper-resistant latch kits, standard locks, electrical enclosure door interlock, universal electrical enclosure latches, cam locks, key-lock handle, key insert lock, or T-handle lock.
Furthermore, KDM Lockable Electrical Enclosure may feature an alarm locking mechanism upon request. Also, KDM Steel provides a range of electrical enclosure locks and handles for alternative door locking options for more safety and reliability.
Easy to open and close the enclosure door
Different types of locks for different IP rating
100% quality guarantee
Good balance, ergonomic design, and adding aesthetic value
KDM Lockable Electrical Enclosure Series
Send your Inquiry on KDM Lockable Electrical Enclosure
KDM Steel promises a short lead time on any lockable electrical enclosure with different options available such as a lockable electrical enclosure with polycarbonate window, side vents for cooling enclosure contents, concealed locking mechanism, and much more.
With our know-how in different finishing such as powder coating, polishing, or galvanizing, KDM Lockable Electrical Enclosures have a good balance between safety, ergonomic design, and adding aesthetic value.
Manufacturing Capacity
Buying Guide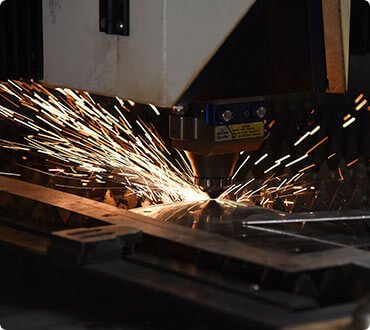 Electrical Enclosure Laser Cutting
4000W high performance laser cutting machine, +/- 0.05mm accuracy. No burr, no scratching.
Electrical Enclosure Welding
Multi-Functioning flexible welding equipment, high accuracy, no deformation.
Electrical Enclosure Bending
+/- 0.5mm bending precision, smooth surface without bending marks.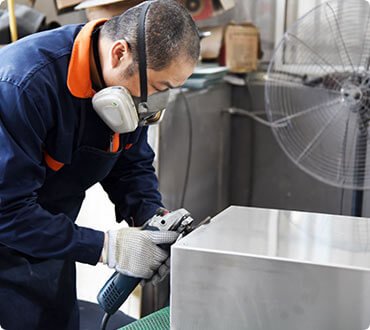 Electrical Enclosure Polishing
10+ welding experience workers, perfect overall appearance.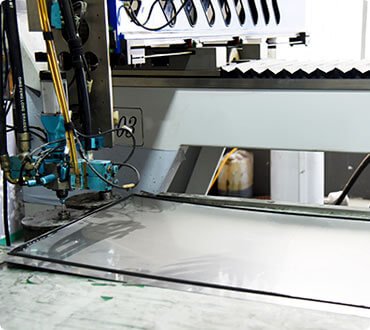 Electrical Enclosure Foaming
High speed and accuracy foaming machines, fast and qualified Gasket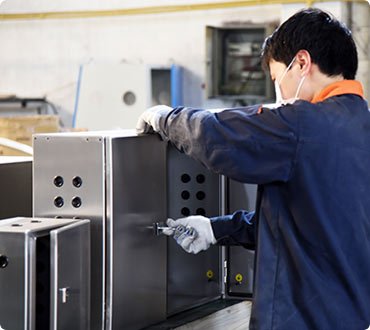 Electrical Enclosure Assembly
Expert assembling team, consistent assembly quality on every KDM enclosure
KDM: Your Professional Lockable Electrical Enclosure Manufacturer
KDM Lockable Electrical Enclosure is a perfect safety and security solution, by preventing unauthorized people from accessing electrical controls, instruments or components in the enclosure.
Every KDM Lockable Electrical Enclosure has a unique key and lock system, strategically located on the door for easy access.
Unlike most electrical enclosures with locks, KDM Lockable Electrical Enclosure is a RoHS, CE, IEC, and NEMA compliant. Whether for outdoor or indoor applications, KDM Lockable Electrical Enclosures are IP 66 rated, and they come in different NEMA rating such as NEMA 2, NEMA 3R, NEMA 4X up to NEMA 13.
Designed to provide reliability, safety, and high strength, KDM Lockable Electrical Enclosure offers protection to harsh weather conditions such as rain, dust, sun, snow, etc.
Furthermore, KDM Lockable Electrical Enclosure comes as freestanding lockable electrical enclosure, wall mount lockable electrical enclosure, lockable junction box enclosure, floor mount lockable electrical enclosure, lockable electrical enclosures with windows, etc.
As a leading lockable electrical enclosure manufacturer, KDM Steel assures 100% quality guarantee on every electrical enclosure. At KDM Steel, we have an R&D team and engineers, committed to designing standard and custom lockable electrical enclosures.
Talk to our sales or engineering team today for any secure and safe lockable electrical enclosure for either industrial, residential or commercial applications.
KDM Lockable Electrical Enclosure is also called a lockable enclosure or electrical locking enclosure. These enclosures are made from steel, galvanized steel or stainless steel (304 or 316L) and they feature a door locking mechanism.
KDM Lockable Electrical Enclosure has a waterproof plastic meter box that can resist corrosion. With KDM Lockable Electrical Enclosure you don't need to have a grounding wire. KDM also provides different types of Lockable Electrical Enclosure. This includes wall mount, carbon steel, polycarbonate window, floor stand electrical enclosure. KDM also have lockable operator interface, carbon steel free, double door freestanding and double door steel lockable electrical enclosure.
KDM Lockable Electrical Enclosure is easy to operate since it has a simple quarter-turn of the knob. Its hinges are hidden when the door is closed for aesthetic design. KDM Lockable Electrical Enclosure has a high level of security because it has two long rods which are attached vertically upwards and downwards inside the door. It also features a strong lock that has a removable lever and a polycarbonate crew and mount base allowing flexibility for mounting.
At KDM, we provide an indoor and outdoor lockable electrical enclosure for electronic and medical equipment. All our lockable electrical enclosure is highly sealed and keeps your equipment away from dust and small particles.
Our lockable electrical enclosure can be customized according to your needs. Each enclosure has different sizes that can hold a specific maximum weight. It can even endure high temperature and UV rays. KDM provides you the most suitable lockable electrical enclosure for your every need.
KDM lockable electrical enclosures are ideal for a wide range of application. This includes industrial main junction box, electronic housing, fire fighting facilities, construction site, huge factories, guesthouses, and airports.  It is perfect for storing sensitive electrical component in your business area. Clearly, our lockable electrical enclosure is excellent and the best choice for all range of applications.
KDM lockable enclosures are durable, high quality and reliable. It is constructed with metals, stainless steels, and carbon steel. It gives high-intensity protection to the contents.  Our lockable electrical enclosure is also portable. It can contain compact electronic devices and has a higher life expectancy. We can give you the best lockable electrical enclosure options for you.
KDM lockable electrical enclosure comes with a different shade of colors. We can also create any types of modifications on your chosen type of lockable electrical enclosure. We can also put additional accessories to fully satisfy your needs.
KDM always worked harder to fully provide you the best possible experience. Because of high technology and highly automated systems, we are able to manufacture the best lockable electrical enclosure. We offer flexibility, durable and functional lockable enclosures that stay within your budget.
For more than 10 years, KDM has always been the leading manufacturer of lockable electrical enclosure in China. All our products adhere to the strict quality control process. Our expert team develops the perfect enclosure that can absolutely help you with your projects. KDM is your one-stop-shop for all your lockable electrical enclosure needs. We assure 100% quality and guarantee on every product we provide. For more queries about the product, contact us now!
The Ultimate FAQ Guide to Lockable Electrical Enclosures
Why do my enclosures need locks?
Enclosures may have important and even dangerous electrical components.
Locks prevent unauthorized people from tampering with or even stealing the instruments, devices, and controls housed in the enclosure.
This is especially important for enclosures located in public places, or those in hazardous facilities.
Examples of public areas include guesthouses, airports, apartment buildings, stores, and even business centers.
On the other end of the spectrum, hazardous facilities include fire fighting places, construction sites, various factories, research labs.
Other locations you should lock your enclosures in include highways, anywhere on the street, maybe even personal homes.
Lockable enclosures can be useful not only for industrial electrical components but also for medical storage areas and testing devices.
What standard designs of locks are there?
Among our designs, we offer many types of locks, including cam locks, key-lock handles, key insert locks, T-handle locks, and deadbolts.
Cam locks are simple and affordable.
They are commonly used to lock cabinets, mailboxes, and other low-security applications.
So, if you need to secure a very important device, a cam lock may not be for you.
Cam locks are made of a cylindrical base and a cam, which is a metal piece that lets the cover open once a key pushes it up.
There are multiple types of cams, such as straight, hooked, and offset, that offer different levels of complexity.
These locks can rotate clockwise and counter-clockwise, limited to 90 or 180 degrees.
 Cam lock
Key-lock handles fulfil the roles of a handle and a lock.
Usually, you need a key for these that unlock the handle, the turn of which unlocks the door.
It could also be the other way around – first the turn of a handle, and then the key.
Another option is to make the handle act as the lock when a specific turn unlocks the door without needing a key.
Windows usually have this type of a lock.
Key-lock handles
Insert locks just refer to any lock that needs a key to open it.
This includes cam locks, key-lock handles, but also euro profile locks.
Euro profile locks are popular in Europe but are also sometimes used in North America.
They look like a circle with an oval on the bottom.
They are attached by one screw and are simple.
They are also called DIN cylinders.
Their disadvantage lies with that one screw since it is easy to break to open the enclosure.
Euro profile lock
T-handle locks are easy to install and replace since they are taken out every time the lock is opened.
They come in 2 types: spring latch and dead latch – one doesn't need a key and the other one does.
T-handle lock
Finally, deadbolts are some of the most reliable locks you can find.
It has a cylinder for the key and a bolt that rests in the cover, preventing it from opening.
Once a key is inserted, the bolt moves, letting the cover open.
Deadbolt lock
What "turn" types of locks are there?
The two most common types of locks are quarter-turn and 3-point-turn locks.
This just describes the mode of operating the lock.
Quarter-turn locks are usually cam locks.
They are simple and provide moderate security.
On the other hand, 3-point-turn locks are more protected and heavy-duty.
Usually, 3-point-turn locks are hidden in the handle or somehow operate with the handle, creating a more complex locking system.
 3-point-turn lock
The electrical enclosures with 3-point locks are used in food-processing plants, pharmaceutical manufacturing facilities, petrochemical plants, pulp and paper processing, water treatment facilities, and food packaging applications.
Finally, 3-point latches are water-tight, not requiring additional sealing.
What additional design features are there for enclosure locks?
One particular design feature we are proud to offer is an alarm locking system if you want.
It is similar to a lockout, making it impossible to open the lock if an alarm is sounded.
This also could mean that an alarm is tripped if someone is tampering with the lock.
Can I request a combination lock?
You can always talk to our Research and Development team to design a combination lock, which is a digital lock or a physical padlock requiring a code to open it.
Padlocks are easier to develop into combination locks, whereas digital ones are more intricate since they need a source of power and need to be protected from hazards.
Plus, digital combination locks can glitch, which is not good in a dangerous situation.
Combination locks: columnar and circular
Overall, though, combination locks are good because then the risk of losing keys is eliminated.
Plus, combination locks are less prone to tampering, and with one, your enclosure practically becomes safe.
What parts does a lock/lockable enclosure consist of?
Of course, this depends on the type of lock you choose, any additional features of the enclosure, such as windows, and the material of the enclosure.
Although, generally, popular configurations go by the following.
A lockable enclosure can have two long rods that are attached vertically from top to bottom inside the door.
It also features a strong lock with a removable lever or handles, a polycarbonate crew, and a mounting base for easier installation.
Where should locks be placed?
This is completely up to you.
You can request the lock to be on the right, left, up, down, or dead center of your enclosure's front panel.
The lock can even be on the top, bottom, or back panels to make it more hidden.
To choose the location of the lock, consider what you want to accomplish.
If you want to hide it, then placing it on any panel except for the front one will work.
Besides the panels mentioned above, you can also place the lock on the side or even the bottom panels – if the enclosure is wall-mounted.
If you just want to secure the enclosure, place the lock somewhere where it would be convenient for personnel to access it.
This means placing the lock roughly at the level of an average worker's waist.
How many locks per enclosure should there be?
The short answer is: as many as you need.
Usually, enclosures only have one lock, but there can be more if the enclosure has several doors or compartments.
Specifically, there can be one, two, or multiple doors per enclosure, and each can have its own lock.
Plus, our custom enclosures and cabinets may have several drawers, and you can request a lock on as many of these as you want – be it one or all of them.
  Cabinet with drawers
Besides that, you can have double locks, which is when the base of the lock is one, but you need two or more locks to open it.
This increases the security of the enclosure, so it could be useful for those containing control systems.
Finally, you can have a lock on the door/cover and one on the window – for quicker access to most important components as well as backup overall access.
Plus, if you have a lockout, you will have many locks per door – see the section below.
Is there a difference between locks, padlocks, and safety lockouts?
"Lock" is an overarching term that includes padlocks as well.
Usually, though, when we talk about locks, we mean internal locks that are installed into an enclosure.
On the contrary, padlocks are external locks that hang from the cover.
These can be broken, so using them for important enclosures is not ideal.
Type of lockout
Lockouts are very elaborate padlocks that are placed on a machine or equipment to prevent anyone from accessing it until maintenance is complete.
This is useful in research and power plant facilities where there is dangerous electrical equipment.
What is an interlock and a defeater mechanism?
Electrical interlocks are locks designed to keep the cover or door handle of an enclosure from turning. Also, they keep covers/doors from being opened.
There are devices called the interlock defeaters.
They are key-operated switches that disable the interlocks to allow access for maintenance.
Interlocks operate similarly to lockouts, but not allowing entry while the machine is running, or is energized.
  Interlock
Defeater mechanisms disable the interlock, as well as other possible lockout mechanisms.
They are usually circuit breakers that have a pin which moves a lever inside the interlock device to cut its circuit to open the cover/door.
  Interlock with defeater
Defeaters are not tools, but rather are part of the interlock that allows a tool to be used to disengage the interlock.
What types of latches are there?
Latches aren't as secure as locks, but they are still good.
The two main latches you can have are hang latches and spring latches.
Hang latches have a hook and a loop.
Needless to say that this latch is not very secure and all it does is keep the door from swinging open.
Hang latch
The other type, spring latch, is a little more secure because it can take a moment to figure out.
Basically, there is a hook and a loop, as well as a spring-loaded base that keeps the latch secure.
Once this base is lifted up, the loop slips from the hook, opening the door.
Spring latch
Plus, you can request a crossbar latch, but those are not typically used for enclosures.
We also offer separate latch kits that you can add to your existing enclosures.
How can I design handles?
Besides the typical handle and lever designs presented above, there are other ways you can design your lockable handles.
One way to incorporate a lock into the handle is by hiding it.
You can place a sliding cover over the lock.
Once that cover is pushed away, the lock can be unlocked, letting you move the handle, which opens the door.
Another idea is to place the lock behind the handle, so it can only be accessed once the handle is pushed away.
Hidden lock
Another handle is known as the paddle lock.
This handle is a rectangular piece that you push out to open the door.
The lock is usually right next to it.
This handle is commonly used with heavy-duty enclosures.
Also, you can have a handle that covers the lock but can be slid away to show it.
Then, after the lock is unlocked, the handle can be used as it is usually used.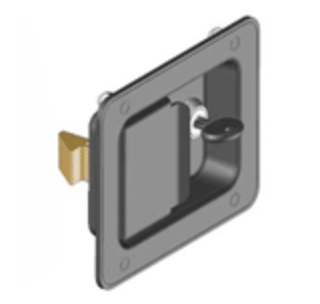 Paddle lock
One more interesting handle you can have is a twisting knob that you can turn to unlock the door.
A lock can be incorporated to block the twisting of the knob until the lock is locked.
 Twisting knob
Does the material used for locks differ from material used for the rest of the enclosure?
The materials used for enclosures aren't different from materials used for locks.
Locks, like our enclosures, can be made from carbon steel, galvanized steel, and stainless steel – usually of the grade 304.
Keep in mind that each has certain qualities.
Galvanized steel is heavy, while carbon steel can be dented more easily.
Stainless steel is more expensive, but it is the strongest of the bunch.
Plus, the handles can be made from these steels, as well as from polycarbonate and ABS.
Polycarbonate is more resistant to corrosion, whereas ABS is cheaper.
What enclosures can be paired with locks?
Any other enclosures you want!
You can put a lock onto a free-standing enclosure, a wall-mounted enclosure, a junction box, any industry enclosure, a custom enclosure.
Basically, any enclosure we offer can be paired with a lock.
Especially, locks are great for junction boxes with operator interfaces since important control systems are likely to be housed there.
  Junction box
You can also add other features to your enclosure besides locks, such as vents, windows, and hinges.
Vents help cool down the contents of the enclosure.
When electrical components run, they produce heat that can damage these components.
Thus, vents deal with that heat.
Windows provide a view of the instruments and gauges housed in the enclosure.
This makes maintenance and diagnostic work faster since everything is visible.
Hinges help open the cover/door.
How protected can lockable enclosures be?
Your lockable enclosures can be IP or NEMA rated as well.
IP enclosures are rated with the IP code, which has 2 digits – one for protection against solid ingress and another against liquid.
The maximum IP protection an enclosure can have is IP69K, which is fully dust-tight and can be submerged underwater for a long time and sprayed with hot pressurized water.
We offer enclosures up to IP66, which means it is dust-tight and can be sprayed with pressurized jets of water.
As for NEMA, we offer any type, starting with 1 and up to 13, including subtypes, such as 3R.
Our NEMA enclosures are protected against weather, corrosion, oil seepage, and much more.
Locks don't compromise the protection your enclosures get because we engineer them safely.
How are KDM lockable enclosures different other lockable enclosures?
Lockable enclosures manufactured by KDM are compliant with RoHS, CE, IEC, and NEMA standards.
Introducing locks to an enclosure creates more risk of ingress – solid and liquid.
This is why it may more tricky to make these enclosures as protected from the elements as they should be.
But KDM overcomes this difficulty, offering some of the best enclosures for your business.
Recent Electrical Enclosure Design
Lockable Electrical Enclosure – Your Ultimate FAQs Guide
What is a Lockable Electrical Enclosure?
It is a common term for a lockable, economic box that provides protection for electrical or mechanical devices.
Lockable electrical enclosure is required to house sensitive and often unsafe electrical devices.
An electrical enclosure will keep your devices safe from dust, moisture, and possible threats.
Lockable electrical enclosures are NEMA and IP rated and provide weather resistant exterior security.
What Materials Does a Lockable Electrical Enclosure Made Of?
Lockable electrical enclosure are available in both highly corrosive metal and plastic.
It is made of plastic that offers additional security while remaining tough and compact.
Stainless Steel
It safeguards electrical equipment from the corrosive environments caused by the external area.
These electrical enclosures are constructed of steel material.
Door locks, gland plates, and a 1.5mm device mounting plate are included.
Powder Coat
Electrical enclosures with one or two doors are accessible.
Security systems, gland plates, and a 1.5mm device mounting plate are included.
Blind nursers are installed, making it simple to configure mounting feet and equipment.
Polycarbonate
Plastic or pvc is used to make these electronic enclosure boxes.
There are many choices available that are suitable for use as an exterior electrical enclosure.
What are the Types of a Lockable Electrical Enclosure?
Wall Lockable Electrical Enclosure
Electronic controller, connections, instruments, and equipment are housed in this cabinet.
It protects against dust, dirt, oil, and moisture.
It comes in various sizes and styles.
It is made of steel and plastic.
It has panelboard extensive application as well as protection latching.
Connecting Wires Lockable Electrical Enclosure
Surface-mounted junction boxes, utility boxes, switch boxes, and cutout boxes are all possible.
Available in a wide variety of NEMA ratings and with fastening or barricading options.
Models that are non-corrosive, UV resilient, and submerged for particular applications.
Sanitary Lockable Electrical Enclosure
Sanitary hardened steel enclosures are best suited for safeguarding electronic systems in sanitation facilities.
Their special hinge structure allows simple disinfecting, and the sloped top precludes liquid buildup.
All models come in a variety of NEMA ratings.
Miniatures Lockable Electrical Enclosure
Watertight security for electronic devices, and DIN rail mountable elements is provided by miniature cases.
Die-cast material, glass fiber, and ABS plastic designs with varying NEMA and IP ratings are readily accessible.
It is suited for tough and outdoor surroundings.
Pushbuttons Lockable Electrical Enclosure
It includes standard 30.5mm and standard miniature 22.5mm brands of input devices, and motor controllers.
It protects against dirt, dust, oil, and water.
FloorLockable Electrical Enclosure
It is built to support high concentrations of electronic systems.
This unit is bolted to the floor for added safety and stability.
NEMA ratings for single and multi-door products are available.
Stand Alone Lockable Electrical Enclosure
It is intended to hold large amounts of electrical/electronic parts.
NEMA ratings are available for single, multi-door, and dual access models.
ModularLockable Electrical Enclosure
Includes roof/base pairs, linear chassis rails, doors, external frames, and subpanels.
It is accessible in various of dimensions, with single or double door structures.
Individual components, as well as a variety of accessories, are also available separately.
DisconnectLockable Electrical Enclosure
Enclosures for mounting disconnects made from steeland fiberglass-reinforced synthetic fibers.
These enclosures are intended to shelter disconnects from a number of manufacturers.
What are the Important Functions of a Lockable Electrical Enclosure?
A few of the more important functions of Lockable Electrical Enclosure are enumerated below.
It is to gain a clear understanding of how absolutely incredible this product can be for the electrical industry:
Durability
It is extremely resistant to UV, chemical products, acids, salt air, and other corrosive environments.
It will not rust, resulting in very low expense items.
Strength
It has a very high strength-to-weight ratio and can be tougher than steel.
It has very strong effect and modulus of elasticity.
Ease of Use
Metal alternative solutions, like plastic, can be producedmuch more easily than steel alternative solutions.
Work such as punching or cutting holes can be finished with standard hand tools.
It is also lighter in weight when compared to other enclosures.
Regulate Temperatures Inside Your Devices
Heating systems will disburse heat evenly to prevent cooling.
It maintains extra viscous secretions progressing throughout the cold weather.
Provide Optimum Security
It helps to shield against unlawful searches and seizures.
It maintains your facilities secure in inclement weather.
What are The Lockable Electrical Enclosure Advantages?
There are plenty advantage offer when using lockable electrical enclosure. It has great advantage for industrial, commercial, and residential purposes.
Outstanding protection against corrosion and interfacial corrosion resistance.
Outstanding hot and cold shaping performance and procedure.
Excellent low-temperature performance.
Ideal for welding.
It is intended for heavy-duty outdoor applications.
It is made to take extreme conditions, making them ideal for massive exterior applications.
It can be used for both hardware and software applications.
It safeguards devices from manipulation and keeps your elements protected in any surroundings.
It is very frequent for them to provide a comprehensive security system.
They are incredibly beneficial when hardware capacity is limited for floor-standing enclosures.
They consistently provide effective security and consumer protections.
What are the Accessories and Designs of a Lockable Electrical Enclosure?
Lockable Electrical Enclosurecomes in a variety of sizes, materials, wall mount configurations, and storage options.
There are numerous accessories available to meet your requirements.
Optional accessories for our Lockable Electrical Enclosure include:
Intrinsic panels
Pole mount kits
Din rail kits
Multiple major locks and swing controls
Sun covers, vent hoods, inner doors, plan compartments and pole bracket
Design of Lockable Electrical Enclosure:
It has a diverse variety of IP evaluations currently offered, and are available in a wide variety of designs and sizes.
This implies that there is almost always a design sufficient to fulfill your exact configuration area and regulatory measures.
Why Does Lockable Electrical Enclosuresare Made?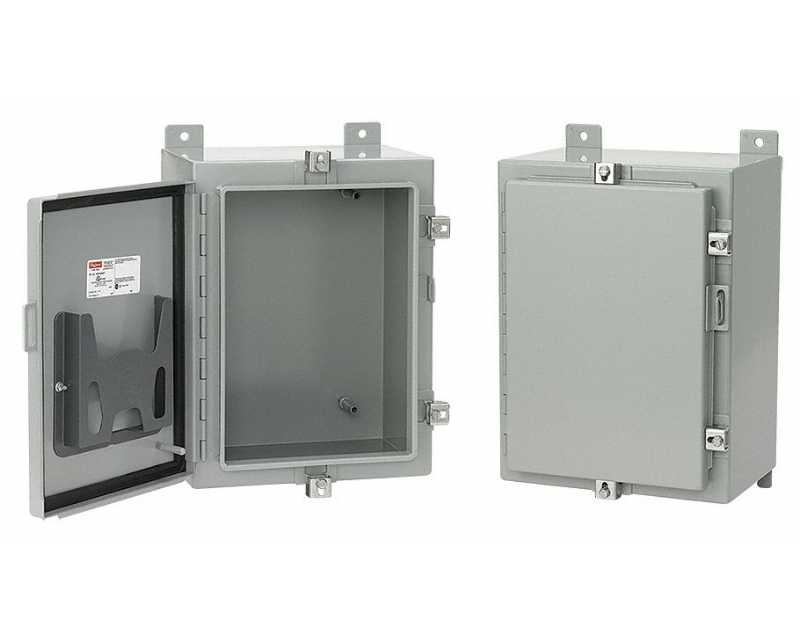 It is designed to accommodate a variety of electrical switch and control equipment that keeps dustand waste material away.
It comes with a comprehensive array of performance, standard and custom enclosures for electric equipment.
It is manufactured to ensure the effectiveness and stability of your procedures.
Which Industries Does Lockable Electrical Enclosures Serve?
Lockable Electrical Enclosures have been growing at a significant rate over the years.
They are appropriate for most manufacturing applications that require minimum protection.
It widely serves the industries such as the following:
Electronics Industries
Computer and Telecommunications Industries
Food and beverage industries
PharmaceuticalIndustries
Maritime Industries.