Industrial Enclosure
Custom Industrial enclosure
IP65/IP66 Certification
Low MOQ from 1 PC
Custom Lockable Electrical Enclosure for Your Project
No matter you are in the IT, electrical engineering, mechanical engineering as well as a food or other industry, KDM enclosures can protect your systems, parts, and goods from all kinds of physical hazards and contaminations.
KDM industrial enclosures come in either steel, stainless steel, or galvanized steel, while for the stainless-steel option, KDM also provides three different materials, which are 201 stainless steel, 304 stainless steel, and Industry Enclosure 316 stainless steel respectively.
State-of-the-art manufacturing equipment and experienced support team
Specialization in industrial enclosure manufacturing for almost two decades
Infinite customization combinations
Competitive price among the industry
Read More
Manufacturing Capacity
Buying Guide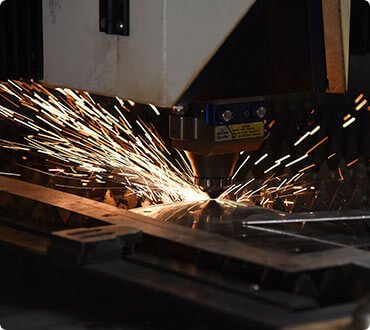 Electrical Enclosure Laser Cutting
4000W high performance laser cutting machine, +/- 0.05mm accuracy. No burr, no scratching.
Electrical Enclosure Welding
Multi-Functioning flexible welding equipment, high accuracy, no deformation.
Electrical Enclosure Bending
+/- 0.5mm bending precision, smooth surface without bending marks.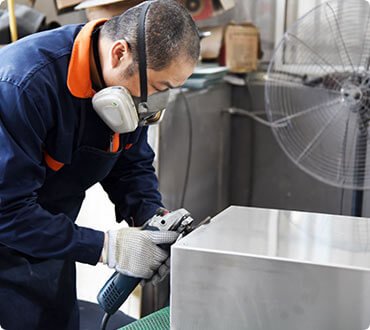 Electrical Enclosure Polishing
10+ welding experience workers, perfect overall appearance.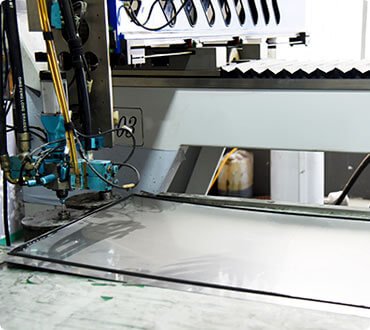 Electrical Enclosure Foaming
High speed and accuracy foaming machines, fast and qualified Gasket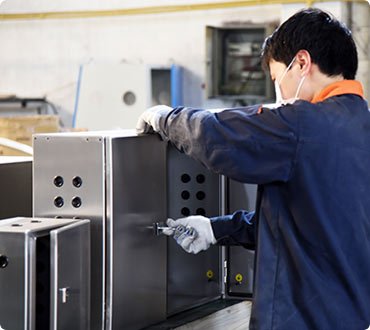 Electrical Enclosure Assembly
Expert assembling team, consistent assembly quality on every KDM enclosure
KDM: Your Professional Industry Enclosure Manufacturer
KDM is your premier industry enclosure manufacturer and partner. We can custom any industry enclosure based on your detailed requirement.
As a specialized industrial enclosure manufacturer, KDM is able to provide you with high-quality enclosures that suit your application best.
No matter you are in the IT, electrical engineering, mechanical engineering as well as food or other industry, KDM enclosures can protect your systems, parts, and goods from all kinds of physical hazards and contaminations.
KDM industrial enclosures come in either steel, stainless steel or galvanized steel, while for the stainless-steel option, KDM also provides three different materials, which are 201 stainless steel, 304 stainless steel, and Industry Enclosure 316 stainless steel respectively.
Your Best Industry Enclosure Manufacturer
Based on your application, KDM is able to provide you with the industrial enclosures of the most suitable size, type, and layout. KDM offers single door, double door, multi-door, and modular frame options and the enclosures can be free-standing, floor mounted, wall mounted or pole mounted.
You are able to choose the mounting hardware by yourself and combine different mounting methods if necessary and KDM will definitely satisfy your requirement.
KDM also provides an abundant selection of accessories and features for their industrial enclosures, including different locking systems, latches, mounting hardware, interior, panels, vents and windows, which constitutes almost infinite combinations for you to choose from.
Through the 17-years of development, KDM has not only kept its manufacturing capabilities updated but also established solid partnerships with multiple suppliers.
Therefore, even if under the very rare circumstance when you could not find what you want from what all these customization options, KDM will still be able to try to get what you want.
In terms of protection, all KDM industrial enclosures are able to meet different NEMA and corresponding IP protection standards, including NEMA 1, 3, 3R, 3S, 4, 4X, 6P, 12, and 13 ratings, which makes KDM industrial enclosures suitable for both indoor and outdoor applications and you will be able to find the standard most suitable for your application.
With almost two decades of experience in manufacturing all kinds of industrial enclosures, KDM has also developed a support team consisting of over 20 engineers that will help you with your order and the design of your enclosures. They are dedicated to finding you the best solution for your project.
KDM enjoys highly developed manufacturing and management capabilities, which ensures a delivery time of 15 to 30 days.
You can request a quick quote on any types of enclosures or on your own design and we will get back to you within 12 hours.
Industrial Enclosures: The Ultimate Guide for Importers
Industrial enclosure houses electrical switches, motor drives, PLC circuits, control panels, etc.
Therefore, you must choose one that is durable, easily accessible, guarantees the safety of both electrical systems and users.
But, how can you achieve this?
I will show everything you need to do in this guide.
Here, I am going to take you through basic definition, types, technical specifications, material, parts and safety standards of industrial enclosures.
With this information, you will confidently import electrical enclosure cabinet for your industrial applications.
Now let's get straight to the point;
What are Industrial Enclosures?
Industrial enclosures are cabinets or casings that house various electrical and electronic components.
They are common in industrial setups.
Here is a good example.
Industrial electrical enclosure
They come in different designs, with lockable doors to ensure safety.
Remember, it is these doors that ensure no intruders can access the electrical and electronic systems without permission.
Also, they help to prevent workers from electric shock.
Depending on the application at hand, you can install industrial enclosures within or outside the factory buildings.
As you can see, these industrial enclosures come in different sizes, designs, and shapes.
I will take you through that shortly.
For now, let's focus on yet another important aspect of industrial enclosures.
Why You Need Industrial Electrical Enclosures
Listen, industrial electrical enclosures play a fundamental role in industrial setups.
The truth is, without enclosures, the working area will be a mess.
And, it is for this reason that I want to take you through 6 main reasons why you need an industrial enclosure.
1. Protection of Electrical Components from the Harsh Industrial Environment
Any manufacturing or production setup may have a range of pollutants.
It can range from excess dust, moisture or excess heat.
There's a lot of waste and by-products.
You cannot allow your electrical equipment to be exposed to in such an environment.
So basically, you need to protect them – thus, an electrical enclosure is a must-have accessory.
PLC electrical terminal
Also, moving equipment can hit electronic equipment.
Hence, there is the need to protect them at all times from unnecessary impact and shock.
2. Ensure the Safety of Users, Electrical Components
It's this simple.
You need to protect workers from possible electric shock when they touch electrical components.
Also, you must protect the machines and other electronic devices.
This is why all switches, PLC programs, and other controllers will be in the industrial enclosures.
With a lockable enclosure, no one will access these accessories without direct permission from the management.
That's an important safety measure you cannot ignore.
Electrical enclosure with a lockable door
Additionally, industrial enclosures also protect the electrical components from vandalism.
3. Store all Instruments and Electrical Components
The industrial enclosure is a "store" that will keep all electrical components intact.
Therefore, you don't have to worry about the messy industrial environment.
Remember, this environment can damage your precious electrical instruments.
VFD in the electrical enclosure
Remember, an industrial enclosure will help you to organize all the electrical components.
With this, it will be easier to troubleshoot systems in case of any breakdown.
To avoid confusions and possible delays, you need an industrial enclosure.
And guess what?
It is a sure and efficient way to enhance efficiency in an industrial environment.
This is because, you can access, monitor and control various operations from one point.
4. Aesthetic Value of the Industrial Set-up
I know you want a working environment that looks neat right?
You need an electrical enclosure.
By installing a well-designed industrial enclosure, you can improve the aesthetic value of your industrial set up.
An electrical enclosure will make your environment look neat.
Industrial enclosure
Also, you must consider better designs of industrial enclosures.
That is, choose designs that match the existing enclosures.
In short, it should be an electrical enclosure that ensures safety and adds beauty to your industrial setup.
5. Enhance Efficiency and Convenience of Operation
With an industrial enclosure, you can easily create a central operating point.
By having your connections and instruments at a central point, you will improve efficiency.
Consequently, this will:
Improve productivity
Make troubleshooting easy and simple
So basically, an industrial enclosure will make it easier to regulate and control various operations easily.
All you need to do is label the switches, knobs and many other parts accordingly.
6. Reduce the Risk of Fire
When electrical and electronic components overheat, they may explode.
In such situations, electrical enclosures will stop the fire from spreading.
But, this is only possible if you buy a quality electrical enclosure that meets the set standards.
I will take you through those standards later in this guide – keep reading.
Furthermore, with suitable industrial enclosures, you can easily control the spread of flammable gases.
By doing so, you will control the chances of auto-ignition.
The best part?
High-tech industrial enclosures have cooling mechanisms and ventilation systems.
Such boxes have mechanisms of controlling the temperatures, to prevent possible risks that can cause a fire outbreak.
In a nutshell, you can see industrial enclosures play an important role in manufacturing and production set up.
But what is even more important – choose the right design of electrical enclosures.
That's what you're going to learn next.
Types of Industrial Enclosures
Industry Enclosure Manufacturer
The truth is, there are many types of industrial enclosures on the market.
Of course, this is due to the varying needs and technological advancements.
But the good news is:
The numerous types of electrical enclosures give you the opportunity to choose one that meets your specific needs.
Below are some of the most common types of industrial enclosures:
It is one of the most popular types of electrical cabinets in several industrial set ups.
And as the name suggests, this unit is not mounted on any material or pole.
It contains stands that support and elevate it a little bit from the ground.
Freestanding electrical enclosure
It is common in small to large factories.
This enclosure is easy to install.
The installation is similar to placing the cupboard in your house.
Some freestanding electrical enclosures also come with optional casters.
And for that reason, it becomes easy for you to move or relocate it if such needs arise.
Depending on your specific needs, you can choose from the numerous designs available in the market.
Also, they are made from a high-grade material that can withstand harsh outdoor weather conditions.
This is also another popular type of electrical enclosure which is common in various industrial environments.
Once you install it, it will protect electrical and electronic components, instruments and parts in a factory setup.
It resembles a freestanding industrial electrical enclosure – of course with regards to the choice of material, size, and design.
However, the mode of installation varies slightly.
Normally, these industrial enclosures feature stands that support them off the ground.
But, there are those without the stands.
Still, they will serve the same purpose.
That is, you can use it for motor starters, PLCs, drives or any other electronic equipment.
Depending on your preference, you can buy different designs which vary from single to double door.
The good news?
They are pretty easy to install.
It even becomes better when you prefer to conceal the hinges from sight.
Whichever design you opt for, they allow for easy access to all contents in the industrial enclosure.
As the name suggests, these types of electrical boxes are fitted on the walls.
They come in different sizes, but mostly compact than the free-standing industrial enclosures.
And since you can mount them on the walls, they are not suitable for heavy electrical components.
wall mount electrical enclosure
You can use wall mount electrical enclosures to install switches, instrument control, circuit breakers, etc.
I mean components that are commonly used in the industrial setup.
The good news?
They are perfect electrical enclosures in areas with the flood, or where water and other fluids flow on the floor.
Some have lockable doors.
This plays a vital role in safeguarding the electrical components from damage and possible theft.
Other industrial enclosures may feature, alarm systems.
It will depend on the design of the wall mount electrical enclosure.
§  Weatherproof Electrical Enclosure
If you're looking for something that can house your electrical switches, equipment, instruments, etc. outdoors, then go for the weatherproof electrical enclosure.
It protects components from dust, water, moisture, high temperature, etc.
It features a completely different design and high-grade material.
Weatherproof electrical enclosure
Again, it's also ideal for remote WLAN Wi-Fi installations, outdoor cranes, solar-powered applications in different spots within the factory.
Moreover, you can use them in specific spots that seem to experience corrosion and frequent water splashes.
One significant element of this type of industrial enclosure is that features weatherproof design-construction and materials.
Generally, they are resistant to adverse weather conditions.
Depending on the specific application, you may choose polycarbonate, aluminum, stainless steel or carbon weatherproof electrical enclosure.
Also, this type of electrical box comes with a range of accessories such as pole mounting kits, vents, and cable glands, etc.
All these accessories make it a more functional industrial enclosure.
And in most cases, they are suitable for industries such as oil & gas, marine, agriculture, food & beverage, and alternative energy.
It provides better protection for most indoor electrical installations.
It is ideal for heavy-duty applications that are primarily common in industrial applications.
Depending on the design, they may feature accessories such as gaskets, lockable nuts, etc.
For example, gaskets prevent water ingression and dirt.
Junction box enclosure
Also, they have a compact design, making it easy to relocate from one point to another.
It is also appealing to the eye, adding aesthetic value to the premises.
Moreover, they have continuous hinges suitable for smooth optimum axial rotation.
Some industrial electrical enclosures have a clamp cover style door that is fully removable.
Most of them are also weatherproof types
Therefore, you can use them for most outdoor applications.
§  Pole Mounted Electrical Enclosure
As the name suggests, these kinds of electrical enclosures are fitted on top of light poles and interior support poles.
In most industries, these types of enclosures are extremely critical because they host a wide range of electrical components.
For example, they form an important part of the street light system.
Pole mount electrical enclosure
In most cases, you can use them to:
House switches and small control systems
Act as distribution points with circuit breakers
In most cases, they are weather resistant since you will install them outdoors.
Pole mounted electrical enclosures come in different designs and shapes.
In a nutshell, there are some of the most popular industrial enclosures.
But the truth is – most of these enclosures share many features.
The variation comes in where or how to install them, alongside some few features.
But that aside.
There's even an important thing you need to know – the technical specification of industrial enclosures.
Let's get to that.
Industrial Enclosure Technical Specifications
Before you buy an industrial enclosure, there are few specifications you must consider.
It is a sure way of choosing an electrical enclosure that will meet your specific needs.
Here, I will walk you through the main technical specifications to consider when buying an industrial enclosure.
Let's dive right in:
§  The material of the Enclosure
Type of material is an important aspect you must consider when buying an industrial enclosure.
You must choose an enclosure made from a high-quality material that can guarantee the safety of all your electrical controls and equipment.
In most cases, I will recommend an industrial grade material.
Such materials can resist harsh environmental conditions in industrial setups.
Some of the most common material for industrial enclosures include:
Mild steel
Aluminum
Polycarbonate
Stainless steel
Glass-reinforced plastic, etc.
Let's now explore these materials in details:
It contains an insignificant amount of carbon, making it malleable and ductile.
Mild steel electrical enclosure
The tensile strength of this material is somewhat low, but it is cheap and also easy to form.
Also, you can increase the hardness of this material.
Therefore, it makes mild steel a perfect choice for making most industrial enclosures.
b) Aluminum
Aluminum possesses excellent physical and chemical properties.
It is lightweight, durable and resistant to most weather conditions, making it a perfect material for making most industrial enclosures.
The best part?
You can modify its surface by painting or adding other substrates to increase its aesthetic value.
c) Polycarbonate
In case you want a plastic industrial enclosure, you can go for polycarbonate material.
Polycarbonate is a thermoplastic material, known for its lightweight, durability and high impact resistance.
In the recent past, it has become a popular material for manufacturing non-metallic electrical boxes.
Its high resistance to corrosion and acidic environments makes high a perfect material for weatherproof industrial enclosures.
Polycarbonate electrical enclosure
Generally, it is an ideal option for a variety of industrial electrical cabinets.
d) Stainless Steel 
This is an alloy of chromium and nickel, alongside other elements.
Stainless is durable, and also resistant to corrosion and staining.
Stainless steel industrial enclosure
Therefore, you can use it both for indoor and outdoor applications.
It is structurally stronger and has a comparatively low thermal conductivity.
e) Glass-reinforced Plastic
It is commonly known as GRP material.
It refers to a composite material that contains a polymer matrix strengthened with fibers.
Typically, the fibers are made of glass, carbon, basalt or aramid among others.
It is also an ideal material for making a wide range of industrial electrical enclosures for various applications.
You can use for both indoor and outdoor electrical enclosures.
§  Structural Design
Structural design refers to the general look of the industrial enclosure.
That is the outer casing, partition, doors, accessories, etc.
Industrial enclosure design
More importantly, you need to know how the choice of material affects the structure of the enclosure.
The truth is, you need to be careful when choosing the structural design of the industrial enclosure.
As you choose the design of an industrial enclosure, it is easy to install.
Besides, it should add beauty to your industrial setup.
§  Dimensions and Size
Industrial enclosures come in different shapes, sizes, and weights.
It's upon you choose one that meets your specific needs.
Different sizes of industrial enclosure
Remember, the dimensions will determine:
The number of equipment, components, and accessories that can fit in the industrial enclosure
Size of space you need to install the electrical enclosure
In short, whether to choose a large, medium or small industrial enclosure will depend on your specific needs.
If you find it challenging, you might as well consider seeking advice and assistance from a reputable expert.
It helps in a great way.
Remember, space is a limited resource in an industrial setup.
So, you need to use the available space wisely by choosing the right size of the industrial enclosure.
§  Thermal Management
This is another critical technical specification that you must always have in mind regarding electrical enclosures.
Thermal management refers to the system of monitoring temperatures and cooling methods within electrical cages.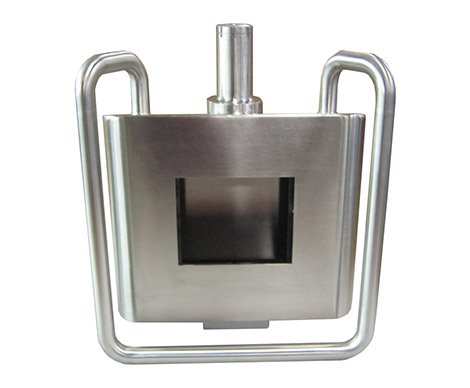 Industrial enclosure
Normally, electrical components generate a certain degree of heat.
Therefore, you need an efficient thermal management system.
It is for this reason that you need to control the heat in the industrial enclosure.
The efficiency and complexity of the thermal management system vary from one industrial enclosure to another.
It is an integrated system that may include integrated control (IC), microprocessors, sensors, etc.
§  Safety and Protection Features
Your industrial enclosure should ensure the safety of both its contents and users.
For instance, the door should be lockable.
Open industrial enclosure
Besides, it should have other additional safety and protection features.
It should be an electrical enclosure that follows set standards and regulations.
I will take you through these standards later in this guide – keep reading.
To achieve this, you must buy the industrial enclosure from a reputable manufacturer.
So, here is the deal:
Before you buy any industrial electrical enclosure, consider material, structural design, dimensions, thermal management, and safety.
Now, let me take you a step further and look at the different parts of an industrial enclosure.
Parts of an Industrial Electrical Enclosure
Let me remind you of one key aspect.
An industrial enclosure is an assembly of different parts and components.
The complexity of an electrical enclosure will depend on its design.
And, in this section, I am going to walk you through the main parts and components of the industrial electrical enclosure.
Ideally, this is one of the most critical sections of this guide that you should read carefully.
Parts of an industrial enclosure – Photo courtesy: Precimatic
So let's briefly look at some of these electrical boxes' parts.
§  Casing
This ideally refers to the entire component that covers the content inside the enclosure.
It's the largest component in any electrical box regardless of the size or dimensions.
Depending on the nature of the applications, industrial enclosure manufacturers use mild steel, stainless steel, polycarbonate or GRP as the main materials.
The casing of an enclosure can take various shapes and designs depending on the manufacturer or your customization needs.
Besides, it plays a fundamental role in determining the general performance and practicability of any industrial enclosure.
§  Door
The door is simply the component made of hard-to-break material and attached to the casing hinges.
It's through the door that you can access every section of the industrial enclosure.
Most of the industrial electrical cabinets have a wide range of door designs.
Some come with single doors whereas others come with double doors.
And interestingly, the door material can as well be different from that of the entire case.
This, however, depends on several factors that the manufacturer must always consider.
Some also come with locks.
KDM industry electrical enclosure door with lock
These locks prevent unauthorized persons from accessing the enclosure.
The locks also prevent unauthorized personnel from getting access to the enclosure.
The door must always fit tightly into the frame.
§  Hinge
This component refers to a sort of mechanical bearing that mainly connects the door to the frame.
It holds the door and allows its movement to a limited angle of rotation.
A typical industrial enclosure may have as many hinges as three or four.
It all depends on the size and number of doors.
They are made of different materials, including metals and plastics.
Irrespective of the design, the hinges make opening and closing the industrial enclosure easy and convenient.
§  Latch
A latch is primarily a type of metallic bar which has a lever and a catch for fastening the door.
It helps in holding the door in place when locking and opening.
In most of the enclosure designs, the latches are always positioned at the center of the door.
And in some instances, they could be more than just one on a door.
It, however, depends on the designs as well as your customization needs.
Latches are vital.
They are key components of this structure because they help to enhance the safety of the enclosure's contents.
It prevents unauthorized persons from accessing the electrical enclosure.
§  Side Panel
This is also an important part of an industrial enclosure which is often adjacent to the door.
It enables you to access the various contents of the enclosure, especially during operation from the side.
Moreover, the side panel also makes it possible for you to break down your user control into multiple sections.
Ideally, it's part of the casing just like the door.
It's only that you slide it in whichever direction you wish to.
This component also allows you to adjust some elements in the electrical box especially when it's already full.
§  Frame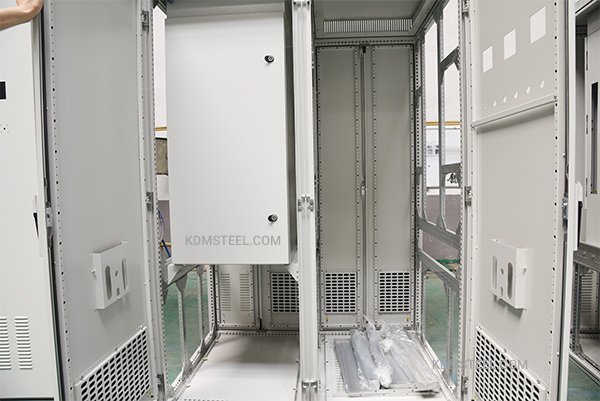 Industrial Electrical Enclosure Frame
Frame refers to the sections which hold the edges of the casing.
Primarily, these are the elements that keep the entire housing together and giving it the desired shape.
The types of the frames a particular enclosure can have is dependent mainly on the design construction.
But in general, it is the component that gives this particular unit the relative stability which it requires.
§  Top & Base Components
These are the two opposite ends.
Incidentally, they're also part of the casing.
The only difference is that in some models, these parts may be customized differently.
Some would incorporate extra compartments on one or two sides.
This will give you extra space to store tools.
These are some of the key components that you'd find in an ordinary industrial enclosure.
But remember, these are exterior components.
There are also other interior components which are also important.
So let's also look at them briefly;
§  Terminal Boxes
The terminal box is a small enclosure that allows you to connect electrical cables in an organized manner.
Also, they provide the basis for fixing a wide range of other accessories and components inside the enclosure.
They come in different sizes and designs.
At the same time, manufacturers use a variety of materials to fabricate terminal boxes.
§  Earthing
It refers to a low resistance wire which transfers immediate discharge of electrical energy to the ground.
The fundamental purpose of this component is to enhance the safety of the enclosure and increasing efficiency.
It protects the industrial enclosures from high voltage surges and lightning.
It also protects the contents inside the electrical box from an inescapable short-circuit current.
§  Thermal Management Device
This component, as I had explained earlier on, helps to control the temperature of the enclosure and other IC's.
You can install it in the industrial enclosure. It is efficient in monitoring and regulating the heat that the electronic components in the enclosure generate.
In short, these are the main parts and components of industrial enclosures.
Remember, the number of parts may vary depending on the different designs of the industrial enclosure.
Quality Standards of Industrial Electrical Enclosure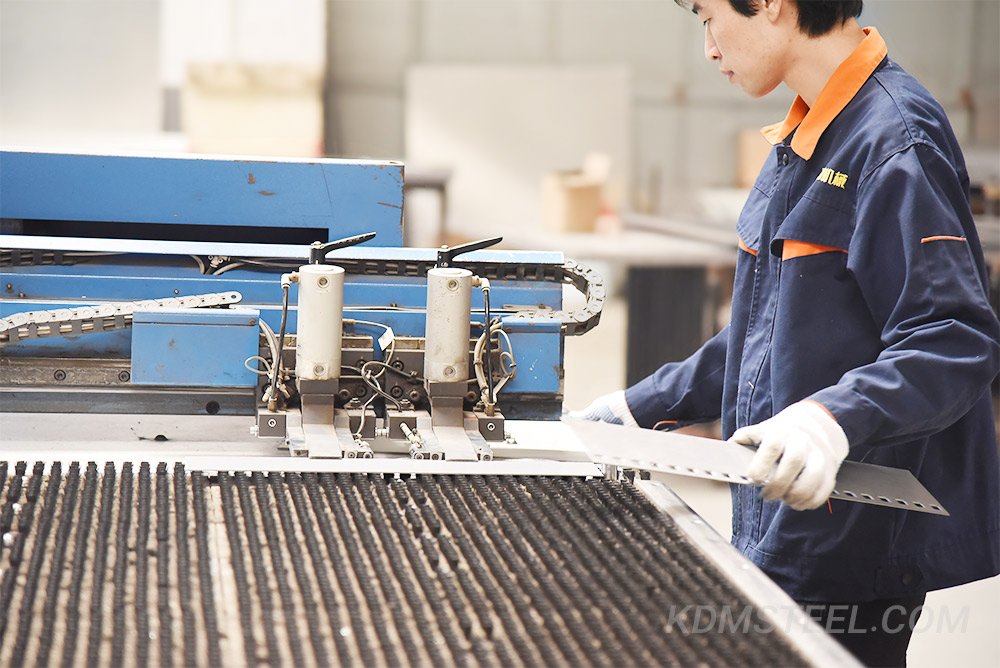 Quality standards in industrial enclosures area significant aspect that you must never take for granted.
So, in this section, I am going to take you some of the most common quality standards when it comes to industrial enclosures.
And, my main focus will be on:
By considering all these, you will obviously get a high-quality industrial enclosure.
Regulators are keen to ensure every electrical enclosure meet these standards.
And for that reason, they put several measures to ensure that manufacturers adhere to these standards when producing industrial enclosures.
Incidentally, the essence of complying with the standard specifications is to enhance safety and promote efficiency.
Now, let's have a quick overview of these quality standards:
§  UL
This refers to a type of NEMA specification that prescribes the quality of various types of enclosures.
And for that reason, should you purchase an industrial electrical box with UL standard mark.
It's an indication that it's NEMA standards compliant.
The UL standard is mostly in the interest of enforcing compliance through the third party on-site assessments.
The categorization of this standard is often in two, which include UL 50 and UL 50E.
§  IEC
This is an ordinary standard for evaluating the performance level and measures of an electrical box by different elements.
It is the typical quality standard in the European Union region and commonly referred to as IEC 60529.
Primarily, the IEC rating for each IP level provides a specification for a particular quantity of water that should get inside the box.
This quality specification also provides a measure for enclosure regarding the ability to protect components from dust and moisture.
What's more?
This standard also allows for self-testing.
Nonetheless, this standard fails to specify the degree of protection against possible dangers emanating from explosions.
This is because it enhances the chances of enforcing compliance.
§  RoHS
It refers to the Restriction of Hazardous Substances.
It is an electronic and electrical products' quality standards predominantly in the European Union region.
Initially, this standard was known as Directive 2002/95/EC.
It essentially restricts the use of six dangerous substances available in electrical and electronic components including enclosures.
This standard also provides for CE-Marking directive for the production of products.
It is vital in industrial electronic enclosures because it specifies maximum levels for a wide range of substances that are restricted.
And for that reason, it would be essential to make sure that any electronic box you purchase is compliant with the RoHS standards.
§  IP66/IP67
This refers to the ingress progression rating.
It focuses on the efficiency of dust and water sealing.
In some instances, it's also referred to as international protection ratings.
When purchasing industrial electrical enclosures, it is always vital to consider the IP ratings since industrial settings are wet and dusty.
As you can see, the IP ratings contain letters and digits.
It is an ideal way of attaining accurate information regarding protection levels the electrical fixture provides.
IP66 rated fixtures are primarily protected against multi-directional, high-pressure water jets.
When you're buying an enclosure, you must ensure that it passes this test standard.
IP67 rated fixture, on the other hand, is more of protection against temporary water submersion.
Inside Siemens industrial enclosure
For an enclosure to pass this test, it must not permit ingress or any other harmful quantities of water should it be fully immersed.
And for that reason, it would be necessary to ensure you purchase industrial enclosures that comply with such standards.
Frequently Asked Questions about Industrial Enclosures
Now, this is also one of the most important topics that I have to touch on in this guide.
You see, many newbies do not understand a wide range of aspects regarding industrial enclosures.
And for that reason, it would be ideal to at least highlight the key frequently asked questions and provide the relevant answers.
Different types of industrial enclosures
Let's now look at some of them here;
1. Do industrial electrical boxes need assembly?
Most of them come already assembled, so you just pick and install them.
However, for the few that come in parts, you'll always get a user manual on how to assemble them.
2. How do I determine the best thermal management option for my needs?
First, you need to know the possible amount of heat your electrical components will dissipate.
Then, focus on industrial enclosure design parameters that meet your specific needs.
Don't forget to consider the ambient temperature.
3. Which is the best type of enclosure for industrial applications?
The truth is:
The ideal type of electrical enclosure varies from one industrial application to the other.
But in general, the mounting area and the amount of heat expected from the enclosure are what determine the best one for each application
4. How do I know that the particular industrial enclosure I'm buying is safe?
In most cases, there's a quality standardization that all such units must go through before getting approval to the market.
However, you can as well check the standard specifications to determine the level of safety measure rating.
5. What is the weight of a single industrial enclosure?
This one also varies from one type of electrical cabinet to the other.
It also depends on the kind of material and design of the electrical enclosure.
The truth is, some materials are heavier than others making the variance in weight.
6. Why can't I merely construct my industrial enclosures?
You can, but ultimately it will cost you more than if you would buy.
It is quite involving and demanding hence doesn't reasonably make economic sense.
7. What happens if I don't consider NEMA-rated industrial enclosures?
It merely implies that the safety and quality of the unit are not guaranteed.
This is even serious because it's an indication of looming danger, especially in the form of an explosion.
8. What should I do if the enclosure becomes extremely hot?
This is a likely occurrence, although it rarely happens.
So should it happen check, on whether or not the thermal management unit is faulty.
If there's no change, seek assistance from a qualified technician to figure out the cause of overheating.
9. How do I install my newly acquired industrial enclosure?
The method of installation varies from the type of enclosure that you want to fix in your factory.
So the right thing would be to use the technical manual or contact an expert to assist you in fixing it.
10. Can I get a customized enclosure?
Of course, yes.
Different manufacturers can produce a tailor-made industrial enclosure that suits your needs.
11. What is a hybrid industrial enclosure?
It is a type of electrical cabinet created from a combination of tailored front and back plates, extruded sides, and sheet metal.
12. How do I mount electronics inside an enclosure?
Typically, the enclosures feature sub panels and filler panels which you can as well install in particular types of enclosures.
13. Can I use an industrial computer enclosure in hazardous area application?
Yes, it is possible depending on the classification you require.
In most cases, though, manufacturers will always apply a suitable purge system to the enclosure.
14. How do I maintain an enclosure?

All you need to do is regularly checking the condition of the components.
You can repair or replace components depending on your needs.
15. Is a warranty necessary when buying an industrial enclosure since they seem durable?
Of course, you need to get a reasonable warranty whenever you're buying this equipment irrespective of how robust it appears.
Some internal components such as a thermal management unit may fail.
Therefore, you will need to repair or replace the entire enclosure if possible.
These are the commonly asked questions that you need to know.
In case you have any questions that I have not highlighted above, feel free to contact us.
KDM Steel, Your Reliable Electrical Enclosure Manufacturer
So far, I've shown you quite detailed information regarding industrial enclosure.
However, there's one crucial bit that I haven't talked about, and it would be unfair to ignore it.
You see, you'll find several manufacturers of industrial electrical boxes.
And it is what has necessarily led to the increased influx of these items in the markets, both online and offline.
Well, it could be a good gesture because it shows the industry is growing and options are also becoming more.
Listen though:
The truth is that you need a reliable manufacturer with outstanding reputation manufacturing these items.
It becomes easy to deal with such a company because at the back of your mind you'll have peace which is vitally necessary.
And for that reason, KDM Steel is one of these companies that you should unquestionably choose to purchase these products from.
They have relevant experience, knowledge, and specialty in manufacturing a wide range of quality industrial enclosures.
Therefore, you truly need not search anywhere else if you're looking for these types of boxes for your industry.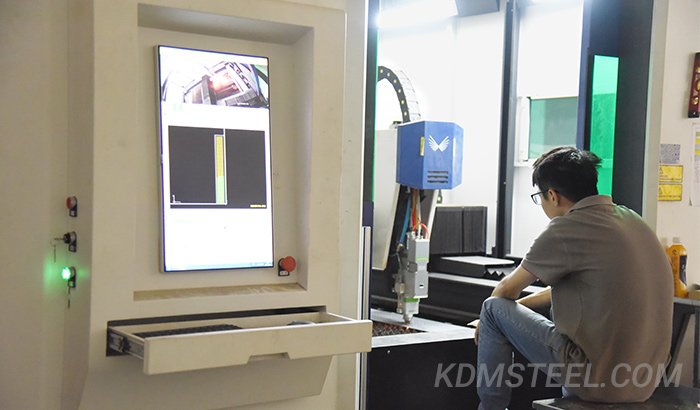 This company produces certified and quality industrial electrical cabinets that suit your specific needs.
And perhaps as a way of making your work relatively easy, this is the best option I would recommend you to go for.
LDM Steel provides solutions for all types of industrial enclosures that suits your requirements.
Conclusion
Well, that's the fundamental information that I wanted you to know regarding the industrial enclosures.
And I'm certain you've learned quite much information and this guide has been an eye-opener for you in various aspects.
Incidentally, that was the intention of writing this guide, so that at least you can grasp a few information to help you going forward.
Of course, I have to acknowledge the fact that in some instances, you may need to know more about particular issues herein.
And for that reason, I welcome your inquiries and any concerns that would need us to address. Feel free to contact us, and we'll gladly offer the necessary assistance.
Also, because I know someone within your social circle could also be looking for this kind of information, feel free to hit the share button.
Let them also know and learn more about industrial enclosures like you have!
Recent Electrical Enclosure Design
What is Industrial Enclosures?
Industrial Enclosures
An industrial enclosure is a cabinet or box found in industrial applications. It is used in protecting highly sensitive electrical equipment.
Industrial enclosures are designed to house electrical and electronic devices. These are significant for housing and protecting wiring and cables. This is sturdy to secure and store electrical components.
What are Industrial Enclosures Applications?
Industrial enclosures are designed suitable for various industrial applications. Below are the following:
Building electrical rooms
Telecommunication areas
Electric vehicles charging devices
Chemical plants
Manufacturing plants
Mining, oil, and gas facilities
Manufacturing plants
Utilities
What Equipment Does Industrial Enclosures Protect?
Enclosures protect electrical equipment in industrial applications such as:
Circuit Breakers
Motor starters, drives
Switches
Distribution Boards
Contactors
Control Panels
Panelboards
Telephone Cabinets
Purging and Pressurization Equipment and Systems
What is Wall Mount Industrial Enclosure?
Wall-Mount Industrial Enclosures
A wall mounts industrial enclosure is a box with special flanges and mounting plates attached to a wall. It is designed durable to provide strong housing protection for different types of electrical assemblies. Suitable for both indoor and outdoor use.
What Is Floor Mount Industrial Enclosure?
A floor mount industrial enclosures are commonly used for larger applications. It is an electrical enclosure fixed on the floor with nuts.
Floor-Mount Industrial Enclosures
What Types of Locks and Latches are Suitable for Industrial Enclosure?
Various locks and latches are available based on your applications. These accessories will secure your electrical enclosure. It also guarantees restricted access to your enclosures. It includes the following:
clamp cover system
3-point turn latch
clamp style latch
quarter-turn latch
padlock, etc.
What Materials are Suitable for Producing Industrial Enclosure Window?
The common components suitable for creating industrial enclosure windows are the following:
acrylic
polycarbonate
tempered glass
explosion-proof glass
These materials are high-quality. It offers great properties to strong impact.
What is Industrial Enclosures Types?
There are various types of industrial enclosures. It varies in shapes, sizes, material, rating, and what specific applications they are designed for. Some are the following:
Console enclosures – these are freestanding enclosures. It has a sloped front or top for mounting control equipment.
Consolet enclosures – used to house electronic devices and electrical components. This is ideal for mounting operator control devices such as pushbuttons.
PC enclosures – industrial enclosures designed to house personal computers.
Modular enclosures – It has a standardized dimension. Can be assembled to develop big cabinets or tailored enclosures.
Terminal boxes and junction boxes – An enclosure housing electrical connections that facilitate wiring. It has a rectangular shape.
NEMA and IP enclosures – It assures that your enclosures are protected against harsh environments. NEMA stands for The National Electrical Manufacturers Association and IP rating means Ingress protection. NEMA discusses if enclosures are suitable for indoor/outdoor applications. Whilst IP rating protection tells how the industrial enclosures shield against moisture, debris, etc.
Rack enclosures or cabinets – house standard 19-inch rack-mounted devices.
Disconnect Enclosures – this type of enclosure offers NEMA 4, 4X, 12, or 4/12 protection. It is available in floor mount, wall-mount, and freestanding types.
What are the Mounting Structures of Industrial Enclosures?
There are several mounting structures available. You will need to consider which of them is suitable to mount your components within.  Some are the following:
Panel Mounting – Suitable for applications where hardware is required to be frequently changed. Hardware is fastened to a back panel in the enclosure.
Pole Mounting – In this type of mounting structure, the hardware is mounted onto a utility pole.
Rack Mounting – You can find the hardware mounted inside a rack space. It allows easy access to the components inside.
Desktop Mounting – Its hardware is mounted onto the desktop device. It offers easy access to usually used hardware. It provides easy to change out.
DIN Rail Mounting – You can find the hardware mounted on internal enclosures adjustable metal rails. Panel mounting is more secure than DIN rail mounting. But DIN rail mounting is more flexible due to its standardized design. It allows wiring and switch arrangement easy.
What To Consider in Choosing the Right Industrial Enclosures? 
Determine the enclosure type
Correct size
Construction material
Protection rating
Ventilation and Cooling
Mounting structures
Cutouts and Digital Printing
Discover any security requirements
What are the Materials in Manufacturing Industrial Enclosures?
Industrial enclosures are produced in the following enclosure materials:
Stainless Steel Enclosures – an excellent choice in making industrial enclosures. It is one of the toughest enclosure materials. This is highly resistant to corrosion. There are many types of stainless steel grades. It includes 304 stainless steel, 316 Stainless Steel, 316L Stainless Steel, etc.
Carbon Steel Enclosures – also known as low carbon steel or mild steel. This enclosure is very common in various industries. It is an affordable choice for manufacturing metallic enclosures. It is not resistant to corrosion but you can treat this with a protective paint covering and a high-quality powder paint coating.
Polycarbonate Enclosures – Polycarbonate is strong and sturdy plastic. It is water-resistant and weather-resistant. Perfect choice for outdoor installations and applications requires tough performance.
ABS Plastic Enclosures – A popular and cost-effective plastic material. It is excellent for indoor and desktop enclosures. This type of material assures a high degree of impact, heat, and corrosion resistance. Suitable for pharmaceutical and medical applications, FDA-controlled food and beverage, radiofrequency technologies, and more.
Aluminum Enclosures – It is perfect for equipment that requires to be protected from radio wave interference. This material is lightweight.  Ideal for industrial applications for solar, water and wastewater, etc. Aluminum enclosures operate well in harsh conditions and high-heat environments.
Fiberglass Reinforced Polyester – described as fiberglass or FRP enclosures. This enclosure offers strong resistance to impacts and can resist corrosive environments. A non-metallic enclosure features lightweight, easy to install and modify.
What are the Advantages of Importing Industrial Enclosure from China?
Thousands of reputable industrial enclosures manufacturers are in China. Below are some of the advantages you will obtain when importing from China:
Reduce your costs
Manufacture a large number of orders
Customize your product amazingly
Provides high quality but affordable enclosures
Offer IP65 and IP66 certified to meet your demand
Help with the shipping to your warehouse to save your time
For more information about industrial enclosures, contact us immediately.