Stainless Steel Electrical Enclosure Manufacturer
1000+ Enclosure Customized Experience
Stainless steel 304 , stainless steel 316 material
IP65/IP66 Waterproof
Fast stainless steel enclosure sample production.
Certification for KDM Stainless Steel Electrical Enclosure
KDM Stainless Steel Electrical Enclosure
Precision: +/- 1mm tolerance for overall cabinet size
Standard Configuration: Gland plate, radiating fan, fluorescent lamp, lamp switch, ground connections, PU foaming seals.
Warranty: 1-year warranty for KDM SS electrical enclosure, you will get free accessories within our warranty
NEMA Rating: KDM can manufacture all types of NEMA Rating Enclosure for your project
Manufacturing Capacity
Buying Guide
Enclosure Designs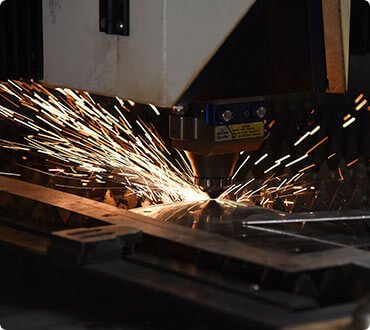 Electrical Enclosure Laser Cutting
4000W high performance laser cutting machine, +/- 0.05mm accuracy. No burr, no scratching.
Electrical Enclosure Welding
Multi-Functioning flexible welding equipment, high accuracy, no deformation.
Electrical Enclosure Bending
+/- 0.5mm bending precision, smooth surface without bending marks.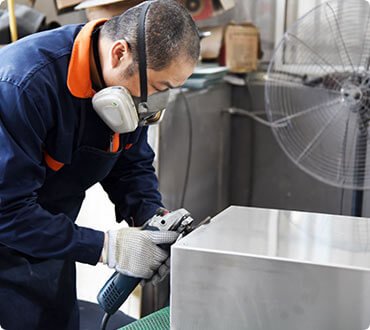 Electrical Enclosure Polishing
10+ welding experience workers, perfect overall appearance.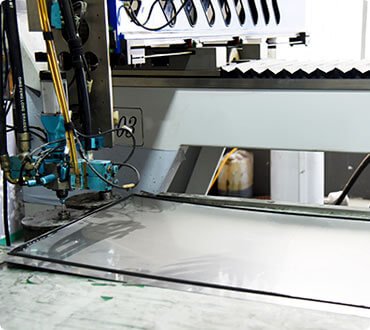 Electrical Enclosure Foaming
High speed and accuracy foaming machines, fast and qualified Gasket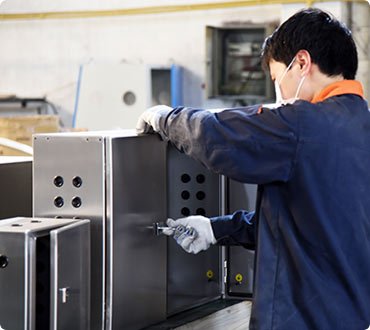 Electrical Enclosure Assembly
Expert assembling team, consistent assembly quality on every KDM enclosure
Your Professional Stainless Steel Electrical Enclosure Manufacturer
Your Leading Stainless Steel Electrical Enclosure Manufacturer, custom any electrical enclosures for your projects.
Stainless Steel electrical enclosures are KDM's star products. KDM has been focusing on the manufacturing of stainless steel electrical enclosures for almost two decades.
Therefore, a huge amount of experience has been accumulated and the manufacturing processes have also been significantly improved over the years. KDM's stainless steel electrical enclosures come with three material options, 201 stainless steel, 304 stainless steel as well as 316 stainless steel.
Enclosures made of these three materials are known for their toughness and corrosion resistance, while 304 and 316 are the most popular choices for KDM's electrical enclosures especially for outdoor applications and 201 stainless steel acts as a lower cost alternative with relatively lower corrosion resistance while having the same appearance as the other two.
However, both KDM's 304 and 316 stainless steel electrical enclosures provide much more than better corrosion resistance.
The 304 stainless steel electrical enclosures enjoy superior restriction of carbide precipitation during welding, which ensures almost lifetime durability while the electrical enclosures made of 316 stainless steel, have higher corrosion resistance than both 201 and 304 as well as higher creep strength.
Therefore, based on your application and budget, you will be able to find the stainless steel electrical enclosures with optimal materials.
KDM offers stainless steel electrical enclosures in different layouts and mounting types, including free-standing stainless steel electrical enclosures, floor mount stainless steel electrical enclosures, wall mount stainless steel electrical enclosures, as well as junction box stainless steel electrical enclosures and stainless steel modular enclosures.
KDM also provides electrical enclosures with a variety of accessories and features, such as vents, windows, back panels, lifting eyes, rain caps, etc.
Last but not least, all KDM electrical enclosures have satisfied certain NEMA or IP standards and will provide outstanding protection for your electrical systems.
PU Form Sealing Ring
KDM stainless steel electrical enclosure use PU form as the sealing ring inside of the door, this makes the enclosure waterproof, anti-dust, and high impact.
Ultimate FAQ Guide to Stainless Steel Electrical Enclosures
What is the standard configuration of an electrical enclosure?
The standard configuration of an electrical enclosure consists of a gland plate, a radiating fan, a fluorescent lamp with a switch, ground connections, and PU foaming seals.
A gland plate is used to cover the base opening, as well as the sides.
This is the visible box, the outer layer that protects the contents of the enclosure.
You need to choose the right material for your gland plate since it will be in direct contact with potential hazards.
Gland plate
A radiating fan helps cool the electrical components of the enclosure.
When these electrical components are running, they often generate heat that can disrupt their work.
Plus, the weather can add to that heat.
In order to prolong the life of wiring components, a fan is necessary.
  Radiating fan
A fluorescent lamp with a switch is helpful for any work that will be installing, replacing, or taking care of electrical components.
Ground connections, also known as neutral connections, protect the wiring from voltage jumps.
They provide a path to the ground for electricity, so that any excess can be rerouted there.
This also prolongs the life of your wiring, as well as saves it from short-circuits.
Finally, the PU foaming seal is used as a gasket – to fill in crevices of the enclosure to nothing gets in.
PU stands for the material polyurethane, which is commonly used for gaskets and seals due to its high resilience qualities.
This is how you truly dustproof and waterproof an enclosure.
Usually, these seals are put around the hinges, windows, and doors, or wherever there may be an opening.
 PU foam seal (the black line)
What is the difference between 304, 316, and 201 stainless steel?
Steel is an alloy and all of these series of steel differ by composition – percentages of various ingredients that it give it certain qualities.
Stainless steel 304 has 18% chromium and 8% nickel in its mix.
This makes it resistant to oxidation – rusting – and very durable.
This steel has no limitations of where it can be used.
Steel 316 has less chromium, more nickel, and includes an element called molybdenum.
This alloy is the most resistant one to corrosion, as well as chlorine and salt.
This is why it is commonly used in offshore, marine, and washdown applications.
It is also more in demand in the pharmaceutical sector because molybdenum helps avoid contamination from metal.
Finally, 201 stainless steel is characterized by very low levels of nickel, which is why it is cheap.
However, it is not resistant to corrosion, so enclosures from this steel aren't good for outdoor applications.
All these belong to the austenitic family, which are non-magnetic metals that are weldable at any temperature.
This family can be divided into 2 series: 300 and 200.
You won't be able to tell the difference between all these steels by just looking at them.
Thus, you will need to check the manufacturer's report to make sure the right type of stainless steel is used.
To choose the type or grade of stainless steel, consider the qualities you need and go from there.
You can also contact us for a consultation!
What is the difference between stainless steel, steel, and galvanized steel enclosures?
Firstly, regular steel is a mix of iron and carbon, which is why it is also known as carbon steel and mild steel. Steel is strong but prone to rusting and staining.
We can make steel enclosures, but they are not as resistant to corrosion as stainless steel enclosures are.
Stainless steel is modified by adding chromium, nickel, and molybdenum to the iron-carbon alloy.
Steel is usually duller than stainless steel.
It is also magnetic and more malleable.
Galvanized steel is coated with a layer of zinc that gives it corrosion-resistant qualities.
While we do offer galvanized steel enclosures, this metal is vulnerable to salt water.
Keep in mind that galvanized steel is more expensive and heavier than stainless steel.
Stainless vs. galvanized steel
Why do some stainless steel types have letter indications, such as 316L?
In this case, the "L" stands for "low".
This refers to the carbon content in the alloy.
Stainless steel with the grade 316L has lower levels of carbon than steel 316.
Overall, 316L is slightly more corrosion-resistant, more weldable, and more temperature-resistant.
The cost doesn't differ much between the two.
The "L" works with other steel grades as well, so talk to your manufacturer, look at lists and graphs.
Are there drawbacks to using stainless steel?
Stainless steel is nearly ideal for electrical enclosure.
The only two things is that stainless steel is expensive upfront, but this drawback is cancelled out by the material's long-term performance.
What does gauge steel mean?
This refers to the sheet metal gauge, or gage, that measures the thickness of a sheet of metal.
Typically, as the gauge number decreases, the thickness increases.
Stainless steel can go from gauge 7 to gauge 31, which is equivalent to 4.8mm to 0.28mm.
As you would expect, thicker sheets are stronger, but thinner ones are cheaper.
Thus, you should carefully consider your requirements and budget when deciding on the gauge.
What are some designs of enclosures?
Designs for stainless steel enclosures don't differ from other enclosures we make.
Namely, we offer free-standing enclosures, wall-mounted enclosures, junction boxes/operator interface.
Free-standing enclosures are perfect for large electrical units that are too heavy to be wall-mounted or pole-mounted.
They could be of any height and width.
They are also portable.
    Free-standing enclosure
Wall-mounted enclosures use mounting brackets, screws, and pads.
They are perfect for small devices, and thus are cost-effective.
Wall-mounted enclosure
Junction boxes and operator interfaces are usually enclosures on a stand.
They have user-friendly layouts, are great for small electrical units, and can be portable.
Junction box/operator interface enclosure
Plus, different options for doors, including single, double, and multiple doors.
Single doors are perfect for smaller and less complex electrical units, whereas double doors are used for large and complicated units.
Multiple doors are used for huge industrial applications or for increased security.
Besides protection from hazards, what else should I think about regarding stainless steel enclosure design?
Fortunately, stainless steel is a material that won't give you much trouble at all, so anything else you should think about has to do with the enclosure and its design.
Firstly, think about what environment you'll be putting the enclosure in: is it hot or cold.
Also think about where it will be mounted, whether it will be serviced a lot, what locks do you need, what handles, do you need vents or windows.
Then, think about the size of the enclosure.
If it is too small, your wiring won't fit, but if it is too big, you will lose money since not all of the space is used efficiently.
Plus, you should consider the looks of the enclosure as well.
Do you need a certain finish, such as glossy or matte?
Fun fact: the finish can also play a role in protecting the enclosure from corrosive elements.
You can also choose a color.
You are welcome to talk to us and we will provide you with a technical drawing and some advice for free!
Can I bury the enclosure/install it underground?
Stainless steel is very resistant to corrosion, so the soil would not disturb it.
You can then make a door at the top of the enclosure and make it so the electrical components can be taken out easily for maintenance.
   Enclosure mounted in the ground
You can also have other recessed enclosures that go into concrete and brick.
What additional features can electrical enclosures have and what are they used for?
Additional features and accessories that we offer include vents, windows, back panels, lifting eyes, rain caps, and file pockets.
Let's examine how each could benefit your project.
Vents serve the same purpose as radiating fans, providing a path for heat to escape, cooling electrical components of the enclosure.
Windows are used to help workers examine the electrical components in a non-invasive way.
And if something goes wrong, a window helps see right away what is happening.
Another use of windows, infra-red windows help protect personnel from arc flash accidents.
   Windowed enclosure
Back panels allow for a convenient way to mount an enclosure securely so that any devices stay in the correct position.
Lifting eyes aid installation.
They are little hooks at the corners of an enclosure that you can use to lift it up for transportation of mounting.
This is especially useful if an enclosure is very heavy and the only way to transport it is by lifting it up.
Lifting eyes
Rain caps are the top parts of an enclosure.
They can be flat, but protruding forth more than the enclosure, or they can be tilted like a roof.
They help divert streams of rain off of the enclosure so the rest of it gets less exposure to the rain.
This prolongs the life of your enclosure.
    Rain cap
File pockets are used to store files like operating manuals, shift logs, information booklets, and anything else important that pertains to electrical components within the enclosure.
File pocket (underlined in yellow)
What is the process of creating my stainless steel electrical enclosure?
Firstly, you should consider all your requirements and contact us for a consultation, quote, and drawing.
Once all details are discussed and gear are set in motion, we will provide you with a prototype in just 3 days.
The manufacturing process entails laser cutting, bending, welding, foaming, polishing, and final assembly.
Individual pieces of the design are cut out from sheet metal with a laser.
Then, a machine bends folds and corners of the cutout.
These pieces are then welded together to create the shell of your enclosure.
Foaming refers to the addition of PU foam seals that waterproof the enclosure.
Manufacturing electrical enclosures
The enclosure is then polished for smoothness and better appearance.
Then, we assemble all the pieces: the body of the enclosure, mounting brackets, vents, windows, hinges, lifting eyes, rain caps, any other accessory you have requested.
Finally, we coat the product with your chosen finish or color, usually using powder finishes.
What corrosive chemicals do stainless steel enclosures guard against?
Some harmful chemicals include sulfuric acid, various chlorides, bromides, iodides, and fatty acids at high temperatures.
All these may be present in factories and other industrial applications.
Such include petroleum refinery, production of fertilizers and medication, as well as assembly of batteries, laboratories, and mining facilities.
What are some important properties of stainless steel?
Some important properties that are useful for electrical enclosures include corrosion resistance, cryogenic toughness, higher work hardening rate, ductility, low maintenance.
Corrosion resistance, of course, is a crucial property of stainless steel that is necessary for electrical enclosures in certain environments.
Cryogenic toughness refers to how tough the metal is at low and sub-zero temperatures.
Stainless steel actually becomes stronger in colder environments, whereas some other types of steel become weak.
This property makes stainless steel perfect for marine and freezer applications, as well as in cold parts of the world.
On the other end of the spectrum, stainless steel also stays strong in hot temperatures as well.
   Rods of stainless steel
Work hardening rate tells you how much a material can be strengthened through cold working and annealing.
Stainless steel, since it has a cryogenic advantage, can be strengthened a lot with cold.
Ductility means that the material can be stretched out a lot.
Thus, stainless steel is easier to work with, while maintaining its strength.
Finally, low maintenance means that personnel won't have to tend to the enclosure, but rather spend their valuable time checking the electrical components within said enclosure.
What IP and NEMA ratings are available for stainless steel enclosures?
We offer any NEMA type of enclosures, as well as IP rated enclosures up to IP66.
NEMA types go up to 13, with many numbers having lettered subtypes.
These types don't ascend in strength necessarily, but each outline specific qualities they have, such as protecting against corrosive agents and coolant seepage.
If you want to learn more, we also provide NEMA enclosures, as well as another very informative guide.
As for the IP rating, it consists of 2 digits that correspond to protection against solid and liquid ingress, respectively.
As such, IP66 means that the enclosure is fully dustproof and can withstand powerful water jets, as well as being temporarily submerged.
If you would like to learn more, we have an IP66 certification that you can take a look at.
IP rating and NEMA types do overlap a little, and while it is not possible to translate one directly into another, it is possible to somewhat line them up.
  Relationship between NEMA and IP
Questions You May Ask About Our Stainless Steel Electrical Enclosure
Material of KDM stainless steel electrical enclosure
Mostly, you will choose 304 stainless steel, but for some food grade enclosure, you may need the 316 stainless steel electrical enclosure.
Drawing of the stainless steel electrical enclosure
We can provide you the 2D or 3D drawing in one day, free of charge. You just need to send us your requirement
What is the time to make a electrical enclosure prototype
We can make all enclosure prototype in 3 days.