Powder-Coated Enclosure
Request your perfect powder-coated enclosures from KDM—the reliable electrical enclosures manufacturer from China.  

We will design a custom, cost-effective solution for your business. 

Protect your electrical components with our weatherproof powder-coated enclosures today!
Your Professional Powder-Coated Enclosure Manufacturer from China
KDM powder-coated enclosures come in any design, shape, color, and finish. We offer you incredible flexibility of customization, along with certified quality to protect your appliances. You can choose outdoor powder-coated enclosures that are dust-tight and waterproof. You can also request extra protection from corrosion and tampering. Our features include lockable doors, DIN rails, mounting brackets, inner compartments, file holders, and more. 
KDM professionals always supply functional designs, good enclosure appearance, and excellent customer service. Take a look at our extensive range of powder-coated enclosures below!
KDM Powder-Coated Enclosure Series
NEMA 3R powder-coated enclosures provide great protection against corrosion, ice and sleet, water ingress, and dust. These enclosures are typically used for outdoor industrial purposes. The powder coating provides enhanced resistance to corrosion. We can also manufacture powder-coated enclosures with other NEMA ratings. 
Galvanized coating includes a zinc layer to prevent rusting. A powder coat further protects the enclosure from corrosion. Galvanized enclosures are durable and reliable. KDM will manufacture custom powder-coated enclosures with other protective layers. 
IP65 powder-coated enclosures are completely dust-tight, and able to withstand weak jets of water. Therefore, our IP65 powder-coated enclosures can be used outdoors. KDM can also manufacture powder-coated enclosures with other IP ratings for you—up to IP68.  
Innovative Techniques
At KDM, we are dedicated to providing quality products. This is why we use innovative technologies and equipment to manufacture our enclosures. Our equipment allows us to spray all types of powders with efficiency. For example, OptiFlex equipment uses powerful blasts of air to facilitate coating in all conditions. Our experienced professionals use such advanced paint system equipment to flawlessly coat your enclosures. 
We don't stop here—we always try to improve our manufacturing process to streamline production and improve quality. Our spray guns, powder, and other equipment stay top-notch for the best results. You can also check out our equipment list for more information.
Endless Customization Possibilities
Powder-coated enclosures can have a variety of dimensions, sizes, configurations. We can also offer you countless additional features to suit your requirements. We will take into consideration your electrical components, the environment, installation method, and even aesthetic design. 
Powder coating allows for a large range of visually appealing designs. This includes different finishes, such as matte or glossy, different textures, different patterns, and a myriad of colours. You can even request a specific colour by giving us RAL colour codes. All this will help disguise your enclosures in public or commercial places. 
Professional Design and Manufacturing
We offer a variety of design solutions for your enclosures. In a computer program, our professionals will sketch and measure out the perfect layout. You can also browse our additional features and accessories to include in your powder-coated enclosure design. In our FAQ below, you will be able to read about some of them.
For example, you can learn about different configurations, hinges, windows, lifting eyes, casters, racks, locks, etc. Our manufacturing experience allows us to design the ideal enclosure for your application. You can always ask our KDM experts about the manufacturing process and more.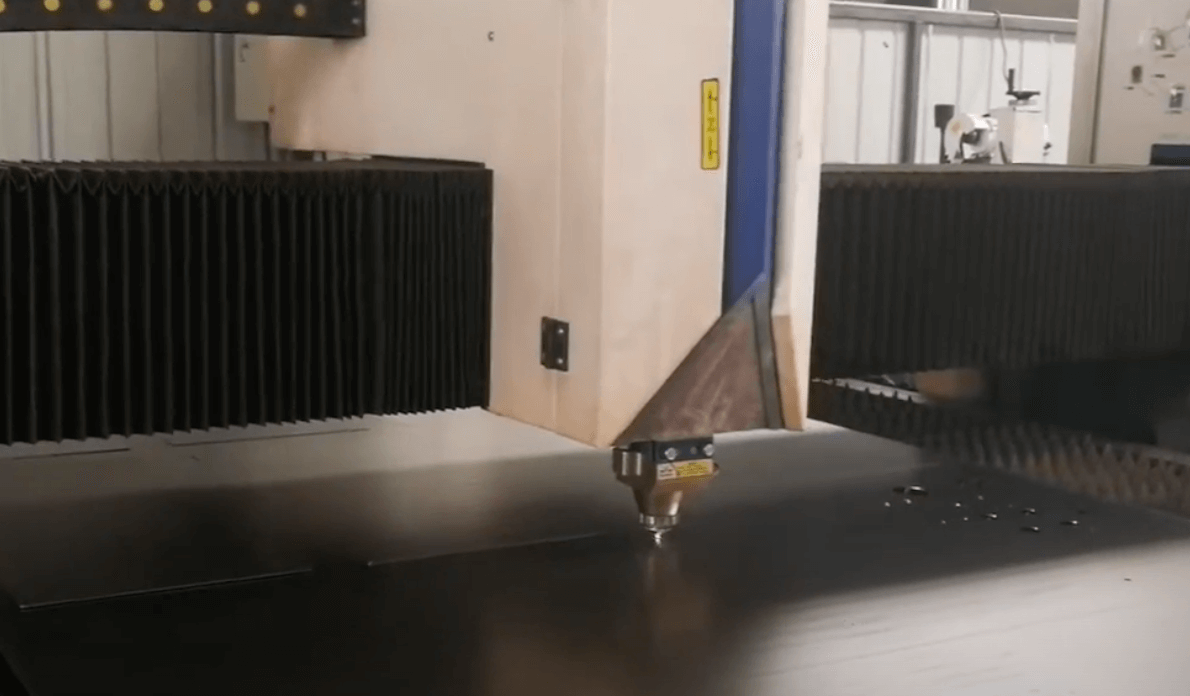 Worldwide Shipping
Being a top-notch powder-coated enclosure manufacturer in China, we offer worldwide shipping. Our clients are based from around the world, including the USA, Europe, and Asia. The quality we provide rivals that of our world competitors.
Simply contact us and we will find the perfect shipping solution for your destination. Your powder-coated enclosures can arrive by air freight, sea freight, or in truck loads—depending on route. Our enclosures perform well in all conditions and all climates.
Certified Quality
KDM always complies with safety regulations and standards. We have been supplying powder-coated electrical enclosures to businesses for more than 10 years. Our products are certified with ISO 9001:2015, RoHS, NEMA, IP, UL, and more. We will also learn about your local regulations to fulfill them.  
Our advanced equipment enables us to manufacture the best powder-coated enclosures according to your requirements. At KDM, we examine quality during the manufacturing process, as well as facilitate third-party testing. 
Supplying Your Powder-Coated Enclosures
KDM powder-coated enclosures are versatile and universal in use. We can apply a powder coating to any type of enclosure or junction box. Our innovative designs and dedication guarantee you quality results. These enclosures can be made in compliance with any regulation to withstand dust, rain, rusting, snow, and more. 
Your powder-coated enclosures can be made from aluminum, stainless steel, carbon steel, galvanized steel, fiberglass, etc. We include vents, locks, and other safety features you can request. We offer fast feedback and communication to streamline production. KDM has laser-cutting, foaming, polishing, and other manufacturing capabilities.
Why KDM is Trusted By Over 1000 Global Clients
Enclosure Manufacturing
2D Drawing
3D Drawing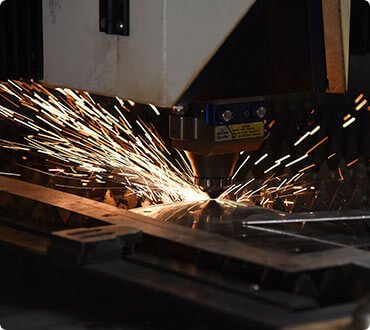 Solar Battery Enclosure Laser Cutting
4000W high performance laser cutting machine, +/- 0.05mm accuracy. No burr, no scratching.
Solar Battery Enclosure Welding
Multi-Functioning flexible welding equipment, high accuracy, no deformation.
Solar Battery Enclosure
+/- 0.5mm bending precision, smooth surface without bending marks.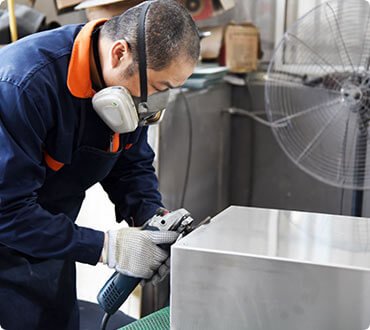 Solar Battery Enclosure Polishing
10+ welding experienced workers, perfect overall appearance.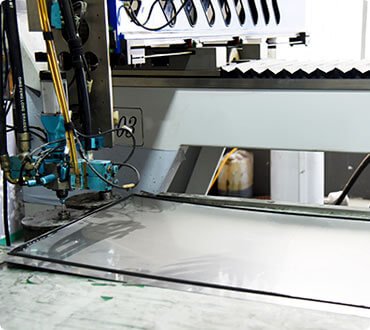 Solar Battery Enclosure Foaming
High speed and accuracy foaming machines, fast and qualified Gasket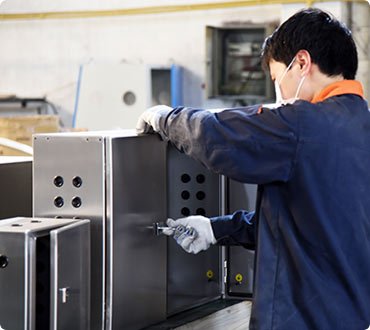 Solar Battery Enclosure Assembly
Expert assembling team, consistent assembly quality on every KDM enclosure
KDM Powder-Coated Enclosures
Powder-coated enclosures are versatile in use and can be modified to include special features. At KDM, we offer an unparalleled range of features and options to boost your business. Choose any powder-coating texture, finish, and color to enhance the protection and appearance of your electrical enclosures. KDM is the one-stop powder-coated enclosures manufacturer in China for your business.
Below you can learn more about powder-coated enclosures and our features!

Powder-coated enclosure
The Ultimate FAQ Guide to Powder-Coated Enclosures
What is powder-coating?
Powder coating is a free-flowing, dry powder that is sprayed onto a metal surface.
It provides a tough, chemical-resistant finish.  
When the coating is cured—exposed to heat—, the plastic powder melts to form a durable film. 
Powder coating offers many advantages over traditional liquid enamel or acrylic finishes.
Furthermore, it is also very cost-effective.
Powder coating is made from thermosetting resins, pigments, and other additives. 
Pigments for powder coating
Thermoset powders will not melt again after they are cured. 
Heating them a second time does nothing. 
Thus, it is not surprising that thermoset powder resins are so widely used in the industry. 
The other additives are used to formulate different properties of your powder-coated enclosure.
These properties include film thickness, texture, gloss, and even some performance features, like resistance to corrosion, impact, or UV rays. 
Powder coating
How does powder coating an enclosure work?
Metal enclosures can be powder-coated. 
First, the metal surface needs to be prepared, for optimum adhesion of the powder.
Metal can be prepared in 2 main ways: chemical washing and dustless blasting.
Chemical washing removes surface contaminants, such as fine dusts, oil compounds and other things that would reduce paint adhesion and performance.
Chemical washing uses special liquids to get rid of oils and other substances.
Dustless blasting uses a mixture of water and cleaning media. 
During the blasting process, water encapsulates the dust and other substances, preventing them from becoming airborne. 
Both these ways are better than dry blasting, cost-effective, fast, and eco-friendly.
Priming before powder coating
Then, the surface is primed for greater adhesion with the powder. 
We also mask any parts of the enclosure that are not supposed to be powder-coated.
This includes knockout holes, ventilation breathers, enclosure windows, etc. 
Powder coating is uniformly applied on the surface of your metal enclosure.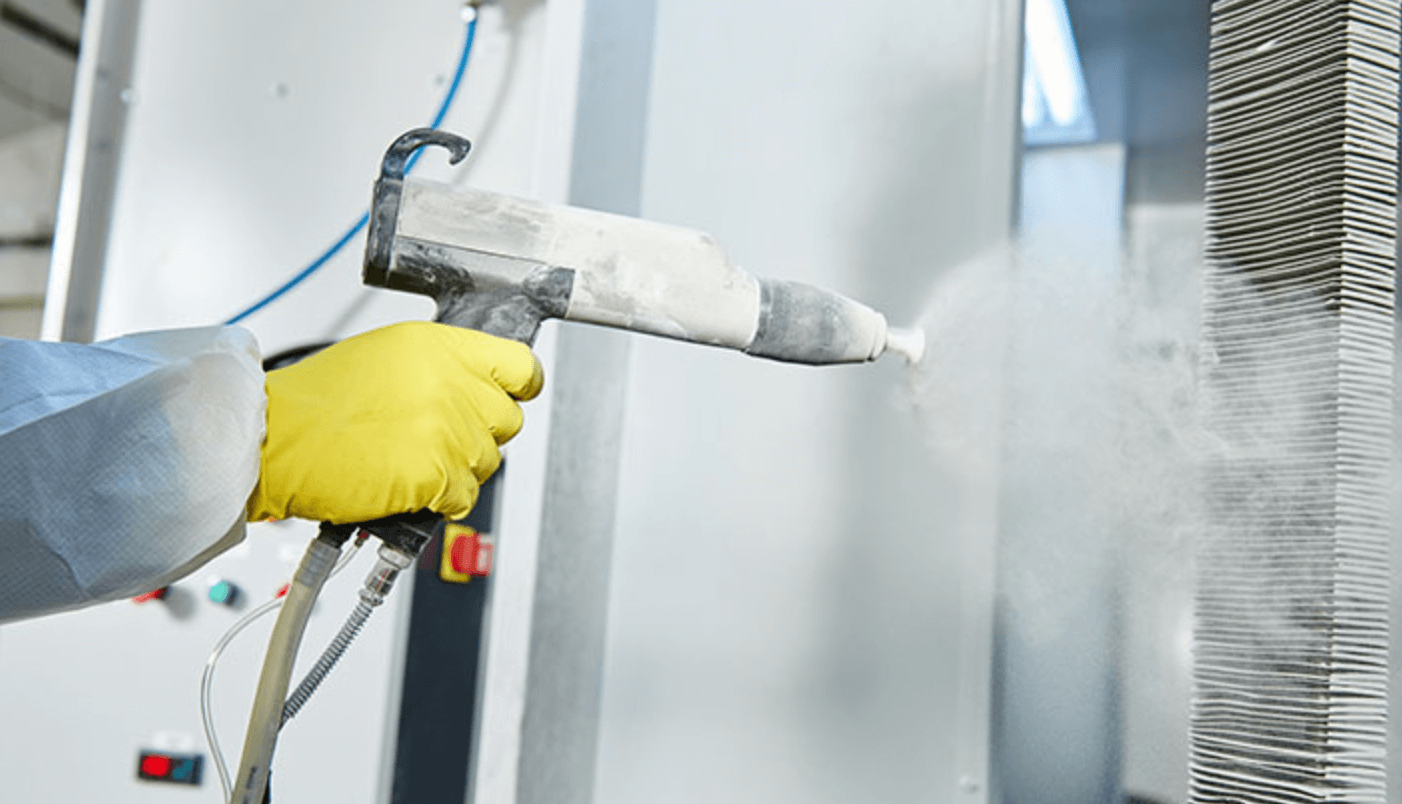 Powder-coating process
The powder does not use adhesive glue or solution.
Instead, the powder particles pass through a charging field supplied by the delivery system.
The charged particles are then attracted to the metal surface, which must be grounded.  
The powder is attracted to microscopic "ridges" on the surface and settles there.
Then, the enclosure is put into a special oven to heat and melt the powder into place.
The oven heats up to about 400 degrees F, and "bakes" your powder-coated enclosure for roughly 20-30 minutes.
After it sets, your powder-coated enclosure is already. 
We will check the quality of your powder-coated enclosure, pack, and ship it to your destination.
Powder coating curing oven
What is millage?
Millage is the measurement of the thickness of the powder-coated layer. 
The optimal millage is determined by the type of surface getting the powder coat, and the type of powder coating. 
Small millage can be more prone to scratching, while big millage can be brittle.
This is why it is important to get a consultation. 
Measuring powder-coat millage
What are the advantages of powder-coating an enclosure?
Powder-coated enclosures are more durable than regular enclosures because they provide an additional layer of protection for the metal.
The metal underneath does not rust and is tougher to withstand significant impact. 
Also, a white-colored powder-coating can help regulate overheating inside the enclosure, since white reflects sun rays. 
Therefore, powder-coated enclosures have enhanced durability and longevity.
Also, powder coatings help you save time and money because they are easy to apply, the application process is quick, the powder can be stored for a long time, and there is very little waste.
The overall costs are lower for powder coatings than for wet coatings as well.
Finally, powder coatings are eco-friendly because they do not have harmful chemicals. 
Specifically, these coatings do not have volatile organic compounds dangerous for the environment, as well as anyone inhaling fumes.
  KDM powder-coated enclosures
What materials can be powder-coated?
Technically, any surface can be powder-coated as long as it withstands high temperatures during the curing process—anything that would not melt at 400F or 200C. 
Mild steel, galvanized and electroplated steel, aluminum, stainless steel, and most other steel alloys can be powder-coated.
We can even powder-coat fiberglass or some plastic enclosures. 
That said, the grain boundaries of the surface play a role too.
The grain boundary is the place where some atoms have not aligned together.
This is normal in any metal.
Microscopic grain boundaries
Due to the mechanical properties and the grain boundaries of aluminum and stainless steel enclosures, these materials are more difficult to powder-coat. 
Alternatives for stainless steel include electro-polish or passivation, while an alternative for aluminum is anodizing.  
We can apply a powder coating to the following types of steel: carbon (mild) steel, galvanized steel, and stainless steel—most commonly of the grades 304 or 316. 
Carbon steel is usually duller than stainless steel. 
It is also magnetic and more malleable since it only has iron and carbon. 
This steel is also prone to corrosion, and so it benefits the most from powder-coating.
Stainless steel is created by adding chromium, nickel, and molybdenum to carbon steel.
   Stainless steel powder-coated enclosure
Steel grades 304 and 316 differ in the ratio of these additives. 
Grade 316 is slightly stronger and more resistant to saline and acidic water than 304. 
However, grade 304 is cheaper and more common than 316.
Galvanized steel is coated with a protective layer of zinc that prevents corrosion. 
     Galvanized steel
It is more expensive and heavier than stainless steel. 
Powder-coating enclosures can be also made from aluminum alloys. 
Just like steel has grades, aluminum alloys have series numbers: the 5052 or the 6061 series. 
   Aluminum powder-coated enclosure
Alloy 5052 is more weldable, meanwhile, 6061 has a higher resistance to corrosion. 
Also, 6061 is more expensive.
This material is resistant to solvents, petrochemicals, some acids, most sulfates, and nitrates.
In terms of plastic, not all types of plastic can be powder-coated, as some plastics would melt at 400 degrees F. 
Fiberglass is very strong, can dissipate heat, and insulates electricity. 
It is made from glass fibers placed in plastic, and these enclosures can be powder-coated. 
     Powder-coated fiberglass enclosure
If you would like to learn more, send in your inquiry now for a consultation!
How thick is powder coating, usually?
Powder coating on enclosures usually measures 2.5-3 mils or 63.5-76 microns. 
How long does a powder coating last?
Standard powder coatings can last up to 20 years!
However, this lifespan decreases in outdoor environments.
UV rays from the sun wear the coating, as do rain and other factors. 
How much does powder-coating cost?
Doing powder-coating independently is expensive.
It costs around $200.
However, at KDM, you can get a cheaper price—just reach out to us and we'll send you a quote!
What is AAMA testing?
AAMA stands for American Architectural Manufacturers Association. 
They test powder coatings for durability—ability to withstand impact, abrasion, humidity, corrosion, and chemicals. 
AAMA 2604 and AAMA 2605 verifications are highly rated for powder coatings, certifying their quality. 
Powder-coated enclosures with AAMA ratings are guaranteed to be high-quality.
AAMA verification for powder-coated enclosures
Is powder coating scratch-proof?
Powder coatings are very durable and strong, but they are not unbreakable.
Powder coatings do get worn out with time, and it can be scratched with enough force.
That being said, powder coatings still offer protection from corrosion and some impact.
How does powder coating compare to wet coating?
Liquid paint in a wet coat is dispensed in a fine spray, like powder coating. 
It is also electrostatically charged, but much less. 
During the process, powder coating forms even coats while liquid paint needs to be applied by highly trained experts to avoid drips and uneven spots.
Powder coating is more resistant to chipping, scratching, and other physical wear due to the thermal bonding it undergoes during the curing process. 
Impact resistance of paint vs. powder coating
Powder coating can also be applied in much thicker layers, which enhances its performance. 
What's more, besides its physical durability, powder coating provides superior color retention.
Powder coatings are also usually cheaper, but wet paints are more readily available. 
Another advantage of powder coating over wet paint is that powder coatings are safer.
Wet paints are flammable and toxic due to solvents. 
Wet paint is mostly solvent, with a lesser amount of pigment and resin included. 
Powder coating consists of mostly resin, which gives it its enhanced protective properties.
Chemical makeup of powder coating and wet paint
In terms of appearance, textured finishes are much easier to attain with powder coats. 
Generally, thinner powder coats are more textured, while thicker layers will be smoother.
Also, it is technically possible to attain a high-gloss finish with powder coating, wet paints are better for this. 
Overall, powder coatings are slightly better than wet paints are, but wet paints do have certain limited uses as well. 
Powder coatings perform better on enclosures, in general. 
Powder-coated vs wet-coated enclosures
Are there different types of powder coatings?
There are 6 main types of powder coatings you can request for your KDM enclosures. 
These types are the following: epoxy, polyester, durable polyester, hybrid, fluoropolymer, and urethane. 
Epoxy powder coating is very durable, and the most resistant to corrosion out of all powder coatings. 
However, epoxy coatings do not fare well under the sun. 
Outdoor conditions make epoxy fade and chalk over time.
This is why sometimes epoxy-powder-coated enclosures have additional coats on top of epoxy—to protect it from the sun. 
Polyester powder coatings offer great mechanical resistance, being impact-proof and flexible. 
Also, polyester has good chemical resistance. 
Types of powder-coating
However, polyester coatings have limited effectiveness in the sun. 
Specifically, this powder has a low cure temperature, meaning that it melts at lower temperatures than other powders do. 
This makes polyester better suited for indoor electrical enclosures. 
Durable polyester fixes this issue, being suitable for outdoor enclosures. 
This powder can serve up to 5-10 years, without the risk of fading.
Hybrid powders combine epoxy and polyester.
Hybrid powders offer both resistance to corrosion and superior weatherproof capabilities.
These coatings are smooth, thin films, and they are cost-effective.
Fluoropolymers have the best weather-proof qualities, and are often used on outdoor powder-coated enclosures. 
Also, these powders have great colour retention and gloss retention. 
Urethane powder coating offers a very smooth finish.
Urethanes have great outdoor durability, as well as resistance to corrosion and chemicals. 
However, this powder is quite expensive, and it can become brittle at high mil thickness. 
All types of powder coatings have their strengths and weaknesses. 
All powder coatings provide additional protection for your electrical enclosure, so choosing the right type of powder is crucial for success. 
Manufacturing powder-coated enclosures
Would steel powder-coated enclosures rust?
Typically, powder-coated steel enclosures are weatherproof—so they do not rust because the coating serves as a protective layer for the metal surface. 
If the metal underneath has started to rust, then the coating is probably cracking and needs to be reapplied. 
Does powder-coating increase an enclosure's IP or NEMA rating? 
Commonly, electrical enclosures are rated with IP or NEMA. 
Here is what this all means.
  NEMA and IP ratings
In IP ratings, the first letter denotes how dust-tight an enclosure is, while the second letter denotes how waterproof an enclosure is.
Because powder coating covers only surfaces, and gaskets are the only features able to improve an IP rating, powder coating does not change the IP rating.
NEMA, however, has a different rating system, where resistance to corrosion is coded as X after a number, such as in NEMA 4X. 
In this case, because powder-coated enclosures do have enhanced resistance to corrosion, they would have the X code.
You can request any enclosure to be powder-coated and KDM will do it for you. 
What features can powder-coated enclosures have?
Powder-coated enclosures can have all the same features other enclosures have.
This includes ventilation, locks, windows, and much more. 
Ventilation—fans or breathers—help prevent overheating of electrical components inside your enclosure.
Passive vents or breathers include holes, mesh, and louvered vents. 
    Passive louvered breathers
Active vents, such as radiating fans or door fans, help cool the enclosure more intensely.
Vented powder-coated enclosure
Plus, the vents can be further upgraded to air conditioners and heat exchangers.
You can also choose to include fan kits, filters, and gas vents if you are developing enclosures for specialized industrial applications. 
You can request active vents, windows, hinged doors, locks, cable management systems, and much more. 
Waterproof powder-coated cabinets have special rubber or neoprene gaskets to protect the enclosure from water, oil, or coolant ingress.  
Gaskets for powder-coated enclosures
Windows help personnel examine the electrical components in a quick and non-invasive way. 
If something goes wrong, a window helps to see what is happening right away. 
Powder-coated enclosure with a window 
Hinged doors control how and how much the door or cover of a powder-coated enclosure opens. 
To prevent unauthorized access, powder-coated enclosures may also have lockable doors.
Key locks, electronic locks, and clasps make sure no one tampers with it or accidentally accesses electrical components inside the enclosure.
  Lockable enclosures
Furthermore, your powder-coated enclosures can have cable knockouts, file pockets, sun shields, DIN rails, lifting eyes, casters, handles, insulation, spill containment, rain caps, and any custom feature you need. 
Cable knockouts allow cables from various appliances to be connected to your powder-coated enclosure.
Powder-coated enclosure with knockouts
Powder-coated file pockets are metal pockets made for storing operation manuals, warranty documents, and any other papers inside or outside the enclosure.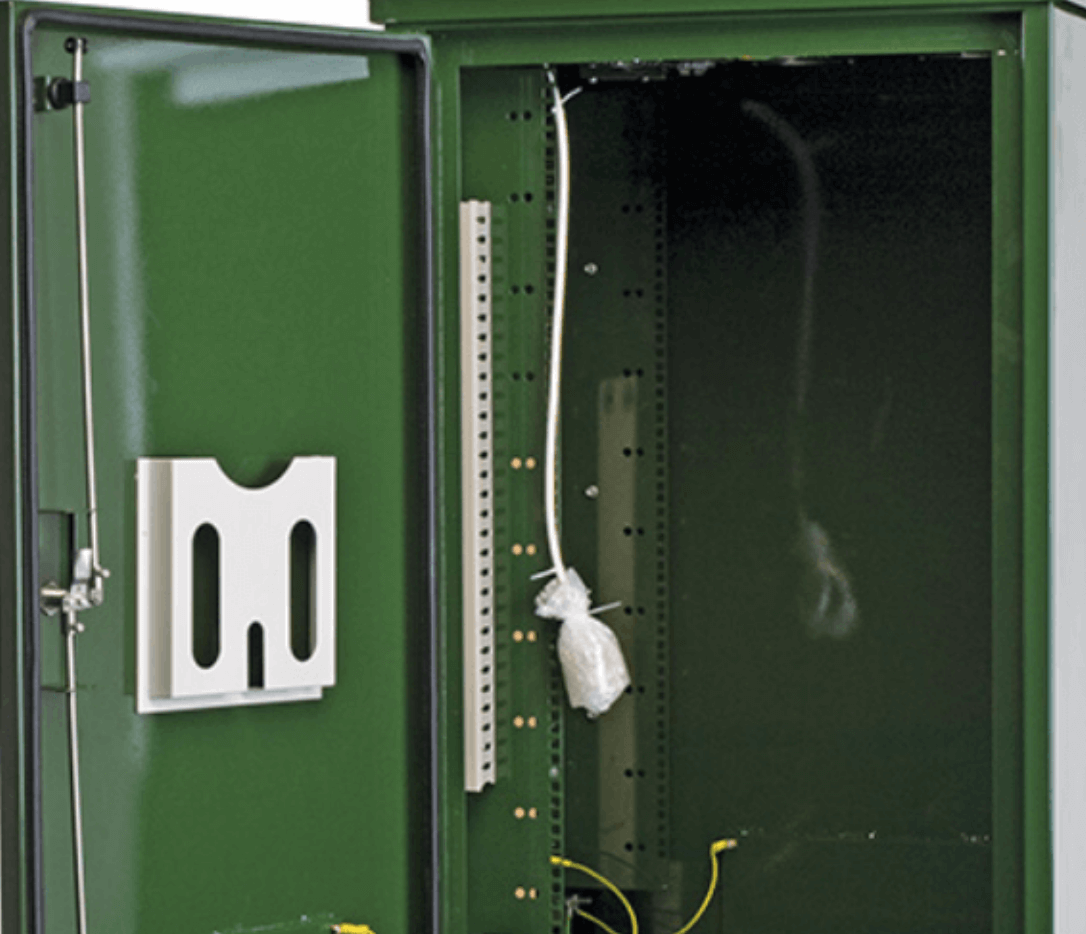 File pocket in a powder-coated enclosure
A sun shield protects your powder-coated enclosure from direct sunlight that would heat up the enclosure.
A solar shield is basically another layer on top of an enclosure that creates a shade to keep the enclosure and its electrical components cooler. 
We can powder-coat the solar shield as well. 
A sun shield will also protect the powder coating itself, as it fades from exposure to solar UV light.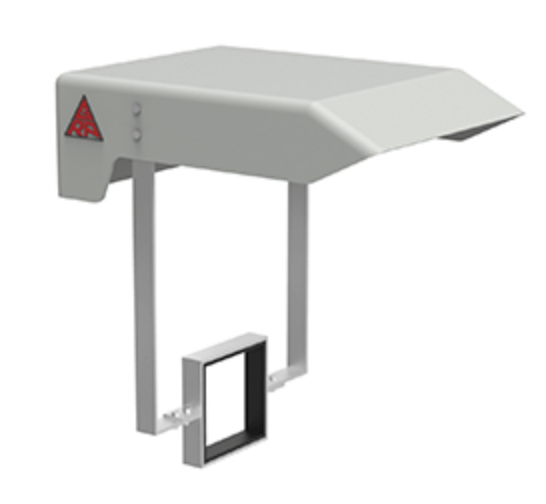 Solar shield
Also, DIN rails are important features for any enclosure.
These are metal rails with places for mounting circuit breakers and control equipment inside enclosures. 
Similarly, cable management systems such as cable entry frames and clamps serve to keep wires organized for easier installation and maintenance. 
Cable management system
Lifting eyes help transport your powder-coated enclosure if it is too big for casters, which may be the case with free-standing or floor-mounted enclosures.
Lifting eyes 
Casters provide another way of making the enclosure portable, allowing personnel to wheel it around.
Powder-coated enclosure with casters
Personnel will be able to simply wheel around the enclosure from place to place according to necessity.
For small portable powder-coated enclosures, you can request handles. 
 Portable powder-coated enclosure
Insulation is a safety feature meant to maintain the inside temperature of a powder-coated enclosure. 
This could mean preventing excess heat, but also preventing excess cold.
 Insulated powder-coated enclosure
A spill containment refers to a threshold or the enclosure opening that ensures no dripping or spills overflow out of the enclosure.
Spill containment 
A rain cap is a slanted rooftop-like piece on the top of your outdoor powder-coated enclosure.
Any rainwater will simply roll off the roof and protect the enclosure from water ingress.
And this is just a small part of all the features we offer. 
To learn more, feel free to contact us for more information! 
We will also provide any custom feature that you request. 
What are some tips to design a powder-coated enclosure?
Below are some points you should keep in mind while designing or proofreading designs for your perfect powder-coated enclosures. 
What dimensions (height, width, depth) of an enclosure do you need?

Do you need racks, compartments, shelves, knockout holes, separate doors, etc?

What environment will your powder-coated enclosures be in?
This will help decide on the material of the enclosure, and the type of powder coating (e.g. fluoropolymer or epoxy). 
Also, this will help you decide on extra features, such as a sun shield, a rain cap, etc. 
Outdoor powder-coated enclosures
4. How will you be mounting your powder-coated enclosure?
This provides information on the type of brackets necessary to use. 
5. What properties do you want your enclosure to have?
This determines the additives in the powder. 
Some additive chemicals increase resistance to corrosion, while others increase the hardiness, protecting from abrasion. 
6. What color do you want your enclosure to be?
We can make you powder coating any color you want, just send us a RAL code.
7. What finish do you want your enclosure to have?
We can supply matte, glossy, or textured finishes, so it all depends on your preference and the place where you enclosure will be placed.
If indoors in a public place, it is advised to design a powder-coated enclosure to fit the interior. 
The materials used for weatherproof powder-coated enclosures are not different from materials used for other types of enclosures. 
Different powder-coated enclosures
What designs can powder-coated enclosures have?
KDM presents you with countless models of free-standing enclosures, floor-mounted enclosures, wall-mounted enclosures, pole-mounted enclosures, and tower-mounted enclosures. 
Free-standing enclosures and floor-mounted enclosures are perfect either for large electrical devices, such as transformers, telecom junctions, and more. 
Free-standing powder-coated enclosures could be of any height, width, and depth according to your requirements. 
They can be portable if you choose to include casters.
Also, they can be big enough to be categorized as walk-in enclosures that allow a fully-grown adult to enter the cabinet. 
Such enclosures are often installed in industrial settings, or outdoor ones, which is why they need to be powder-coated. 
Floor-mounted means that the enclosure is screwed into the floor or ground—it is completely stationary and fixed.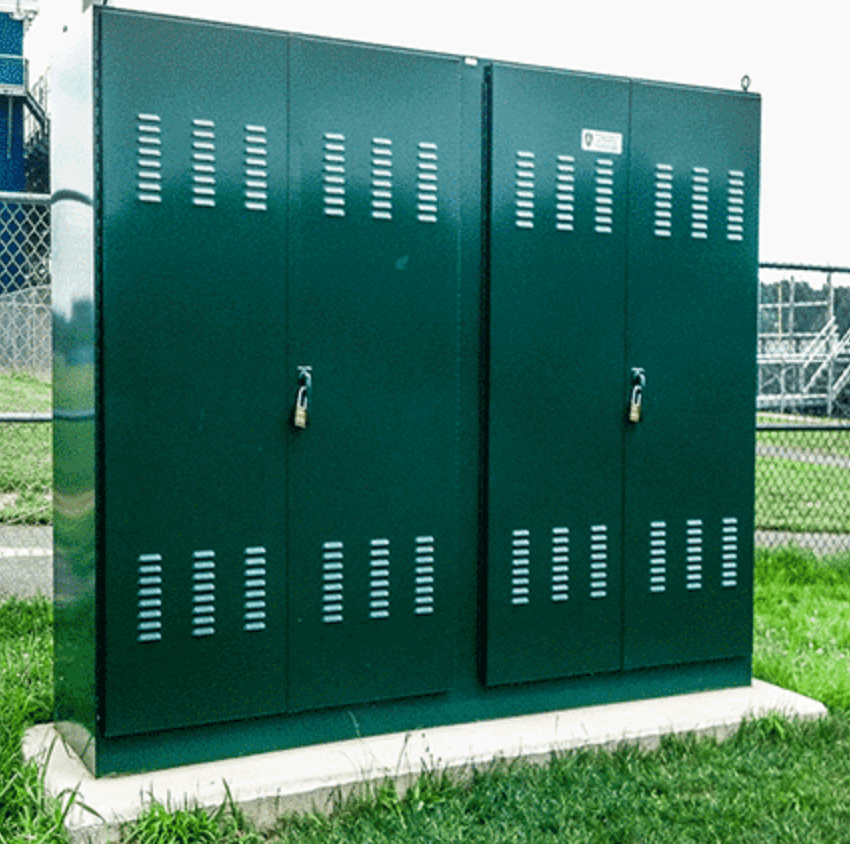 Free-standing powder-coated enclosure
Wall-mounted powder-coated enclosures use mounting brackets, screws, and pads for installation onto a wall. 
Pole-mounted powder-coated enclosures are similar to wall-mounted ones, but they are attached to a pole using circular brackets. 
Pole-mounted powder-coated enclosure
Tower-mounted enclosures are also similar to pole-mounted, but these are attached to thin tower poles. 
Also, towers may mean electrical towers for holding telecom or electricity cables.
These smaller enclosures (wall-, pole-, and tower-mounted) require special powder coating to protect them from outdoor elements. 
However, they would need a solar shield to protect the powder coating from fading. 
   Tower-mounted powder-coated enclosure
You can also have recessed powder-coated enclosures that are put into a wall, with only the frame showing. 
This frame can be powder-coated as well. 
What configurations do powder-coated cabinet enclosures come in?
You can choose any configuration for your powder-coated enclosure.
Configurations are customized using racks, dividers, inner compartments, and separate doors. 
Racks and dividers can be used as tiers or shelves for different appliances in your powder-coated enclosure. 
Dividers can be horizontal or vertical.
Plus, there could be whole separate compartments inside the enclosure—with separate doors. 
Compartments in a powder-coated enclosure
Also, you can choose to include electrical integration, such as overhead lighting, power strips, and door alarms. 
Naturally, we also have our custom enclosures, which can be of any design, shape, and requirements, as well as have multiple doors. 
There could also be a horizontal configuration, which makes the enclosure look like a chest or box.
Horizontal configuration
You can request any feature to better suit your work environment.
We are happy to create your perfect custom KDM powder-coated enclosure!
What additional coatings can powder-coated enclosures have?
We also offer anodizing, alodining, passivation, electropolishing, and priming coatings to be applied underneath the powder. 
Anodizing coating uses anodes to oxidize a metal—usually aluminum—to improve its resistance to corrosion. 
Anodized and powder coatings of aluminum
If you want to powder-coat it, anodizing is not necessary but can be done.
Alodine coating, also known as chromate conversion coating, is used to prime steel and aluminum for paint.
Like other coatings, it also prevents corrosion, and it is cheaper than anodizing. 
It has a characteristic greenish-yellow hue unless it is painted over. 
Alodine coating
Passivation is the creation of an outer layer of shield material made from a metal oxide.
It is applied as a micro-coat, created by a chemical reaction.  
Electro-polishing is an electrochemical process that removes material from a metallic surface, reducing its roughness by levelling micro-peaks and valleys, smoothing out grain boundaries to improve the surface finish. 
Powder coating overlays this surface better. 
Priming coatings can be rich with zinc or zinc-free.
Either way, primers help powders bind to the metal surface better.
There can also be anti-graffiti and anti-poster coatings to protect your outdoor powder-coated enclosure from vandalism.
We can provide any coating in any color and finish, so contact us today!
Does powder coating need priming on electrical enclosures?
Yes, powder coatings need priming. 
Primers slow down the speed of oxidation, help powders lay more smoothly, and help powders bind to the edges to a clean appearance. 
Not all metals need priming, but stainless steel and aluminum usually do. 
What finishes of powder coatings are there?
Some of the finishes include glossy and matte.
Glossy powder-coated enclosures have a shine to them, and we can offer you enclosures with high gloss, medium gloss, and low gloss surfaces, depending on how much shine you need. 
Medium gloss surface can also be called through-the-silk, satin, or egg-shell gloss, which looks matte, but as if there is shine radiating through the matte finish. 
Consult gloss levels for measurements of how much gloss you want to request.
Completely matte finishes can be rough to the touch, and they look almost like velvet or sandpaper. 
Matte finishes help cover up surface imperfections. 
We also offer you textured powder-coated enclosures. 
Some common textures include wrinkled, river-vein, and hammer-tone textures. 
Wrinkled textures have minimal gloss, are gritty to the touch, and resist scratches from sharp tools.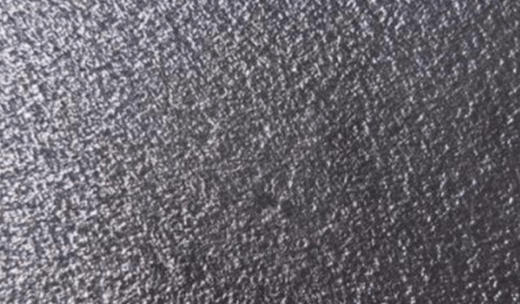 wrinkled texture of powder-coated enclosure
River-vein textures look like there are little river channels running across the surface.
This texture type is not very common because it is difficult to achieve.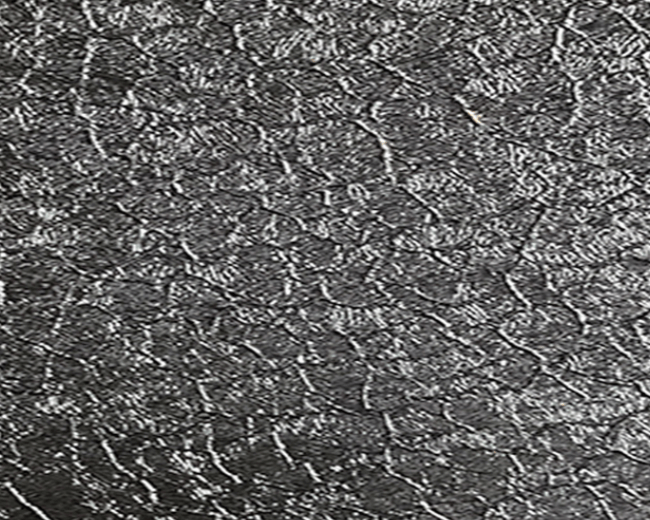 River-vein texture of powder-coated enclosure
Hammer-tone textures is similar to the skin of an orange.
It resists impacts and looks quite modern. 
Hammer-tone texture of powder-coated enclosure
What are gloss levels on powder-coated enclosures?
Gloss level can be provided in numerical form, for the ease of customer communication. 
Matte finishes have a gloss level of about 30. 
Regular glossy finishes most commonly used have a gloss level of about 70.
   Levels of glossy finishes
High-gloss finishes have gloss levels of 80.
These look like latex and show every imperfection of the surface. 
With these numerical levels, you can choose the perfect glossy finish for your powder-coated enclosures. 
What colors of powder-coated enclosures can I request?
You can request any color for your powder-coated enclosures.
We can mix any pigments in just the right proportion to get your custom color.
Simply give us the RAL or RGB code, and we'll take care of everything. 
Coloured powder-coated enclosures
Can powder-coated enclosures be silk-screened or engraved?
Our customizing services include engraving and silk-screening.
Silk screening is easy and cost-effective. 
Any flat side of the powder-coated enclosure can be silk-screened with labels, warnings, serial number, company name, and logo.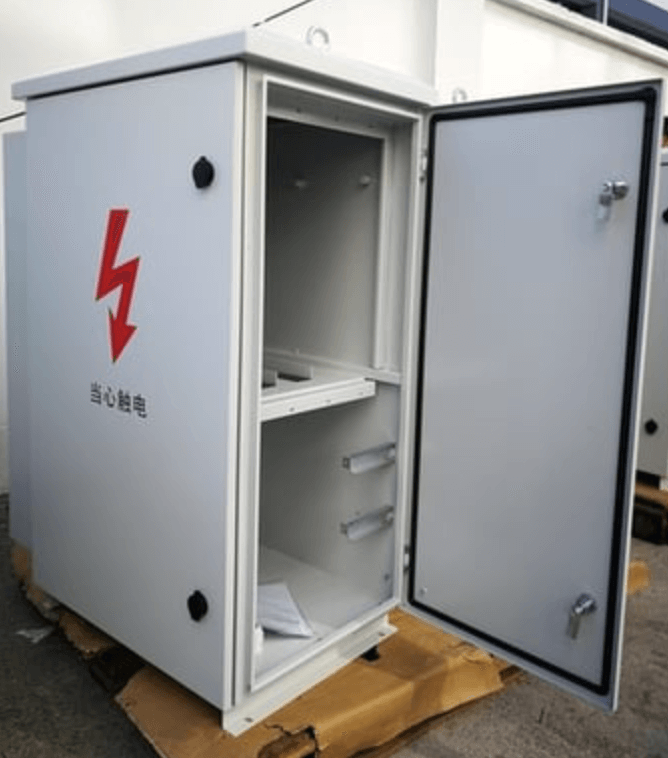 Silk-screened powder-coated enclosure
In silk-screening, a thin layer of paint is transferred onto the powder-coated surface.
Depending on the texture of your powder coat, the silk screening may not look very good.
During engraving, on the other hand, about 0.005 inches or 0.010 inches of metal is removed from the surface. 
The requested symbol is basically scratched into the surface.
Once the metal has been removed, it is filled in with epoxy paint of any color to match your requirements. 
Engraving powder-coated enclosures may be difficult, but it does work.
Engraved powder-coated enclosure
Do powder-coated enclosures need maintenance?
Powder-coated enclosures rarely need maintenance, but if they are outside or in a public place, then some maintenance may be required. 
For example, use gentle cleaning solutions.
Also, apply UV-resistant wax to prolong the lifetime of your powder-coated enclosure.
Additionally, you can repair the coating with touch-up paint or powder.
However, if damage involves the primer layer, then you need to recoat the whole thing to prevent corrosion from seeping through.