KDM NEMA 3R Enclosure
Affordable NEMA Enclosure Solution
IP65/IP66 Certification
Fast Enclosure Sample Production
Custom NEMA 3R Enclosure Manufacturer in China
At KDM, we produce and designed high-quality NEMA 3 enclosures to withstand tough environments. We have a variety of styles, sizes, types, and materials NEMA 3 enclosures for you to choose from, all at affordable costs. For even more options, such as alternate locking, latching mechanisms, and more, you can select from our wide selection of enclosures that exceeds NEMA 3R rating.KDM is a professional NEMA enclosure manufacturer, an expert in manufacturing enclosures depending on the client's requirements and applications. For the past 10 years, we have worked with thousands of clients. We have the expertise to help you with each stage of the process.
KDM NEMA 3R enclosure is intended for outdoor use primarily to provide additional protection to the components against rain, sleet, snow, water, dust, and damage from external ice formation. KDM NEMA 3 enclosure is commonly used in switch gears, lighting contractors, power distribution, housing, and other electrical appliances that require protection in an outdoor environment that were mentioned above.
KDM NEMA 3R Enclosure Series
Send your Inquiry on KDM NEMA 3R Enclosure
At KDM, we produce and designed high-quality NEMA 3 enclosures to withstand tough environments. We have a variety of styles, sizes, types, and materials NEMA 3 enclosures for you to choose from, all at affordable costs. For even more options, such as alternate locking, latching mechanisms, and more, you can select from our wide selection of enclosures that exceeds NEMA 3R rating. We use the 316 stainless steel, 304 stainless steel, carbon steel as the enclosure panel. We provide a 1-year warranty for KDM NEMA enclosure, you will get free enclosure accessories within our warranty.
Manufacturing Capacity
Buying Guide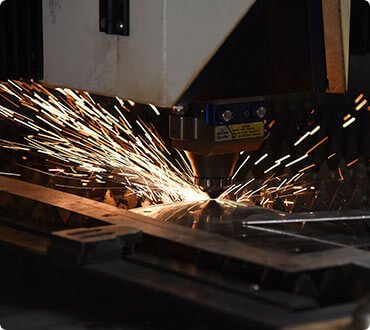 Electrical Enclosure Laser Cutting
4000W high-performance laser cutting machine, +/- 0.05mm accuracy. No burr, no scratching.
Electrical Enclosure Welding
Multi-Functioning flexible welding equipment, high accuracy, no deformation.
Electrical Enclosure Bending
+/- 0.5mm bending precision, smooth surface without bending marks.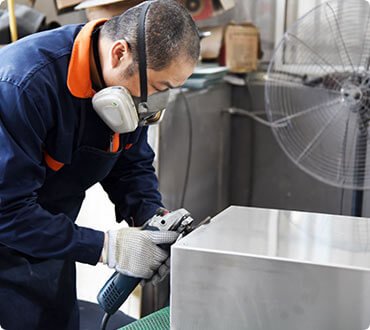 Electrical Enclosure Polishing
10+ welding experienced workers, perfect overall appearance.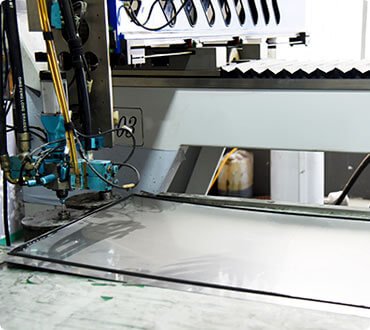 Electrical Enclosure Foaming
High speed and accuracy foaming machines, fast and qualified Gasket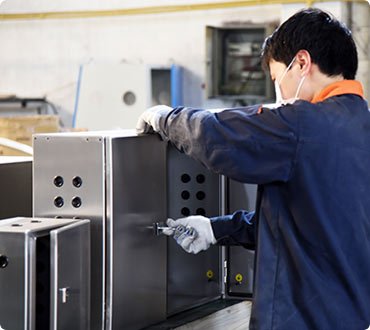 Electrical Enclosure Assembly
The expert assembling team, consistent assembly quality on every KDM enclosure
KDM NEMA 3R Enclosure
Apart from the protection, KMD NEMA 3R enclosure offers from the environmental factors, NEMA type 3R enclosures from KDM is able to protect the live appliances from high water levels in case of floods. It has a provision for drainage, alternate latching and locking mechanisms.
Somehow, KDM NEMA 3R enclosure can be used in indoor environments, it protects against dripping water and provides much more protection to personnel against incidental contact with enclosed equipment. Besides, the protection against any form of contact with the material that has been enclosed.
KDM NEMA 3R enclosure does not have a gasket sealing surface. Some models have hasps for padlocking, new models include galvanized steel units and larger sizes with hinge covers.
NEMA 3R enclosures are designed very similar to NEMA 3 enclosures, however, 3R enclosures can be ventilated. Enclosure ventilation is typically accomplished through the use of louvered openings to filter the air within the enclosure, and necessary for a vented battery enclosure. When ventilated, the additional protection provided by NEMA 3R enclosures against windblown dust lessen.
KDM NEMA 3 enclosure offers unbeatable value in the market. Our NEMA 3R enclosure conforms to the NEMA 250-2014, RoHS, CE, ATEX, IECEx, EN / IEC 60529 and CSA for electrical enclosures.
KDM NEMA 3R enclosure manufactured using advanced technology and automated tools. Set standards materials for electrical and telecommunications equipment. This improves safety, economics, and communication for us as a manufacturer as well as the user. For custom NEMA 3 enclosure, you can send us specific sizes, lay outs, and designs. Furthermore, KDM offers custom powder coating and silk-screening.
At KDM, you can easily find the right NEMA 3R enclosure solutions for your needs. We also provide custom NEMA 3R enclosure to provide what exactly you need. No matter what your design requirements are, we can help you develop the perfect NEMA 3 enclosure that fits your needs and work well for your business. Take the frustration out of the side of your business and rely it on us, contact us today!
The Definitive FAQ Guide to NEMA 3R Enclosures
What does NEMA Type 3R mean?
NEMA stands for National Electrical Manufacturers Association.
NEMA Type 3R is meant for use both indoors and outdoors.
The enclosure protects inside equipment from snow and sleet, and guarantees that everything will work even if the enclosure is covered with ice.
Also, 3R enclosures guarantee that any external mechanisms covered in ice will still work well.
How is NEMA 3R different from NEMA 3, 3S, 3X, etc?
NEMA 3R is the same as NEMA 3, except it does not offer as much protection against windblown dust, so it is better for cold inside applications like freezer rooms.
This is because 3R usually lack a few gaskets that other NEMA 3 enclosures have.
NEMA 3S is the same as NEMA 3R, but also ensures that any external mechanism is still operable when covered with ice.
NEMA 3RX includes added protection against corrosion.
There could also be enclosures with a subtype rating NEMA 3SX.
Subtypes of NEMA 3
How are NEMA 3R enclosures structurally different from NEMA 3?
NEMA 3R enclosures have drainage openings that prevent accumulation of liquid at the bottom of the enclosure.
This, along with a lack of some sealing gaskets, leads 3R to be vulnerable towards windblown dust.
Are NEMA 3R enclosures used outdoors?
Yes and no.
NEMA 3R enclosures do protect against water ingress, as well as snow and sleet, but not from windblown dust.
Thus, it is more suitable for cold indoor applications.
Do NEMA 3R enclosures protect from corrosion?
NEMA Type 3R enclosures do not protect against corrosion well, as they are.
However, you can increase the enclosure's resistance to corrosion with the material you request.
Galvanized steel and stainless steel are the best options.
Also, powder and enamel coatings can help deter corrosion.
Also, you can order NEMA 3RX enclosures, which include protection against corrosion.
What are common applications for NEMA 3R enclosures?
NEMA 3R enclosures are great for indoor and outdoor commercial uses.
These may be junction boxes, utility boxes, outdoor meter cabinets, transformers, generator skids, frequency converters, power conditioners, switch gears, lighting contractors, power distribution, and rotating equipment.
Typical NEMA 3R box
Because of this type's resistance to water and ice, such enclosures are great for commercial freezer rooms, ship docks, subway systems, outdoor construction sites, and anywhere else where it gets cold.
However, because 3R is not well protected against dust, indoor applications are more recommended.
For more information, check out our NEMA enclosure FAQ!
How are NEMA 3R enclosures tested?
NEMA enclosures are not tested by NEMA, but by third-party laboratories.
NEMA labels can be used to self-declare enclosure ratings.
NEMA 250 outlines all the extensive tests that enclosures undergo to achieve a NEMA label.
For NEMA 3R, one of the tests is the rod entry test, which involves inserting a rod of different diameters into openings and vents of the enclosure in an attempt to reach live parts of the circuit.
NEMA 3R enclosures also undergo a rain test for 1 hour.
Rain test chamber
The test is considered passed if there is no significant water accumulation inside the enclosure.
NEMA 3R enclosures are further tested with an external icing test and outdoor corrosion test.
External icing test involves spraying the enclosure with water and then cooling down the room until 20mm of ice has formed over the enclosure.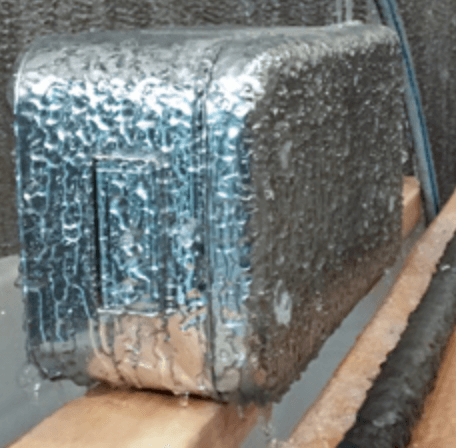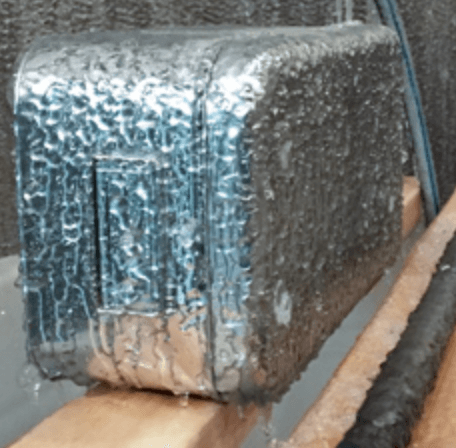 Outdoor icing test
The enclosure should be undamaged and operable at the end of the test.
Outdoor corrosion test is included for NEMA Types 3X, 3RX, and 3SX.
It involves making a 5% saline solution (using sodium chloride) and spraying it continuously for 600 hours (25 days).
How can I be sure of the quality of NEMA 3R enclosures?
At KDM, we have the ISO9001 certification that you can look through.
Also, you can do independent third-party testing of the enclosures if you want confirmation of quality and conformity assessment.
What is NEMA 3R in IP standards?
Although it is difficult to translate one set of standards into another, NEMA Type 3R is roughly comparable to IP14 and IP24.
Both provide good protection against dust and water.
  NEMA and IP 
What are common designs for NEMA 3R enclosures?
Some common designs for NEMA 3R enclosures include free-standing, floor-mounted, wall-mounted, and pole-mounted.
Free-standing, floor-mounted, and walk-in enclosures are used for bigger equipment.
They can have one or multiple doors, depending on your requirements.
Such enclosures can also have pedestals, casters, leveling feet, and lifting eyes to help install and move it around.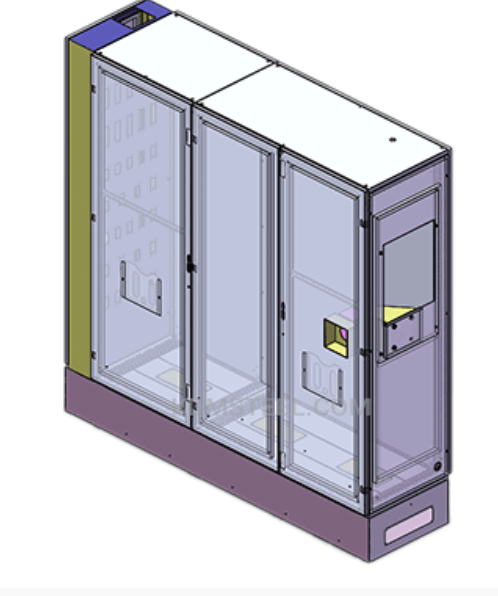 Multi-door free-standing enclosure
Wall-mounted and pole-mounted NEMA 3R enclosures are typically small and house fuses and switches.
These are less mobile, but take up less space as well.
They are installed using special brackets that can be just external or have internal elements too.
Wall-mounted fuse box 
Overall, higher NEMA ratings benefit from U-shaped designs since those require less seam welding, which works well with ice and corrosion protection
U-shaped enclosure (top part)
Of course, we also offer custom enclosures.
What additional features are often included?
You can request vents, windows, hinged doors, locks, cable management systems, and much more.
Vents, as well as radiating fans, provide a path for heat to escape through, cooling electrical components of the enclosure.
Vents provide a more passive flow of air, whereas fans actively move air and are used to cool down equipment that heats up quickly.
You can request a heating fan that will not only move air in and out of the enclosure, but also heat it up in very cold environments.
This prolongs their life and decreases the possibility of malfunctions.
 Radiating fan in an enclosure
These also stabilize air pressure inside the enclosure, preventing condensation which can damage the electrical components of the enclosure.
Windows help personnel examine the electrical components in a quick and non-invasive way.
And if something goes wrong, a window helps to see what is happening right away.
Plus, infra-red windows help protect workers from arc flash accidents by letting them see heat buildup.
 Enclosure with a window and a lock
Hinged doors control how and how much the door or cover of the enclosure opens.
This also includes a variety of handles that you can request as well.
You can choose between continuous, offset, and other types of hinges.
Locks, latches, and clamps add a layer of security to your NEMA 3R enclosure, making sure no one tampers with it or accidentally accesses its electrical components.
Cable management systems may involve hooks, racks, and other organizing features.
We also offer secondary features like casters, lifting eyes, file pockets, drip caps, switches, lights, and anything else you request.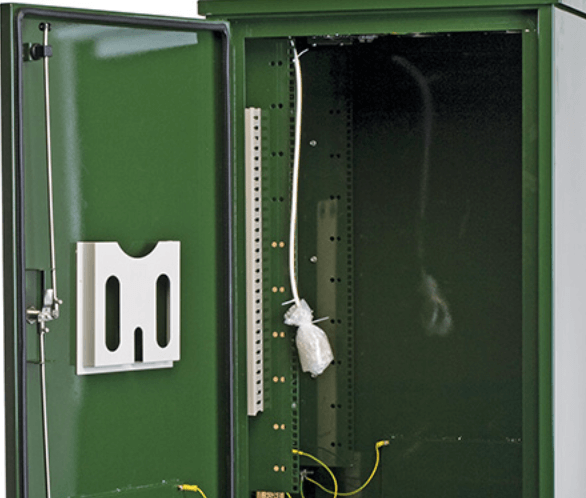 File pocket
Casters help move the enclosure around; lifting eyes are for heavy enclosures that need to be lifted to be carried around; file pockets store operating manuals; drip caps protect the enclosure from splashing water; solar shields protect against UV rays; switches and lights help operate the equipment inside the enclosure.
Do knockouts, vents, fittings, etc. affect the rating of the enclosure?
Individual fittings, vents, knockouts, etc – ideally – should have a better NEMA rating than the enclosure.
But generally this is not possible, so these features should have the same rating as the overall structure.
This means that if you request a NEMA 3R enclosure with such features, the resulting enclosure will still be rated 3R.
Can NEMA 3R enclosures protect from cold?
Generally, enclosures can have air conditioners, coolers, heat exchangers, and heater strips to control the temperature inside the enclosure.
This is done to prevent the equipment from freezing over, getting slower or fragile, but also to prevent condensation.
Heat exchangers are closed loop systems that are easy to maintain.
They push hot air in colder compartments, which results in an equalized temperature and pressure.
Heat exchanger
Heater strips use electricity to heat up the air inside the enclosure.
Heater strip
There can also be fan filters and small positive temperature coefficient heaters.
Enclosure heaters range in performance from 50 to 1200 Watts, depending on the size of your enclosure.
What materials are used for NEMA 3R enclosures?
The materials used for NEMA 3R enclosures aren't different from materials used for other types of enclosures.
They can be made from carbon steel, galvanized steel, and stainless steel – usually of the grades 304 or 316.
Carbon steel is usually duller than stainless steel.
It is also magnetic and more malleable since it only has iron and carbon.
This type of steel is vulnerable to corrosion, so it is not recommended for NEMA 3R.
Stainless steel is created by adding chromium, nickel, and molybdenum to the iron-carbon alloy.
 Stainless steel vs. galvanized steel
Steel grades 304 and 316 differ in the content of all additives.
For NEMA 3R enclosures, stainless steel grade 304 is most recommended.
Galvanized steel is coated with a protective layer of zinc that prevents corrosion.
This type of steel is more expensive and heavier than stainless steel.
Another type of steel that can be used is cold-rolled steel, which is thinner and more dense than normal steel – and thus, it is stronger.
When using steel, the manufacturer should keep in mind a certain gauge, or thickness, of the sheet metal that is necessary to comply with NEMA standards.
NEMA 3R enclosures use 12-14 gauge steel, which is about 1.9-2.6 mm.
Fiberglass is another possible material you can request.
It is very strong, can dissipate heat and insulate electricity, lowering the effect of interference and the possibility of shocking personnel.
 Fiberglass enclosure
Enclosures can also be made from aluminum alloys.
Just like steel grades, aluminum alloys can be either of the 5052 or the 6061 series.
 Aluminum vs stainless steel
Both are lightweight, but 5052 is more weldable, whereas 6061 has a higher resistance to corrosion.
Also, 6061 is more expensive.
This material is especially good for enclosures exposed to solvents, petrochemicals, some acids, most sulfates and nitrates.
If you need such protection, then NEMA 3RX with aluminum would be great.
Also, our windows are made from polycarbonate and ABS.
Polycarbonate is more resistant to corrosion, whereas ABS is cheaper.
If you would like to learn more, send in your inquiry now for a consultation!
What paints and coatings can be used for NEMA 3R enclosures?
Our enclosures are well-protected, but the right coating can add its protection as well.
You can choose enamel or powder paint coats in any color.
Enamel paint has a glossy finish and adds weather resistance.
Powder paint is deposited with the electrostatic force, and is quicker and easier than enamel.
It is also more flexible in appearance, giving you the option of glossy and matte finishes.
Powder coating finishes
We also offer anodizing and alodining coatings.
Anodizing coating uses anodes to oxidize a metal, usually aluminum, to increase its thickness for better corrosion resistance.
Steel is not typically anodized because it can actually speed up the corrosion of the metal.
Alodine coating, also known as the chromate conversion coating, is used to prime steel and aluminum for paint, as well as prevent corrosion.
   Alodine coating
This is a cheaper process than anodizing, and can be recognized by its characteristic greenish-yellow hue.
There can also be anti-graffiti and anti-poster coatings to protect your enclosure from vandalism.
NEMA 3R enclosures most often use powder coating.
We can provide any coating in any color and finish, so contact us today!
What are some ways to put symbols on a NEMA Type 3R enclosure?
Our customizing services include engraving and silk-screening.
Silk Screening is the easiest and most affordable method of customization.
Any flat side of the enclosure can be silk-screened with labels, warnings, serial number, your company name and logo.
However, silk-screening on metal like stainless steel or aluminum can be worn off or scratched off, but a clear powder coat prevents that.
 Silk screening
Engraving is more expensive and takes more time, but it is also more long-term than silk-screening.
Usually, about 0.005 inches or 0.010 inches of metal is removed from the surface to trace the design.
Once the metal has been removed, it is filled in with epoxy paint of any color to match your requirements.
Engraving
What else should I be aware of when ordering an enclosure?
There are some common mistakes that people make.
These include choosing the wrong NEMA type, wrong material, wrong size, wrong design, and disregarding features.
NEMA types have certain environments they are suited for.
NEMA 3R is built for non-hazardous, indoor and outdoor locations with normal air pressure, rain or dripping water, some dust, snow, sleet, and ice.
NEMA 3R usually use stainless steel 304 or galvanized steel to increase resistance to corrosion.
The size and the design of the enclosure depend on the specific electrical equipment you plan to house there.
However, NEMA 3R enclosures are usually medium-sized or big.
As for the design and features, these are case-specific, so consult your manufacturer for advice.
Recent MCC Enclosure Order
NEMA 3R Enclosure – Your Ultimate FAQs Guide
What is a NEMA 3R Enclosure?
It is made by NEMA Enclosures for housing power transmission. It is suitable for housing power distribution, switch gear, and more types of electrical components.
NEMA 3R enclosures can be used indoors or outdoors and have the least demanding rating for outdoor use.
NEMA 3R enclosure complies with the National Electrical Manufacturers Association's standard rating system (NEMA).
Because of this stability, the NEMA 3R electrical enclosure is commonly used for junction and wiring boxes for utilities and communications.
What does NEMA 3R Enclosure Protect For?
NEMA 3R enclosures, in fact, are used in a wide array of uses.
This type of enclosure has been used to safeguard safety switches in apartments and houses, as well as electrical parts.
NEMA 3R enclosures,are intended for both indoor and outdoor use and provide some protection against the following:
Hazardous Components
Foreign Objects that are Solid (falling dirt)
Moisture Absorption (rain, snow, sleet, etc.)
Forming of External Ice
NEMA 3R enclosures are still commonly used to house switchgear, lighting, electrical junctions, and other components in a variety of outdoor applications.
What is the Cost of a NEMA 3R Enclosure?
NEMA 3R Enclosure is a high-quality metal covering that comes in a variety of styles and materials at reasonable prices.
The true cost of the enclosure, of course, is determined by factors such as content and appearance.
However, for outdoor applications, a NEMA 3R is the most cost-effective option.
What are The Capabilities and Benefits of a NEMA 3R Enclosure?
This kind of enclosure offers a lot of capabilities and benefits such as the following:
Security from unintentional interacting with insulated devices.
Dropping dust particles, downpours, sleet, and/or snow protection.
Provision for drainage.
Storm safety at a greater level than the lowest live part.
There are various access control and latching technologies available.
Intended for use as a control box or a pull box.
It is weatherproof, non-corrosive, and completely customizable to your needs.
It can last a long time and very appropriate for your implementation.
When compared to lower-tier NEMA ratings, the NEMA 3R rating can withstand more extreme weather conditions.
It is offering all-around protection from the elements.
Prevents liquid, dirt, and dust from entering.
Precludes workers from gaining access to potentially dangerous components.
Why Does NEMA 3R Enclosure are Made?
It is made to withstand normal weather patterns and are used in residences, business, and commercial processes.
NEMA 3R enclosures are intended for interior or exterior usages and provide some moisture control for internal equipment.
NEMA 3R enclosures are also developed to be unaffected by the forming of ice on the enclosure's exterior.
It is manufactured to provide you with a high-quality extremely durable enclosure that is impervious to rain, ice, and snow.
What Materials Does NEMA 3R Enclosure Made?
NEMA 3R enclosures are highly made of strong and durable materials.
Each type of NEMA 3R enclosure material has different capabilities and functions.
It is ranging from lightweight polycarbonate and aluminum boxes to tough stainless-steel enclosures.
Aluminum
This type of metal is both attractive and tough.
Polycarbonate
It is a heavy-duty plastic polymer that have a light and tough functioning and a vigorous resistance in UV.
ABS Plastic
It offers great robustness and it is not costly as it is meant to be indoors and not outdoors.
Stainless Steel
It is an ultimate corrosion-resistant protection. It is a standardized enclosure and stronger for construction.
Plastic
It is use ABS which applied indoor installations. Polycarbonate for a stronger cabinet and long-life service.
What are The NEMA 3R Enclosure Key Features and Size Specification?
Here are the features that every NEMA 3R Enclosure has:
The enclosure and cover are made of gauge and steel sections.
A plated metal bolt holds the protective cover beneath the liquid armored top.
Accessible with or without base interlocking knockouts.
Evey enclosure comes with intensifying embosses on the back.
Protections for securing on the front cover.
The enclosure and cover are made of gauge galvanized steel.
Pad lockable flip hook on a constructed metal hinge.
Available with or without bottom concentric knockouts.
On the back of the box, four mounting holes are provided.
The top has a drip shield and the sides, front and back are seam-free.
Intended to keep connection configurations.
The cover is made to fit beneath the drip shield top and is secured with machined metal wrenches.
Junction boxes with premised covers.
Size Specifications
These NEMA 3R Enclosures are available in a variety of materials, sizes, and styles.
The NEMA 3R Enclosurestandard gives rating, testing and marketing requirements.
Most of the companies build their own enclosures of any size. There are no regular sizes for NEMA 3R Enclosure.
Which Industries Does NEMA 3R Enclosure Commonly Operate?
NEMA 3R Enclosure is designed for different industries that help avoid electrical shock and explosion.
Here are different industries that usually NEMA 3R Enclosureoperates:
Telecommunications
Substitute Energy
Marine
Grease and Smoke Industry
What are The Common Applications of NEMA 3R Enclosure?
NEMA 3R Enclosuresare widely known among manufacturers all over the world for their extreme performance.
Here are some of its applications:
Junction boxes in indoor
Indoor electronic applications
Industrial environments and non-corrosive coolants- greases and oil.
Electronic mechanism panels for the purpose of the application in the manufacturing of light.
Utility control equipment