Your Professional Nema Enclosure Manufacturer
KDM enclosures are given a NEMA rating according to the types of applications the enclosure serves. Each rating is assigned to describe protection against environmental hazards such as water, dust, oil, or hazardous areas that contain corrosive or explosive climates. KDM NEMA enclosure can withstand extreme abuse and exposure to chemicals, water, and severe conditions.
Our NEMA enclosures is available in a wide range of sizes, each with various configurations for a large number of applications. KDM NEMA Enclosure is manufactured from steel, galvanized steel, or stainless steel (304 or 316L). The type of material of this NEMA enclosure depends on the outdoor or indoor environmental conditions.
KDM can manufacture electrical enclosures complied with all NEMA ratings
Customize NEMA enclosure based on your detailed application
10 years NEMA enclosure manufacturing experience
Send your Inquiry on KDM Nema Enclosure
For custom NEMA enclosure, you can create unique product designs quickly and easily by selecting the size, features, and accessories needed for a specific application. Our expert team will help you in designing and manufacturing your enclosure suited for your project. Choosing the correct enclosure for your needs helps reduce costs and ensures that your components are adequately defended.
When you choose KDM NEMA enclosures for your indoor or outdoor electrical equipment, you can be sure that your investments are safeguarded from ice damage and the harmful effects of most common environmental conditions.
Manufacturing Capacity
Buying Guide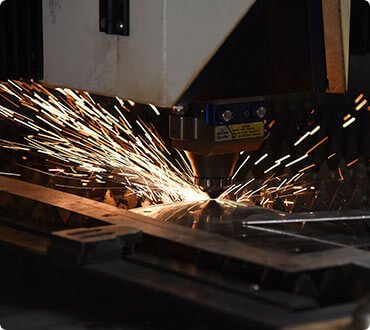 Electrical Enclosure Laser Cutting
4000W high performance laser cutting machine, +/- 0.05mm accuracy. No burr, no scratching.
Electrical Enclosure Welding
Multi-Functioning flexible welding equipment, high accuracy, no deformation.
Electrical Enclosure Bending
+/- 0.5mm bending precision, smooth surface without bending marks.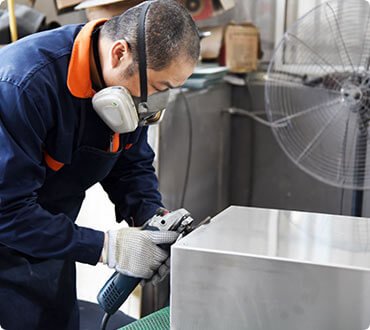 Electrical Enclosure Polishing
10+ welding experience workers, perfect overall appearance.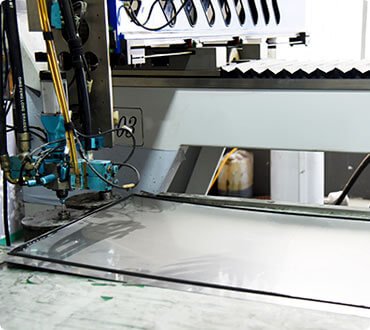 Electrical Enclosure Foaming
High speed and accuracy foaming machines, fast and qualified Gasket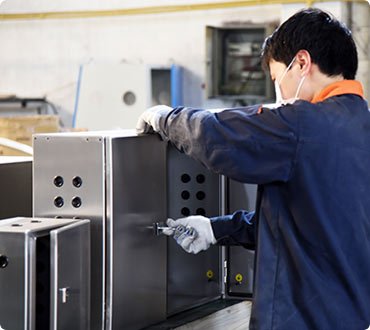 Electrical Enclosure Assembly
Expert assembling team, consistent assembly quality on every KDM enclosure
KDM: Your Professional Nema Enclosure Manufacturer
KDM NEMA enclosure are built for both indoor and outdoor applications. It will help your organization's electrical components from damage and free from dust, dirt, water leakage, oil drippage, ice, sleet, and any other type of chemical or element it may encounter in its surroundings.
KDM NEMA enclosure features code gauge steel, mounting holes, and a variety of knockout configurations for any application including data communication network systems. Each NEMA rated enclosure have unique design features, precision manufacturing and the highest quality materials, making it the best choice for electrical applications.
KDM offers large range of NEMA enclosure which works well in a specific setting, such as in a brewery, a laundry room, a ship dock, a subway, a steel mill, a quarry, a construction zone, a mine, a wastewater treatment plant, a manhole, submerged in oil or under water. And also, our NEMA rated enclosures are suitable for hazardous environments. KDM offer NEMA type 1, 2, 3, 3R, 4, 4X, 12, and 13 enclosures.
We, at KDM, produces high-quality NEMA rated electrical enclosures in wall-mount, free standing, floor mount, modular, weatherproof, stainless steel, galvanized steel, junction box, and trough types. Each enclosure is designed to be the ideal way of protecting equipment from the elements.
KDM has been in the electrical enclosure industry for more than 10 years, we manufacture different enclosures that are meeting the strict requirements of NEMA based on your detailed desired.
At KDM, we offer custom and standard NEMA type of enclosures. These exceptionally durable, corrosion-resistant enclosures that meet the most demanding hazardous and industrial environmental applications.
With KDM NEMA enclosure, you may rest assured that your personal and the public is safe from exposure to electrical wiring. Contact us to find out more about how we can help meet your needs!
KDM has been in the electrical enclosure industry for years, we manufacture different NEMA enclosures based on clients' detailed requirement. Send your inquiry anytime.
KDM NEMA Enclosure is manufactured from steel, galvanized steel or stainless steel (304 or 316L). The type of material of this NEMA enclosure depends on the outdoor or indoor environmental conditions.
KDM NEMA Enclosure is reliable and safe accessory that conform to the different NEMA standards. Depending on the specific needs, KDM Steel offers NEMA 1 enclosure, NEMA 2 enclosure, NEMA 3 enclosure, NEMA 3R enclosure, NEMA 3S enclosure, NEMA 3X enclosure, NEMA 3RX enclosure, NEMA 3SX enclosure, NEMA 4 enclosure, NEMA 4X enclosure, NEMA 5 enclosure, NEMA 6 enclosure, NEMA 6P enclosure, NEMA 7 enclosure, NEMA 8 enclosure, NEMA 9 enclosure, NEMA 10 enclosure, NEMA 11 enclosure, NEMA Type 12 enclosure, NEMA 12K enclosure and NEMA 13 enclosure.
KDM: Your Most Reliable NEMA Enclosure Factory
Compared with other manufacturers, KDM NEMA Enclosure offers unbeatable value in the market. This NEMA Enclosure conforms to the NEMA 250-2014, RoHS, CE, UL, C-UL, ATEX, IECEx, EN / IEC 60529 and CSA for electrical enclosures.
KDM NEMA Enclosures are suitable for indoor and outdoor use. These NEMA enclosures protect electrical components from falling dirt, water, moisture, oil, acetylene, humidity, rain, ice, light, condensation, windblown dirt, corrosion due to salt water, etc.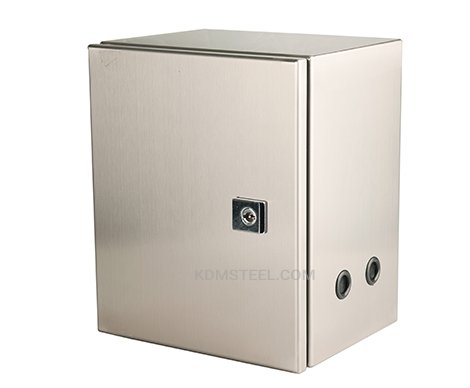 With KDM NEMA Enclosures, all electrical and electronic components are safe in most hazardous environments.
KDM NEMA Enclosures come as free-standing enclosures, floor mount electrical enclosures, wall mount electrical enclosures, modular electrical enclosures, weatherproof electrical enclosures and many more.
As a leading NEMA Enclosure manufacturer in China, KDM Steel has the know-how and experience to produce all designs of electrical enclosures. We produce NEMA enclosures with a single door, double door or more.
Our wide variety of industrial NEMA Enclosures also include windowed enclosures and partitioned enclosures. With careful selection of design and finishing such as galvanization or surface polishing, KDM Steel manufactures dependable and durable NEMA Enclosures.
KDM NEMA Enclosures sizes, layouts and designs vary depending on client requirement and applications.
KDM Steel uses high-tech, and automated NEMA Enclosure manufacturing thus offers a cost competitive solution than its competitors in the market. At KDM Steel, we design and manufacture any NEMA enclosure design.
Our professional team of engineers and technicians with over 10 years in the NEMA Enclosure manufacturing industry will help you in the custom design process.
And with over 2,650 NEMA Enclosures already designed, KDM Steel can handle urgent orders. Even with custom NEMA Enclosure designs, we guarantee short lead time.
At KDM Steel, we assure quality, competitive price and a range of NEMA Enclosures
Send your inquiry now!
NEMA Enclosure FAQ Guide
For an additional overview, scroll down!
This is a North American organization, National Electrical Manufacturers Association, that sets up safety standards.
NEMA types describe the specifics and characteristics of an enclosure. For example, type 1 is general-purpose, but type 2 is that plus drip-tight against condensation. These types are very extensive and particular to an environment and your needs.
What NEMA types does KDM Steel offer?
KDM Steel offers NEMA types 1, 2, 3, 3R, 3S, 3X, 3RX, 3SX, 4, 4X, 5, 6, 6P, 7, 8, 9, 10, 11, 12, 12K, and 13 enclosures. Please see what these enclosure types are for and what they protect against. Furthermore, KDM has IP65 and IP66 ratings, as well as SGS.
What are some types of NEMA ratings?
Some NEMA ratings correspond to enclosures that are designed for indoor use in a non-hazardous place. Some correspond to outdoor non-hazardous. Meanwhile, some correspond to hazardous environments. To see which type is which, check the NEMA table.
Is it possible to convert a NEMA rating to an IP rating?
An IP rating is used by the IEC (International Electrotechnical Commission). This rating is for European import with an equal standard of EN 60529. It provides information about substance ingress – whether or not any solids or liquids can pass through the enclosure. The first digit after IP is the solid ingress rating from 1 to 9. The second digit is the liquid ingress. IP and NEMA ratings are both used for safety standards, but they are not directly equivalent. IP standards do not include resistance to corrosion, oil leakage, as well as other common industrial hazards. However, there are tables and comparisons that explain it more. Note: KDM also offers IP enclosures!
What do NEMA enclosures shield against?
KDM NEMA enclosures will protect your wiring from dust, splashing water, condensation, airborne fibers, corrosive substances, oil and coolant leaks, as well as internal explosions.
Do NEMA enclosures protect against arc flash?
Arc flash is the light and heat produced from an arc fault. Arc fault is an electrical explosion that results from too much connection through air to something else. Basically, an electric explosion or fire. Ad, no, NEMA enclosures do not account for this type of a hazard.
What design types of NEMA enclosures are there?
KDM offers a large selection of different enclosures. Some major design types include wall-mounted, free standing, floor mounted, modular, and junction box. Additionally, there are hinged enclosures and options with windows. Naturally, KDM has custom services to design an enclosure to fit the needs of your business. There are also single-door and double-door designs.
What advantages do features like hinges and locks have in NEMA enclosures?
Continuous hinges strengthen the enclosure since they run the full length of it. They are low-cost, customizable, traditional, and provide a tighter seal. Concealed hinges, on the other hand, are easy to install, safe, and aesthetically minimalistic. Clamp latches are dependable, durable, and all-around very practical. Clamp covers are easy to use and provide convenient access to the contents of the enclosure. Also, they provide a tighter seal than hinges. Turn latches are aesthetic, versatile, and easy to work with. This is also an important part of designing a perfect enclosure.

What is the future of NEMA electrical enclosures market?
The electrical enclosures market was worth 5.34 billion USD in 2018. BY 2024, it is expected to reach 8.74 billion USD. This presents the market growth of 8.57%! Due to a global increase in industrial potential, there is also an increase in equipment and the protection of that equipment. Asia-Pacific represents the largest market right now – and in the foreseeable future. However, North America is showing an exponential increase, so it is also a very good market.
(CAGR is a Compound Annual Growth Rate – a useful term for investments)
What are import tariffs on Chinese NEMA enclosures?
Just like on most other Chinese products, the tariffs to US are 25%, while tariffs to the EU vary. To be sure, please check it.
Is there a difference in shipping to US versus shipping to Canada?
In terms of certifications, you need a C-UL listing instead of UL. There are differences, and Canadian requirements are a hybrid between US and EU standards. The products should also comply with CSA standards. Fortunately, KDM has all these necessary certifications, so you can easily import anywhere you want. However, you can still expect a 25% tariff in Canada.
What other certifications should I know about besides UL and CE?
There is also RoHS – European standards.
How do I ship NEMA enclosures to Amazon?
There are plenty of organizations whose help you can get. Most importantly, though make sure you follow Amazon requirement and have all your certifications.
What are the most popular NEMA types?
The most requested and searched NEMA enclosure types tend to be type 4, including 4X, type 8, type 1, and type 12. All of these, except type 8, are for non-hazardous locations. This will give you an idea of the needs of the market – most businesses and industries don't require explosion-proof enclosures.
What does NEMA nomenclature with classes and divisions mean?
You may have noticed that NEMA also uses a system of categories such as Class, Division, Group. These categories are outlined by NEC and NFPA.
Class describes the type of explosive vapors in the surrounding air. Class I locations have flammable gases. Class II locations have combustible dust. Class III locations have flammable fibers.
Division describes the likelihood of flammable substances being in a big enough concentration to be dangerous. Division I is relatively safe, while division II is more unpredictable.
Group rates flammable substances in relation to others. Group A relates to acetylene. Group B has hydrogen. Group C has ethylene. Group D has propane and gasoline. All these groups have more substances, so check the complete lists.
These categories describe the environment that the NEMA enclosure is suitable for. Knowing what these mean could help you choose the ideal enclosure for your needs.
KDM offers a low MOQ starting from 1 PC. MOQ is Minimum Order Quantity. So, what this means is that you don't have to order in bulk right away. You can just order 1 sample NEMA enclosure and then make your decisions.
What materials are NEMA enclosures made of?
Materials can include galvanized or stainless steel, aluminum, carbon steel, polycarbonate, fiberglass, die-cast, ABS, and more. Most engineers go with steel, but other materials also have their own advantages and purposes.
How to choose the correct material?
The material depends on what industry you are selling enclosures to.
Carbon and stainless steel are very durable and strong materials. They can be used in the medical and food industries since they aren't porous, and so, are protected against fungus and bacteria. However, these materials are expensive and heavy. Stainless steel is also resistant to fire and impact, so it is great for the highway sector. Carbon steel is less expensive than stainless, but it is more prone to corrosion. Carbon steel shouldn't be used in wet places or places where saltwater is near.
Aluminum's advantages are its light weight, low cost, and malleability, which makes it strong. This can be used to shield sensitive electrical equipment since it is protected against electromagnetic interference and corrosion.
Polycarbonate is non-magnetic, shock-proof, easiest to modify, and very lightweight. It also withstands acidic places, but is vulnerable to abrasive cleaners. Plastic and ABS have similar properties. Because these materials are cheaper, they are used with desktop electronics and the IT industry. Finally, ABS is resistant to UV rays, which prevents early degradation of the wires.
Die-cast is also lightweight, but very durable and strong. It is also cheaper and easy to work with.
Fiberglass protects against chemicals and corrosion better than ABS, but is also more expensive. Also, it is great for constantly wet environments.
In terms of chemical resistance, see the table below. This table also provides information on some enclosure coatings.
What paint finishes are there for NEMA enclosures?
The coatings are divided into 2 types: powder and enamel. Powders are typically cheaper than enamels. Also powder coatings are generally not recommended over stainless steel or aluminum NEMA enclosures. Within powders there are Polyester, Epoxy, and Hybrid.
Polyester powder coating is corrosion-resistant. It will, however, start to lose color if exposed to high heat. These can be used outdoors.
Epoxy powder coating withstands impact, corrosion, and many chemicals. Although it can bear high heat, it will lose its shine if exposed to sunlight.
Hybrid powder coating is a mix of other powders, allowing manufacturers to cater to the clients' needs.
Within enamels, there are Alkyd Melamine, Polyurethane, and Epoxy.
Alkyd coatings are hard, resistance to stains, detergents, and abrasions. It is safe enough for indoor environment with food nearby.
Polyurethane is corrosion-resistant and great for outdoor use.
Epoxy enamel, like powder, is resistant to chemicals, corrosion, and impact.
Reach out to KDM to request any of these!
Are there any additional tips regarding NEMA enclosure coatings?
NEMA enclosure with coatings
If you want to cut on the metal preparation costs, textured paints like hammertoes and splatter paints will help. It will also provide an aesthetic look. Usually, polyester powder paint is used, so you can save money on the paint itself. Another recommendation is requesting a dark-colored interior of the enclosure, and light-colored exterior. This way, external heat will be reflected, while internal heat will be distributed out. This is an optimal solution for environments and equipment prone to overheating.
What is supposed to be inside NEMA enclosures?
Usually, it is a power switch or a display. There are also small and major appliances, microcontrollers, electric switchboards, distribution boards, circuit breakers, electricity meters, and transformers. Of course, NEMA enclosures could be used for much more, but these are the main uses.
What accessories to NEMA enclosures are there and which ones can KDM offer me?
You can request a vent, window, hinge, or a lock for your enclosure. KDM can add all that. KDM has different designs with polycarbonate windows for view. They also have adjustable, spring-loaded, pin on, offset, continuous or concealed hinges. As for locks, there is also a great variety with key insert, standard, cam locks, knobs as well as latch kits. Finally, KDM will coat the enclosure in any color you request.
Knockouts are partially punched through holes in the enclosures. They can be removed to pull through cables, connectors, and conduits.
A gasket is a seal that fills the space between two surfaces to prevent leakage. Gaskets are used in NEMA enclosures that are designed to be water- or oil-proof. Usually, gaskets are made from foam or rubber – an absorbing or elastic material.
What is code gauge steel?
Code gauge steel is a way to measure the thickness of a steel sheet. The gauge system is used in the US, and it standardizes thicknesses used for NEMA enclosures. Generally, as the gauge increases, millimeters decrease. The largest gauge is 0000000, which is 12.7 millimeters, while the smallest gauge is 38, which is 0.16 millimeters.
NEMA enclosure types have numbers and letters. What do the letters mean?
The letters differentiate some subtypes of numerical ratings, and they represent either an added feature or a removed feature.
"X", as in 4X, denotes additional corrosion protection as well as other features of type 4.
"S", as in 3S, means that the enclosure will operate even when covered in ice.
"P", as in 6P, means that the enclosure can withstand being temporarily submerged in water or oil.
"R", as in 3R, denotes that the enclosure lacks dust protection.
"K", as in 12K, means that the enclosure allows for knockouts.
Of course, these letters can be combined, like in 3RX, as well.
What are some errors in choosing NEMA enclosures I should keep in mind?
There are 5 major and most common mistakes that people, such as importers, make when deciding on a NEMA enclosure.
One mistake is choosing the wrong rating. Before you order your batch, make sure you fully understand the environment the enclosures will be in. Consider everything in detail and consult your manufacturer.
The second error is choosing incorrect materials. This ties to the first mistake, so know your needed type! Also, consider safety first, then the cost.
The third mistake is choosing the wrong size of the enclosure. Here, too, you need to know exactly where you think your clients will mount the enclosure and what equipment will they put in it. Don't overbuy, but don't buy one that is too small either in case equipment will be upgraded.
The fourth error is overlooking product features, such as windows, locks, mounting accessories. Knowing these will help you save money and obtain the most practical design.
The final mistake is overlooking the ability to modify the enclosure. Some materials are easier to drill than others, some need brackets for installation or special finishes. Make sure you consider ease of modification as well.
Does outside temperature matter when choosing a NEMA enclosure?
Overheating can severely damage electrical equipment, so fans, vents, and cooling systems are crucial for enclosures. Not just the outside temperature should be considered, but the inside one as well – even more so than the outside. Consider the climate of the places you will be shipping to and how involved the equipment will be. Be sure to consult your manufacturer!
What else should be considered in the design in an enclosure?
An important consideration should be ease of maintenance. Make sure that the design lets workers repair and service wiring, replace panels, and install additional things. Paired with a consideration of where the enclosures will be, your design should facilitate working with electrical components. How many doors you will have, whether or not you need a power disconnect, multiple panels, or busbar power. Busbars serve for power distribution. Also, consider whether you need paint with a special finish to resist posters and graffiti if your enclosures will be in public places.
I am passionate about being environmentally friendly. How do I ensure that when ordering NEMA enclosures?
You should try asking whether the manufacturer is using energy-efficient production. Also, ask if they are working with and disposing of hazardous materials and if there is much chemical emission. If there is a lot, maybe try requesting a different material. Finally, see whether waste from production can be recycled. If nothing else, you can always pick an enclosure material that is recyclable. Keep in mind that factories can't be fully green, but they can try to keep it to a minimum. Just send an inquiry!
Does NEMA test the enclosures?
NEMA per se does not test the enclosures; they just establish the standards. You should beware manufacturers that claim to sell NEMA enclosures without a third party lab to prove it. Normally, manufacturers use UL to verify and test NEMA enclosures. KDM has a UL certification, among other ones, so you can be sure that our NEMA enclosures are actually following NEMA standards.
---
NEMA Enclosure: The Ultimate Importing Guide
I know you're looking for high quality and reliable electrical enclosure.
That's why today, I want to take you through important quality standards in this industry – NEMA.
It doesn't matter whether you need a freestanding enclosure, galvanized steel enclosure or stainless steel enclosure.
All that matters is your ability to choose an enclosure that conforms to the right industry standards.
It is these electrical boxes that we call NEMA enclosures.
So, in this guide, I am going to explain everything you need to know about these enclosures.
Now, let's get into the details of NEMA enclosures.
What is NEMA Enclosure?
NEMA is an initial which stands for the National Electrical Manufacturers Association.
Therefore, NEMA enclosures are electrical boxes or electrical cabinets that meet the standards set by the National Electrical Manufacturers Association.
Ideally, NEMA outlines the standards that every electrical enclosure should meet for a safe and reliable application.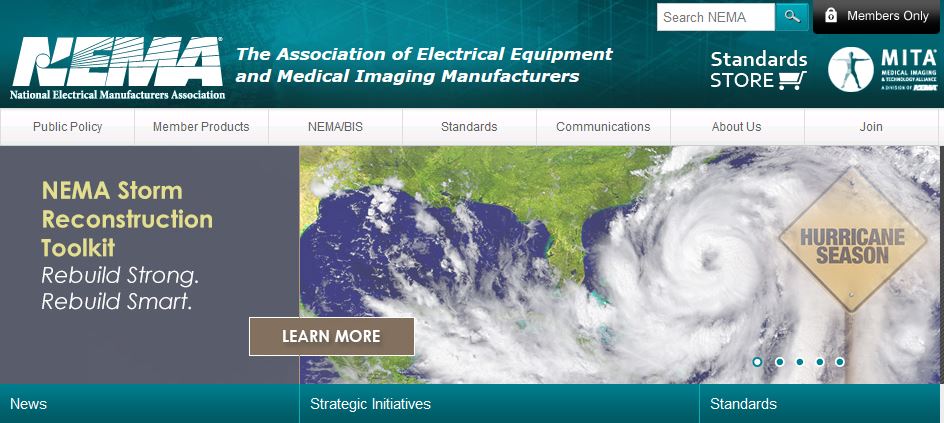 NEMA Homepage
Normally, the main idea of NEMA rating is to ensure the electrical enclosures:
i. Are safe for users and electrical components
ii. Can protect all electrical components and systems within the electrical cabinet
Large electrical enclosure
The NEMA enclosures are made in such a way that they can keep the hazardous electrical components from harsh environmental conditions such as water, oil, and dust.
The environment might also contain certain products many people might assume such as corrosive agents.
These may include gasoline and acetylene which might cause problems when in contact with the content of the enclosures.
Role of NEMA in Electrical Enclosures
In any industry, we need an organization or institution that can control quality.
In the case of the electrical enclosure box, we have NEMA.
Now, what exactly do they do?
What Role Does NEMA play?
It is the organization responsible for the publishing of more than 600 applications guides and technical papers.
Besides, they publish standards on a number of topics that govern the functions of electrical product safety and function.
The information is critical and helps the United States uses to make appropriate decisions when choosing enclosures.
The choice is with regards to:
a) Compatibility
b) Proper functioning
c) Safety
d) Easy to install and maintain
e) Better protection of electrical components
Understanding NEMA Rating in Electrical Enclosure
Whether you're are an electrical enclosure manufacturer or buyer, understanding NEMA enclosures are important.
Obviously, it will help you choose the right electrical enclosure.
Take for example: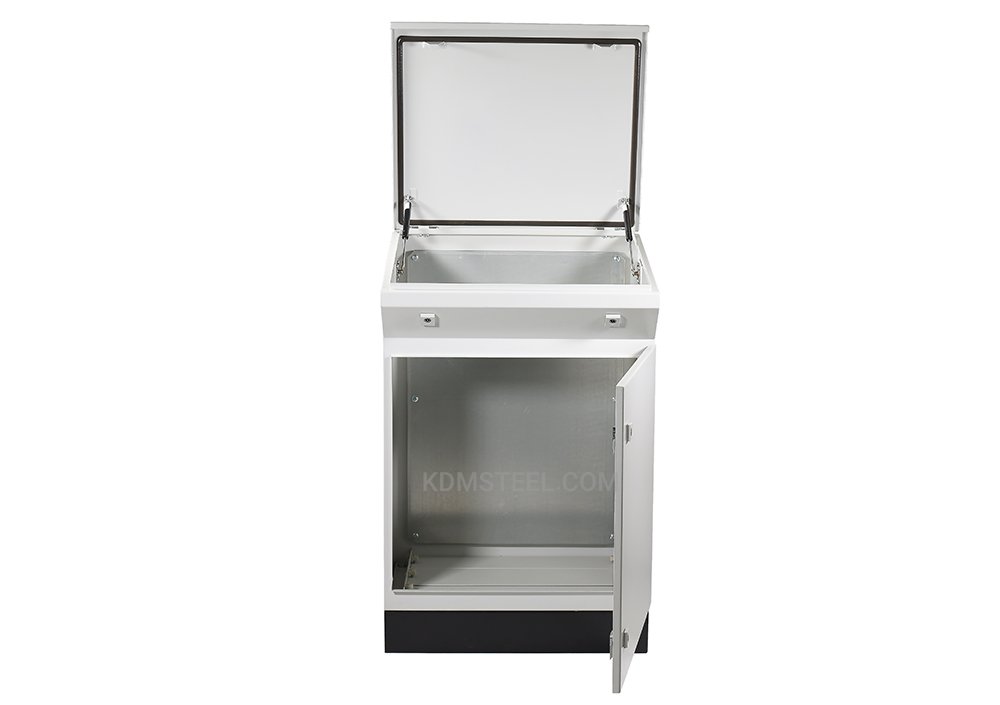 Large single door electrical enclosure
"NEMA standard ICS 6'is one of the enclosure categories that offer protection from damage or ingress due to dust, liquid, and other corrosive elements.
The ratings are often revised by NEMA every five years, bringing in new rules and regulations to govern the manufacture of these products.
The review of the 2013 draft is currently underway.
Some of the key issues under review include the testing standards required by the manufacturers.
It is however not expected to affect the meaning of the ratings in terms of specifications on the equipment required for certain applications.
How to Get Information on NEMA Electrical Enclosure
Information on the NEMA enclosure definition and types are freely available.
However, information on applications, complete descriptions, test criteria, and features are usually available at a fee.
As soon as the review of the 2013 draft is complete, an announcement is made and the information can be found on the NEMA website.
NEMA Electrical Enclosure Certification Process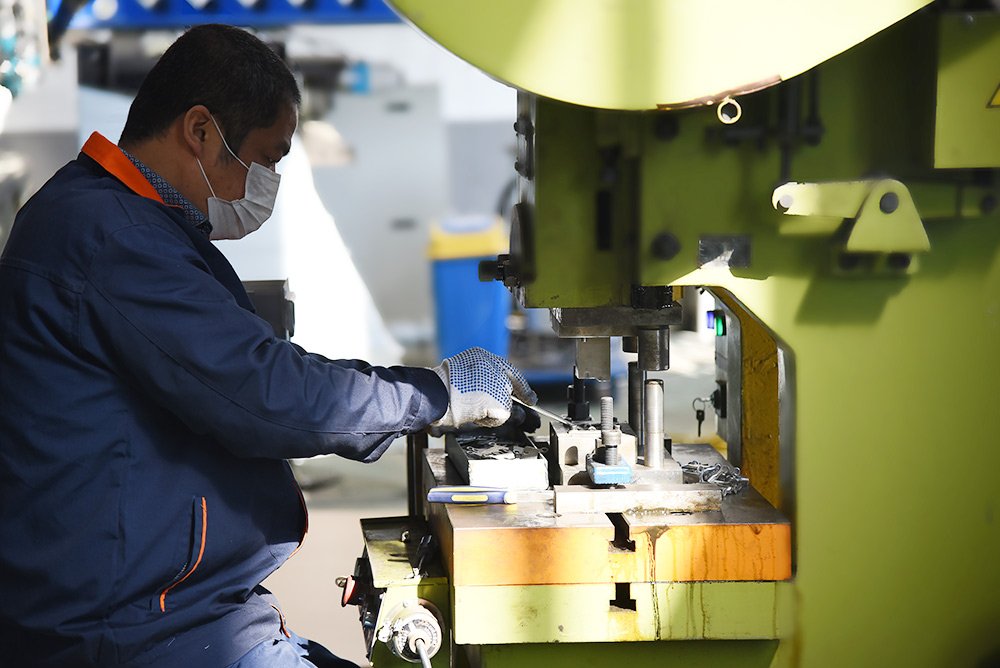 NEMA is not involved in the testing of the products that are produced by the manufactures.
It is also not affiliated to any of the labs that do the testing.
It is only expected to define, stipulate and publish the rules and conditions that every manufacturer should adhere to.
It is upon the electrical enclosure manufactures to voluntarily follow the set standards and requirements by NEMA.
For instance, there is a certain electrical enclosure manufacturer who has declared self-compliance.
On the other hand, there are manufacturers with their own standards.
Of course, their enclosures are tested to ensure electrical components and public safety.
The best part?
NEMA also provides a list of laboratories you can consult for testing and quality compliance of electrical enclosures.
NEMA Ratings and IP Codes
IP codes provided by the IEC system usually specify the ingress protection that can be afforded by the electrical enclosures.
IP Rating
IP codes are known to be two digit numbers where the first digit is a representation of the degree of protection against the entry of objects such as dust, fingers among other things.
The second digit represents the degree of protection against any form of ingress such as water.
NEMA ratings and IP codes are related in a way that usually confuses a lot of people.
Despite the confusion, there is a possibility of determining the "equivalent IP code" usually based on the ratings of NEMA and the reverse is false.
Normally, NEMA ratings going beyond the description of protection against factors such as ingress and water.
They allow for the inclusion of other factors such as resistance to dust, ice, corrosion, oil, and rust.
Types of NEMA Electrical Enclosures
In this section, I will walk you through different types of NEMA electrical enclosures.
It is a must-read section since it covers all the various types of NEMA electrical enclosure ratings.
Different sizes of electrical enclosures
Further definitions of the types can be found on the NEMA ICS 6: Enclosure Standards.
The types listed below are unique in their own way stating the different characteristics of varied enclosures.
Non-hazardous Enclosure Types
· Type 1
The general purpose of the type 1 NEMA electrical enclosure is the protection of the content from light, dust, indirect splashes but is never dust tight.
The key function is to protect and prevent the content from direct contact with other environmental elements.
It is usually used indoors and under very normal atmospheric conditions.
It also protects human from live wires which usually run in hidden circuits.
· Type 2
The enclosures grouped under type 2 are often indoor appliances which protect the users from accessing dangerous parts.
They provide the equipment inside them with protection against ingress and other foreign objects such as falling dirt and other solids.
It also provides a certain degree of protection against harmful objects such as splashing water that would otherwise cause damage to the enclosed content.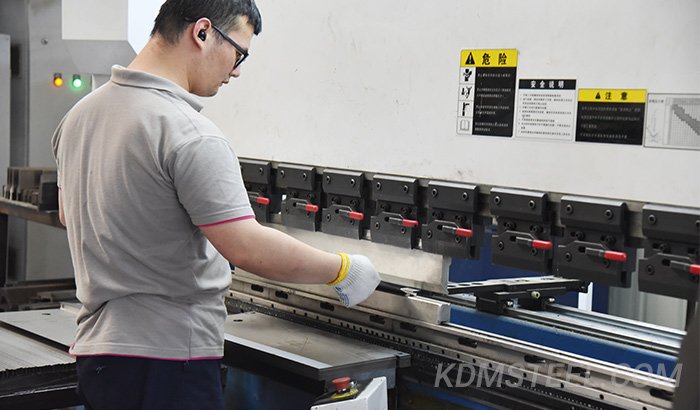 · Type 3
This type of enclosure has been designed for use in either the indoor or outdoor locations.
It provides sufficient protection to the user against any form of the danger posed by the dangerous content.
Apart from protecting the users, it also provides enough protection to the content against environmental conditions and content such as dirt and blowing dust.
Furthermore, it protects electrical enclosure content from the harmful effects that may occur to the equipment due to the ingress of splashing water.
· Type 3 R
This type of enclosure is used in switch gears, lighting contractors, power distribution, housing and other electrical appliances that require protection in an outdoor environment.
Adherence to UL 508A while manufacturing the enclosures makes it a strong and durable enclosure.
It has the ability to protect the components from snow, water, dust, and ice.
It can be used in both indoor and outdoor environments demanding the least kind of rating from the outdoor environment.
Apart from the protection, it offers from the environmental factors, type 3R is able to protect the live appliances from high water levels in case of floods.
It has a provision for drainage, alternate latching and locking mechanisms.
Besides, the protection against any form of contact with the material that has been enclosed.
· Type 3S
The enclosure was made in such a way that it can provide protection against indoor and outdoor factors.
This means that the dangerous component enclosed is protected from any harm from environmental factors such as rain, dust, and snow.
Apart from that, it protects human beings from unnecessary access of the components that might cause a lot of danger to their lives.
· Type 3X
It is constructed for use in the indoor and outdoor environments.
Type 3X offers enough protection for the people/personnel from gaining unnecessary access to hazardous content.
Also, it protects its content from different environmental factors such as adverse weather conditions, i.e. rain, blowing dust, snow, etc.
Apart from that, it is resistant to corrosion.
Therefore, it provides extra protection to the component against damage in case ice could settle and accumulate on the surface.
· Type 3RX
Just like the other types of enclosures, type 3RX can be used indoors or outdoors.
It offers protection to people who might accidentally gain access to the hazardous enclosed components.
Apart from that, the outdoor environment can sometimes be harsh.
Consequently, the enclosure has been designed to protect the component from adverse weather conditions.
These may include ingress, rain, blowing dust, snow, and ice.
It is corrosion proof and offers protection to the component against accumulated ice on the exterior surface.
· Type 3SX
It protects both components and personnel from any form of harm by the environmental conditions.
You can use these NEMA enclosures for both indoor and outdoor applications.
Therefore, they guarantee protection from falling solids, ingress (snow, sleet, rain), blowing dirt among other harsh environmental conditions.
It is corrosion proof and in case of ice-laden, the enclosure and its components will remain I operation.
· Type 4
The enclosure has been designed for use indoors and also in the outdoor environments.
It is not different from the other types as it protects personnel from having access to the dangerous components which might harm them.
Apart from that, it also gives the enclosed component enough protection from ingress and foreign objects.
These may include dirt and dust, water, snow, and its corrosion-proof nature protects it from the effects of accumulated ice.
· Type 4X
Just like the other enclosures, there is very little difference as it can also be used indoors and also in outdoor environments.
It offers enough protection to the people from accessing the component as it poses a lot of danger to them.
The component is also protected from damage by the adverse environmental conditions such as ingress of solid objects, dust, water, and snow.
It is also strong enough to provide protection against hose-directed water, other forms of corrosion that would pose a great threat to the component.
· Type 5
The enclosure can be used indoors and outdoors to protect people from being electrocuted in case the component is live and has an electric current running through it.
The equipment inside the component is also protected from adverse weather conditions in case it is placed outdoors.
Its ability to resist corrosion makes it even better for use during winter protecting it from damage from snow and accumulated ice.
Apart from the factors listed above it protects the component from damage by falling dirt, lint, airborne dust, flying objects, and fibers.
Also, it offers protection from dripping water and light splashes.
· Type 6
It is designed for both indoors and outdoors, offering protection to people from accessing enclosed dangerous components that would cause harm.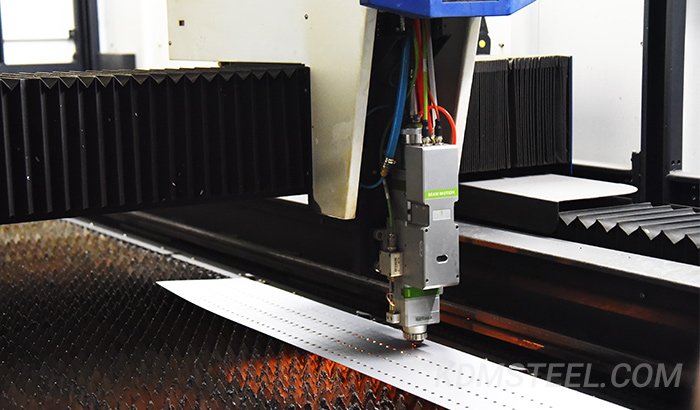 NEMA enclosure Manufacturing
In the outdoor environment, it offers protection to the enclosed component from ingress and other solid objects.
It is designed to offer extra protection to the enclosed component in case it is submerged in water at a limited depth.
· Type 6P
Just like the other enclosures, it can be used indoors and outdoors to protect human beings from the harmful effects of the enclosed component.
The enclosed component is also protected from damage that may occur due to other environmental effects such as water, dirt, blowing dust and falling solid objects.
The corrosion-proof nature of the enclosure protects it from damage by ice settled on them.
It can also withstand submersion at a limited depth.
· Type 12
The enclosure is constructed for use indoors (without knockouts) to protect personnel against unnecessary access to the hazardous components enclosed.
Apart from that, it provides protection to the equipment enclosed against damage from foreign solid objects such as circulating dust, falling dirt, fibers, lint, etc.
The equipment is also protected from damage from dripping and splashing water.
· Type 12K
The enclosures are constructed with knockouts for indoor use, providing protection to the people around it from accessing the dangerous components.
The enclosed components are also protected from damage by the ingress of falling and flying solids such as lint, circulating dirt, flyings, and fibers.
Apart from that, the equipment is protected from other harmful effects such as the effect of splashing and dripping water.
· Type 13
It is constructed for use indoors, thus providing protection to the person who might be endangered with the hazardous components of the enclosure.
It offers protection to components in the NEMA electrical enclosure such as lint, fibers, circulating dust, falling dirt, etc.
Hazardous Location
Every equipment designed for dangerous or hazardous locations must pass strict quality tests and certification.
Floor standing electrical enclosure
The equipment is always marked for easy identification in case it is to be used in a hazardous location.
Some of the types used are explained below.
· Type 7
It was designed for indoor use and it is explosion proof.
It is found under "Class I, Division 1 hazardous locations, Groups A, B, C, and D".
· Type 8
Designed for use in both indoor and outdoor environments and has the ability to withstand explosions.
It is categorized under "Class I, Division 1 hazardous locations, Groups A, B, C, and D".
· Type 9
It is designed for indoor use only.
It is also "dust ignition proof".
It is categorized under "Class II, Division 1 hazardous locations, Groups E, F, and G".
· Type 10
It is designed to meet the standards of MSHA which stand for "Mine Safety and Health Authority" and categorized under "30 CFR part 18".
NEMA Enclosure Sizes – How to Choose Right Size for Electrical Wiring
There are many NEMA enclosure sizes out there.
However, it is important you choose a NEMA enclosure with the right dimensions.
Junction box enclosure
Now, to choose the right NEMA enclosure size, I have listed 11 points that will give you an in-depth evaluation of this.
Know the project requirements – that is, the size and number of electrical components you want to put in the NEMA enclosure.
Ensure that the NEMA ratings are in accordance with the area in which the control panel is to be installed.
You have to know the mode in which the control panel will be mounted. Will it be on a pole, or on a wall?
In case the panel is to be mounted on the floor, keep in mind that an allowance of 4 to 6 inches is to be left. It is important to have this in mind when deciding on the size of the panel.
Do not overlook an enlarged closure because of the budget as it provides better aeration and cooling of the control panel.
All the components in the control panel should have proper spacing as directed by the manufacturers, especially in the panels that generate a lot of heat.
Devices in the control panel and wire ducts require enough space between them. So, ensure the enclosure is big enough.
Consider the grouping of like voltages in the control panel. Keeping the unlike voltages away from like voltages. This will require good spacing so, make sure that it is taken into consideration.
Do an estimation on the wire count and the size of the wires to be used.
The radios that wires, tubes, and cables would require to bend is supposed to be taken into keen consideration.
Make everything simple and go for the larger size in case you are to make a choice.
IEC Electrical Enclosure Classification vs. NEMA Electrical Enclosure Classification – Ultimate Comparison
In the United States, NEMA standards are used while the International Electrotechnical Commission is for the global market.
Modular electrical enclosure
"IEC Publication 60529Classification of Degrees of Protection Provided by Enclosures" has a provision of a system for specification on enclosures for the electrical appliances on the protection degree.
It is often provided by using the enclosure.
IEC60529 does not have the provision on degrees of protection usually caused by mechanical damages, explosion risks, fungus, corrosive vapors, and vermin.
"NEMA Standard for Enclosures for Electrical Equipment" has no provision for tests on environmental conditions, including rust, oil, corrosion, icing and other coolants.
This makes the IEC numbers quoted above to be disqualified in comparison to other standards.
IEC designation usually consists of the letters IP then two numerals follow.
The first numeral is a representative of the degree of protection provided by the enclosure in reference to the kind of solid material that can cause damage.
The second numeral is a representation of a certain degree of protection offered against water.
Common Mistake when Choosing NEMA Electrical Enclosures
Error is to human being and it is very common to make mistakes when making a choice on the right type of enclosure required.
The most common mistakes during the process of making a choice are explained below.
Below are a few things you must pay attention to:
a) Choose a NEMA enclosure with the right rating or time (please refer to my earlier discussion)
b) Consider a suitable material for your NEMA enclosure – the environment where you intend to install the enclosure will play a significant role here.
c) Choose the right size and design of NEMA enclosure – it should accommodate all your electrical parts and components.
d) Only buy NEMA enclosures from a reliable and reputable manufacturer
Technical Specifications of NEMA Enclosure
It is important to note that an enclosure is used to protect people from harm.
Also, it protects its content (electrical parts) from damage.
Before you buy any NEMA electrical enclosure, you must consider everything I am going to mention here.
· NEMA and IP Certifications
Choose the enclosure that will serve you better in terms of offering protection in accordance with the environment you belong to.
NEMA and IP ratings are provided to help in making these choices.
The table below gives a summary of the kind of choices one can make.
| | | |
| --- | --- | --- |
| | NEMA Rating | IP Rating |
| Protection against large foreign objects and access to interior parts | 1 | 20 |
| Protection against large foreign parts and dripping water | 2 | 22 |
| Limited ingress of dust, and protected against water spray from any direction | 12 | 54 |
| Dustproof and resistant to water sprayed from a jet | 4 | 65/66 |
| Dustproof, resistant to water sprayed from a jet, and resistant to corrosive agents | 4X | 65/66 |
| Dustproof and waterproof to 1 m underwater | | 67 |
· Temperature range
Depending on the kind of work your appliance is going to perform.
Make sure that the air inside the enclosure is sufficient enough to allow for cooling.
Temperature ranges are also specified and are not to be exceeded.
Consider factors such as natural cooling, closed-loop cooling, and forced-air convection.
· Clear Space and Enclosure Size Requirement
Make sure that the components within the enclosure fit well.
It is important to give enough space within the enclosure for air circulation and heat decapitation.
· Material
Depending on the requirements of your application, one has a choice to make on the kind of material required.
You can choose a NEMA enclosure made of metal and non-metallic materials.
· Wires passing through the enclosure
The entire system is never enclosed within the enclosure.
Wires need to pass through the enclosure thus making it a great consideration during purchase.
KDM STEEL NEMA Enclosure Manufacturer
At KMD Steel, we manufacture high-quality electrical boxes that meet the NEMA standards.
For over 10, we have been fabricating both standard and custom electrical enclosures.
They all meet the unique specifications of our customers.
At every stage in the NEMA electrical enclosure manufacturing process, we collaborate with all our customers.
This allows our technical team to design electrical enclosures to the diverse needs in the market.
Before beginning the fabrication process, we share all CAD drawings of the NEMA enclosures with customers.
This gives us a window to make all the necessary adjustments on the NEMA enclosure designs.
Also, KMD Steel can also handle:
i. The casting of stainless steel
ii. Forging of the steel
iii. Steel polishing
iv. Bending steel
v. Anodizing stainless steel
vi. Laser cutting of the steel
With KMD Steel, you will always get a high quality and industry standard NEMA electrical enclosure.
 Conclusion
With the information on this guide, I am sure you can choose the right NEMA electrical enclosure for your unique applications.
It is the only sure way to guarantee the safety of your technicians and electrical components in the enclosures.
At KMD Steel, we strive to give you industry standard electrical enclosure.
Talk to us today, and will solve all your NEMA enclosure needs.
Recent Electrical Enclosure Design
NEMA Enclosure- Your Ultimate FAQs Guide
NEMA Enclosure
What Is NEMA Enclosure?
This is a box that protects different electrical components and devices from corrosive environments.
NEMA enclosure has excellent indoor and outdoor protection. It protects not an only electrical component but also different equipments, personnel, and properties.
What Does NEMA Mean for?
This is a common term for the manufacturing industry.
NEMA stands for National Electrical Manufacturers Association. It is widely used for electrical components and NEMA ratings.
What Are The Main Benefits Of NEMA Enclosure?
NEMA enclosure has great electrical component protection located in hazardous locations that could company and users could benefit.
It has great ability to help different equipments and devices longer life span.
It ensures proper compatibility, security, and electrical functions. It is able to determine suitable environment installations and locations.
Where Does NEMA Enclosure Apply And Protect In?
NEMA Enclosure Protection
NEMA enclosure has great protection and different ideal applications. It is based on its specific NEMA ratings.
Here are complete applications and NEMA enclosure protect in:
Human Contact- Eliminates personnel injuries caused by explosions due electrical shocks
Water- prevent from varying degrees of moisture, direct hose water, and submersion.
Dirt and dust- protect from falling debris
Indoor and Outdoor- applications and locations
Regularly hosed down locations
Snow, sleet, or outdoor setting
Industrial environments and non-corrosive coolants- greases, oil, etc.
Corrosive environments- acid and alkaline solutions
NEMA enclosure can protect not only components but also personnel.
NEMA enclosure is explosion-proof.
Protect from hazardous environments that cause explosions and sparks.
Secured with a lock to avoid unauthorized personnel
What Are The Common NEMA Enclosure Types?
NEMA Enclosure Indoor Types
There are some basic types of NEMA enclosures that include:
Indoor Enclosures
This is a dependable solution suitable for industrial and commercial environments. They are designed to house electronic components of various sizes and styles.
Outdoor Enclosures
It is a premium solution designed with leak and waterproof ability for harsh environments.
Hinged Enclosures
It is widely used for junction boxes with easy access to indoor and outdoor applications. Includes material options such as ABS and stainless steel.
Clear Cover Enclosures
Polycarbonate enclosure with clear covers for internal visual access. It is molded from durable materials designed water and heat resistant for water and dirty environments.
Dust Proof Enclosures
It has a perfect seal to protect components from dust and prevent corrosion.
Waterproof Enclosures
It ensures internal electronic components ideal for indoor and outdoor applications. It has a watertight gasket to keep it safe from wet conditions.
Junction Boxes
It is applicable for electrical connections to secure mounted and underground wires and cables. It can be wall and pole-mounted in a variety of sizes.
Each type of NEMA enclosure has different abilities. For example, indoor enclosures can also be waterproof and dustproof like outdoor enclosures. However, it is essential to be more familiar with NEMA enclosures and other systems for protection.
NEMA Enclosure Outdoor Types
What Are The NEMA Enclosure Features And Advantages?
NEMA enclosure has great features and benefits for various applications and installations. It provides safety and excellent electrical components protection through excellent features and advantages:
Toughness: Each type of material has the perfect ability strong for any condition.
Non-corrosive: Strong for rust and corrosion for indoor and outdoor applications.
Temperature stability: Fireproof and explosion resistance.
Heavy duty: applicable for industrial use designed with non-metallic enclosure for your project.
Impact Resistance: Complete resistance for any harsh weather and environments.
It was sealed: Strong and fully sealed to prevent dust and water.
Which Material Does NEMA Enclosure Made?
NEMA enclosures are highly made of durable and verified materials.
Each type of NEMA enclosure material has different abilities and applications. It fits indoor and outdoor installations at various options.
Stainless Steel
It can be painted or galvanized. Standardize enclosure and stronger for construction with a moisture and chemical resistance.
Aluminum
It is lightweight and corrosion resistance accessible at affordable prices. High malleable and impact resistance and protect electromagnetic interference.
Plastic
It uses ABS, which is applied to indoor installations. Polycarbonate for more robust cabinets and long-life service.
Metal as steel
This is solid and secure material for electrical outdoor, and indoor applications. It is suitable for water and is dustproof.
Which Industries Does NEMA Enclosure Widely Serve?
NEMA Enclosure Serve
NEMA enclosure is used for various industries that help prevent electrical shock and explosion. Here are different industries that commonly NEMA enclosure serves.
Telecommunications
Oil and gas industries
Marine
Alternative energy
What Are NEMA Ratings?
NEMA rating defines the enclosure level of protection according to the NEMA 250 standards.
Each type of application or location has suitable NEMA types that include:
Non-hazardous location for both indoor and outdoor: 3X, 4X, 4, 3, and more.
Non hazardous indoor location: 1,2,3, 6P, 5, 6, 13, etc.
Hazardous locations: 7-10 types of enclosure
Corrosion-resistance: 3X, 6P, 11, 3SX, etc.
What Are Different Types of NEMA Enclosure?
There are different types of NEMA enclosure. It is suitable for different applications and standardization as well.
NEMA Type 1- It is designed for indoor general applications. It prevents accidental contact and protects from falling dirt.
NEMA Type 2- This is a drip tight that protects the same as Type 1. It has a drip shield applicable for air conditioners, and other cooling equipment.
NEMA Type 3- This is applicable for indoor and outdoor applications with excellent water resistance. It protects enclosed machines from dust, wet, sleet, and more. It has an external ice layer.
NEMA Type 3R- It has protective features except for dust proof. While the 3RX has additional corrosion resistance.
NEMA Type 3S- It has additional external benefits and performs even when ice-covered. The NEMA 3SX is more corrosive than 3S.
NEMA Type 4- This is watertight applicable for outdoor applications and indoor. It protects everyone from accidental contact.
NEMA Type 5- This is a dust-tight fully protected enclosed equipment from dirt, wet, etc.
NEMA Type 6- There are 6 and 6P types of enclosure. 6 types are submersible and install for indoor and outdoor. While the 6P can withstand prolonged submersion which protects as 6 types.
NEMA Type 7- This is applicable for indoor hazardous areas. This is an explosion-proof enclosure and flammable chemicals in different enclosure classes.
NEMA Type 8- It is good for indoor or outdoor hazardous areas called explosion-proof enclosures.
NEMA Type 9- This is a dust-ignition-proof enclosure for indoor hazardous areas.
NEMA Type 10- Specific for hazardous areas which meet mine safety and health administration requirements.
NEMA Type 11- Suitable for corrosive environments. This is drip-proof and protects personnel and application against corrosion.
NEMA Type 12- Type has a general purpose to protect from particles, flying debris, and more. While the type 12k has excellent features as Type 12 with knock-outs when wire and cable are installed.
NEMA Type 13- It is general-purpose with knockouts for exterior areas. Provide protection same as Type 12 protects from splashing, lubricants, coolants, and more.
What Are Specialized And Additional NEMA Enclosure Ratings?
NEMA enclosure has additional ratings to meet like the following:
UL ratings for electrical security by Third-party testing
IEC IP ratings suitable for international purposes
Explosion-proof IECEx ratings for hazardous areas
NEBS ratings for earthquake-zone
FCC and VDE for electromagnetic frequency.
Military standards
ROHS, REACH, and WEEE for toxic and hazardous elements. Required for European Union customers.
What Are NEMA Enclosure Types And Mounting?
Aside from types of NEMA numbers, it can be classified in three following ways:
By method
By styles- based on applications and shapes
By Construction- Modular/ unibody
What Are Different NEMA Enclosure Types By Mounting Method?
Consider NEMA enclosure wide options from each type based on its mounting method. Here are some important mounting methods:
Desktop NEMA Enclosure- It can be mounted on working tables and desktops. It protects different detectors and instrumentation electronics against wet and corrosive environments.
DIN Rail NEMA Enclosure- It is used to mount controllers, switches, sensors, and more control components. It is applicable for electronics and electrical devices.
Drop Over NEMA Enclosure- It is designed to position over large types. This is lifted by the eyes applied for environmental protection. It is widely applied in the driver, metering units, distribution systems, and more.
Floor Mount NEMA Enclosure- not much different in free stand types of mounting. It is installed by attaching to the floor using bolts. It is a less deep type of mounting compared to a free stand. It has floor supports
Free Standing NEMA Enclosure- Unbolted and rest directly on floors. It has no legs and floor supports but prevents scrapping on the floor.
Handheld NEMA Enclosure- It is also called ground mount designed with rectangular or T-shaped enclosures of a small size.
Pad-Mounted NEMA Enclosure- This is a large enclosure applicable for concrete installations. It is widely applied outdoors with open bottom for wiring and cables. It protects power distribution equipment, drivers, and transformers.
Pole Mounted NEMA Enclosure- It is an outdoor application for electrical distribution lines for communication equipment and networks.
Pedestal Mounted NEMA Enclosure- It is securely anchored to the floors. It is an outdoor utility application with excellent features.
Rack Mounted NEMA Enclosure- It is designed for 19-inches and 24-inch rack mounting. It has durable brackets and handles.