Aluminum Enclosure Manufacturer
Your Leading Aluminum Enclosure Manufacturer, produce any Aluminum Enclosure for your industry.
ISO9001-2015 certified, custom any sizes, styles, designs, colors to meet your demands.
For Over 10 Years KDM Truly Deliver Excellent Quality Aluminum Enclosure And Box.
Your Reliable Chinese Aluminum Enclosure Manufacturer
KDM aluminum enclosures are ideal use for housing valuable electronic and electrical equipment.In commercial or industrial applications, this cabinet offers an excellent level of protection.The aluminum enclosures are available in a variety of sizes, styles, designs, colors, and additional accessories.
KDM offered hundred of aluminum enclosures that meet diverse equipment housing needs.
High performing aluminum enclosure available at competitive prices
Wide variety of aluminum enclosure well-suited for a number of applications
Custom-built aluminum enclosure based on your own design
All-aluminum enclosure crafted in advanced technology
KDM Aluminum Enclosure
Die-cast aluminum enclosure offer excellent operational performance of strength, speed, and impact-resistance. This can best suits for units needed extra protection and reliable housing.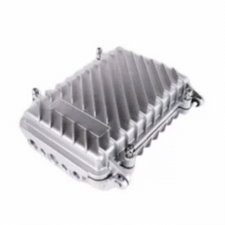 The waterproof aluminum enclosure has maximum capacity to withstand harsh conditions. They offered superior strength to protect components against outdoor environment challenges.
This extruded aluminum enclosure provide the perfect structural support for all your sensitive electronic equipment and component. They have an extremely robust yet lightweight structure to be used in any project.
The rackmount electrical enclosure is made up of high-grade materials and assembled in effective tooling. In KDM, we have stock a wide variety of rackmount electrical enclosure with incredible value.
High-quality, rugged construction anodized aluminum enclosure manufactured by KDM comes in a variety of shapes, sizes, materials, colors, and other main features. Find your ideal solution.
Aluminum electrical enclosures have an excellent combination of strength, corrosion-resistant, and cost-effectiveness. These enclosures can be configured when constructed for any specific project requirements.
Send your Inquiry on KDM Aluminum Enclosure Now
In order to meet the enclosure's highest degree of protection, our controllers make sure every unit fully tested and approved with different quality parameters.
They are designed with intense prevention against dust, dirt, rain, water, and other environmental impact and damages.
KDM is the leading manufacturer and supplier of packaging solutions- aluminum enclosure in China.
KDM aluminum enclosure product line allows you to find and get the cabinet for your business project need.
Excellent impact-resistance enclosure provide maximum strength
Wide variety of enclosure sizes, styles, and color
Custom finishes, cut-outs, and other hardware
ISO 9001:2015 certified quality management system
Related Product with Aluminum Enclosure
KDM Aluminum Enclosure
Each enclosure is carefully designed to provide maximum durability, rigorousness, and long-lasting support.
This aluminum enclosure line ranges meets from simple to complex solutions.
With KDM, you can find the perfect protection for your sensitive equipment.
KDM aluminum enclosure is extremely useful for easy mounting and faster installation.
It gives superior protection from corrosive marine, industrial and commercial environments.
Our wide variety of aluminum enclosures options allow you to find the best and appropriate one for your needs.
However, all cabinets can be easily customized to suit your electronic equipment and applications.
KDM can build your completely customized aluminum enclosure in a short period of time.
The entire design of the enclosure can be pre-engineered.
The material, dimensions, design, and finishes can be made according to specifications.
Furthermore, we can custom-built hinged covers, cutouts, mounting brackets, and other objects.
In any quantity you required, we can offer you excellent services.
We don't have a minimum quantity, therefore, you can order from 1 pc.
KDM aims to achieve all customers' satisfaction by providing high-quality aluminum enclosures.
Our technical engineers utilize the latest and advanced production technology.
Using innovative techniques, we are able to create a unique, modern and highly versatile aluminum enclosure.
For quality assurance, KDM aluminum enclosure meets industrial standards such as CE, Rohs, IP, and NEMA ratings thus it comes with a lifetime warranty.
With that, you can assure enclosure reliability and sturdiness.
Whether used for large components or in complex mounting purposes, this enclosure could be the ideal solution in any harsh environment application.
In food and beverage plants, pharmaceutical facilities, and any other industrial and commercial facility utilization, this panel is best used for.
All aluminum enclosures are fabricated and process into our in-house advanced technology and state of the art equipment.
The enclosures are processed through different mechanisms such as drilling, milling, laser engraving, powder coating, and more.
KDM carries complete equipment for equipment assembly for an optimum solution of your application.
With excellent features and advantages, you can find the great value of your money.
KDM can support you with your packaging challenges.
Over 10 years in production, we have gained rich expertise to solve any difficulties which may come during the process.
We are an ISO9001-2015 certified company.
Enjoy trouble-free shopping with KDM and save time and charges in the same way. Give us a call today!
Aluminum Enclosure: The Ultimate FAQs Guide
If you're planning to import aluminum enclosures in China, this guide is for you.
This article informs you of all the aspects of the aluminum enclosure.
You will also learn the benefits, applications, and features of aluminum enclosures.
After reading this article, you will be able to make decisions when importing aluminum enclosures.
Keep reading!
What is Aluminum Enclosure?
A marine and atmospheric corrosion can be prevented through an aluminum enclosure.
The aluminum enclosures provide superior protection in electronics.
Most aluminum enclosure exceeds waterproof enclosure ratings and IP67submersible.
What Are the Benefits of Aluminum Materials for Aluminum Enclosure?
Aluminum materials are lightweight.
It can provide excellent corrosion resistance in hydrogen sulfide.
Additionally, aluminum materials offer high heat dissipation because of their outstanding heat conduction characteristics.
Aluminum is corrosion-resistant, has high heat tolerance, and offers RFI/EMI shielding level.
What Are the Common Types of Aluminum Enclosure?
There are two types of aluminum enclosures that you may need for your applications.
It includes extruded aluminum enclosure and a die-cast aluminum enclosure.
Diecast Aluminum Enclosure
The diecast aluminum enclosure is useful for housing-sensitive electronics.
It is widely used in outdoor and indoor environments.
For specific applications and devices, the diecast aluminum enclosure may be needed because it offers a natural RFI/EMI shielding level.
The diecast aluminum enclosure comes in different sizes that suit from reliable watertight aluminum enclosures to simply aluminum project boxes.
Additionally, diecast aluminum enclosures are both available in waterproof and non-waterproof versions.
Extruded Aluminum Enclosure
The extruded aluminum enclosure offers excellent protection for various electronic applications, such as PCBs.
There are internal slots of extruded aluminum enclosure for .063″ PCB's standard.
Without the screws requirement, the PCB will slide into place right away.
The extruded aluminum enclosure can be free-standing.
This freestanding aluminum enclosure is useful for desktop applications or surface-mount kit selections.
You may need an extruded aluminum enclosure with a black body and diecast end caps.
It offers a lightweight and extremely robust solution.
Just like a diecast aluminum enclosure, the extruded aluminum enclosure also provides a natural RFI/EMI protection level.
It can protect your devices and electronic applications.
What Are the Specific Materials for Extruded Aluminum Enclosure?
The extruded aluminum enclosure is constructed from 6000 series aluminum.
The elements used in the 6000 series are magnesium and silicon.
The most versatile heat-treatable alloys are the 6061 and are the most popular selection for flat bar and extruded angle.
What Are the Quality Standards of Aluminum Enclosure?
Most aluminum enclosures have standards to consider suitability and quality.
Some of the standards include the following:
NEMA Standards
NEMA is short for National Electrical Manufacturers Association. It defines a process, product, or method with reference to the following:
Nomenclature
Construction
Composition
Tolerances
Dimensions
Safety
Performance
Operating characteristics
Ratings
Testing
UL Listed
The aluminum enclosure must comply with the UL standards to determine the quality of outdoor and indoor enclosures.
Purchasing a UL-listed aluminum enclosure means that it complies with sustainability and safety standards.
UL-listed aluminum enclosure means that it is free from electric shock and the risk of fire.
IP Rated
Ingress Protection or IP defines EN 60529 international standard.
IP-rated aluminum enclosure means that it complies with sealing effectiveness against moisture and foreign bodies intrusion, like dirt, tools, etc.
What IP Ratings Applicable for Aluminum Enclosure?
What Are the Common Applications for Aluminum Enclosure?
Aluminum enclosures are suitable for different industrial applications.
It includes the following sectors:
Solar battery storage
Telecommunication cabinets
Lift stations
Traffic control equipment
Water and wastewater treatment
What is the Type of Aluminum Enclosure According to Its Construction Method?
There are two types of aluminum enclosure by their construction method.
These are modular enclosures and monolithic/unibody enclosures.
Modular Enclosure
The modular enclosures are engineered around the frames where the front, top, side, back, and bottom panels are attached to the frame.
The modular design allows the enclosure manufacturers, OEMs, manufacturing facilities, and system integrators more flexible in building and designing configurations.
It also allows them to modify according to unique applications.
Modular enclosures are useful in 19″ EIA mounting rails IT equipment cabinets for IT components.
The back panels and internal side are mounted with monitors, data acquisitions units, relays, controllers, and other automation equipment.
Monolithic/Unibody Enclosure
The monolithic enclosure includes molded fiberglass, formed sheets, or diecast aluminum.
The unibody or monolithic construction in large enclosures provides outstanding structural load support than bolted or modular assembly.
However, unibody or monolithic enclosure is not easily modified or customized than modular enclosures.
Conclusion
If you're looking for the best aluminum enclosure, KDM is the right place for you. We offer different types and sizes of aluminum enclosures.
Depending on your NEMA or IP rating requirements, KDM can customize your ideal aluminum enclosure to your specific requirements.
Please don't hesitate to contact us for more information.
We are available 24/7 to assist with all your concerns.