KDM Electrical Enclosure with Window
Custom electrical enclosure with Window
Polycarbonate sheet window material
Low MOQ from 1 PC
KDM Electrical Enclosure with Window
17 years of manufacturing experience on the different electrical enclosures
Short lead time on every order of Electrical Enclosure with Window
High impact polycarbonate sheet, customized thickness based on your requirement
304 stainless steel, 316 stainless steel carbon steel materials
KDM Electrical Enclosure with Window Series
Send your Inquiry on KDM Electrical Enclosure with Window
Manufacturing Capacity
Latest Designs
Buying Guide
Enclosure Designs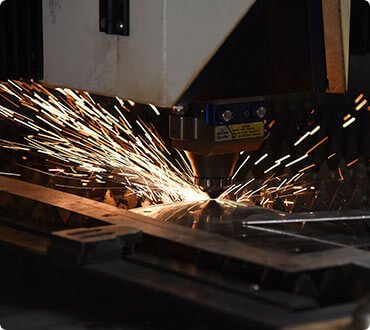 Electrical Enclosure Laser Cutting
4000W high-performance laser cutting machine, +/- 0.05mm accuracy. No burr, no scratching.
Electrical Enclosure Welding
Multi-Functioning flexible welding equipment, high accuracy, no deformation.
Electrical Enclosure Bending
+/- 0.5mm bending precision, smooth surface without bending marks.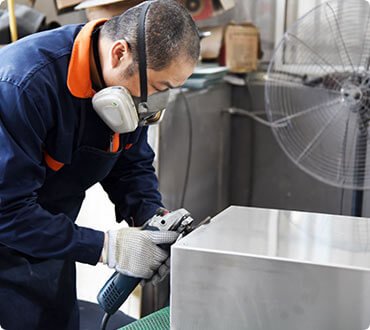 Electrical Enclosure Polishing
10+ welding experienced workers, perfect overall appearance.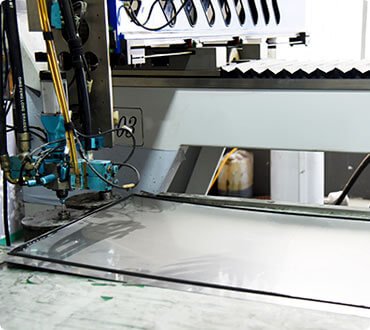 Electrical Enclosure Foaming
High speed and accuracy foaming machines, fast and qualified Gasket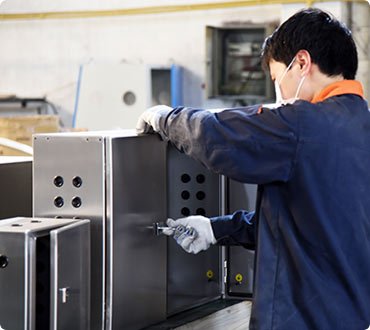 Electrical Enclosure Assembly
The expert assembling team, consistent assembly quality on every KDM enclosure
Customized Electrical Enclosure with Window
KDM Electrical Enclosure with Window is a corrosion-resistant and maintenance-free electrical enclosure for housing electrical control systems such as PLC, SCADA, or DCS accessories, switches, gauges, instruments, and other related components.
KDM Electrical Enclosure with Window is also called an electrical enclosure with polycarbonate window, electrical enclosure with viewing window or window, and clear cover enclosures. Its structure is made from steel, galvanized steel, or stainless steel (304 or 316L), with a customized thickness ( normally 3mm to 10mm) polycarbonate window.
KDM Electrical Enclosure with Window is RoHS, IEC, CE, and NEMA compliant. Moreover, this electrical enclosure with polycarbonate window comes in different NEMA ratings, such as NEMA 1, NEMA 3, NEMA 4X, etc. protecting components from water, oil, dirt, or dust.
KDM Electrical Enclosure with Window has a continuously welded smooth structure with no sharp edges. It is safe, sturdy and reliable for both indoor and outdoor applications.
KDM Electrical Enclosure with Window
Its window makes a visual inspection or viewing the content of the electrical enclosure easier without opening. Thus, with KDM Electrical Enclosure with Windows, you have an unrestricted view of the gauges or electrical components.
Unlike the electrical enclosure with a glass window, KDM Electrical Enclosure with Polycarbonate Window is shatterproof, impact-resistant, and self-extinguishing.
Also, KDM Electrical Enclosure with Window comes in different options such as large electrical enclosures with windows, outdoor electrical enclosures with windows, wall-mounted electrical enclosures with windows, freestanding electrical enclosures with windows, a weatherproof electrical enclosure with windows, junction box electrical enclosure with windows, and many more.
As a leading electrical enclosure manufacturer, KDM Steel has over 2300 different designs of electrical enclosure with a polycarbonate window. Our technical team can design electrical enclosures with windows featuring sub-panels for mounting, different finishes such as galvanized, powder-coated, or mirror-polished for long service.
With years' of experience in electrical enclosure manufacturing, the KDM Steel technical team can design Electrical Enclosure with windows having different configurations such as side vents for cooling, latches for quick access, left or right hinges, single or multiple doors, locking mechanism, etc.
At KDM Steel, we provide unlimited possibilities of Electrical Enclosure with Window designs, while guaranteeing competitive market prices. KDM Steel also provides accessories and kits for electrical enclosures, alongside the KDM Electrical Enclosure with Windows.
Talk to our engineering team for custom-made electrical enclosure with a window that has a unique logo for your company.
The Ultimate FAQ Guide to Electrical Enclosures with Windows
What material are the windows made of and why?
Our electrical enclosures have polycarbonate windows.
Sometimes, glass is used, but polycarbonate is better because it is shatterproof, and thus impact-resistant.
Plus, it is corrosion-resistant, does not react with organic acids, hydrocarbons, ethers, and alcohol.
Add to that its insulating qualities, which make it self-extinguishing.
It means that this window will take out a fire that it comes in contact with.
This lowers the risk of arc flashes, improving the safety of your personnel.
Polycarbonate is transparent, but if you request thicker windows, then it will start giving off a yellow hue, so just keep that in mind.
Some manufacturers also use plexiglass for enclosure windows.
Plexiglass, also known as acrylic, is weather-resistant but vulnerable to corrosion.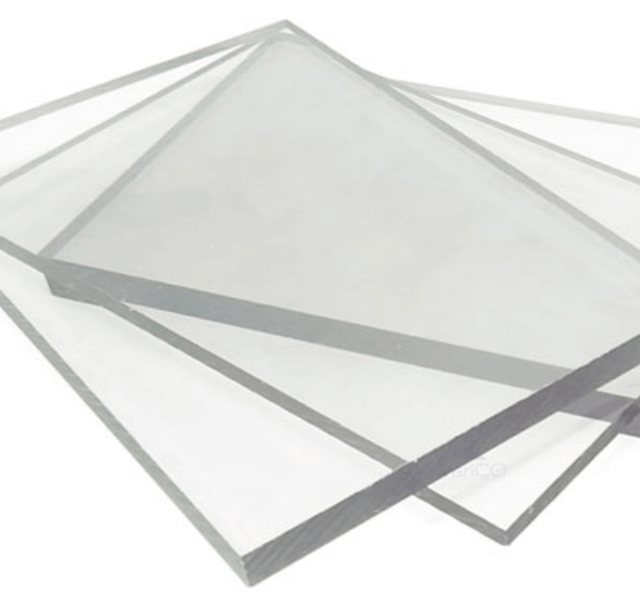 Polycarbonate sheets
What are some drawbacks of polycarbonate windows?
One of the major weaknesses of polycarbonate windows in electrical enclosures is their vulnerability to abrasive cleaners, alkaline cleaners, and various solvents.
Factories and environments with exposure to acetone, benzene, and any other organic solvent are not the best place for polycarbonate.
These can make it thinner and weaker, making it easier for it to break.
Plus, polycarbonate is prone to scratches and marring, so the windows need care, and may become dented after impacts.
From a business standpoint, polycarbonate is more expensive than other common plastics.
Thus, many choose ABS over it.
But, ABS is not as strong as polycarbonate.
Finally, the manufacturing process itself is not environmentally friendly, as it requires high temperatures and a few toxic materials, such as phosgene and chlorine.
What applications are enclosures with windows good for?
Such enclosures are good for electrical control systems, such as switches, gauges, instruments.
This also includes supervisory control and data acquisition systems, programmable logic controllers, and distributed control systems.
Window showing readings of electrical components
Windows are used to provide a view of the electrical contents of the enclosure to make maintenance easier, safer, and faster.
Another plus is that windows filter out UV rays, protecting electrical components of the enclosure from UV exposure.
What are some ways to incorporate the window into the cover?
The window can be hinged in different ways.
It can be on the surface or deep-hinged.
It can be framed or not.
It can have an additional cover on top.
It can open by swinging to the side or being propped up.
All this depends on what shape you want the window to be, as well as what will be most convenient for personnel.
Deep-hinged windows are more sturdy and can be used with thicker polycarbonate sheets.
Deep-hinged window
These sheets are placed in between two sheets of steel, like a sandwich, which makes it very protected.
On the other hand, the window can be on the surface, acting as the cover instead of being integrated into the cover.
Surface window
Here, the polycarbonate sheet will be thinner, but also lighter.
There can be framed or frameless windows in addition to deep-hinged ones.
Framed windows have a steel frame thanks to which they are able to support thicker polycarbonate sheets.
Frameless windows are those that act as the entire cover like a lid.
These are thinner and need extra PU sealing.
You can also create a hybrid windowed enclosure by having a frameless polycarbonate cover and a steel cover on top.
This way, the enclosure will be doubly protected and your workers will be able to look at the electrical components by opening the steel cover.
In this way, they will still be somewhat safe because of the window.
Of course, this does take away from the primary purpose of the window, but this is the trade-off for extra protection.
If you want, you can reverse the order of the covers, putting the window first and then an additional steel cover.
Then, the steel cover will have to have maintenance lights or gauges to show through the window, while keeping the actual electrical components protected.
Enclosure with a window and an additional cover
Finally, you can take into consideration how the window will open, if at all.
The window can be incorporated into the cover, thus remaining fixed and moving with the cover.
It can also be separate or replace the cover.
In this case, you can have the window open in a few ways.
If it is small, it can just slide open.
This is ideal if it shows switches with lights or gauges.
Then, personnel won't have to open the cover to reach switches, but just slide the window open.
Making a large window slide open will be too cumbersome.
Enclosure with a window that opens up
Small and large windows can be hinged left or right like a door, but they can also be propped up.
Here, the window in hinged up and a foldable stopper extends to keep it up.
This is a great solution if the enclosure is put in a cramped space where a side-hinged window may obstruct that space.
Of course, with all windows that are not deep-hinged, there should be a PU seal and clamps or clips that press the window closed so no ingress occurs.
Plus, consider adding a lock and a vent to your windowed enclosure.
How can I design the window of my electrical enclosure?
Besides the cover designs, you can also think about the shape and dimensions of the window.
You can either make it so the window is small and shows only a portion of the enclosure's contents, or you can make the window occupy the whole cover, showing everything.
If the window is small, you can place it in any part of the enclosure, be it in the center, closer to the bottom, or in the top right corner – you decide.
This comes in handy if you know exactly what electrical devices you will be putting in the enclosure.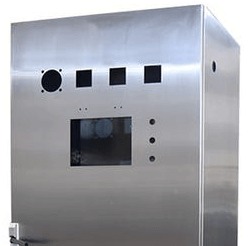 Enclosure with small windows
Then you can place the window in a strategic place, so that it is showing the most important parts, such as pressure gauges.
This can help the person focus their attention there, making maintenance more efficient.
As such, small windows are better for large enclosures, while the small enclosure is better with full-cover windows.
The windows don't have to be square-shaped either, but in any shape, that benefits the design.
Big tapered window
Thus, the window can be rectangular, circular, tapered.
In this case, aesthetics may play a role as well.
Tapered corners, like in illuminator windows, usually look better than boxy windows.
One enclosure can also have multiple windows in strategic locations, so you have tons of possibilities to explore and are not limited in design.
Why do some windows seem to protrude out of the frame?
Covers, as well as windows, can be either flat or raised.
Raised covers allow for more efficient use of space.
These enclosures are well suited for panel mounting and being used with operator interfaces for industrial control stations.
Also, raised windows and covers don't have sharp edges, decreasing injury possibilities.
Also, raised windows tend to be more rugged.
Raised window covers
Flat covers, on the other hand, are better for bigger enclosures.
What designs of enclosures can I have with windows?
Designs for electrical enclosures with windows don't differ from other enclosure designs we offer.
Namely, we manufacture free-standing enclosures, floor-mounted enclosures, wall-mounted enclosures, junction boxes, and custom enclosures.
Free-standing and floor-mounted enclosures are perfect for large electrical units that are too heavy to be wall-  or pole-mounted.
They could be of any height and width with portable options.
 Free-standing enclosure
Wall-mounted enclosures use mounting brackets, pads, and screws.
They are great for small devices, and thus are efficient.
  Wall-mounted enclosure
Junction boxes and operator interfaces usually have a stand.
They have user-friendly layouts, are great for small electrical units, and can be portable.
 Junction box
Our custom enclosures have a bigger shape selection, even covering designs like desk consoles.
Thus, you can have even more design freedom for your windows just as for your enclosure itself.
Desk console with a window
Plus, we offer different options for doors, such as single, double, and multiple doors.
Single doors are perfect for smaller and less complex electrical units, whereas double doors are used for large and complicated units.
Multiple doors are used for huge industrial applications or for increased security.
What NEMA and IP ratings do windowed electrical enclosures come in?
We offer any NEMA type of enclosures, such as 4 and 3R, as well as IP-rated enclosures up to IP66.
NEMA types go up to 13, with many having lettered subtypes.
These numbered types don't necessarily increase in protection, but each has specific qualities, like protecting against corrosive agents and coolant seepage.
If you want to learn more, feel free to look at our NEMA enclosures, as well as another very informative guide.
Now, the IP rating; has 2 digits that correspond to protection against solid and liquid ingress, respectively.
Thus, IP66 means that the enclosure is fully sealed against any solids like dust, lint, and flying fibers.
It can also withstand powerful water jets, as well as being temporarily submerged under less than a meter of liquid.
If you would like to learn more, we have IP enclosures and IP66 certification that you can take a look at.
IP rating and NEMA types do overlap a little, and while it is not possible to translate one directly into another, it is possible to somewhat line them up.
   Overlap between NEMA types and IP ratings
What window designs are better for what NEMA type?
Steel-framed windows work best with NEMA types 4, 4X, and 12.
These are fully protected against solid and liquid ingress, such as dust and water.
There are also window kits if you choose a separate enclosure and window manufacturers.
KDM offers not only assembled enclosures but kits as well.
Window kits have regular windows, as well as frameless ones.
Frameless windows are intended for types 1 and 12.
Type 1 protects against dust and is suitable for indoor use.
Frameless surface window
Type 12 is also used only indoors.
Thus, frameless windows make the enclosure not as versatile, but if you don't need extreme protection, this would work well.
Finally, hinged windows are useful mainly for type 12 enclosures.
Deep-hinged windows are a little more protective, as they are suitable for NEMA types 4, 4X, and 3R.
This means that these enclosures stand strong against weather, corrosion, and ice.
Overall, if you want windows for outdoor enclosures, steel-frame ones are the way to go.
What is the standard thickness of the polycarbonate window?
Usually, it depends on the design and NEMA type of the enclosure.
However, there are general guidelines we can discuss.
Framed and hinged windows are around 0.25 inches, which is equivalent to 6 millimeters.
Hinged windows are a little thinner than framed ones.
Deep-hinged windows are also 0.25 in – 6mm- thick.
Frameless window kits are two times as thin as framed ones are.
Different thicknesses of polycarbonate sheets
What materials are used for the enclosures themselves when windows are used?
Any steel can be used with windows, including carbon steel, galvanized steel, and stainless steel.
Stainless steel is best at grades 304 and 316L.
Grade 304 is the most common stainless steel used and it is resistant to corrosion.
Grade 316 has molybdenum added to chromium and nickel, making it not only resistant to rust, but also to salt water and chlorine water.
Grade 316L differs from 316 by a lower quantity of carbon.
This results in a stronger alloy that works perfectly with windows.
Carbon steel is also called mild steel for its vulnerability to rust and corrosion.
Thus, this steel is better for indoor applications.
Galvanized steel has a layer of zinc that fights off rust, but is weak with saltwater.
Thus, it is good for outdoor applications, but not where the ocean is involved.
Please note that galvanized steel is heavier and more expensive than other steel.
What are window kits?
A window kit is a standalone window that can be installed into an enclosure by making a necessary cutout and welding the window in.
Window kits consist of polycarbonate sheets, optional frames, gaskets, and optional installation tools.
Frames can be simple, hinged, or deep-hinged, and have a gasket that is enough to meet NEMA 12 and 13 oil-tightness requirements.
Some window kits don't have a frame, but just a gasket polycarbonate sheet.
Example of a window kit
Finally, window kits can include knobs and locks, as well as other accessories that you request.
Window kits are great if you are looking to upgrade or fix your enclosures without remaking everything.
Can windows on electrical enclosures protect from arc flash?
As already mentioned, polycarbonate has a self-extinguishing property, so it is likely to take the fire out if it is small, thus not letting the explosion harm anyone.
Another way windows can help prevent arc flash explosions is by providing visibility.
Workers will be able to assess the electrical components by just looking at them, and if they spot something wrong, such as a fire starting, they can take necessary measures.
FAQS
What are the Best Materials in Constructing Electrical Enclosure with Window?
Engineers use the best and most durable materials that guarantee the enclosure's longevity and stable performance.
Most of the materials are the following:
Fiberglass

Stainless steel

Metal

Aluminum

Galvanized steel
Figure-1 Electrical Enclosure with Window
What is the Application of Electrical Enclosure with Window?
Since the electrical enclosure is constructed with a window, that is suitable for application in certain areas with high corrosion exposure.
Due to its durable structured window, it gives excellent insulation and protection performance in a  high-temperature environment.  
What Makes Use of Electrical Enclosure with Window?
Electrical enclosure with window is designed to secure all electrical components like:
Electrical junction boxes

Terminal wirings

Electronic cables

Pneumatic and hydraulic control system

Instrument enclosures
Figure-2 Electrical Enclosure with Window
How Does the Window Work in an Electrical Enclosure?
In electrical enclosures, windows are intentionally designed to:
i. Enables higher visibility of all inside components.
ii. It allows easy monitoring and inspection of the condition of all components without opening the entire door.
iii. Receives proper ventilation for all electrical components. 
iv. It has UV restrictions and protects outdoor weathering.
What is the Different Electrical Enclosure with Window Installation Style Available?
A window plays a vital role in an electrical enclosure since it opens more accessible and fast observation of all components inside. 
However, installing a window in an electrical enclosure comes with two most common styles:
The Full-Windowed Installations

The Half-Windowed Installations
Figure-3 Electrical Enclosure with Window
What are the Different Models of Electrical Enclosure with Window?
Electrical enclosure with window is constructed with different models that correlate to the particular applications:
Wall-Mount Electrical Enclosure with Window

Hinged Electrical Enclosure with Window

Electrical Enclosure with Glass Window

Double Door Electrical Enclosure with Tempered Glass Window

Free-Standing Electrical Enclosure with Window

Double-Window Electrical Enclosure