Floor Mount Electrical Enclosure
Custom High Quality Enclosure
Total Customized Design for your industry.
Floor Mount Structure or different shapes
Different NEMA Grade.
Your Reliable Enclosure Supplier
KDM Custom Electrical Enclosure with Window
Customized design based on your Own Application
Enhanced construction strength
Nema Rated Enclosures
Over 10 years Floor Mount Electrical Enclosure manufacturing experience
Manufacturing Capacity
Buying Guide
Enclosure Designs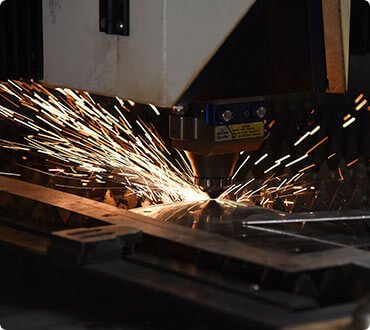 Electrical Enclosure Laser Cutting
4000W high performance laser cutting machine, +/- 0.05mm accuracy. No burr, no scratching.
Electrical Enclosure Welding
Multi-Functioning flexible welding equipment, high accuracy, no deformation.
Electrical Enclosure Bending
+/- 0.5mm bending precision, smooth surface without bending marks.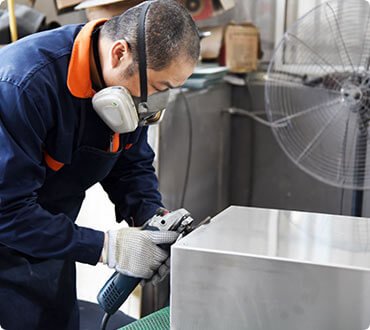 Electrical Enclosure Polishing
10+ welding experience workers, perfect overall appearance.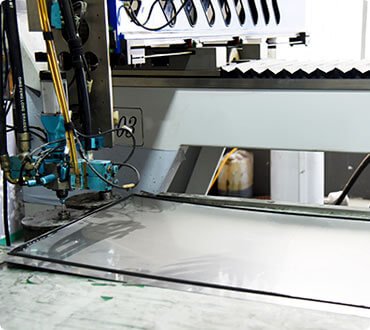 Electrical Enclosure Foaming
High speed and accuracy foaming machines, fast and qualified Gasket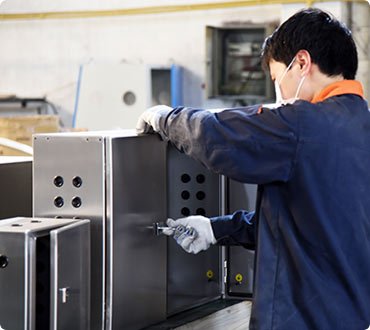 Electrical Enclosure Assembly
Expert assembling team, consistent assembly quality on every KDM enclosure
Floor Mount Electrical Enclosure Manufacturer
KDM's highest priority in making floor mount electrical enclosures is to accommodate high levels of environmental protection. Floor mount enclosure at KDM can manage a large concentration of electrical components. We specifically designed these products to protect electronic control, environmental areas and electrical components. Our products are machine tools for your drives, PLCs, motor starters and also equipment in automotive purposes.
KDM floor mount enclosure form in a variety of sizes. Range from 2.5 x 10x 8 inches up to 12 x 10 x 55/8 inches. When choosing the size that fits for your application, you should be based on the features of the equipment that will be housing and as well as considering the factors like heating and cooling conditions.
KDM floor mount electrical enclosure comes in single or double doors with a removable center post configuration for vertically slidable doors, but it will always depend on your specific equipment mounting options. Not just that, we can also design enclosure with multiple door layout which provides easier access to the enclosed components, from any direction. Additionally, these enclosures materialize with durable and economical continuous hinges.
Our floor mount electrical enclosures are made up of different high-quality materials to provide protection for electrical purposes. KDM manufactures even up to large amounts of floor mount electrical enclosures in high grade stainless steel, aluminum and carbon steel. We manufacture all design and types of enclosure based on your details, furthermore, we also accept all personalization for our floor mount electrical enclosures.
At KDM, we custom build floor mount enclosure for your electronic and electrical components with a lot options offered, including cut-outs, insulation, hinges, latches or locks, that perform to your exact specifications.
Thus, our floor mount electrical enclosures are all NEMA rated. Therefore, the protection they provide against dirt, rain, sleet, snow, splashes and hose down with noncorrosive liquid is on higher-level. NEMA rating range from level 1 up to 13, so when choosing the NEMA level of floor mount enclosure, you have to efficiently choose and consider the environmental conditions where it is placed. No doubts, KDM floor mount electrical enclosures can meet any applications of your specific needs.
KDM as a professional floor mount electrical enclosure manufacturer, we engineer each of our product considering the issue of quality standards. KDM as an ISO 9001:2015 certified, guaranteed quality floor mount electrical cabinet products is assured. With over 10 years of experience, KDM well-known for designing and manufacturing excellent enclosure and cabinet solutions.
KDM has been managing a lot of projects regarding floor mount electrical enclosures. We are ranging from the smallest to the largest enclosures. Our engineers help sort through the selections to search the most cost-efficient and adaptable solutions for securing your important devices and other types of equipment.
KDM are oath to give you the finest in manufacturing floor mount electrical enclosures and offer you an outstanding service. We are looking forward to be your most reliable supplier for electrical enclosures in years to come.
KDM's floor mount electrical enclosures are electrical enclosures that come with floor stands.
They are also called floor mount electrical cabinets or floor mount electrical boxes.
The floor stands to elevate the enclosure above the ground so that it can be accessed from below.
Therefore, KDM's floor mount electrical enclosure can actually be accessed from every direction if you like.
Compared to their free stand counterparts, floor mount electrical enclosures are much easier for relocation, which makes them more versatile.
KDM is able to customize your floor mount electrical enclosures at your will.
No matter it comes with a single, double or multiple door layout, as well as other features and hardware options.
However, the double door layout is the most common design for floor mount electrical enclosures for more balanced stress distribution.
But other layout options are also available in KDM as long as the load is not overwhelming.
In order to enhance mobility, the floor stands of the enclosure can be equipped with wheels.
KDM can also provide hardware options for lifting eyes on the top while the structure will be enhanced when this option is selected.
The floor stands themselves can also be made removable and the enclosure can be used exactly like a free standing electrical enclosure.
KDM is able to provide a huge selection of high-quality floor mount electrical enclosures.
We are able to customize the enclosure for you based on your most detailed requirements.
We believe, through our 17-year experience in manufacturing electrical enclosures as well as our state-of-the-art facilities, KDM is able to supply you with your desired products in a professional and efficient way.
Floor Mount Electrical Enclosure: The Helpful Guide for Importers
There are many different types of electrical enclosures.
One is the free-standing enclosure, wall mount enclosure, modular enclosure, junction box, and the floor mount enclosure.
While all of these are great where complete wire management is a concern, nothing beats a quality floor mount electrical enclosure.
Read this guide to find out why I am saying this.
What is a Floor Mount Electrical Enclosure?
To begin with, floor mount electrical enclosures are quite popular as above-floor access for electrical connections.
They are a type of electrical enclosure that comes with a balancing floor stand.
Floor mount electrical enclosure
The stand elevates the enclosure above the ground so that users can access it from below, or in whatever direction.
But why choose a floor mount enclosure and not a free standing one or even a wall mount one?
Here's why.
Why You need a Floor Mount Electrical Enclosure
Anyone who is conversant with the world of electrical enclosures will know that they are very convenient.
Floor mount electrical enclosures are particularly a popular choice among users as they provide effortless access to contents.
Siemens floor mount enclosure with control systems
Take for instance government offices.
These usually have so many communication requirements.
Every person/desk in the office has a telephone line, a computer, among other electrical equipment.
All these equipment need a place that you can plug into.
A floor mount enclosure, in this case, provides a convenient connection point for entities with such a large amount of hardware.
Again, there are so many ways that you can bring cables into a work area.
Nonetheless, whether you pass them through the ceiling or floor, they'll eventually require a termination point.
Most people use a wall socket.
An alternative to the wall socket can be a floor mount electrical box.
Floor Mount Electrical Box
This will provide complete wire management for your power, voice and even data cables.
Another reason as to why you should get a floor mount electrical enclosure is if you need modularity.
Floor mount electrical enclosures if you didn't know are modular outlets.
They can house all cable types including shielded twisted-pair, unshielded twisted-pair, fibre optical, coaxial or power cords.
Considering modularity, your application needs will significantly determine what kind of floor mount enclosure you get.
With this in mind, allow me to show you the various designs of floor mount electrical enclosures available.
Designs of Floor Mount Electrical Enclosure
Yes, floor mount electrical enclosure is available in a variety of designs.
You only need to determine what your needs are and choose a design that best suits those requirements.
· Hinge Door
Floor mount enclosures popularly come with hinged doors.
This is due to the advantage of being able to lock open while accessing the contents inside.
Floor mount enclosure
Some hinged doors are designed in a way that opening them raises the outlets inside the box above the floor – making them easy to access.
· Removable Lid
Instead of a door, some floor mount enclosures come with lids that you can lift off the box when you need to work on the enclosed components.
The advantage of having lids is that you can cover them using the same material as your floor carpet.
This helps to maintain the floor aesthetics of your workstation.
· Single Door
Commonly, electrical enclosures are built with either a single or double access door.
The single door enclosures only have one door that mostly opens up to 90 degrees.
Single door electrical enclosure
These, as you will notice are most common in smaller enclosures.
· Double Door
Now, unlike single doors, double door layouts are pretty common in floor mount electrical enclosures.
Double and single door floor mount electrical enclosure
Double door layouts are preferable in this kind of enclosures to give it a more balanced stress distribution.
This is an enclosure designed with more than two doors. It is a double door on the front, a removable one at the top, etc.
Single, double and multiple door floor mount electrical enclosures
The basis of having a multiple door layout is to provide easy access to enclosed contents, from any direction.
Quality Standards of Floor Mount Electrical Enclosure
Certain quality standards must be met when manufacturing floor mount electrical enclosures.
These standards are put in place to ensure safety is a top priority.
This, as I've said, is primarily due to the contents being electrical.
Now, when it comes to quality standards, different countries have different requirements.
Here are some of the common standards that countries around the world require product enclosures to meet:
· NEMA 250
NEMA standards require that products comply with set standards both in their design, construction and performance.
It is therefore essential to determine the proper NEMA rating for your product.
Otherwise, you could incur unnecessary costs for protection that you don't need.
Worse off, you may end up with damaged components.
To ensure that you are choosing the right NEMA rating for your enclosure, think about where you will be using it.
NEMA ratings, note, range from level 1 to 13.
Type 1, 2, 3, 3R, 4, 4X, 12, and 13 however correctly reflect the level of protection against rain, dust, ice and corrosive elements.
· UL
Another quality standard that electrical enclosures have to meet is the Universal laboratories (UL) standard.
Often, people think that UL and NEMA are the same thing, but no they aren't.
While they may pose similarities in the points they address, they are quite different.
Why do I say this?
NEMA principally addresses design but does not mandate compliance via third-party testing.
This is actually why you will find some enclosures built to NEMA standards but can't ascertain its performance.
Usually, this compliance is at the manufacturers' discretion.
This means that you'll either buy based on blind trust or look for an enclosure that confirms its performance compliance.
Now unlike NEMA, UL certification is kind of a formal confirmation that the product has been tested and proven to comply with industry standards.
· IP
Most floor mount electrical enclosures have some kind of environmental proofing.
And, the level to which they will protect enclosed contents is covered by their IP rating.
Now, note that IP stands for ingress protection.
It basically refers to the ratings used to define the level of protection a product offers against ingress of foreign solids and moisture.
As you can already tell, buying a floor mount electrical enclosure with the proper IP rating is extremely important.
It will help ensure the safety of your electrical and electronic equipment, as well as that of the operating personnel.
So, since floor mount electrical enclosure is meant for indoor applications, an IP 65, 66, 67 or 68 would suffice.
As you consider the issue of quality standards, I want you to understand that different countries have different requirements.
Some countries require that products conform to NEMA standards.
NEMA Standards Floor Mount Electrical Enclosure
Some like the US will require that electrical products conform to the Universal Laboratories specifications.
Other countries will require that products comply with all of these as they are all internationally recognized.
In all this, therefore, it is only best that you check with the relevant authorities to know which standards your country requires enclosures to meet.
This will significantly help you with the smooth clearing of your enclosure once it gets into the country.
It will also help make your user experience with the enclosure smooth sailing.
Floor Mount Electrical Enclosure Specifications
Now, the key to finding the right floor mount electrical enclosure for you is first to determine its intended application.
Large floor mount electrical enclosure
In regards to this, several factors will influence your decision.
This include:
· Material
Floor mount electrical enclosures are commonly made of carbon steel, aluminum, and stainless steel, and galvanized steel.
Some are made of rigid plastic.
Stainless steel, however, is more commonly used as it is readily available, is affordable and has excellent corrosion resistance.
Floor Mount Electrical Enclosure Material
· Door
Most enclosure doors are either hinged or latched.
Hinged doors are said to be quick and easy to operate.
They also do have loose parts that could spin off.
Latches, on the other hand, ensure proper sealing of doors.
This maximizes security as it helps to limit personnel access to enclosed contents.
· Ventilation
As I've already said, floor mount electrical enclosures are purposely designed for indoor use.
This means that they are subject to limited ventilation.
Due to this, it is advisable that you look for a product with a proper ventilation mechanism, i.e. holes on the roof panel.
This will help prolong the life of the equipment inside the enclosure.
· Earthing
To ensure equipment and user safety, it essential that floor mount electrical boxes comply with grounding protocols.
In this case, grounding cables ought to be gauged in such a way that they prove of reducing ignition or combustion risks.
A good manufacturer will provide Earthing studs.
So be on the lookout for these if you want to ensure no stray voltages are released onto the ground – they can be fatal.
· Protection
Again, safety when it comes to electrical enclosures is paramount.
When selecting a floor mount electrical cabinet, therefore, ensure that you asses its protection capabilities.
To what degree does it protect against access to hazardous parts?
What about against ingress of dirt, dust, ice, and against the entry of water?
And, is its construction and performance level verified by standardized bodies, i.e. UL?
· Size
Floor mount electrical cabinets range in size.
You need to know what size floor mount electrical enclosure you will need.
This is because dimensions can range from 2.5 x 10x 8 inches to 12 x 10 x 55/8 inches.
You should choose the size that's best for your application, depending on the dimensions of the components the enclosure will be housing.
You can also decide size based on other factors such as heating and cooling requirements.
· Compartment
Also, determine the right number of compartments for your needs is essential when picking out this enclosure.
I advise that you make your choice depending on the type, amount and dimension of the equipment you need to enclose.
Generally, these are the critical specifications you need to consider when determining the right floor mount electrical box for you.
Once decided, you can proceed to consult with an experienced floor mount electrical enclosure manufacturer to ensure your needs are met.
LectSteel Wall Mount Electrical Enclosure Manufacturer
You can get your ideal floor mount electrical enclosure at LectSteel.
Whether you want a single, double, or multiple door enclosure, LectSteel is up to the task of ensuring you get just what you need.
KDMSTEEL  floor mount electrical enclosure
Need accessories for the enclosure? We have just the perfect matches.
Please note that our specialty is not just in making standard floor electrical enclosures.
We can also custom make these enclosures depending on your specifications.
LectSteel has expert designers that will help with the design and implementation of your custom floor mount electrical enclosure.
They will ensure that your imaginations are put to paper and finally reflect onto the final product.
Our prices?
Ah, don't worry about.
KDM enclosures are some of the most cost-effective in the market.
If you don't trust me, request for a quick quote now to see what I am talking about.
As you click on that link, remember that we use the highest quality stainless steel material to make all our enclosures.
So you can relax knowing that buying from us will provide you with a sturdy product that is durable and complies with all set quality standards.
Conclusion
Floor mount electrical enclosures are an excellent idea for entities with a large amount of hardware.
Floor Mount Enclosure Manufacturing
They will ensure that connections are terminated at a safe point.
So when choosing the right floor mount electrical box, it will help to know where you intend to use it.
This way, you can choose the right product for you.
Also, ensure that your product conforms to the required quality and safety standards.
Of importance, ensure that you buy your enclosure from a reputable floor mount electrical enclosure manufacturer.
Questions You May Ask About Our Electrical Enclosure
Delivery Time
Normally for order within 1 container, we need around 20 days for the electrical enclosure manufacturing
What is the time to make a electrical enclosure prototype
We can make all enclosure prototype in 3 days.