Custom Your IP66 enclosure
Weather Proof Solution for Your Electronics System
Custom Ip66 or Any IP rating Enclosure .
IP65/IP66 Certification
Fast Sample Production within 3 days.
KDM IP Enclosure Certification
Custom IP66 Enclosure Manufacturer in China
KDM IP66 enclosure offers the highest protection against particles and are able to protect high level from water, including powerful jet sprays and temporary flood conditions. 

IP 66 electrical enclosures can withstand 30 KPA water jets from 3 meters in any direction. Furthermore, it prevents contact with live or moving parts with the equipment, and against the ingress of dust. KDM enclosures stringently adhere to these standards, and you can expect superior quality and craftsmanship.
Manufacturing Capacity
Buying Guide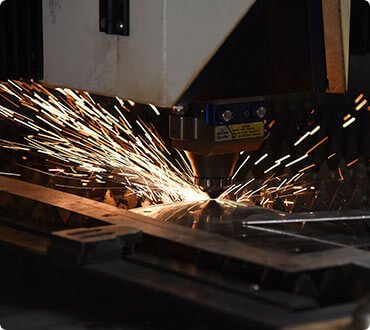 Electrical Enclosure Laser Cutting
4000W high performance laser cutting machine, +/- 0.05mm accuracy. No burr, no scratching.
Electrical Enclosure Welding
Multi-Functioning flexible welding equipment, high accuracy, no deformation.
Electrical Enclosure Bending
+/- 0.5mm bending precision, smooth surface without bending marks.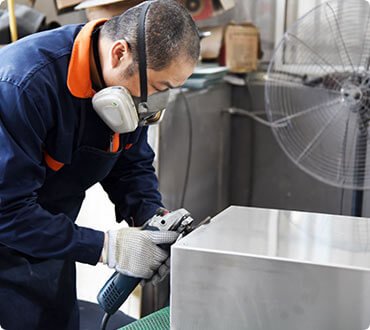 Electrical Enclosure Polishing
10+ welding experience workers, perfect overall appearance.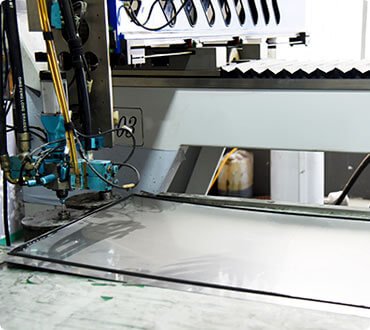 Electrical Enclosure Foaming
High speed and accuracy foaming machines, fast and qualified Gasket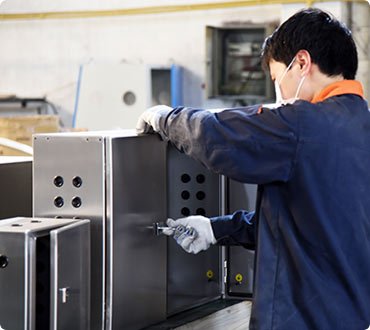 Electrical Enclosure Assembly
Expert assembling team, consistent assembly quality on every KDM enclosure
KDM IP66 Enclosure

KDM has a range of high-performance IP66 enclosure are available in different sizes and types, so you could easily find the right enclosure solutions for your needs. Our enclosures are manufactured to the highest quality standards which ensure consistent fit and finish on all batches. So you can be sure that every enclosure will conform to its IP rating. KDM designed electrical enclosure meeting IP66 standards to satisfy customer specific requirements.
Galvanized IP66 Enclosure
Stainless Steel IP66 Enclosure
IP rated 66 enclosures are offered in a wide array, including free-standing, modular, wall mounted, an enclosure with window, stainless steel, weatherproof, control panel, galvanized steel and more other types of enclosure.
For custom enclosure meeting IP66 standards, we can customize any of our enclosures with cutouts and printing. Any size or shape cutout can be added to all surfaces of our enclosures. Furthermore, insulation, hinges, latches or locks can be add-on according to your requirements.

At KDM, we are choosing an electrical enclosure based on your application and what qualities it requires to succeed. Examples of such qualities include corrosion resistance, thermal insulation, spark resistance, explosion resistance, low-temperature resistance, durability, security, etc. Our flexible engineering and manufacturing systems enable us to customize enclosures to save your valuable time and cost in your process, to populate the enclosure and install it.
At KDM, we cater to your needs and offer modified standard and custom IP66 enclosure products through step-by-step design support. Over the last 10 years, we are a trusted manufacturer for any types of electrical enclosures. Our professional engineering and designing team has developed enclosures to the standard required for IP66 enclosure. KDM is a 9001:2015 certified manufacturer of electrical enclosure based in China.

Our expertise in fabricating high-quality enclosure, leaned us to provide the best to our customers and grow as a company to a higher level. Our state-of-the-art manufacturing process ensures a quick turnaround without sacrificing the quality you expect from KDM IP66 enclosures.
By selecting KDM IP66 enclosure, you can benefit from outstanding quality products, fully finished enclosures that are ready for installation, individually modified based on your request and a high level of functionality and innovative strength. Our excellent knowledge and experience will let you receive the appropriate enclosure for your needs. Let us know your specifications and we will provide a competitive quote.
The Ultimate FAQ Guide to IP66 Enclosures
What does IP66 mean?
Enclosures rated with IP66 are fully dust-tight, and protect from low-pressure water jets from any direction.
High-pressure water jets can be measured at 100 liters per minute.
In the workplace, these could manifest as rainstorms, temporary floods, or water spray from nearby machinery.
This also means that IP66 enclosures are well protected against fog, humid air, oil and coolant leaks, and corrosion induced by moisture.
  IP66 rating
Why are there additional letters after the main IP code?
As we already mentioned the "X" means that there is no available information, or that it is irrelevant or replaceable.
There are 2 sets of optional letters you can add after the digits.
The additional set – A, B, C, D – describes the protection of the enclosure against tampering.
A stands for protection against the back of a hand; B stands for protection against a finger; C stands for protection against access with a tool, while D indicates for protection against access with a wire.
The supplementary set of letters – H, M, S, W – tell the user what the enclosure is for.
H tells that the enclosure can serve for a high-voltage device; M indicates that the device inside the enclosure was moving during a water test, whereas S means the opposite – that it was standing still.
Finally, W means that the enclosure is weather-proof.
The full IP code
You can use these to indicate what features you want your IP66 enclosures to have.
These are mainly used for better communication between the client and the manufacturer.
What testing do IP66 enclosures undergo?
IP6X is tested using a closed space where a vacuum attracts a lot of dust and different powder that is blown all around to the enclosure for at least 15 minutes, and then the enclosure is checked for dust ingress.
  Dust chamber testing
IPX6 is tested using spray nozzles, measured at 12.5mm, with oscillating tubes that pressurize and spray water at 100 liters per minute for at least 3 minutes in any imaginable angle from a distance of 3 meters.
Some submersion is also possible since these enclosures need to withstand temporary flooding up to 1 meter for about 30 minutes.
What NEMA type is IP66 comparable to?
As for NEMA, we offer any type, starting with 1 and up to 13, including subtypes, such as 3X.
Our NEMA enclosures are protected against weather, corrosion, coolant seepage, chemicals, and much more.
IP ratings and NEMA types cannot be directly converted into one another, but they can be loosely compared as shown below.
NEMA and IP ratings comparison
As the table shows, IP66 can be compared to NEMA 4 and 4X.
These types provide high degrees of protection from weather, including ice and sleet.
Type 4X has additional corrosion-resistant qualities.
Do IP66 enclosures protect against corrosion?
IP66 is not fully waterproof, so it may not protect against corrosive agents if they are strongly sprayed on it or submerged in.
If they are just splashed, or even sprayed, then there is no problem, but corrosive fumes may still get in.
The material plays its role as well – aluminum and stainless steel are the most corrosion-resistant materials.
Feel free to scroll down to learn more about different materials!
Do IP66 enclosures protect against explosions?
IP66 enclosures are not designed to contain an explosion or an arc flash.
They are not comparable to NEMA types 7, 8, 9, or 10.
These enclosures need to withstand high impacts and high temperatures.
As for arc flash, enclosures typically can't protect from that, so personnel needs to keep that in mind.
However, if you need an explosion-proof enclosure, contact us and we will engineer it for you!
How and why do IP66 enclosures maintain inside temperature?
KDM IP66 enclosures can be equipped with double-wall technology, a thermal chamber, insulation, heat strips, heat exchangers, and vents with air conditioning.
All this provides protection from the electrical heat and solar radiation to prolong the life of electrical components within the enclosure.
 Heat exchanger
If you plan to install IP66 enclosures in a cold environment, then we can also include small heaters, so the electrical components don't freeze or slow down in work.
Heater Strip
Plus, thermal management reduces hot spots, equalizes pressure, and minimizes condensation, which can damage electronics and various devices.
How can I be sure of the quality of IP66 enclosures?
We have a certification you can look through, which will give you more details about and confidence in our enclosures.
Where can IP66 enclosures be used and for what applications?
IP66 enclosures can be used both indoors and outdoors.
IP66 enclosures are commonly used in industry and factory
machinery and equipment, heavy-duty construction, swimming and spa pools, bathrooms, transformers, and medical equipment.
Other applications may be telecom cabinets or control boards, among other things.
   IP66 enclosure
IP66 enclosures are especially great for control boards since they provide superb security both from the environment and from tampering.
And such security is perfect for important electrical components.
Industrial PCs are often housed in IP65 and IP66 enclosures.
Then, other devices may be included as well, such as bar code scanners, USB hubs, and RFID receivers.
This IP rating is perfect for outdoor environments because it is dust-tight and rain-proof.
The dust-proof and water-resistant qualities make it possible to be put underground, fully or partially, if you are catering to gardening applications.
What designs of IP66 enclosures can I choose from?
We are delighted to offer you a range of designs of free-standing enclosures, wall-mounted enclosures, junction boxes, modular enclosures and custom enclosures.
Free-standing enclosures are perfect for large electrical units that are too heavy to be wall-mounted or pole-mounted.
They could be of any height and width. They are also portable, and can be big enough to be categorized as walk-in enclosures.
    Free-standing enclosure
Wall-mounted enclosures use mounting brackets, screws, and pads for installation.
They are perfect for small devices in public places, as well as anywhere where space is a concern.
These can also be pole-mounted with special circular brackets.
  Wall-mounted enclosure
Junction boxes are enclosures with a lot of wires that all interconnect.
Such boxes are usually used for control boards, so they need to be protected with IP65 and up.
They also often have pedestals, which help in case of flooding, so this is another thing to consider.
Junction box
Modular enclosures are similar to custom since they allow for flexible configurations.
You can add or remove walls and doors as you need, varying the size and shape of the enclosure.
Having these in IP66 provides a great deal of flexibility and security, so you have less things to worry about.
Of course, we also have our custom enclosures, which can be of any design, shape, and requirements, as well as have multiple doors.
    Custom IP66 enclosure
This includes piano-type control boards, various electrical boxes, cabinets, and enclosures on pedestals.
Just reach out, and we will be happy to create your perfect custom enclosure!
What features can I request for IP66 enclosures?
You can request vents, windows, hinged doors, locks, cable management systems, and much more.
Vents, as well as radiating fans, provide a path for heat to escape through, cooling electrical components of the enclosure.
This prolongs their life and decreases the possibility of malfunctions.
 Radiating fan in an enclosure
These also stabilize air pressure inside the enclosure, preventing condensation which can damage the electrical components of the enclosure.
Plus, the vents can be further upgraded to air conditioners and heat exchangers.
Windows help personnel examine the electrical components in a quick and non-invasive way.
And if something goes wrong, a window helps to see what is happening right away.
Plus, infra-red windows help protect workers from arc flash accidents.
 Enclosure with a window 
Hinged doors control how and how much the door or cover of the enclosure opens.
This also includes a variety of handles that you can request as well.
Locks add a layer of security to your IP66 enclosure, making sure no one tampers with it or accidentally accesses its electrical components.
     Lock
What accessories can I request for IP66 enclosures?
Cable management systems such as cable entry frames and clamps serve to keep wires organized and make them easier to install and maintain.
Solar shields are basically another layer on top of an enclosure that reflect solar radiation, controlling inner temperature of the enclosure to prolong the life of its electrical components.
   Solar shield (the top plate)
DIN rails are used to mount circuit breakers in equipment enclosures used in industrial applications.
Rain caps are slanted roof-like top pieces that make water slide off the side of the enclosure, thus protecting it from water ingress.
IP66 enclosures benefit especially much from this feature, prolonging its life outdoors.
  IP66 rain cap with lifting eyes
We also make casters, thermometers, light switches, lifting eyes, operator devices, and purpose-specific features like keypads and heat exchangers.
To learn more, feel free to contact us for more information about all the different features and accessories we offer! We will also provide any custom feature you request.
Do locks, windows, vents, and hinges lower the IP rating?
Yes, features like vents, windows, and locks do somewhat compromise the IP rating, but there are ways around it.
But KDM overcomes this difficulty, offering you some of the best enclosures for your business.
We incorporate various gaskets, PU seals, latches, and filters to balance out the IP rating.
How are enclosures made to have a high IP rating, such as IP66?
The most vulnerable place in an enclosure is between its body and its lid – here is where dust and moisture can creep in.
However, KDM designs sealing gaskets that are either moulded or screwed in place flush against the surface.
  PU sealing gaskets
Medium IP ratings are often equipped with a 'push-click' mechanism in the lid.
This makes it quicker to use, but allows for a small degree of gasket movement once closed.
To achieve a high IP rating, some enclosures are filled with a silicone gel that sets and prevents any moisture or dust from coming into contact with the electrical components.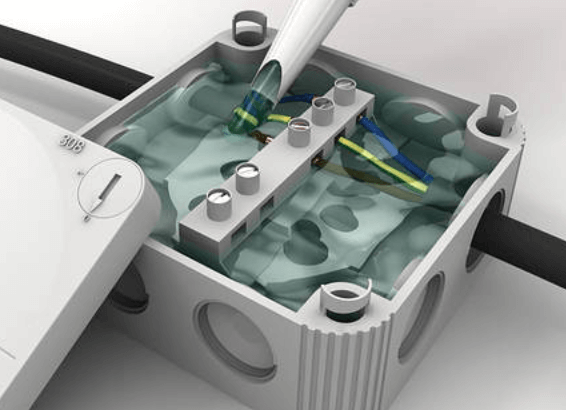 Gel-filled IP66 Enclosure
This allows for the enclosure itself to be cheaper, but it also means that the components will not be easily accessible.
So, if you need an accessible and secure enclosure, IP66 is the way to go.
What materials can be used for IP66 enclosures?
The materials used for IP66 enclosures aren't different from materials used for other types of enclosures.
They can be made from carbon steel, galvanized steel, and stainless steel – usually of the grades 304, 316, or 316L.
Carbon steel is usually duller than stainless steel.
It is also magnetic and more malleable since it only has iron and carbon.
This steel is also prone to corrosion.
Stainless steel is created by adding chromium, nickel, and molybdenum to the iron-carbon alloy.
  Stainless steel vs. galvanized steel
Steel grades 304 and 316 differ in the content of all additives.
Grade 316 is slightly stronger and resistant to saline and acidic water because of molybdenum.
But grade 304 is cheaper and more common.
Grade 316L has a lower carbon content, making it a little bit stronger.
Galvanized steel is coated with a protective layer of zinc that prevents corrosion.
We have galvanized steel enclosures, and this metal is vulnerable to salt water.
Please note that galvanized steel is more expensive and heavier than stainless steel.
Another type of steel that can be used is cold-rolled steel, which is thinner and more dense than normal steel – and thus, it is stronger.
Fiberglass is very strong, can dissipate heat, and insulates electricity, lowering the effect of interference and the possibility of shock.
It is made from glass fibers placed in plastic.
  Fiberglass enclosure
Also, our windows are made from polycarbonate and ABS.
Polycarbonate is more resistant to corrosion, whereas ABS is cheaper.
IP66 enclosures can also be made from aluminum alloys.
They are not necessarily better than steel alloys, but can be depending on what you are going for and what are your needs.
Just like steel grades, aluminum alloys can be either of the 5052 or the 6061 series.
 Aluminum vs stainless steel
Both are lightweight, but 5052 is more weldable, whereas 6061 has a higher resistance to corrosion.
Also, 6061 is more expensive.
Aluminum has a layer of oxide on top that prevents any corrosion.
This material is especially good for enclosures exposed to solvents, petrochemicals, some acids, most sulfates and nitrates.
So, if you are looking to put IP66 enclosures in such mildly hazardous environments, aluminum is good for that.
If you would like to learn more, send in your inquiry now for a consultation!
What paints and coatings can be used for IP66 enclosures?
Our enclosures are well-protected, but the right coating can add its protection as well.
You can choose enamel or powder paint coats in any color.
Enamel paint has a glossy finish and is resistant to different weather conditions.
Specific enamel paints like epoxy enamel and PU enamel are commonly used for industrial enclosures since they are resistant to corrosion.
Powder paint is deposited with the electrostatic force, and is quicker and easier than enamel.
It is also more flexible in appearance, giving you the option of glossy and matte finishes.
      Powder coating finishes
We also offer anodizing and alodining coatings.
Anodizing coating uses anodes to oxidize a metal, usually aluminum, to increase its thickness for better corrosion resistance.
Steel is not typically anodized because it can actually speed up the corrosion of the metal.
Alodine coating, also known as the chromate conversion coating, is used to prime steel and aluminum for paint, as well as prevent corrosion.
  Alodine coating
This is a cheaper process than anodizing, and can be recognized by its characteristic greenish-yellow hue, unless it is painted over.
There can also be anti-graffiti and anti-poster coatings to protect your IP66 enclosure from vandalism.
We can provide any coating in any color and finish, so contact us today!
How do you customize the symbols or writing on an IP66 enclosure?
Our customizing services include engraving and silk-screening.
Silk Screening is the easiest and most affordable method of customization.
Any flat side of the enclosure can be silk-screened with labels, warnings, serial number, your company name and logo.
However, silk-screening on metal like stainless steel or aluminum can be worn off or scratched off, but a clear powder coat helps to prevent that.
    Silk screening
Engraving the enclosure is another method of customizing your enclosures.
This option is more costly and takes more time, but it is also more long-term than silk-screening.
A little bit of metal is removed from the surface of the enclosure in the design of the logo or symbol.
Usually, about 0.005 inches or 0.010 inches of metal is removed from the surface.
Once the metal has been removed, it is filled in with epoxy paint of any color to match your requirements.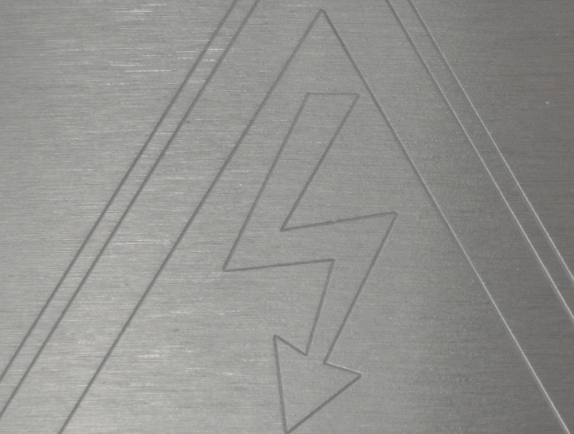 Engraving
Recent IP66 Electrical Enclosure Order
Questions You May Ask About Our IP66 Electrical Enclosure
KDM IP66 Enclosure
KDM IP66 enclosure is specified for harsher indoor industrial or outdoor applications. These IP66 rated enclosures are ideal for your watertight projects.
IP66 electrical enclosure ensures your components are prevented in wet environments. The KDM IP66 enclosures have a locking catch that engages to positively hold the lid closed until disengaged.