Industrial Control Panel Enclosure Manufacturer
Carbon Steel and Stainless Steel Control Panel Cabinet
NEMA 1, 3, 3R, 3S, 4, 4X, 6, 6P, 12, and 13 ratings
Provide you the 2D or 3D drawing in one day, free of charge. You just need to send us your requirement
Custom Control Panel Enclosure Solution
KDM Control Panel Enclosure has a range of features such as cable management systems for tidy wiring, optional polycarbonate window, ventilation system, optional HMI or LCD touch screen panel, optional LED indicators, ON/OFF switch options, and membrane keypads for easy operation.
KDM Control Panel Enclosure is made of sheet metals such as aluminum and stainless steel or galvanized steel. Specifically designed to protect your electronics against external interfering influences. The composite materials and design can be all desirable, depending on the application and requirements of the clients. Control Panel Enclosure suited for medical, pharma, and food industry applications. You just send us your specifications and get an instant quote.
KDM Control Panel Enclosure Types
Custom Control Panel Enclosure Design
Custom designed control panel enclosure for any industrial use, KDM can provide you 2D or 3D drawings for your control panel box or even the whole system.
Whether you need the enclosure for indoor or outdoor use, KDM can always fabricate the right control cabinet for your specification.
NEMA Rated Control Panel Enclosure
KDM Nema rated control panel enclosures are made based on the NEMA standards.  Our enclosures are tested for different usages, such as indoor environment, outdoor usage, non-hazardous locations, and hazardous areas.
Different protection degrees of dust, water, is explosion access are required for different types of NEMA ratings. KDM offer cost effective solutions to meet all these standards.
Configurations You Can Choose
KDM enclosures have different structures, such as fully welded type, knockdown or flat pack type, Rittal style type, modular type, and so on.  You need to choose the right type based on your own applications.
For IP65 and IP66 required items, you have to choose fully welded types for perfect dust and water protection.  For space saving delivery purposes, you might consider flat-pack type.  For details, inquiry us.
Control Panel Enclosure Accessories
KDM offers a one-stop solution for control panel enclosure accessories which saves your time.  You can custom your own enclosures with additional features, such as the din rail, roof canopy, pole mounting brackets, ventilation vents, and so on to meet your specific applications.
You can also get the ventilation fan, light, rack mount PDU, and other electrical parts to make a compete standard electrical enclosure.
Control Panel Enclosure Applications
Control panel enclosures are widely used in all kinds of facilities and buildings, such as schools, hospitals, factories, and so on.  They provide protection for the electricity flow, equipment control, and the devices working.
KDM offers various control panel enclosures designs to meet your demands of different applications, such as IP66 enclosures, space saving recessed enclosures, and so on.
Quality Manufacturing Process for Your Control Panel Box
Whether you are dealing with control systems from major brands such as Rockwell Automation, Siemens, OMRON, Mitsubishi Electric, Schneider Electric, ABB, General Electric, etc., KDM Control Panel Enclosure offers a perfect solution.
Furthermore, KDM Control Panel Enclosure may have a flat or slanting roof, locking mechanism, and handle. As a leading manufacturer of control panel enclosures, KDM Steel offers many options. KDM Control Panel Enclosures include freestanding enclosure, floor mount electrical enclosure, wall mount electrical enclosure, junction box enclosure, vented electrical enclosure, etc. KMD Steel is a panel enclosure manufacturer, with years of hands-on experience in designing industrial and commercial control panel enclosures.
Our design team will help you customize control panel enclosures CAD design, partitioning, material selection to branding.
With KDM Steel know-how in control panel enclosure design, we help engineers, maintenance personnel and system integrators optimize space, mitigate noise pollution, protect electronic components and ensure safety.
Why KDM is Trusted By Over 1000 Global Clients
Enclosure Manufacturing
CAD Drawing
3D Drawing
KDM: Your Professional Control Panel Enclosure Manufacturer
KDM Control Panel Enclosure can offer a wide range of premium quality electrical components
generally for use within control panels in many different types of industries.
At KDM Steel, we strive to give you the best Control Panel Enclosure that guarantees safety, high strength, and reliability.
By choosing the KDM Control Panel Enclosure, we can help to ensure the suitability and performance of our competitive product.
KDM steel engineers help the client in choosing the best control panel enclosure.
Feel free to contact us for custom made and affordable Control Panel Enclosure.
Talk to our KDM Steel engineers today to get standards or custom made control panel enclosure and accessories.
What differentiates control panel enclosures from regular electrical enclosures?
Control panel enclosures have several key features and accessories that standard enclosures do not offer.
Such features include cable management systems, HMI LCD touch screen panels, LED indicators, ON and OFF switch options, mount switches, displays, as well as membrane keypads to facilitate operation.
Cable management systems, including cable entry frames and clamps that keep wires organized and easier to install and maintain.
Cable management systems: entry frames and racks
Cable entry frames reroute and lead cables in and out of the enclosure to an outside source.
Meanwhile, cable clamps hold cables in place.
There can also be various racks and bundles if there are a lot of cables.
HMI and LCD touch screen panels allow for easy operation interface.
HMI software sets up information in an understandable way, while the physical LCD touchscreen projects this information in an organized way.
HMI LCD touch screen
With these, control panels inside the enclosure can be operated quickly and efficiently.
LED indicators also help with the maintenance of control systems since they show whether everything is as it is supposed to be.
These can be either simple 5mm LED lights, or they can be combined with buttons.
Either way, they help see what is working and how.
LED indicator lights and buttons
There are different colors of LED indicators, such as red, orange, white, blue, green, and yellow.
Of course, each can signify a different thing.
Besides color, you can also set up different modes of lighting, such as on, off, and flashing, to also mean different things.
Control switches are necessary in control panel enclosures since they operate everything.
They can be with lights as well, different sizes and shapes. Mostly, they are circular but can be square.
These switches can be either 3D or recessed, and as buttons, flip-switches, and sometimes dials.
Recessed buttons are useful when there is a risk of pushing them accidentally, otherwise, 3D ones are perfectly good.
 Control switch board 
It does not matter whether you want to use flip-switches or buttons – either one works if there is something with incremental modes. If you have more gradual controls, then dials are better.
Mount switches can be of all sorts of shapes and mechanisms, such as sliding, flipping, and pushing switches.
Pushing switches are shown in the first row of the image, and usually, are just on/off switches.
Sliding and flipping switches can have different modes of activation.
   Different kinds of switches
Various displays are basically screens, but not touch screens.
They can be with any visual interface with blue or green backgrounds. These can also have some membrane buttons.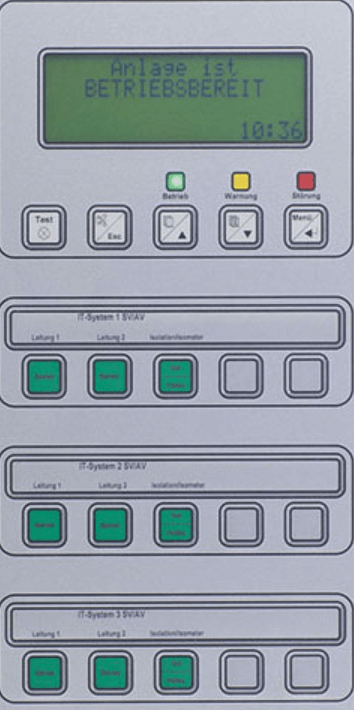 Control panel display
Membrane keypads are compact, thin, and flexible boards with as many keys are you need.
 Small membrane keypad
They can be small, just having numbers and a few special characters for combination locks or coded controls your system has.
They can also be larger, with the full alphabet, numbers, and many characters for any written commands.
You can also request the keypad to be color-coded and produce some kind of a beeping noise when activated.
How are cables organized in control panel enclosures?
Cables are organized with clamps and racks.
Clamps and brackets often just hold the cables pressed into one of the enclosure panels, keeping things organized.
Racks and their designs can be more versatile, as they often reroute and lead cables to other enclosures or to each other.
Racks have various openings that have their purposes.
For example, racks can have euro, rectangular, square, T-shaped openings.
Different shapes of rack openings
Large rectangular openings are usually used to lead cables to an adjacent enclosure.
T-shaped openings are used for hook and loop cable ties.
Euro holes are for cable managers, while square ones are for additional rack fasteners.
There are also many different fiber organizers, pass-through panels, troughs, partitions, hooks, and rings that all keep cables in check inside control panel enclosures.
  Pass-through panels
These organizers are especially necessary in control panel enclosures that house distribution boards.
What extra things do control panels protect electrical components against?
Besides corrosion, dust, and liquid ingress, control panel enclosures should also protect against interference, noise, and electrical shock.
Certain materials can protect against electrical interference and shock.
Such materials are non-magnetic, such as fiberglass and polycarbonate.
Plus, aluminum is very effective against electrical interference, so you can incorporate it into the design as a plate or layer.
As for noise mitigation, many design details can help with it.
For example, include grounding wires, and avoid looping cables.
Electrical interference affects the performance and reliability of industrial control systems.
The noise emitted from sources like PWM drives, power supplies, and inductive load switching negatively impacts system efficiency by interfering analog signals, industrial network transmissions, and other control programs.
To deal with this interference and noise in control panel enclosures, several things are necessary.
The enclosure design should include proper gasketing, cable strain relief, proper grounding, segregation of cables, their shielding, and air filtering.
What do the control panel enclosures house?
Control panel enclosures are used to house various meters, switches, data relay stations, cables, circuit breakers, control systems, and other similar electrical equipment.
Electrical equipment in a control panel enclosure
They are also responsible for operating the starting and the ending processes of a piece of equipment or a machine.
These electric control panels are common in different sorts of industries where even the slightest electrical control is needed – which is any industry.
Their usage varies according to their purpose.
For the industrial purpose, HT, LT and Instrument control panels are most extensively used.
What control system brands do your control panel enclosures support?
Our control panel enclosures can easily house and protect control systems of many providers, including Rockwell Automation, Siemens, OMRON, Mitsubishi Electric, Schneider Electric, ABB, General Electric, and many others.
Feel free to contact us for more information on this!
Also, we manufacture custom control panel enclosures, so if you request, we will design one that can support another provider not listed here.
What are some types of control panels?
Some of the types of control panels are low tension control panels, high tension control panels, instrument control panels, motor control panels, lighting control panels, and generator control panels.
As mentioned, the most common types of control panels are high-tension (HT) and low-tension (LT).
HT panels are compact outdoor systems, which are broadly used in residential and commercial applications. These are great in wall-mounted and recessed designs.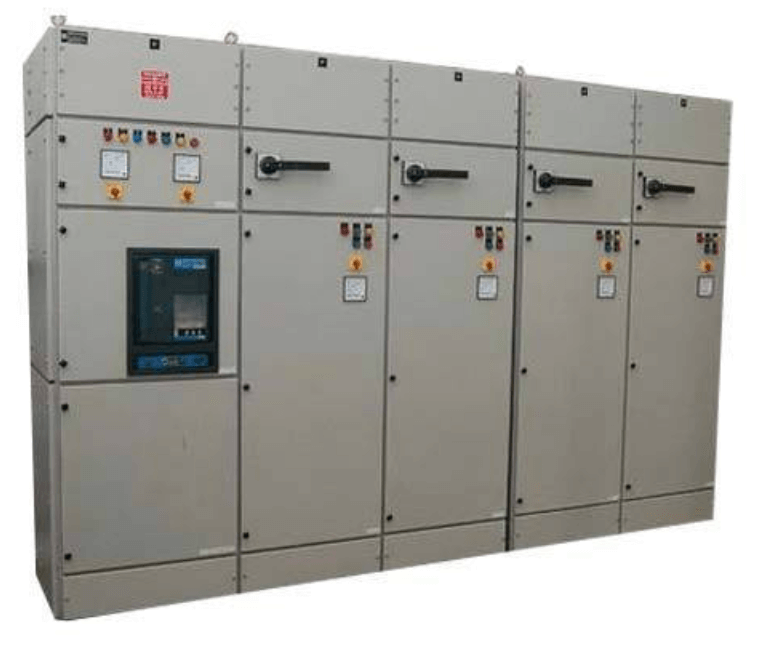 High tension control panel
An LT panel is an electrical distribution board that can receive power from generators and transformers, distributing it to other devices and further distribution boards.
Low tension control panel
There are also different configurations of control panels.
These include standard, auto module, and auto remote.
A standard configuration can perform basic operations, like Turn On, Per-heat, Starting, Stop, and Emergency Stop.
Auto module configuration and auto remote configuration are very similar.
Both expand their abilities to features like auto/manual stop (emergency stop), programmable plugs for input and output, detected data, symbols, and diagrams.
Standard configuration
The difference is that auto remote configurations allow control with a remote that can be placed inside the enclosure as well.
What general accessories can I add to the control panel enclosure?
You can also request vents, windows, hinged doors, and locks.
Vents, as well as radiating fans, provide a path for heat to escape through, cooling electrical components of the enclosure.
This prolongs their life and decreases the possibility of malfunctions.
Windows are used to help workers examine the electrical components in a non-invasive way.
And if something goes wrong, a window helps what is happening to see right away.
Plus, infra-red windows help protect personnel from arc flash accidents.
 Enclosure with a window
Hinged doors control how and how much the door or cover of the enclosure opens.
Locks add a layer of security to your control panel enclosure, making sure no one tampers with it or accidentally makes a mistake on the control board.
Another small feature includes file pockets.
File pockets are used to store files like operating manuals, shift logs, information booklets, and anything else important that pertains to electrical components within the enclosure.
In control panel enclosures, these are especially important.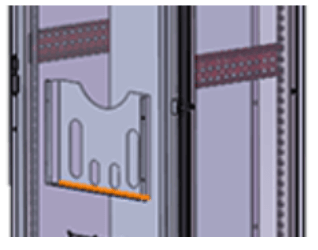 File pocket (underlined in yellow)
All these are necessary for control panel enclosures due to the importance that these have in housing control boards.
What materials are control panel enclosures made from?
The materials used for control panel enclosures aren't different from materials used for other types of enclosures.
They can be made from carbon steel, galvanized steel, and stainless steel – usually of the grades 304 or 316L.
Keep in mind that each has certain qualities.
Carbon steel is usually duller than stainless steel.
It is also magnetic and more malleable since it only has iron and carbon.
This steel is also prone to corrosion.
Stainless steel is created by adding chromium, nickel, and molybdenum to the iron-carbon alloy.
Stainless steel vs. galvanized steel
The grades 304 and 316 differ in the content of all additives.
Grade 316 is slightly stronger and resistant to saline and acidic water.
Grade 316L has a lower carbon content, making it a little bit stronger.
Galvanized steel is coated with a layer of zinc that gives it corrosion-resistant qualities.
While we do offer galvanized steel enclosures, this metal is vulnerable to saltwater.
Please note that galvanized steel is more expensive and heavier than stainless steel.
Plus, we can include windows made from polycarbonate, ABS, and glass-reinforced plastics such as fiberglass.
Polycarbonate is more resistant to corrosion, whereas ABS is cheaper.
Fiberglass is very strong, can dissipate heat, and insulates electricity, lowering the effect of interference and the possibility of shock. It is made from glass fibers placed in plastic.
What enclosure designs can I choose from?
Designs for stainless steel enclosures don't differ from other enclosures we make.
Namely, we offer free-standing enclosures, floor-mounted, wall-mounted enclosures, junction boxes, and recessed enclosures.
Free-standing enclosures are perfect for large electrical units that are too heavy to be wall-mounted or pole-mounted. They could be of any height and width.
They are also portable.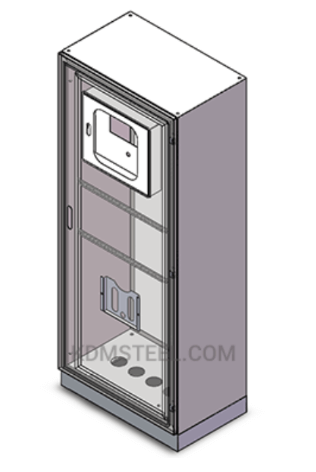 Free-standing enclosure
Floor-mounted enclosures are very similar to free-standing enclosures, only floor-mounted ones are secured to the floor – thus, they are not portable.
Wall-mounted enclosures use mounting brackets, screws, and pads. They are perfect for small devices, and thus are cost-effective.
 Wall-mounted enclosure
Junction boxes and operator interfaces are usually enclosures on a stand.
They have user-friendly layouts, are great for small electrical units, and can be portable.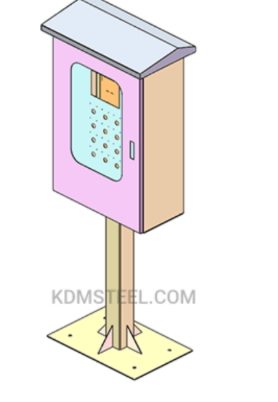 Junction box enclosure
Recessed electrical enclosures are installed into a hole in the wall or floor.
They can be of any design but are recessed into something, so only the door is visible.
Of course, we also have our custom enclosures, which are especially great for control panels.
Custom control panel enclosure
Plus, we offer different options for doors, including single, double, and multiple doors.
Single doors are perfect for smaller and less complex electrical units, whereas double doors are used for large and complicated units.
Multiple doors are used for huge industrial applications or for increased security.
But control panel enclosures should only need two doors at most.
How protected can control panel enclosures be?
We provide any level of protection your control panel enclosures need, be that according to IP standards or NEMA.
IP enclosures utilize the IP code, which has 2 digits – one corresponds to protection against the ingress of solids, while another against ingress of liquids.
The maximum IP protection any enclosure can have is IP69K, which is fully dust-tight and can be submerged underwater for a long time and sprayed with hot pressurized water.
We offer enclosures up to IP66, which means it is dust-tight and can be sprayed with pressurized jets of water, as well as submerged underwater for 30 minutes.
As for NEMA, we offer any type, starting with 1 and up to 13, including subtypes, such as 3R. Our NEMA enclosures are protected against weather, corrosion, oil seepage, and much more.
 NEMA and IP ratings comparison
Control panels are often rated with IP55 and up, or 4/4X and up.
Can I request paint coatings on my control panel enclosures?
Especially, aesthetics are important in residential and commercial applications.
You can choose enamel or powder paint coats in any color.
Enamel paint has a glossy finish and is resistant to different weather conditions.
Specific enamel paints like epoxy enamel and PU enamel are commonly used for industrial enclosures since they are resistant to corrosion.
Powder paint is deposited with electrostatic force and is quicker and easier than enamel.
It is also more flexible in appearance, giving you the option of glossy and matte finishes.
What Applications of Control Panel Enclosure?
Thare is so many applications for a control panel enclosure, anywhere need to control the electrical system, there must be a panel enclosure.
Like Fire Alarm, any machine factory, GRP use etc, whether for indoor or outdoor use, you need the control panel enclosure.