Vented Electrical Enclosure
KDM Vented Electrical Enclosure prevents overheating of electrical and electronic components, such as switchgear,
transformers, electric switches, fuse, cables, etc. by allowing free flow or circulation of air in the electrical enclosure.
Consequently, KDM Vented Electric Enclosure removes excess heat, vapor, or fumes.
Over 10 years of experience in manufacturing and designing an electrical enclosure
Fans are enhanced in 10% eliminate hot spot through the air circulation
Suits in any type of temperature
Your Specialist for Vented Electrical Enclosure
KDM Steel is focusing on designing high-quality vented electrical enclosures to provide protection, allow for pressure equalization, proper heat dissipation, eliminating dust or liquids.
Even with unmatched performance, KDM Vented Electrical Enclosure is still cost-competitive. Talk to our vented electrical enclosure design team today for your custom-made designs.
KDM Vented Electrical Enclosure also called vented enclosure or vented electrical enclosure box is made from steel, galvanized steel, or stainless steel (304/136L). It has an in-built venting mechanism, featuring a slanting louvered opening, fan cooling systems, or vent duct.
KDM Vented Electrical Enclosure Series
Stainless Steel electrical enclosures are KDM's star products. KDM has been focusing on the manufacturing of stainless steel electrical enclosures for almost two decades.
Vented mild street enclosures are applicable where it is necessary to protect controls and instrumentation from wet, non-corrosive environments.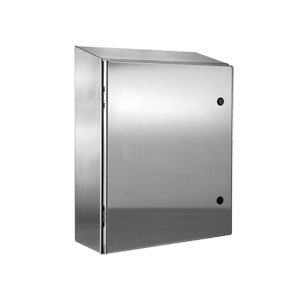 KDM galvanized steel enclosures are a cost-effective alternative to stainless steel while enjoying carbon steel's mechanical properties.
Aluminum electrical enclosures have an excellent combination of strength, corrosion-resistant, and cost-effectiveness.
the vented pole-mounted enclosure is mostly applicable to low-cost housing projects where bundle conductor or overhead supply cables are commonly used.
All KDM free-standing enclosures are built to satisfy the NEMA standards, dedicated to providing protection for your electrical systems.
Why Need Ventilation System for Your Electrical Enclosure
When electric devices are running, they will transform some of the energy into heat.
This heat can actually disrupt these electrical components.
Thus, vents prevent hazardous situations along with overheating, as well as lengthen the lifespan of the contents of the enclosure.
Especially vents are needed for outside enclosures in places with warm weather since then the electrical components get even more overheated.
Another plus of vents is that they stabilize air pressure inside the enclosure.
Pressure may change because of altitude and weather changes.
Thus, pressure-sensitive gauges and equipment, as well as sealing gaskets need stable pressure not to wear out.
KDM Offers Your Different Types of Venting Device
With over 10 years of experience in designing and manufacturing vented electrical enclosures, KDM customizes these accessories to specific applications and environments.
For example, KDM Steel engineers can design a vented NEMA 3R ventilated enclosure. But since venting may compromise some performance NEMA specifications, KDM Steel engineers will design the electrical enclosure appropriately.
KDM for Customized Vented Electrical Enclosure
When there are high-power electrical parts, such as frequency converters, the enclosures should have a good ventilation design. The electrical enclosure base can be empty inside with venting hole designs on the base surface for airflow and wires set. We can also add ventilation fans at the bottom to increase air circulation.
Whether you are searching for a vented electrical enclosure for the high-temperature environment, corrosive environment, or that guarantees effective heat dissipation, KDM Steel has a solution.
Our team evaluates all design considerations, from quick opening mechanism, concealed or continuous hinge, gasket, physical size (determines the electrical enclosure's ability to dissipate heat) to applications.
Met Both Ventilation and Dust and Water Resistance
Vents themselves can be protected with louvers, shells, and filters.
Enclosures can be IP and NEMA compliant, and we offer both.
Louvers and shells work the same – they keep downpour liquid out of the vent, as well as most of dust.
Although, if the liquid or dust is coming from the sides or drifting up, it will get into the vent.
Louvers are better for openings, while shells are better for fans.
Here is where a filter could catch that.
IP enclosures are rated with the IP code, which has 2 digits – one for protection against solid ingress and another against liquid.
The maximum IP protection an enclosure can have is IP69K, which is fully dust-tight and can be submerged underwater for a long time and sprayed with hot water jets.
We offer enclosures up to IP66, which means it is dust-tight and can be sprayed with pressurized jets of water.
As for NEMA, we offer any type, starting with 1 and up to 13, including subtypes, such as 3R.
Depending on the environment and nature of the application, KDM Vented Electrical Enclosure may feature only louvered openings or both louvered openings and fan(s).
For better heat dissipation, KDM Steel engineers recommend a vented electrical enclosure with fans. The fans enhance heat dissipation by 10%, eliminate hot spots by mixing air in the enclosure through forced air circulation.
However, KDM Vented Electrical Enclosure with fans is not suitable for the extremely high or low-temperature environment. But, KDM engineers can modify fan-cooled vented electrical enclosures by installing screens or air filters on the back to the louvered openings.
Unlike other models of vented enclosures available out there, KDM Vented Electrical Enclosure conforms to the NEC or NFPA, NFPA 70E 2009, RoHS, CE, and NEMA standards. By this, KDM Steel vented electrical enclosure box is free from the accumulation of heat or overheating, thereby increasing the service lifespan of electrical components.
Why KDM is Trusted By Over 1000 Global Clients
Enclosure Manufacturing
2D Drawing
3D Drawing
KDM: Your Best Vented Electrical Enclosure Supplier
What is The Material of The Window?
We use high impact polycarbonate sheet to custom the enclosure window
If KDM can Make the Drawing for Us?
Yes, we can provide you the 2D or 3D drawing in one day, free of charge. You just need to send us your requirement
What is The Time to Make an Electrical Enclosure Prototype?
We can make all enclosure prototypes in 3 days.
KDM Vented Electrical Enclosure comes in many options such as freestanding ventilated electrical enclosure, wall mount vented electrical enclosure, vented weatherproof enclosure, vented outdoor enclosure, vented junction box, vented NEMA enclosure, and many others.
The Ultimate FAQ Guide to Vented Electrical Enclosures
Why do enclosures need vents?
Vents in electrical enclosures, especially industrial ones, help prevent overheating of electrical and electronic components.
For example, switchgear, transformers, fuses, and cables, as well as control systems.
Vents provide a path for heat to escape through and let in a flow of air in the electrical enclosure.
This not only deals with excess heat but also with harmful vapors and fumes that arise from overheated electrical components.
Enclosure with vents
What types of vents are there?
We provide two main types of vents: various openings and fans.
You can think of it as passive vents and active vents.
Louvered openings just provide a way for heat to escape, letting the air balance itself out.
This can be great for electrical components that don't produce as much heat or those that are meant for outdoor uses since outside the wind will air the enclosure out.
Louvers are horizontal slats that cover the opening.
They are angular to let in air but keep the rain out.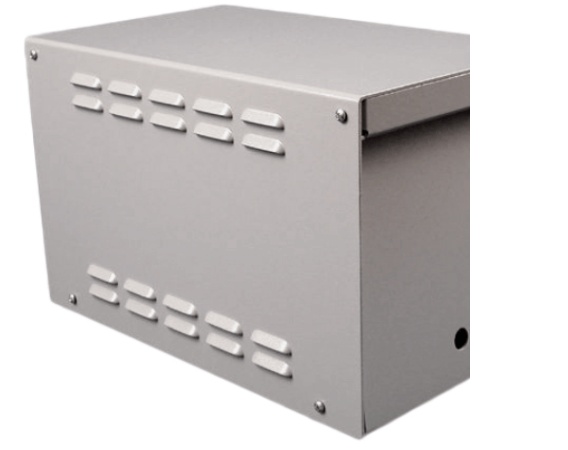 Louvered openings on enclosure
There are several designs of these louvers, such as single-slat or double-slat.
Single-slat louvers face out, but double-slat can face either way.
Besides louvered openings, you can have simple openings or holes that are circular or oval in shape, but these aren't weather-sealed, so would only be suitable for indoor uses.
Holes don't have to be small; KDM provides enclosures with big circular holes as well.
  Simple openings
Another type of passive vents, or openings, is a mesh vent.
It consists of a wire mesh that is placed into a cutout in the enclosure.
This gives a bigger venting surface, letting in more air.
However, it is also not protected against ingress.
 Mesh vent
As mentioned before, vents can be in the form of fans.
These fans actively work to move air and cool down the insides of the enclosure.
This option is better for powerful components that can easily overheat or those that should never overheat, as that would result in a hazard.
Fans can be thin, double, high-performance, and guarded.
Fan in an enclosure
Thin fans are compact and can be used in indoor enclosures.
Double fans have 2 fans near each other in a compact manner as well, but they yield a higher airflow.
High-performance fans also are powerful and require less space.
These can be found in high-demand applications, such as telecommunications and industrial board control.
Guarded fans have a steel shell that makes them more protected, up to NEMA 4 and 4X.
   Various enclosure fans
How can vents be modified?
We can add air filters and screens upon your request.
Air filters are the most common addition to regular enclosure vents.
Your filters can be whatever you need them to do.
If you want the air to be cooler in the enclosure, then a cooling air filter or a cooling screen can be put in the back of the vent.
If you need the air ionized or filtered from dust, we can do this as well.
The main difference between an air filter and a screen is that air filters don't restrict the airflow as much as screens do, although this could mean that screens do a better job of filtering air.
Screen vent
So, if you need a lot of airflow and filtering or cooling action, an air filter will work well.
However, if you are more concerned with filtering, then a screen might be better.
Filters and screens can be treated with hydrophobic or oleophobic substances, meaning that they repel water or oil/soap, increasing the protection of your electrical enclosure.
Filter vent
Does the shape of vented openings matter?
The shape of the opening lets in certain gusts of air and channels heat in particular ways.
Bigger openings tend to let in more air, but also create a slower flow of air, as opposed to pressurized by small openings air.
As for the shape of openings, meaning square, oval, or circular, it doesn't matter much.
Although, square openings aren't used often.
   Different shapes of openings
Also, the shape of the louver or cover matters since it protects the vent from the weather.
Specifically, the louvers have to be directed down.
Finally, the shape of openings matters more with fans since there is a higher flow of air.
Bigger openings may not filter air as well, but smaller openings will be noisy.
Does the shape of fan blades matter?
There are several factors in the shape of a blade that determines its properties and ability to move airflow.
For example, blade pitch, which describes the angle of the blade relative to the surrounding air.
  Different blade pitches
If the pitch is small, closer to 10 degrees, then the blade is flat.
Flat blades are faster, but they don't propel as much air.
On the contrary, the steeper pitch will require more space, but will also move more air.
A similar principle goes for straight versus curved blades.
Curved blades propel more air, but generate noise.
Meanwhile, straight blades are quiet and move less air.
Typical blade design
The overall shape, such as length and width, is important as well.
Blades, and fans in general, that are too wide, too long, too short, or too narrow won't move the air well.
The same goes for thickness.
Blades that are thick will be heavy, but very thin blades will be too bendable – either won't be efficient in cooling your enclosure.
Thus, you need to strike a golden mean for all this.
Our engineering team will be glad to help you out!
Where should vents be placed on an enclosure?
Vents and fans can be placed on any panel of the enclosure you want.
More commonly, they should be on a vertical panel, so that dust or contaminants don't pool in from the top.
However, if you have filters, then this problem is taken care of.
Openings are usually put on the front, back, or side panels.
Meanwhile, fans can be put on the back, the side, or the bottom panels.
Overall, the location of your vents should serve your enclosure, so there are no set rules.
We can help!
How many vents should there be per enclosure?
This is something that you and your design team need to customize.
The number of vents depends on the size of the enclosure, the size of the vents, and how much airflow you need.
Also, it depends on what type of vents you are going for: passive openings or active fans.
Usually, louvered openings are multiple.
There are at least 10 openings if the enclosure is small, but this number can be way higher as well.
    Enclosure with many vents
Here, the actual number wouldn't matter, but rather the size of the vented area and the size of individual holes.
Then, these can be arranged into rows and columns, giving you the necessary vented area.
As for fans, their output is important.
One high-performance fan may be enough where 4 regular fans are needed.
Often, there are 1-4 fans per panel, but if your electrical equipment is powerful or the enclosure very big, this number can go up to 6 and more.
Multiple fans on a panels can be called a cooltray or a vent tray.
Vent tray
You can also include both passive and active vents.
It is common for an enclosure to have a fan in the front and openings on the back.
But you can request any combination you see fit.
Do vents compromise an enclosure's protection?
Ultimately, yes they do, but this is something that design can fix.
Usually, gaskets and filters do the trick.
   Vented enclosure IP66
Our team is ready to listen to your requirements and create an enclosure that will be vented and protected according to either IP or NEMA, so reach out today!
How are vents and enclosures protected?
Our NEMA enclosures are protected against weather, corrosion, oil seepage, and much more.
 How NEMA relates to IP
Can vents withstand explosions and submersions?
Yes, it is possible, through the use of strong sealing gaskets and other protective design measures.
To withstand explosions, the vent needs to be NEMA rated to 7-10.
As for submersion, the least you need is IP67, allowing for being underwater up to 1 meter for 30 minutes.
This is possible, so speak to our development team today!
What are some installation methods for fans?
There are 3 main installation methods you can choose from: screw-in, snap-in, and adhesive vents.
Screw-in vents are durable and provide heavy-duty protection, as well as support for high-performance fans.
Snap-in vents are fairly durable, easy to re-install, and work well in harsh conditions.
They have a mechanism that retreats while it is pushed through, but expands after, securing the vent in place.
Snap-in vent
Adhesive vents are the most compact and easiest to install and move around, but that sacrifices some security and protection.
Besides that, you have the option of mounting the filter or fan externally or internally.
Either way, the fans can be put over existing openings, or just openings in general.
The question is: which side to put the fan on.
If you place the vent externally, any contaminants will not enter the openings, but will be repelled right away.
On the contrary, internal fans will let contaminants into the openings, but stop them from going beyond that.
Needless to say that external mounting provides more protection, but takes up more space, whereas internal mounting is more compact, but can get dust stuck in its inner corners.
External and internal mount
Furthermore, the mounting base/plate can be of several designs as well: raised, recessed, and flat.
Flat mount is easier to make, while recessed and raised are more secure.
But raised takes up a little more space that you may not have if your enclosures are close together.
In this case, recess may be the way to go.
Mounting bases
The surface and the mounting can be matched in any way, so you can have something like an internal fan with raised surface, and vice versa.
All these are similar to mounting windows on electrical enclosures.
What airflow do my enclosures need?
Airflow is the volume of air necessary to pass through the enclosure at a given time.
It is calculated from the enclosure's size, the temperature that electrical components need and create, as well as environmental factors, such as outside temperature.
Contact us for a consultation on this!
What is a vent plug?
A vent plug is an accessory to make your vents more weatherproof up to IP67.
They are cheap and made of rubber or ABS.
If you think that these are what you want for your electrical enclosures, then they need to fit the opening.
Vent plug
Also, these aren't commonly used with fans, just with openings.
This is because simple openings need additional weather-sealing, whereas fans can have that in-built.
What materials are used to manufacture vents and fans for electrical enclosures?
Vents like passive openings are just part of the enclosure, since they are just holes.
But, they can have plugs and seals made from rubber or PU material to weather-proof the vent.
Our enclosures are made from stainless steel, carbon steel, and galvanized steel.
The fan can be made of stainless steel and ABS, also using PU seals.