KDM IP44 Enclosure
Custom Ip44 or Any IP rating Enclosure
IP65/IP66 Certification
Fast Sample Production within 3 days
Custom IP44 Enclosure Manufacturer in China
KDM IP44 enclosure provides protection against contact with live or moving parts inside the enclosure by tools, wires, or such objects of thickness greater than 1 millimeter.
Also, add protection against ingress of small solid foreign excluding the ventilation openings in intake and discharge of external fans and the drain hole of the enclosed machine, which may have degree 2 protection. Furthermore, protect water splashed against the enclosure from any direction.
KDM IP44 Enclosure Series
Send your Inquiry on KDM IP44 Enclosure
KDM, as a professional electrical enclosure manufacturer, offer high standard IP44 electrical enclosure. Our latest design and manufacturing processes enable our staff to customize your enclosure efficiently and economically, providing you with cabinets that will meet your exact specifications and perform well in your application.
Manufacturing Capacity
Buying Guide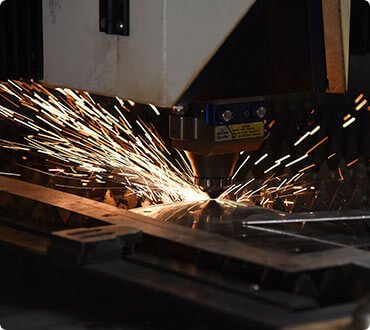 Electrical Enclosure Laser Cutting
4000W high-performance laser cutting machine, +/- 0.05mm accuracy. No burr, no scratching.
Electrical Enclosure Welding
Multi-Functioning flexible welding equipment, high accuracy, no deformation.
Electrical Enclosure Bending
+/- 0.5mm bending precision, smooth surface without bending marks.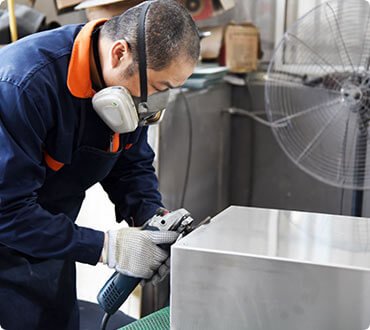 Electrical Enclosure Polishing
10+ welding experienced workers, perfect overall appearance.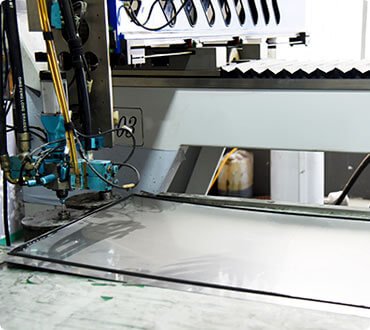 Electrical Enclosure Foaming
High speed and accuracy foaming machines, fast and qualified Gasket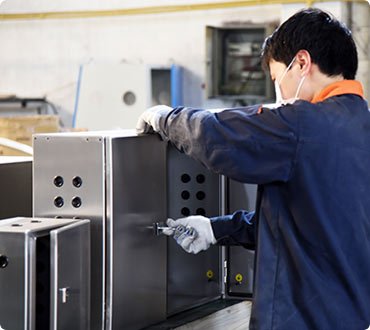 Electrical Enclosure Assembly
The expert assembling team, consistent assembly quality on every KDM enclosure
KDM IP44 Enclosure
IP44 enclosure
At KDM, we have a range of IP44 enclosure specialized materials. This includes aluminum alloys, stainless steel, galvanized steel, and carbon steel, to meet any of your application requirements. In addition to this, we have also different types of finishes available include, paints wet coat and powder coat painting, anodizing and also dining.
KDM IP44 enclosure can be custom manufactured with cutouts, holes, tapped holes, insulation, hinges, latches or locks. We had also a range of installation options, including free-standing, pad mounted, wall mounted, pole mounted and walk-in, etc.
For branding purposes, we can provide special powder coat paints and finishes. If you want your enclosure to stand out and represent your brand, you can take advantage of custom paint options and finishes. It's a great way to make a name for your brand and set quality standards that your customers can expect from you.
Our IP44 standard electrical enclosure size and shapes can be customized. Whether you are looking for an enclosure size between two standard sizes or need custom configuration for specific enclosure applications, the custom enclosure is a great solution for unique size requirement.
With a KDM IP44 enclosure, you can find a productive, cost-effective way to purchase enclosures in small or larger quantities. KDM provides you with more quality standards and gives you a unique enclosure meeting IP44 standards you can't purchase anywhere.
KDM is committed to meeting the fast turnarounds and cost-savings you need without compromising quality and the high performance you expect from your IP44 standards in an electrical enclosure.
When specifying the right electrical enclosures for your required applications, our expert team of engineers and technicians with over 10 years in the manufacturing electrical enclosure that meet IP44 standard will help you to specify either a standard enclosure or a bespoke version designed to your individual design requirements. If you need help with your own custom IP44 enclosure project, please feel free to contact us today!
The Ultimate FAQ Guide to IP44 Enclosures
What does the IP code mean?
The IP code stands for Ingress Protection.
It is also known as IEC standard 60529, and EN 60529 in Europe.
It consists of 2 numbers following IP.
The first number corresponds to the level of protection against the ingress of solids, whereas the second digit corresponds to the ingress of liquids.
 Dust rating of the IP code
For dust, the numbers go from 1 to 6, and for liquids, they go from 1 to 9K.
Enclosures with a dust rating of 1 would protect against anything that is bigger than 50 mm, or 1.9 in.
On the other hand, enclosures that are fully dust-tight protect against any solid particles.
Enclosures with a liquid rating of 1 are effective against dripping water in an upright position, thus, they are protected against rain.
 Liquid rating of the IP code
Meanwhile, 9K enclosures are able to withstand pressurized jets of hot water.
There can be a zero marked, which means no protection.
There can also be an "X" mark, which usually means that any number can be put there.
There can be other lettered markings as well.
What does IP44 mean?
Enclosures rated with IP44 are protected against tools, small wires, and big ants larger than 1 mm, or 0.04 in, and from water spray from any direction.
What do the letters on IP codes mean?
As mentioned above the "X" means that there is no available information, or that it is irrelevant or replaceable.
There are 2 sets of optional letters you can add after the digits.
The first set: A, B, C, D, describes the protection of the enclosure against tampering.
A stands for protection against the back of a hand, B stands for protection against a finger, C stands for protection against access with a tool, while D stands for protection against access with a wire.
The second set of letters – H, M, S, W – tell the user what the enclosure is for.
H indicates that the enclosure is made for a high-voltage device, M indicates that the device inside the enclosure was moving during the water test, whereas S indicates that it was standing still.
Finally, W means that the enclosure is weather-proof.
 The full IP code
You can use these to indicate what features you want your IP44 enclosures to have.
Who sets IP standards?
The International Electrotechnical Commission (IEC) sets up IP standards, hence it is known as the IEC standard 60529.
How are IP enclosures tested?
For dust, various solid objects are pressed against the test subject.
With enclosures, vacuums are used for 8 hours, attracting all sorts of dust.
If by the end, no dust is found inside the enclosure, it is rated as dust-tight.
As for liquids, the test depends on the level of protection.
The testing can be with spray nozzles, oscillating tubes, tilting the enclosure, water jets, and submerging the enclosure under different depths and for different lengths of time.
 Spray nozzle testing
IP44 enclosures undergo this testing.
More specifically, IP4X is tested using a 1.0 mm access probe and by inspection to ensure any dust that enters would not interfere with the functionality of electrical components.
IPX4 is tested with spray nozzles with oscillating tubes for 5-10 minutes.
How can I be sure of the quality of KDM IP44 enclosures?
You can take a look at our certifications, such as the ISO9001 certificate and the IP66 certificate.
What NEMA type is IP44?
As for NEMA, we offer any type, starting with 1 and up to 13, including subtypes, such as 3R. Our NEMA enclosures are protected against weather, corrosion, oil seepage, and much more.
IP ratings and NEMA types cannot be directly converted into one another, but they can be loosely compared as shown below.
 NEMA and IP ratings comparison
IP44 does not have an exact comparison in NEMA types, but the closest ones would be types 12 and 13.
Is IP44 okay for outdoor applications?
IP44, just like our other IP enclosures, is suitable for outdoor application because it is protected against water sprays from any direction.
Just be mindful that the enclosure is not fully dust-tight and waterproof, so very dusty or marine environments may be too harsh for it. If you need that, check out our IP65 enclosures.
Where can IP44 enclosures be used and for what applications?
IP44 enclosures can be used both indoors and outdoors in non-hazardous environments, such as in the residential and commercial sectors.
Industrial sectors may need more heavy-duty protection, such as IP57 and up.
As for what can be housed in such enclosures, metering boxes is a common application.
Distribution boards, transformers, simple control panels, small telecom equipment, fuse blocks, power panels, as well as many more electrical components.
Can I request enclosure accessories?
You can request vents, windows, hinged doors, locks, cable management systems, and much more.
Vents, as well as radiating fans, provide a path for heat to escape through, cooling electrical components of the enclosure. This prolongs their life and decreases the possibility of malfunctions.
Radiating fan in an enclosure
These also stabilize air pressure inside the enclosure, preventing condensation which can damage the electrical components of the enclosure.
Plus, the vents can be further upgraded to air conditioners and heat exchangers.
Windows are used to help workers examine the electrical components in a non-invasive way.
And if something goes wrong, a window helps what is happening see right away.
Plus, infra-red windows help protect personnel from arc flash accidents.
Enclosure with a window
Hinged doors control how and how much the door or cover of the enclosure opens.
This also includes a variety of handles that you can request as well.
Locks add a layer of security to your IP44 enclosure, making sure no one tampers with it or accidentally accesses its electrical components.
Another small feature includes file pockets.
File pockets are used to store files like operating manuals, shift logs, information booklets, and anything else important that pertains to electrical components within the enclosure.
If your enclosure is intended for the outdoors, then the file pocket should be inside the enclosure, but if it is intended for the indoors, then it does not matter.
File pocket (in white)
Cable management systems such as cable entry frames and clamps serve to keep wires organized and make them easier to install and maintain.
Cable entry frames reroute and lead cables in and out of the enclosure to an outside source.
Meanwhile, cable clamps hold cables in place.
There can also be various racks and bundles if there are a lot of cables.
We also offer light switches as well as enclosure lights, casters, thermostats, and heat strips that cool down your enclosure.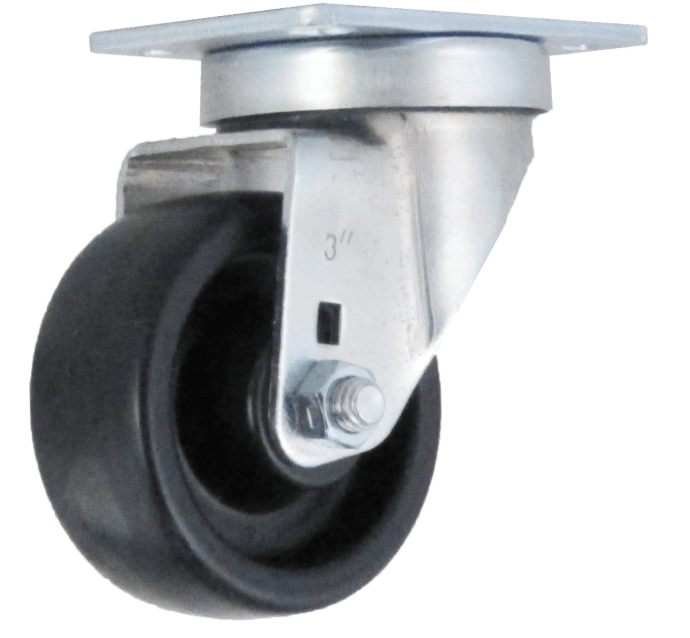 Caster
Smaller accessories that you can request for IP44 enclosures include solar shields, rain caps, and lifting eyes.
Solar shields are basically another layer on top of an enclosure that reflect solar radiation, controlling inner temperature of the enclosure to prolong the life of its electrical components.

 Solar shield (the top plate)
Rain caps are the top parts of an enclosure.
They can be flat, but protruding forth more than the enclosure, or they can be tilted like a roof.
They help divert streams of rain off of the enclosure so the rest of it gets less exposure to the rain.
This prolongs the life of your enclosure.
Rain cap
Lifting eyes help with the installation and transfer of your enclosure.
They are little hooks at the corners of an enclosure that you can use to lift it up for transportation of mounting.
This is especially useful if an enclosure is very heavy and the only way to transport it is by lifting it up.
Lifting eyes
To learn more, feel free to contact us for more information about all the different features we offer!
Will additional features compromise the IP rating?
Yes, features like vents, windows, and locks do somewhat compromise the IP rating, but there are ways around it.
But KDM overcomes this difficulty, offering you some of the best enclosures for your business.
We incorporate various gaskets and filters to bring the IP rating back up.
What designs of IP44 enclosures can I choose from?
Designs for IP44 enclosures don't differ from other enclosures we make.
Namely, we offer free-standing enclosures, floor-mounted, wall-mounted enclosures, pole-mounted enclosures, junction boxes, recessed enclosures, and custom enclosures.
Free-standing enclosures are perfect for large electrical units that are too heavy to be wall-mounted or pole-mounted.
They could be of any height and width. They are also portable, and can be walk-in enclosures.
Free-standing enclosure
Floor-mounted enclosures are very similar to free-standing enclosures, only floor-mounted ones are secured to the floor – thus, they are not portable.
Wall-mounted enclosures use mounting brackets, screws, and pads.
They are perfect for small devices, and thus are cost-effective.
Wall-mounted enclosure
Pole-mounted enclosures are not too different from wall-mounted ones.
They also use mounting brackets, but they are ring-shaped, placed around the pole.
 Pole-mounted enclosure
Junction boxes and operator interfaces are usually enclosures on a stand.
They have user-friendly layouts, are great for small electrical units, and can be portable.
Junction box enclosure
Recessed electrical enclosures are installed into a hole in the wall or floor.
They can be of any design, but are recessed into something, so only the door is visible.
Of course, we also have our custom enclosures, which can be of any design, shape, and requirements.
Custom IP44 enclosure
Plus, we offer different options for doors, including single, double, and multiple doors.
Single doors are perfect for smaller and less complex electrical units, whereas double doors are used for large and complicated units.
Multiple doors are used for huge industrial applications or for increased security.
If you would like a consultation on our designs, you are welcome to reach out to us!
What materials are used for IP44 enclosures?
The materials used for IP44 enclosures aren't different from materials used for other types of enclosures.
They can be made from carbon steel, galvanized steel, and stainless steel – usually of the grades 304 or 316L.
Keep in mind that each has certain qualities.
Carbon steel is usually duller than stainless steel.
It is also magnetic and more malleable since it only has iron and carbon.
This steel is also prone to corrosion.
Stainless steel is created by adding chromium, nickel, and molybdenum to the iron-carbon alloy.
 Stainless steel vs. galvanized steel
The grades 304 and 316 differ in the content of all additives.
Grade 316 is slightly stronger and resistant to saline and acidic water.
Grade 316L has a lower carbon content, making it a little bit stronger.
Galvanized steel is coated with a layer of zinc that gives it corrosion-resistant qualities.
While we do offer galvanized steel enclosures, this metal is vulnerable to salt water.
Please note that galvanized steel is more expensive and heavier than stainless steel.
IP44 enclosures can also be made from aluminum alloys.
These can be either from the 5052 or 6061 alloy.
Aluminum vs stainless steel
Both are lightweight, but 5052 is more weldable, whereas 6061 has a higher resistance to corrosion.
Also, 6061 is more expensive.
Plus, we can include windows made from polycarbonate, ABS, and glass-reinforced plastics such as fiberglass.
Polycarbonate is more resistant to corrosion, whereas ABS is cheaper.
Fiberglass is very strong, can dissipate heat, and insulates electricity, lowering the effect of interference and the possibility of shock.
It is made from glass fibers placed in plastic.
This seems like a lot, so send in your inquiry now for a consultation!
What paints and coatings can be used for IP44 enclosures?
Our enclosures are well-protected, but the right coating can add its protection as well.
You can choose enamel or powder paint coats in any color.
Enamel paint has a glossy finish and is resistant to different weather conditions.
Specific enamel paints like epoxy enamel and PU enamel are commonly used for industrial enclosures since they are resistant to corrosion.
Powder paint is deposited with the electrostatic force and is quicker and easier than enamel.
It is also more flexible in appearance, giving you the option of glossy and matte finishes.
 Powder coating finishes
We also offer anodizing and also dining coatings.
Anodizing coating uses anodes to oxidize a metal, usually aluminum, to increase its thickness for better corrosion resistance.
Steel is not typically anodized because it can actually speed up the corrosion of the metal.
Alodine coating, also known as the chromate conversion coating, is used to prime steel and aluminum for paint, as well as prevent corrosion.
 Alodine coating
This is a cheaper process than anodizing and can be recognized by its distinctive greenish-yellow hue unless it is painted over.
Recent IP55 Electrical Enclosure Order
FAQS
What is IP44 Enclosure?
Enclosures with IP44 ratings are protected against small wires, tools, and 0.04 inches or 1mm bigger ants.
IP44 enclosures are also protected from water spray in any direction.
What is IP44 Mean?
IP ratings such as IP44 mean that your product is protected against continuous, complete submersion in water.
It can protect from low-velocity water spray and is bigger than 1mm size of objects from any direction.
What Are the Characteristics of IP44 Enclosure?
IP44 enclosure can be available in aluminum alloys, galvanized steel, stainless steel, and carbon steel.
They are available in different finishes, including:
Anodizing

Powder coat painting

Wet coat
Moreover, IP44 enclosure is available in a wide range of installations, such as:
Free-standing

Pad-mounted

Wall-mounted

Pole-mounted

Walk-in
What Are the IP44 Enclosure Features?
IP44 enclosure is available in many different features, including:
Tamper-resistant and security hardware

Light witches

Viewing windows

Power panels

Fuse blocks

Risers

Support legs

Casters