KDM Steel Electrical Enclosure
Custom Carbon Steel enclosure.
IP65/IP66 Certification
Fast Sample Production from China
KDM Custom Steel Electrical Enclosure for Your Project
Most cost-efficient choice
Various mechanical properties for specific applications
All types of enclosures are available
Satisfying protection standards through powder coating
Over 10 years steel electrical enclosure manufacturing experience
KDM Steel Electrical Enclosure Series
Send your Inquiry on KDM Steel Electrical Enclosure
KDM has been manufacturing steel electrical enclosures for more than a decade and has been constantly improving its manufacturing process.
And now, KDM is able to provide to option of powder coating. This is an effective way of enhancing the protection capability of your enclosures as the coated surface is more resistant to corrosion.
Manufacturing Capacity
Buying Guide
Enclosure Designs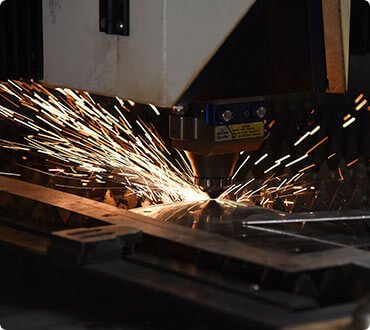 Electrical Enclosure Laser Cutting
4000W high-performance laser cutting machine, +/- 0.05mm accuracy. No burr, no scratching.
Electrical Enclosure Welding
Multi-Functioning flexible welding equipment, high accuracy, no deformation.
Electrical Enclosure Bending
+/- 0.5mm bending precision, smooth surface without bending marks.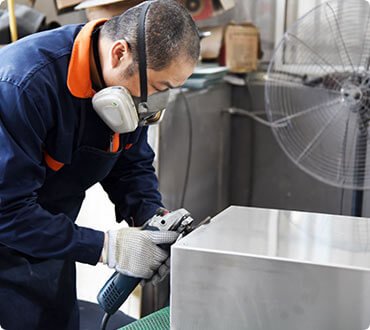 Electrical Enclosure Polishing
10+ welding experienced workers, perfect overall appearance.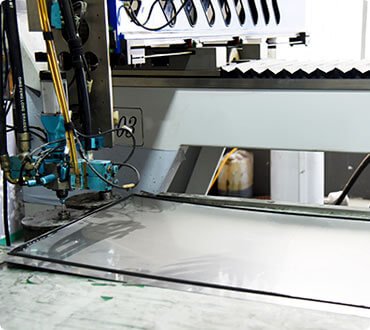 Electrical Enclosure Foaming
High speed and accuracy foaming machines, fast and qualified Gasket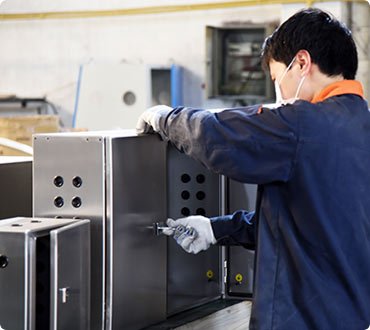 Electrical Enclosure Assembly
The expert assembling team, consistent assembly quality on every KDM enclosure
KDM: Your Professional Steel Electrical Enclosure Manufacturer
KDM knows all your requirements on steel electrical enclosure, send us your drawing and we'll custom your best electrical enclosures!
KDM provides a wide range of steel electric enclosures, which are made of carbon steel, including free-standing electrical enclosures, wall mount electrical enclosures, floor mount electrical enclosure, junction box enclosure as well as the modular electrical enclosure.
As one of the most widely used materials around the world, carbon steel is a very cost-effective material for electrical enclosures compared to various types of stainless steel and galvanized steel.
Therefore, KDM is able to provide you with the type of electrical enclosures in carbon steel at a very reasonable price.
And the powder-coated steel electrical enclosures provided by KDM are also able to meet the requirements of the specific NEMA or IP protection standards based on your applications.
In addition, the powder coating itself is an environmentally friendly process compared to the conventional coating methods as it creates a minimal amount of waste.
It will help your enclosure last longer and therefore let you spend less afterward.
Steel Electrical Enclosure: The Ultimate Guide for Importers
Steel is an important material in electrical enclosure applications.
Electrical enclosures are today used in a whole host of environments and areas.
From small home applications to large industrial settings; electrical enclosures can be found everywhere.
Now, in most of these areas, harsh conditions like rain, sun, dust, humidity, etc. can be a problem.
They bring about premature wear, tear, and abuse of electrical equipment and components.
As such, electrical equipment in such areas needs to be protected from any harsh conditions.
The enclosure housing it shouldn't also pose a risk by suffering from corrosions and other problems arising from the elements mentioned earlier.
Luckily, there's is a solution, steel electrical enclosures.
 Steel Electrical Enclosure
What is a Steel Electrical Enclosure
Simply put:
Steel electrical enclosure is a cabinet for housing and protecting electrical equipment and is made out of steel material.
You see, electrical enclosure manufacturers use a variety of materials to make these structures.
A good number of these materials are more durable, reliable and long lasting while others are costly to acquire and maintain.
Now, with affordability being a high priority for industrial users, steel electrical enclosures have a lot to offer.
Not only are steel enclosures affordable, but they are also low maintenance.
And, compared to other metals used in enclosure construction, steel is cheaper and lighter.
But more so, it is highly resistant to environmental stresses like dust, rain, winter ice, and humidity.
Additionally, many types of steel are resistant to fire, rust, mold, and many pests that would be the undoing of softer materials.
If you want a robust electrical enclosure that is built to last through different levels of erosion, steel is quite literally an excellent choice.
Just keep in mind that there are different types of steel.
There is carbon steel, stainless steel, and galvanized steel.
I will explain this later in this article.
Having said that, let's look at the various designs of steel electrical enclosures.
Designs of Steel Electrical Enclosures
Steel electrical enclosures are available in a plethora of designs.
You can choose your design based on the mounting option, a number of doors and the additional accessories needed.
At the end of the day, you have to choose an enclosure design that is very specific to your requirements.
So here are the design options for steel electrical enclosures:
As I've said, steel electrical enclosures come in different mounting options.
There are the floor mount enclosures that come with a balancing floor stand.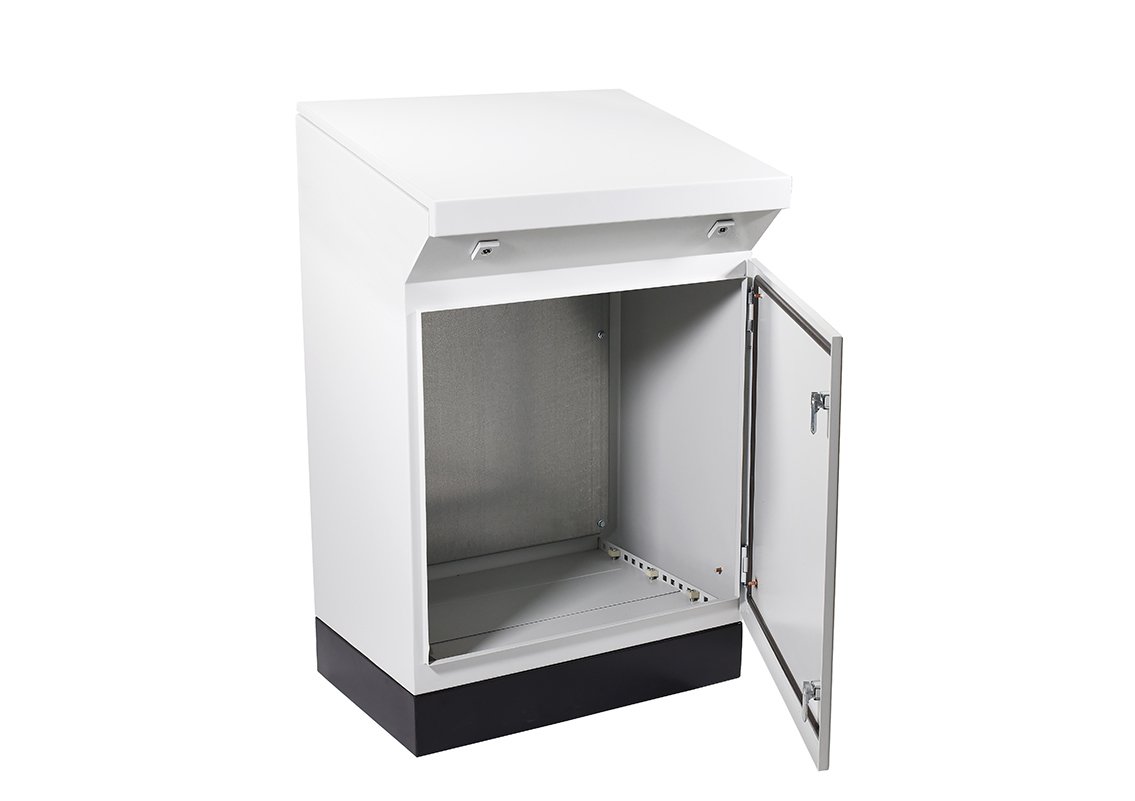 Floor mount electrical enclosure
These only require ground support. They can stand freely, against the wall or other objects.
Wall mount enclosures are mounted on a flat wall using hardware brackets, screws or pads.
Wall mount electrical enclosure
It all depending on what wall mounting option the manufacturer provides.
Wall mount cabinet enclosures are a cost-effective electrical enclosure solution.
But, only where equipment needs are modest and not likely to increase for an application.
As their name suggests, free-standing steel electrical enclosures are free standing.
These enclosures don't require any mounting or support to stay in place.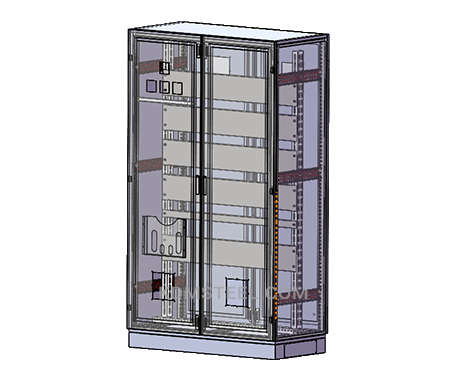 Free standing electrical enclosure
The advantage of freestanding electrical enclosures is that you can move them wherever and whenever.
They are thus suitable for on the go applications.
· Single door
Single door enclosures as you can guess are built with one single door for accessing contents.
These are mostly installed in smaller enclosures that are meant to house minimal contents.
· Double door
This is a design that incorporates two doors in a single enclosure.
They are usually considered to provide easy access to contents.
Double door electrical enclosure
Double doors are most common in larger steel electrical enclosures.
· Multiple doors
Multiple door enclosure presents more than two access doors.
These doors are spread out through the front panel to provide compartmental access to contents.
Multiple door electrical enclosure
Multiple doors are mostly considered for enclosures meant for large industrial applications.
Other design elements that you can consider when opting for a steel electrical enclosure include;
Door opening mechanism; lever or hinge
Locking mechanism
Ventilation
Quality Standards for Steel Electrical Enclosures
Most steel electrical enclosures in the market are designed and built in adherence to the set industry standards for performance and reliability.
These standards include:
1. NEMA
Steel electrical enclosure for whatever type of application is often designed to NEMA standards.
NEMA is an international organization that regulates the electrical and electronics industry.
The body has put forth standards for which electrical enclosure products have to adhere to ensure reliable performance and protection.
So when looking to import a steel electrical enclosure, you should check to ensure that it is NEMA rated.
But don't stop there, ensure that the product rating is suitable for your application.
There are 13 NEMA types, and each of the 13 has a different protection specification.
In this case nonetheless, anything from NEMA 4 and above would suffice.
2. IP (IEC 60529)
IP protection ratings are put to assure users that electrical enclosure products are safe from intrusion by foreign solids and water.
Usually, IP ratings are two digits that indicate the level of protection of a product from solids and water to a certain degree.
For steel electrical enclosures thus, you want to ensure that it can protect against the ingress of dust, dirt, water, ice, etc.
As such, you should look out for a product with an IP65 rating and above.
3. UL
The universal laboratories is an internationally recognized body that performs a test on product samples to ensure that it conforms to industry standards.
This safety measure is mandatory for electrical and electronic products entering the US.
So if you are importing your steel electrical enclosure, you might want to ensure that it is UL listed.
Otherwise, you'll experience difficulties having the product cleared for entry into the US.
4. RoHS
In this era of global warming, it is only wise if we are careful about what materials we release into the environment.
Materials like mercury, lead and cadmium are known to hazardous both to human health and the environment.
It is because of this reason that the RoHS standards were put in place to restrict the use of these materials in electronic and electrical products.
So be sure to check and ensure that your product is RoHS certified.
5. CE
CE is a mandatory safety mark for products that are manufactured and sold in the European economic zones.
A CE mark on steel electrical enclosures indicates that the product conforms to the set EU health, safety, and environmental regulations.
Steel Electrical Enclosures Specifications
Steel Electrical Enclosures Welding
Choosing a steel electrical enclosure or any enclosure for that matter is as easy as some may think.
So what elements should you look out for when looking for a cabinet to house your valuable electrical equipment?
i. Material
As I said earlier in this guide, there are three types of steel materials for electrical enclosures.
There is carbon steel which is mostly used for outdoor electrical enclosure applications.
Carbon is a low-cost material that makes for a perfect fit for the affordable electrical enclosure.
Note however that carbon steel requires some coating/painting to prevent it from rust and corrosion effects.
This means that carbon steel electrical enclosure is a more viable option for less corrosive environments.
Otherwise, once the coating/paint peels off, the material becomes highly susceptible to rusting.
There is stainless steel, the most popular steel material in the manufacturing of electrical enclosures.
Stainless steel, please note, is popularly used by enclosure manufacturers due to its special anti-corrosion qualities.
The material is also naturally appealing, strong, and highly durable.
With a stainless steel electrical enclosure, you can rest easy knowing that the material won't succumb easily to impact damage.
Last but not least, there is galvanized steel.
Now galvanized steel is not so popularly used to manufacturer electrical enclosures because it is heavy and expensive.
But the few that use it do it because of it unwavering resilience to harsh environments.
Remember that galvanized steel that has a protective zinc coating.
The coating helps to enhance the resistance of the steel to impact, abrasion, and corrosion.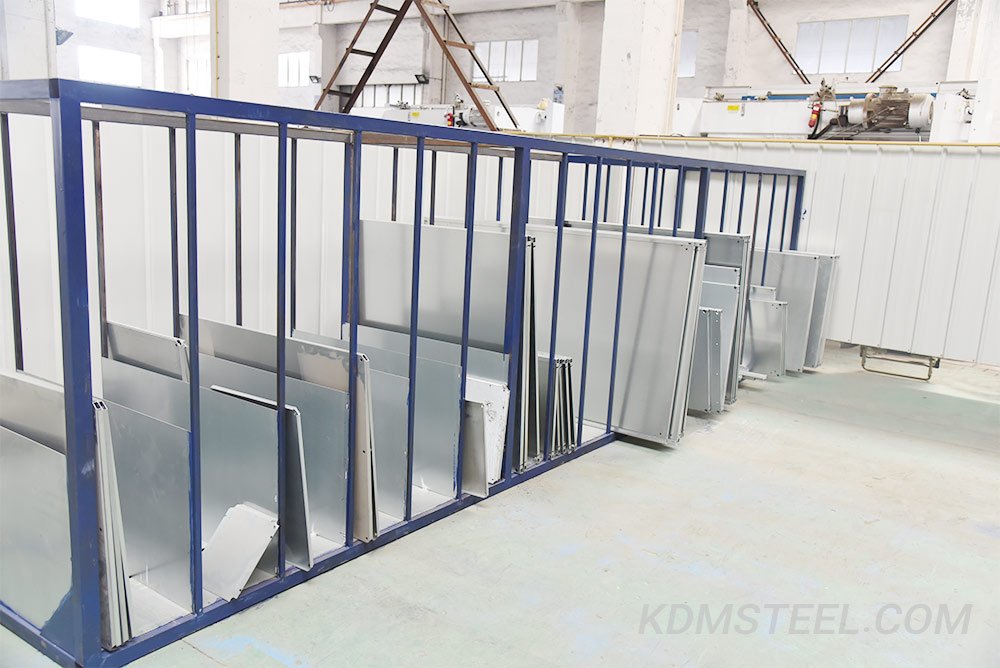 Steel Electrical Enclosures Material
It also makes steel highly durable and attractive.
So generally, steel is available in three forms, as I've mentioned.
And, as you can see all three types of steel vary in attributes and each has its advantage and disadvantage.
The best way to choose the best steel material regarding electrical enclosure is to determine your application and needs.
This is the only way you'll be able to select a suitable steel electrical enclosure that can withstand the most stringent environmental conditions.
ii. Heating and cooling
The internal temperature of your steel electrical enclosure is crucial for the well being of the enclosed equipment.
You should know that steel tends to absorb heat faster than anything else.
And, too much heat in the enclosure can't be good for your electrical equipment.
As such, you should speak to your manufacturer to implement a heating and cooling system in your steel electrical enclosure.
Insulation, broadly, can help ensure that the safety of your equipment in high-temperature applications.
iii. Size
Size is a crucial factor to consider when choosing a suitable steel electrical enclosure.
Different sizes of steel electrical enclosure
There are different sizes of this enclosure in the market.
The right enclosure for you, therefore, will depend on several things.
The contents you need to enclose, the design you want, and the installation space.
So choose a size that best suits your needs and application.
iv. Mounting and orientation
How do you want to mount your steel electrical enclosure?
You need to determine this to be able to choose a suitable enclosure for your application.
Steel electrical enclosure
There are many options; there is the wall mount, free-standing, and floor mounting options.
Further, you can choose an enclosure that uses screws or that comes with mounting brackets.
v. Protection
Before you buy a steel electrical enclosure, you need to check its protection ability.
Can the enclosure protect against ingress of foreign solids and water?
Is it suitable for use in the outdoors, indoor, or both?
Lockable steel electrical enclosure
How safe is it to human health and the environment?
All these are things that you've to consider when looking at the protection level of the product.
In this regard, you need to review the product's NEMA and IP ratings as well as check for UL, CE and RoHS markings.
Other elements to consider are ventilation, accessories, frame and earthing.
KDM Steel Enclosure Manufacturer
KDM steel is an industrial steel electrical enclosure manufacturer with long-lasting experience in this.
The company provides top quality off the shelf and custom made stainless steel electrical enclosures.
Our off the shelf models are designed with strength and durability in mind.
At KDM steel, we can also plan and quickly execute custom enclosures based on existing, modular designs.
Alternatively, our expert designers can create something from scratch based on unique specifications customized to meet your precise requirements.
Plus, our prices are quite reasonable.
So call us now and let's make you a strong, corrosion free, and durable steel electrical enclosure.

Conclusion
Steel is generally the perfect material for an electrical enclosure especially in harsh environments – it provides the best solution for all-round physical protection.
A steel electrical enclosure will offer a rugged solution for the application.
It'll ensure that your electrical equipment doesn't fail due to impact damage caused by vandalism or due to corrosion.
This means that it will save you a lot of headache and costs of repairs and replacements of equipment.
In simple words, invest in affordable, utilitarian and attractive KDM steel electrical enclosures that are built tougher to last longer.
What is the Purpose of a Steel Electrical Enclosure?
Figure-1 Steel Electrical Enclosure
A steel electrical enclosure protects all sensitive electrical operators and components from electric shock, explosion, malfunction, and massive damage. 
It has a compact and durable construction that can withstand harsh weather and damaging substance. 
What are the Features of Steel Electrical Enclosure?
Here is the following of a steel electrical enclosure:
Easy installations.
Steel electrical enclosure can be detached or removed conveniently without experiencing any complications and troubles. 
Durable Lock and Key System.
This is necessary to prevent all the inside components from stealing, massive breakdown, and electrical accidents.
Enduring sealing slip or gaskets.
This is used to prevent electric leakage and shock. This holds the enclosure door tightly closed, stopping the dirt, water, and dust from entering.
High Strength Hinges.
This will keep the enclosure door not being damaged even if it is repeatedly opened and closed. 
What are the Benefits of Steel Electrical Enclosure?
Figure-2 Steel Electrical Enclosure
Steel electrical enclosure is an essential tool used in specific electronic fields and enclosed installations.
This considers as the most preferred electrical enclosure to be used in any automotive and electronic field, including the following:
Sturdy
Steel electrical enclosures with high toughness of steel materials. It gives high strength to endure extreme temperatures, whether hot or cold. 
In addition, steel electrical enclosure also has high durability to hold out against excessive dirt, corrosion, contaminants, and ingress of liquid substances. 
Shielded
This is used to keep all the electrical components dry and secure. 
Environmentally Sound
An electrical enclosure can use steel materials many times and longer. Uncomplicated to use and lightweight to move around in any area.
Fireproof
The electrical enclosure made up of steel provides superior protection against the high capacity of fire and explosive chemicals.
Cost-efficient
Steel materials are a more inexpensive type of material used for enclosures. Gives long-lasting use and fewer expenses for maintenance. 
What are the Best Uses of Steel Electrical Enclosure?
Steel electrical enclosure is versatile and visibly flooded in electronic, industrial, and automotive settings. 
The following are some applications where steel electrical enclosure is usually used:
The production of oil and gas

Hospitals

Medical

Agricultural system

Factories 

Pharmaceutical manufacturing and production 

Wastewater treatment

Handling and processing of food supply

Residential applications
Figure-3 Steel Electrical Enclosure
What Kind of Electronic System Components that Preserved by Steel Electrical Enclosure?
Steel electrical enclosure is used to protect the most minor to most significant sensitive and vital electronic components, which include the:
Circuits breakers

Control system

Contactors

Electrical panelboards

Switches

Electronic wires and cables

Capacitors

Inductors
What are the Primary Considerations in Choosing the Right Steel Electrical Enclosure?
The following are the fundamental consideration that needs to evaluate in choosing the right and best steel electrical enclosure:
Shapes and Measurements.
A steel electrical enclosure comes with many measurements and shapes that vary depending on the purpose. 
In obtaining the actual measurements and sizes of an enclosure, this is also necessary to evaluate first the number of electronic components to be enclosed inside to ensure its accuracy, suitability, and safety.  
Materials. 
It is essential in an electrical enclosure to use highly durable materials to ensure the sustainability and protection of the enclosure. 
Steel is the most common metal material used in constructing electrical enclosures since it is inexpensive yet enduring, safe, excellent resistant, and sturdy. Additionally, this material is also known for its superb strength and malleability. 
Aside from steel, there are also some materials used to manufacture electrical enclosure, like the following:
Aluminum

Stainless

Carbon steel

Galvanized steel
Rating System Qualifications.
The rating system in an enclosure will serve as a significant basis that proves that the enclosure obtains the highest rate of durability, safety, and protection. 
However, most of the electrical enclosures obtain the major ratings, including the following:
Figure-4 Steel Electrical Enclosure
What are the Related Types of Steel Electrical Enclosure?
There's are some related types of steel electrical enclosure, such as:
Carbon Double Door Desk Steel Electrical Enclosure
Outdoor IP 65 Wall Mount Steel Electrical Enclosure
Floor Mount Multi Door Steel Electrical Enclosure
Outdoor Free Standing Steel Electrical Cabinet With Window
Indoor Use Wall Mount Steel Electrical Enclosure With Pocket
Free Standing Steel Electrical Cable Enclosure With File Pocket
Floor Mount Steel Electrical Enclosure With Window
Double Door Steel Control Cabinet
Steel Outdoor Locking Electrical Enclosure
Carbon Steel Recessed Electrical Enclosure
Double Door Free Standing Steel Electrical Enclosure With File Pocket And Air Filter
Steel Free Standing Electrical Panel Enclosure
Single Door Steel Piano Type Enclosure
Piano Type Steel Electrical Panel Enclosure
Outdoor Steel Wall Mount Electric Enclosure
What is the Standard Measurement of a Steel Electrical Enclosure?
Most of the steel electrical enclosure measures 200mm x 300mm x 100mm to 800mm x 1200 x 300mm.
However, this can be customized or adjusted depending on the required applications.