KDM Mild Steel Enclosure
Superior Design for Your Mild Steel Enclosure
MOQ 1 PC
Fast Sample Production within 3 days
Custom Mild Steel Enclosure Manufacturer in China
KDM mild steel enclosure is designed for a wide range of industrial environments including road, motorway, rail and underground tunnels, offices, hotels and public buildings, and major infrastructure projects.
These enclosures are applicable where it is necessary to protect controls and instrumentation from wet, non-corrosive environments. 
KDM Mild Steel Enclosure Series
Send your Inquiry on KDM Mild Steel Enclosure
Our mild steel enclosures are manufactured using high-strength materials like galvanized steel, 304 and 316 grades stainless steel, and steel, allowing them to have a strong and rigid construction. Thus, you can be sure that our cabinets are built to last longer.
Moreover, this enclosure is available in a range of different sizes with a spectrum of accompanying accessories. These enclosures are finished with a highly durable powder coat paint that provides corrosion resistance and enables both indoor and outdoor use.
Manufacturing Capacity
Buying Guide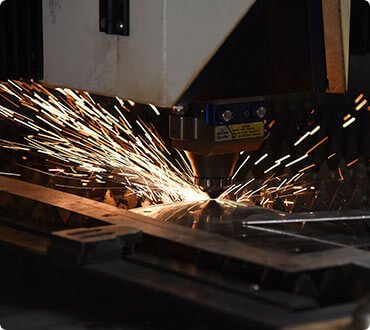 Electrical Enclosure Laser Cutting
4000W high-performance laser cutting machine, +/- 0.05mm accuracy. No burr, no scratching.
Electrical Enclosure Welding
Multi-Functioning flexible welding equipment, high accuracy, no deformation.
Electrical Enclosure Bending
+/- 0.5mm bending precision, smooth surface without bending marks.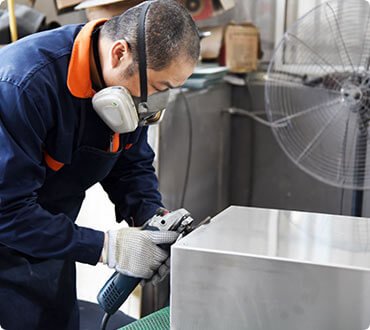 Electrical Enclosure Polishing
10+ welding experienced workers, perfect overall appearance.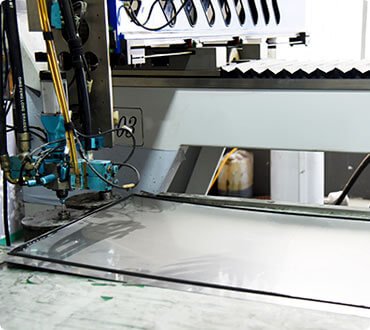 Electrical Enclosure Foaming
High speed and accuracy foaming machines, fast and qualified Gasket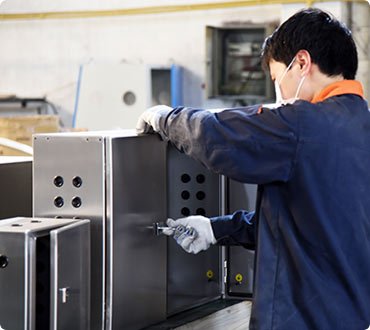 Electrical Enclosure Assembly
The expert assembling team, consistent assembly quality on every KDM enclosure
KDM Mild Steel Enclosure
KDM mild steel enclosure is available in a variety of sizes, layouts, materials, and protection standards. Thus mild steel enclosure is offered with additional features, accessories, and mounting hardware.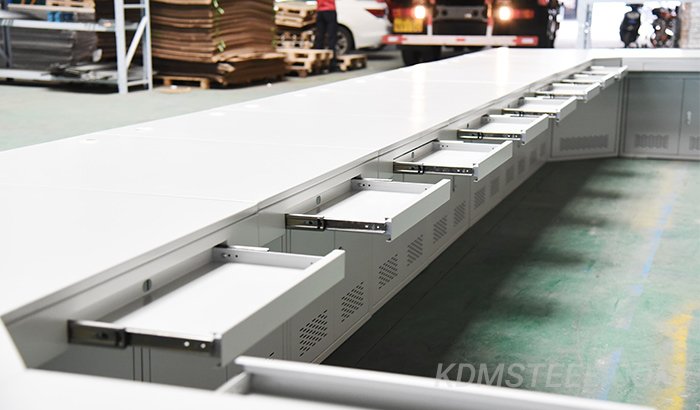 Mild Steel Enclosure
KDM mild steel enclosure comes with doors that are fitted with concealed hinges and a continuous polyurethane foam gasket or door seal to ensure a degree of dust and water resistance within standard specifications. Also comes with fastening bolts around areas on the rear for easy, safe, and secure mounting. Thus, fitted with automatic trip-switches in case of contact with water or an interior fault. Our standard colors with other colors or cut-outs are available upon request.
Mild Steel Enclosure Raw Material
KDM manufactured mild steel electrical enclosures in wall-mount, free-standing, floor mount, junction box, and trough types due to its suitability in the forming process of manufacturing. Our range of mild steel enclosures is offered in competitively priced and is suitable for various industrial applications. KDM mild steel enclosure adheres to strict enclosure quality standards to ensure product performance and reliability.
KDM mild steel enclosures are fully welded to form a solid construction, with a very high and durable textured paint finish. The quality speaks for itself and reflects the standards of the automation we use during the manufacturing process. The boxes can be fitted with a large variety of different inserts, which enable you to build a custom enclosure to suit any application.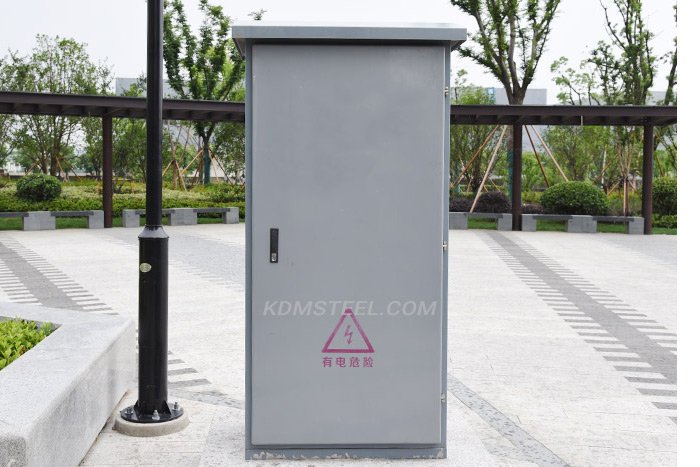 Mild Steel Enclosure 2
Our mild steel electrical enclosures have been used for many years and throughout many applications as their main feature is to protect various items from exterior environmental conditions and also away from people when used indoors.
At KDM, our mild steel enclosure can also be suited to any modern home, this enclosure protects the live cabling from any accidents that might happen such as a child or animal playing near it and getting in contact with dangerous electrical currents. It is one of the technological innovations of our mild steel electrical enclosures.
KDM Mild Steel Enclosure Factory
With KDM mild steel enclosure, exposure to the effects of the corrosion will not be an issue. For more than 10 years, at KDM we pride ourselves to be one of the most outstanding manufacturers of mild steel electrical enclosures in China, and by sending us your inquiry, you can be sure that you will find the exact type of mild steel electrical enclosure for your needs.
Recent Mild Steel Enclosure Order
FAQS Guide
What is a Mild Steel Enclosure?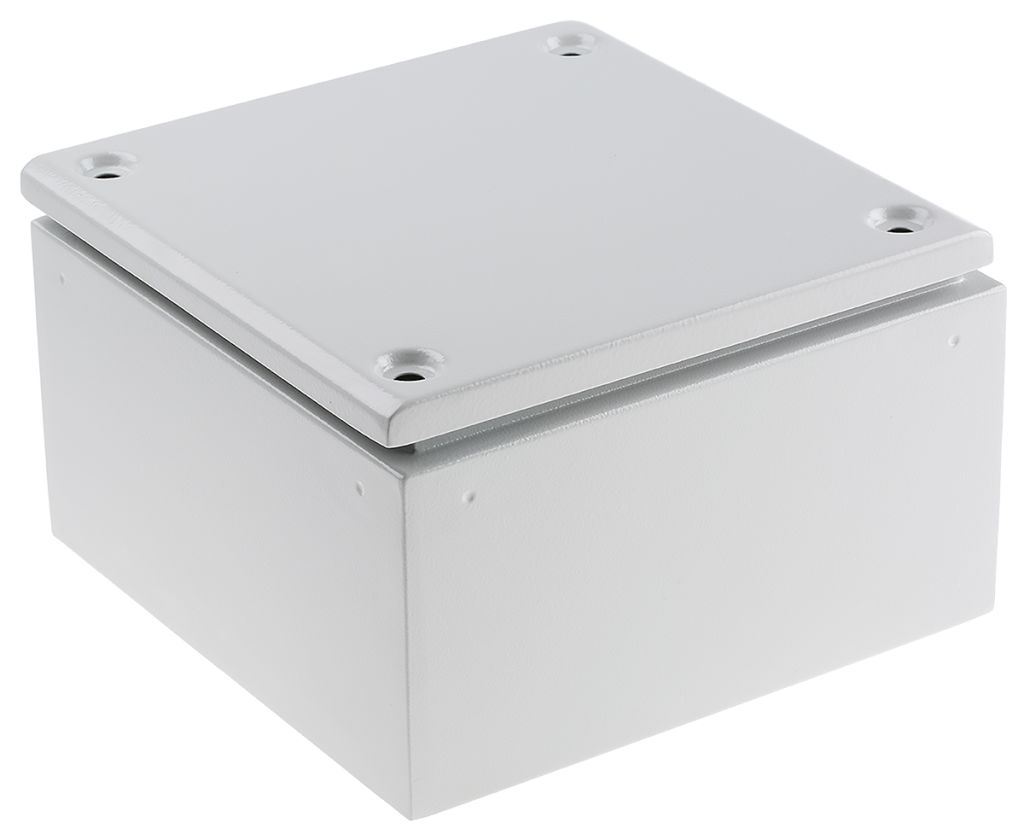 A mild steel enclosure is used to encase electrical components.
They secure their contents against extreme environmental hazards, moisture exposure, and corrosive substances.
The mild steel enclosure is known for its customizable and versatile properties.
What Components is Protected of Mild Steel Enclosure?
Protected components inside the mild steel enclosure may include:
Circuit breakers
Control panels
Switches
Contractors
What Material Used in Mild Steel Enclosure Production?
As the name implies, mild steel enclosure is specifically made from cold- or hot-rolled steel.
The hot-rolled is generated from hot-finished, low-carbon steels. It is raised above recrystallization temperature.
While the cold-rolled steel is also generated from low-carbon. But this time, the material temperature is not raised.
All enclosures made of mild steel are allowed for both outdoor and indoor environments.
But unlike others, mild steel enclosures are not abrasion-resistant rated.
However, improving their performance is possible with powder paint polish.
What is Mild Steel Enclosure Technical Specifications?
Knowing mild steel enclosure technical specs can help you familiar with the product.
Enclosure body: Cross-shaped single-piece body, groove-formed front profile, and flat rear
4 M8 x 25 supported back studs for installations
M6 x 16 screws to connect enclosure body and door
Cable-gland plate for extreme access surface and simple drilling
4 x 10 holes guarantee IP rated sealing plugs
Flexible, movable door
Polyurethane door gasket
3-mm Standard double-bar lock
180° door opening
How to Specify the Correct Enclosure for your Application?
There are many to consider when choosing the correct mild steel enclosure.
You need to find the right enclosure for your application to prevent accidents.
Consider these following:
Environment Uses
For outdoor uses, you need an enclosure that has resistance to UV rays.
The correct enclosure can also resist several environmental elements, like dust, dirt, water, etc.
Even used nonstop, the enclosure you should choose must perform well for years.
Enclosure Material Cost
Professionals manufacture enclosures within your budget.
There are other cheaper materials that can provide extreme protection same to expensive ones.
For instance, a stainless steel enclosure works well in several cruel environments.
Polyester or fiberglass can also justify as economic solutions.
Experts ensure enclosures made of cheaper material will still resist harsh environments.
Modifications
Correct enclosures have flexible modifications.
This means they can be easy to modify with cutouts or holes in the factory.
A mild steel enclosure is your best choice due to flexible modifications.
The said enclosure is flexible since it contains lower abrasive components.
They can be easily modified into different shapes and sizes.
Weight Basis
A lightweight enclosure is more preferable in any application.
Materials used in creating lightweight enclosures are plastic or aluminum.
Mild steel enclosure is easier to lift and proven lightweight.
When choosing the right weight for an enclosure, consider the expected mounting designs.
Correct weight depends on whether the enclosure is pole-mounted or wall-mounted.
Aesthetics
Identifying the correct enclosure also depends on their aesthetic quality.
Most clients love enclosures that can blend well with their environments. Some also request branded, highly built enclosures.
Thermal Point
Thermal point capacity is important to consider if you are seeking durable enclosures.
The correct enclosure must have a reliable thermal point of the surrounding.
Polycarbonate enclosures are excellent insulators.
While stainless steel can conduct and absorb heat.