Outdoor Battery Cabinet
KDM manufacture highly recommended outdoor battery cabinet.
We serve various industries and offer the best products and customer services. Message us today!
Weatherproof outdoor battery cabinet
Provide fully protection cabinets
Available in standard sizes or custom
Made from high-grade materials
What is KDM Outdoor Battery Cabinet?
KDM outdoor battery cabinet is a durable battery enclosure. It also fully protects other parts such as DC power, air ventilation, and other components. Outdoor battery cabinet protects contents from harmful outdoor elements such as rain, snow, dust, external heat, etc. Plus, it provides protection to personnel against access to dangerous components.
As a famous manufacturer in China, KDM supplies thousands of outdoor battery cabinets for different purposes. It includes aluminium outdoor battery cabinet, telecommunication outdoor battery cabinet, defense projects outdoor battery cabinet, etc.  Our company is engaged in this industry for more than 10 years. Thus, you can assure of high-quality products and outstanding services.
Choose us today!
KDM Outdoor Battery Cabinet Series
The stainless steel outdoor battery cabinet is designed with good edge and finishing. It is used as distribution control of various buildings, such as commercial net points, stations, laboratories, factories, etc.
Aluminium Outdoor Battery Cabinet is made from 15 Gauge 5005 aluminum with a 7-gauge rear mounting plate. KDM offers a customized aluminum outdoor battery cabinet that exceeds your specific needs.
Manufacture with high reliability and durability. It is easy to install and maintenance free. It has perfect thermal design and efficient energy saving. This cabinet is built from 1.5mm thickness galvanized steel and can be customized.
You can get a carbon steel outdoor battery cabinet in white, black, grey color, or customized. This cabinet is available in various coatings such as anodizing, polishing brushed, powder coating, etc.
NEMA Type 3R Outdoor Battery Cabinet can be manufactured with DC distribution panels, batteries, battery/charger combinations, ventilation system, etc. This is a high protection class battery cabinet that can be applied as freestanding, wall-mount, etc.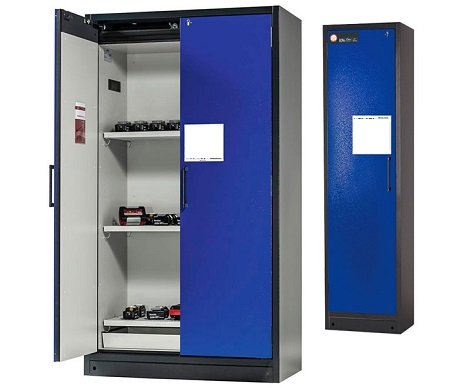 Color coated steel outdoor battery cabinet is an integrated outdoor solution that provide years of trouble-free service. It is designed to house network electronics, battery and battery backup, etc. It is unique and built to your site-specific needs.
Outdoor Battery Cabinet By Structure
(6)
Outdoor Battery Cabinet IP Rating
(4)
KDM Outdoor Battery Cabinet Advantages
Fully Protection
This product protects battery system contents and keeps them secure and well ventilated. It organized the electrical circuits inside to allow for ease of use.
Climate Control
Outdoor battery cabinets are offered in customized climate control solutions. For instance, they can be made with external coolers or built-in air conditioners for ventilation.
Sustainability
You can obtain various types of custom outdoor battery cabinets such as wall-mounted battery cabinets, floor-mounted battery cabinets, free-standing battery cabinets, etc.
Safety
Find the best outdoor battery cabinet in KDM that guarantees maximum security, safety, and stability. You can trust KDM because we use the right materials and the right fabrication process.
KDM Outdoor Battery Cabinet Materials
As a leading manufacturer in China, we source the best material in producing outdoor battery cabinets. You can choose the material based on your applications or needs:
Stainless Steel – KDM can fabricate outdoor battery cabinets from different variants of steel. It has specific characteristics, corrosion-resistant and durable.
Aluminium – a material that is affordable and versatile. It also offers ventilation and heat reduction features perfect for fabricating outdoor batter cabinets.
Galvanized Steel – Due to its extended durability and strength, galvanized steel is popular in creating outdoor battery cabinets. This versatility makes it suitable for a variety of projects and industries.
KDM Outdoor Battery Cabinet Production
As a reputable provider, we control and supervise the whole outdoor battery cabinets production. You can trust KDM in all aspects of production from:
Material sourcing and inspection
Product sample and testing
Shipment inspection
Establishes traceable documents
Product identification
Our company always act in accordance with the ISO9001 system, OHSAS18001, CE, UL, FCC, and other related management process. KDM's quality inspection team is skilled and professional in this method.
Why Choose KDM Outdoor Battery Cabinet
KDM is a trusted outdoor battery cabinet supplier in China. We manufacture superior quality outdoor battery cabinets with our advanced equipment. We use unique techniques to ensure long-lasting and heavy-duty products. Our products are distributed worldwide.
Plus, we offer a custom design option for your specific requirements. Our team can deliver a 2D or 3D drawing outdoor battery cabinet in 1 day. You can also provide us with your own drawing or sample. You can receive your orders on time and in good condition. Contact us today!
Choose KDM Outdoor Battery Cabinet Fabrication
With more than 10 years of experience, you can guarantee the highest quality outdoor battery cabinet from KDM. We hold a wide range of manufacturing capabilities and techniques, advanced equipment and excellent customer services.
We own a large factory in China, and professional engineers and designer teams supports us. We aim to support you from material sourcing, R&D, designing, manufacturing and delivery. Choose KDM to custom outdoor battery cabinet for your business. Message us today!
Custom Outdoor Battery Cabinet
When you invest in quality power equipment, KDM is your #1 choice. With our selection of high-grade battery cabinets, you can safely enclose your battery systems. KDM holds various fabrication processes such as:
Laser cutting
CNC punching
CNC bending
Welding
Stamping, etc.
We also offer secondary processes to your outdoor battery cabinets such as painting, hot galvanized, plasma electrostatic painting, powder coating, brushing, polishing, cataphoresis, etc. This method ensures extended durability and long-lasting applications.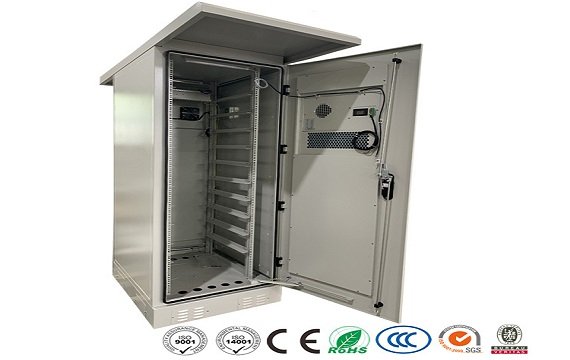 Manufactured using top-notched raw material.
Fully welded design
Sturdy construction for strength and durability.
High load-bearing capacity.
Easy maintenance.
Enhanced service life.
Modular configuration.
Large housing capability.
Attractive finish and style.
Long life and corrosion resistance.
Highest reliability, efficiency.
Customized color coatings.
OEM & ODM Outdoor Battery Cabinet for Various Industry
Outdoor battery cabinet for energy or power industry are made from finest material to ensure better durability. It is strong enough to protect items inside. It is very reliable and sturdy. KDM can customized this product according to your needs.
Defense Projects Outdoor Battery Cabinet are available in many sizes, colors, and styles. This product is certified and inspected to deliver optimum performance. It can be designed with single or double skin construction.
Find the best outdoor battery cabinets for IT applications at KDM. It is built with IP55, and IP65 protection perfect for outdoor applications. It is easy to install and maintain cabinets. You can choose whether wall-mount or freestanding mounting outdoor battery cabinets options.
KDM manufacture outdoor battery cabinet for infrastructure and telecommunication projects. This product can accommodate the battery system, radio access network, power distribution, power core, telecom/Industrial equipment, etc.
KDM solar power generation outdoor battery cabinets meet the market needs and customers' requirements. It has a unique design and versatile construction. It undergoes strict testing in anti-theft performance and is designed from flame-retardant components.
Why KDM is Trusted By Over 1000 Global Clients
Enclosure Manufacturing
2D Drawing
3D Drawing
"We appreciate KDM for supplying excellent quality outdoor battery cabinets. We customized it according to our requirements and KDM fully supports our business. Plus, their customer assistance is awesome!"

"KDM is an experienced outdoor battery cabinet manufacturer whom I can trust. My orders are professionally fabricated using high-quality materials. KDM satisfies me! I'm so happy and my customer loved this product."

"KDM is a trusted outdoor battery cabinet in China. They never disappoint my expectations. They assist me throughout the completion of my outdoor battery cabinet purchase. Their product is proven and tested durable and sustainable."

" I'm very impressed with KDM! They handle my orders efficiently and correctly. We highly recommend KDM to supply your outdoor battery cabinet needs."
KDM Outdoor Battery Cabinet
KDM Outdoor Battery Cabinet is produced to insulate the battery working environment to produce an individual thermostatic environment for batteries.
Also to improve the working temperature that decreases power consumption and saving cost.
It also has a perfect air circulation design that can guarantee the temperature of each battery inside the cabinet.
KDM Outdoor Battery Cabinet is provided with a failure alarm it will be transmitted by the controller to the monitoring center. 
KDM Outdoor Battery Cabinet accommodates an open door alarm.
It also manages the temperature of the battery cabinet to make assured the thermostatic operation environment for the batteries.
KDM Outdoor Battery Cabinet guarantees the service life of the batteries.
It also enhances the temperature of the main facilities and power equipment in the base station so as to lessen power consumption.
KDM Outdoor Battery Cabinet has high safety, fast assembly, maintenance-free, suitable for the rigid environment.
KDM Outdoor Battery Cabinet has a great protection class battery cabinet specialized for the outdoor base station power supply equipment.
It also has an exceptional temperature-controlled air-conditioning system, heater and reserve battery installation area.
KDM Outdoor Battery Cabinet design ensures the secure operation of the system in the outdoor environment.
Its full temperature is consistent.
It is also an insulated, dustproof, and anti-corrosive outdoor battery cabinet.
It can meet the harsh outdoor environment and is widely used in broadcasting security, communications, power, and monitoring stations.
This outdoor battery cabinet is made by an excellent and skilled team of highly trained staff.
Also engineered by the skilled and talented team of highly trained staff.
KDM has the capability to render excellent service of an outdoor battery cabinet to every client.
KDM gives an extensive range of outdoor battery cabinet that fits your needs.
In KDM, you can assure the cost-effective stock for your business.
KDM is the only manufacturer that offered lots of related choices such as the outdoor battery cabinet.
We will help you custom any type of battery enclosures based on your projects.
KDM is experienced in sales industries, we also provide an online services website for your online sourcing.
So you can buy and update your electrical products and supplies.
Because in KDM keep every buyer up to date with our latest product trends in this fast-moving electronic industry.  
If you are in need of an outdoor battery cabinet feel free to contact us for assistance.