KDM Electrical Enclosure Latches
Looking for the most versatile electrical enclosure latches?
KDM is your best choice in purchasing electrical enclosure latches.
We proudly present our KDM Electrical Enclosure Latches with proven excellent performance. As a reliable manufacturer in China, you can get KDM Electrical Enclosure Latches with high-quality features, yet very affordable prices.KDM Electrical Enclosure Latches perform very significantly in the enclosure projects system.
A device is used to close or lock the electrical enclosures. Items are designed for particular enclosure models and make.KDM Electrical Enclosure Latches are made from a wide range of high-standard materials like stainless and galvanized steel, aluminum, carbon steel, brass, and many more.
High-Quality Yet Cost-effective Electrical Enclosure Latches
Proven Excellent Performance
Made-to-Last Finishes
Rated NEMA, CE, UL certified
KDM Electrical Enclosure Latches Series
21mm Thread Cabinet Latches are widely utilized in a toolbox, electric closet, desk drawer, distribution box, or any other security instruments. These are available at very competitive prices.
Heavy-duty Compression Latches designed by KDM are finished with the nickel-plated exterior surface. These are made from high-class steel. Offer in measurement 1-31/32-inches width, length of 1-35/64-inches.
Door-Barrel Bolt latches from KDM are durable with a steel bolt, strike, case. Employ on horizontal, vertical, right, or left-hand applications. It provides scratch and corrosion resistance.
Quarter-turn Latches features quick closing and opening functions behind panels. These provide no possibility of overtightening with exceeding flexibility in most situations.
Quick-release Latches designed with a lightweight option. Offer in silver color or customer specified other colors. A wide diversity of quick-release latches are accessible in KDM.
Our high-rate spring-loaded latches are latch utilizes a spring to operate the bolt of the latch. Fabricated from premium stainless steel and plain steel. For the protection and security of enclosures, spring-loaded latches are ideal.
Send your Inquiry on KDM Electrical Enclosure Latches
As the top-notch manufacturer, KDM has the potential and capacity in creating Electrical Enclosure Latches with various types, designs, styles, sizes, finishes, and colors. Plus! KDM is willing to customize your specifications and requirements.
The best service awaits you, so don't hesitate to send your request. Our finishes are rated for safety and durability. Features easy installation, maintenance-free that surely makes customer satisfy. These include spring-loaded electrical enclosure latches, quick-release latches, quarter-turn latches, compression latches, and many more.
High-Technology Manufacturing Equipment
Strict Quality-Tested Productions
10 Years of Expertise in Fabrication
High-Quality Locking System
Related Product with Electrical Enclosure Latches
Electrical Enclosure Latches
Each electrical enclosure latches are designed to fulfill your needs.
The choice is yours! Whatever you choose, KDM guarantees the most efficient item received.
KDM Electrical Enclosure Latches confirmed certified in ASTM, RoHS, CCC, NEMA, and IP requirements.
In short, these products are the best among the rest.
Not easily damaged caused by hazardous environmental conditions.
Whether you are a distributor, supplier or retailer, here at KDM you will receive 100% engineered Electrical Enclosure Latches.
Your customer will certainly delight and grateful because you select the best provider.
KDM assured you that!
Even for the large orders, we are capable of manufacturing thousands of stocks, yet not compromise the quality.
In China, KDM is one of the well-known manufacturers of electrical enclosure latches.
Besides, we have acquired international certifications such as CE, SGS, ISO 9001, and much more.
So, no need to worry.
From component choice, customization, metal fabrication to implementation, we ensure electrical enclosures perform the highest quality standard.
Always count for KDM, then you got the most authentic partnership.
Aside from electrical enclosure latches, KDM is a specialist in manufacturing double-roller catch, electronic deadbolt lock, rotary latches, generator enclosure locks, etc.
KDM is your one-stop-shop for electrical enclosure components.
For more details, get in touch now with our friendly and cooperative staff.
We provide 24/7 online assistance.
Just send your inquiries for KDM electrical enclosure latches projects now!
Then you will receive an instant quote from us.
Electrical Enclosure Latches: Ultimate FAQ Guide
What is Electrical Enclosure Latches?
Electrical enclosure latches are mechanisms that close electrical cabinets' doors. By slightly pushing the door, electrical enclosure latches will hold the door in place (closed), thou, they do not lock it.
Electrical enclosure latches come in many designs – from spring-loaded, one piece to complex options.
Figure 1 Freestanding electrical enclosure with a door latch
Latch
Compression Latch and Quarter Turn Latch; How do they Compare?
Most electrical enclosure latches are quarter turn.
They offer simple locking mechanism, tamper-resistant and a certain degree of compression.
You'll simply turn it once to lock the electrical enclosure.
Compression is an additional feature which some electrical enclosures come with to meet certain industry standards such as IP 65.
That's why you will come across quarter-turn compression latches.
Compression latches are common in electrical cabinets that require tight pressure sealing such as outdoor electrical enclosures or weatherproof electrical enclosures.
With compression latches, rotating the insert or handle will move the cam to a locking position. Depending on the design of the compression latch:
i. You can continue to rotate the handle or insert to achieve compression (it is more of a screw mechanism)
ii. Press to achieve compression
iii. Turn once to achieve compression
Whichever the case, the action will pull the electrical enclosure door to about 6mm, thereby compressing the gasket. They are common in IP 65 Enclosures.
Between 3 Point Turn Latch System and Quarter Turn Latch, Which One is Safe for Electrical Cabinet?
3 point turn latch system is safer and more secure than quarter-turn latch systems.
However, a 3 point turn latch system, also called multipoint lock, is more expensive than a quarter-turn latch.
Moreover, the 3 point turn latch systems are suitable for outdoor electrical enclosures such as those in street light or telecommunication cables.
Such systems are installed in remote or isolated areas, thus requires a safe locking mechanism that can prevent intrusion.
Outdoor electrical enclosure
Should you Choose Keyed Alike or Master Keyed Electrical Panel Locks?
Keyed alike is a situation where you will open all electrical panel locks using one key.
You can use this for electrical enclosures within the same section to avoid having many different keys.
However, in situations where a more secure system is a priority, go for keyed different electrical panel locks.
When it comes to master keyed electrical panel locks, you will have one key that can open all electrical enclosures.
However, each electrical enclosure will have its unique key for the locks.
Electrical panel lock system
Is There a Difference Between Electrical Enclosure Latches and Locks?
Latches provide a mechanism for closing or fastening electrical enclosures, without necessarily locking it.
On the other hand, electrical enclosure locks prevent anyone who does not have the key from opening the door.
For a more secure system, you should go for electrical enclosures with both latching and door lock systems.
How Does Electrical Enclosure Latches Work?
Electrical enclosure latches are activated by closing panel doors.
Once they are activated, they will hold the electrical enclosure door in a closed position.
The closing mechanism will depend on the design of the electrical enclosure latch.
For instance, some will require that you manually turn the knob or handle to keep it closed.
Whereas the spring-loaded enclosure door latches will automatically close.
They depend on the spring compression force.
Are there Additional Features for Electrical Enclosure Locking Systems?
Yes, a good electrical enclosure locking system should guarantee the safety of all electrical equipment and related accessories.
Depending on the level of security and safety you desire, an electrical enclosure locking system may have these additional features:
Biometrics door access system with a fingerprint scanner or eye scanners
Both latching and locking mechanisms combined
Same or different keys for the electrical enclosure locking system
Tamperproof mechanism
Alarm system
Integrated cameras
Remote locking and unlocking mechanism
 Enclosure with biometrics system
Note: All the additional features on the electrical enclosure locking systems provide additional safety and security, thou at an extra cost.
What Types of Electrical Enclosure Latches Does KDM Offer?
KDM lockable electrical enclosures feature standard and customized electrical enclosure latches.
Available options include:
Spring-loaded electrical enclosure latches
Quarter turn electrical enclosure latches
Compression latching system for electrical enclosures
Quarter turn latches for electrical cabinet
IP and NEMA rated electrical enclosure latches
Electrical enclosure latches with locking mechanism and handle
Quick-release electrical enclosure latches
Lockable electrical enclosure
What is IP 65 Rated Electrical Enclosure Door Lock?
It is a door lock that will protect an enclosure from powerful or high-speed water jets, dust, and oil.
Such enclosures are suitable for outdoor environments.
You will find IP 65 door locks on NEMA 4 Enclosures and NEMA 4X Enclosures.
NEMA Enclosures
A good example of IP 65 rated door lock is the compression latch and lock system.
They tightly lock and seal the door, by compressing the gasket, thereby providing the best protection.
What Does IP 55 Rating Mean for Electrical Enclosure Latches?
IP 55 rated electrical enclosure latches guarantee limited protection from oil, dust, low-pressure water jet, dirt and non-corrosive material.
Remember, when it comes to IP enclosure ratings, you need to focus on every aspect that cannot compromise the set standards.
This includes electrical enclosure hinges, latches, ventilation systems, etc.
You will find electrical enclosure latches that meet the IP 55 rating in NEMA 3 enclosures:
NEMA 3X enclosure
NEMA 3S enclosure
NEMA 3SX enclosure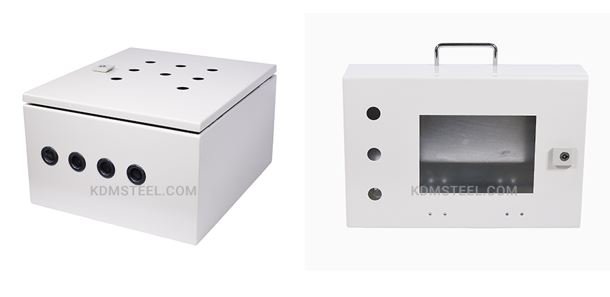 NEMA 3 Enclosure
Do NEMA Rating Cover Electrical Enclosure Locks and Latches?
Yes.
When it comes to NEMA enclosure rating, classification takes into account every aspect of the electrical enclosure; from hinges, handles, electrical enclosure locks and latches, amongst others.
For example, NEMA 4 Enclosure and NEMA 4X must protect its contents from high-speed water jets (even from nozzles) and dust.
In such cases, you need a compression latch.
Also, NEMA 3 Enclosure and NEMA 3X Enclosures require electrical enclosure locks and latches that can protect it from limited dust and low-pressure water.
NEMA Rated Enclosure
Which Material is Best for Electrical Enclosure Locks and Latches?
The type of electrical enclosure locks and latches material will depend on the design of electrical cabinet material.
Besides, the locks and latches have different parts that are made from a range of materials.
Some of the most common materials include:
Carbon steel
Stainless steel
Aluminium
Brass
Thermosetting plastic or any other durable plastic such as polycarbonate
Galvanized steel, etc.
Are There Design Options for Enclosure Handles?
Yes.
First, you should consider the type of material where you can choose from either plastic or metallic enclosure handles.
Door handles
Then you can go ahead to choose different designs of enclosure handles such as:
T-door handle with a lock
Non-locking or key-locking handle
Lever handle
Knob handle
Two-piece vs. one piece
Pulled handled, etc.
The choice of the enclosure handle will depend on your unique designs.
What is the Right Position for Electrical Enclosure Door Handle?
The electrical enclosure door handle should be on the opposite side from hinges.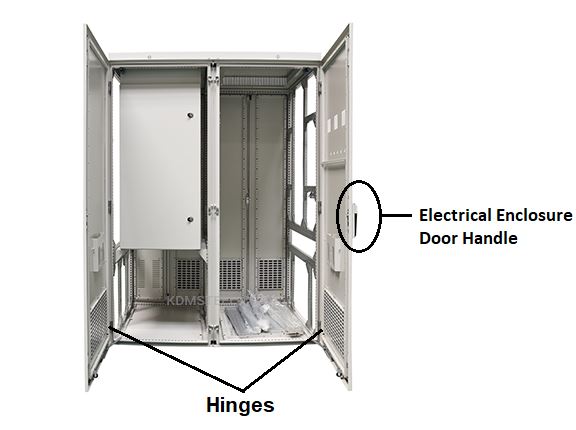 Electrical enclosure door handle
Then, it should be centrally positioned like this:
Centrally positioning of lock and handle
This way, it is easier to open, close and lock the electrical enclosure.
Depending on the design of the electrical enclosure and function of the handle (remember some come with slots for keys), you can have them in:
i. Vertical position
ii. Horizontal position
iii. Slanting position
Are There Tamper Resistant Enclosure Latches?
Yes.
In fact, tamper-resistant electrical enclosures are the best for most outdoor applications such as fiber optic enclosure.
Normally, tamper-resistant enclosure latches may have unique features such as screws, dual brackets, or other additional locking mechanisms.
Tamperproof enclosure – Photo courtesy: Altelix
Apart from Electrical Enclosure Latches; What else Guarantees Electrical Cabinet Safety?
i. An electrical enclosure should have a high quality, unique and reliable locking mechanism. If possible, incorporating additional technologies such as alarms and biometrics will help.
ii. Electrical enclosure hinges should be inside the enclosure. It is a sure way of protecting hinges from possible tampering.
iii. Avoid protruding electrical locking and latching mechanism. You should go for recessed electrical enclosures.
iv. Adopt combination locks for the enclosure.
v. Avoid standard keys or Keyed alike for sensitive electronic enclosures that require privacy and more security.
Does KDM Offer Keyless Electrical Enclosure Door Lock?
Currently, most of our electrical enclosure locks come with keys.
However, upon request, KDM can provide keyless electrical enclosure door locks.
Remember, our custom electrical enclosure feature a range of latching and locking designs.
Can KDM Offer Electrical Panel Latch Replacement?
Yes, KDM offers electrical panel latch replacement.
All our electrical enclosures come with a warranty, and we will offer electrical panel latch replacement in case of damage is due to our fault.
KDM has strict quality control and inspection to ensure the electrical enclosures conform to appropriate safety and quality standards.
Even if you bought KDM electrical enclosures years ago and you need electrical panel latch replacement, you will get new ones.
Does KDM Follow any Standard for Designing Electrical Enclosure Latches?
Yes.
KDM follows strict quality control and inspection to ensure all electrical enclosure latches conform to the CE, ASTM, ISO, RoHS, CCC, NEMA and IP requirements.
From material selection, R&D, custom metal fabrication to packaging, KDM ensures electrical enclosures meet the highest quality standard.