KDM Wireless Enclosures
KDM is one of the leading wireless enclosure suppliers in China. It is a wall-mounted access point to achieve better wireless coverage in some environments.
KDM Wireless Enclosure includes a concealed key lock under a sub door to prevent unauthorized access. It is sturdy enough to keep the stuff inside safe also transparent to wireless signals, assuring reliable Wi-Fi coverage. It also grants security for valuable access point hardware and fragile wires while allowing excellent position for most signal performance.
It also has a strong resistance to corrosion, abrasion, and also weathering. KDM Wireless Enclosure has great mechanical protection and high moisture protection. It is durable to manage the entire system for a long time.
Helps to protect routers

Solidly assembled and ready for mounting

Strong and solidly made

Reliable and durable wireless enclosure
KDM Wireless Enclosures Series
Access Point Wireless Enclosure is an indoor enclosure type with a lock that provides a purpose-built solution to house and protect routers and other networking parts. It is solidly assembled and ready for wall or ceiling mounting.
Non-Metallic Wireless Enclosure renders protection for expensive access point hardware and fragile wires while allowing excellent placement for the greatest signal performance. Sturdily made and durable wireless enclosure.
Polycarbonate NEMA 4 Wireless Enclosure offers mounting and enclosures solutions for every small cell access point and wifi in every location. It is very safe and comfortable to use.
Wall-Mounted NEMA Rated with Window Wireless Enclosure is for the repository, light industrial, manufacturing, and exterior use. It also has a single front door that provides access to equipment.
Dome Wireless Enclosure replaces is mounted on a hinged locking door that renders easy access to cables and equipment. It also has a single drop ceiling tile to hide wireless access points in open facility spaces. 
Wireless Access Point with Faceplate Wireless Enclosure is made a permanent place for different bridges within drop ceilings or Wireless Access Points. It helps equipment that is supported by the access door.
Send your Inquiry on KDM Wireless Enclosures
KDM will provide you with a variety of products to give complete protection to your budget. Looking for a class but an affordable wireless enclosure? KDM is the only solution.  Any customizing problem KDM can give.
KDM Wireless Enclosure has locks that produce a purpose-built explication to house and protects, routers, WAPs, and other networking parts. If you are looking for a wireless enclosure  KDM is glad to render.KDM Wireless Enclosure is for interior use and implements a safe and permanent wall-mounted location for different wireless access bridges and points.
Wireless Enclosure is built by highly experienced staff

providing an extremely excellent wireless enclosure

10 years of background in the production field

Cost-effective and safe wireless enclosure
Related Product with Wireless Enclosures
KDM Wireless Enclosures
 In KDM our main purpose is to give a comforting tour of clients and customers.
We prioritize our customer's demands.
Our staff is respectively and always amenable to help and lead you to attain your needs.
KDM wireless enclosure is guaranteed with a very simple installation.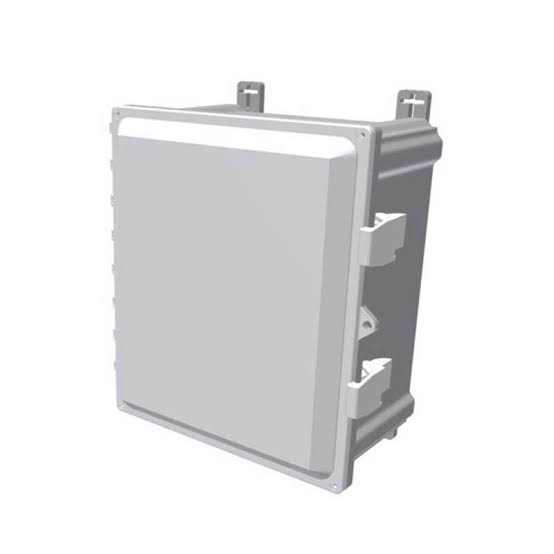 KDM has the aptitude to provide an outstanding service of a wireless enclosure to every client.
KDM is the only manufacturer that offered lots of related choices such as wireless enclosure.
We will help you with customizing your wireless enclosure orders.
KDM is experienced in sales industries, we also provide an online services website for your online sourcing.
So you can buy and update your electrical products and supplies.
Because in KDM keep every buyer up to date with our latest product trends in this fast-moving electronic industry.  
If you are in need of a wireless enclosure feel free to contact us for assistance.
What is Wireless Enclosure?
The wireless enclosure is used to secure access points (AP) near system users.
This enclosure protects wireless LANs and eliminates the use of cables.
Protecting the network connections and the access points is the wireless enclosure's main job.
Wireless enclosures are also NEMA 4 approved.
It means extra protection against ice, water, dust, sleet, rain, snow, tampering, thefts, etc.
Come with fully-assembled designs for ceiling and wall-mounting installations.
What Material Used in Wireless Enclosure Production?
Experts use impact-resistant UL 94 V-1 polycarbonate plastic materials.
This material allows protection against unexpected tampering or theft incidents.
Before production, manufacturers also ensure advanced machines, which can affect the enclosure's lifespan.
As a result, the wireless enclosure can last up to 5-years of straight use.
What are the Key Features of Wireless Enclosure?
Wireless enclosures offer numerous features to fit your application.
Here are the following:
NEMA 4 rated for safety against hazardous environments
EN1309N4 design for Wi-Fi AP protection
Carries an extensive range of component
Supports ceiling- and wall-mounting setup
Uses rigid hardware for installation
Where is the Best Location to Install Wireless Enclosure?
Secure your Wi-Fi access point or outdoor/indoor routers using wireless enclosures.
The wireless enclosure is best in any location where Wi-Fi needs safety.
They are mostly required for classrooms, offices, hotels, dorms, dormitory, retail settings, and other outdoor/indoor locations.
What are the Different Types of Wireless Enclosure?
You can determine the right type for you by analyzing each type's features.
There are 4 different types, including:
Wireless Wall-Mount Enclosure
Wall-mounted Wi-Fi routers or modems must be protected.
A wireless wall-mount enclosure is perfect safety equipment.
This type is intended for indoor use.
Providing a constant and immovable setting for Wi-Fi routers is its main use.
Wireless AP Enclosures with Faceplate
The wireless AP enclosures with faceplates have 250 mm standard size.
This type is supported on the access panel.
Wireless access point enclosure provides a constant setup for Wi-Fi connections.
It is ideal to be ceiling-mounted.
Ceiling-Mounted Wireless Enclosure
A ceiling-mounted wireless enclosure is a perfect choice for your routers or modems.
They guarantee high protection and security.
Dome Wireless Enclosure
Dome wireless enclosure is perfect to hide Wi-Fi APs in open office areas.
The dome wireless enclosures can be fully hung.
They are also provided with locking devices for theft protection.
What are the Benefits of Wireless Enclosure?
Wireless Enclosures made of impact-resistant UL 94 V-1 PC material offer many benefits.
Also, they offer an exceptional balance between connection-friendliness and strong security.
Line of wireless enclosures offers numerous benefits, such as:
Excellent connection access –Wireless enclosures located 1.8m above the ground allows excellent signal circulation.
Lowers connection intrusion –While protecting the wireless APs, the enclosure works the best. It works without disturbing signal execution.
Higher security –Wireless enclosures are lockable and hinged for extra security and convenience.
Huge capacity section –Standard wireless enclosure has 445mm x 183mm x 64mm measurement. Its wide size allows more space.
Diverse mounting choice –Mounting wireless enclosure requires a rigid strap and brackets. The 2 hardware are used to support various mounting options.
UL listed/ NEMA/ IP rating –Wireless enclosures meet these standard qualities to satisfy every user.
Durability –Using PP material results in more durable wireless enclosures.
Superb weatherproofing –Wireless enclosures feature gasketed configuration. It enables to fight against harsh outdoor conditions such as snow, rain, water, etc. Plus, they are IP68 rated.
Signal-friendly –PC-made wireless enclosures produce the least intervention with airwave connection.
Lightweight –This enclosure is a combination of durability and ultra-light. It allows the enclosure ideal for handheld usage.
How much Wireless Enclosure Protection do You Need?
The wireless enclosure must meet the protective rating you require.
There are different enclosure rating systems you should consider, which includes:
NEMA Ratings
This rating can determine how effective wireless enclosure is protected from erosion, water, dust, and other environmental problems.
UL Ratings
UL rating is a standard of how well wireless enclosure withstands extreme fire, heat, or smoke.
IP Ratings
IP ratings have similarities with NEMA ratings, but this time used worldwide. IP- or NEMA- rated wireless enclosure provides extreme safety against environmental hazards.