Searching For An Excellent Quality Wire Cage Enclosure?
KDM is the World-Leading Wire Cage Enclosure Provider and Manufacturer in China.
Well-built Wire Cage Enclosures
Notable performances application
Functional in longevity span
NEMA certification qualified
Contact us right away.
Related Products of Wire Cage Enclosures
Wireless enclosures are enclosures that are ideal in protecting and securing the instruments from harsh environment conditions.
Consolidation Point Enclosure provides cable routing alternatives. Designed by KDM with impact-resistant that can suit your demand.
Backflow Enclosure provides protection to valuable equipment interior such as double checks and vacuum breakers.
Vandal-Resistant Enclosure designed with sturdy, high-security functions and specially created with vandal-proof.
Send Your Inquiry on KDM Wire Cage Enclosures Now
A premier supplier of any of your necessities
Provides heavy-duty applications
Rust and collision-resistance wire cage enclosures
10 years of professionalism in the Manufacturing Industry
KDM Wire Cage Enclosures
KDM Wire Cage Enclosures are used in various industrial and commercial applications.
Particularly designed to secure all types of machinery equipment guarding, computer equipment and products whilst protecting the personnel.
These establish safe and reliable storage solutions for any kind of electrical type of equipment or materials.
Applied commonly in an indoor location to prevent security, unauthorized access to the units, and unrestricted ventilation.
These features a polished look, clean and advanced designs.
These wire cages enclosures are ideal in the industry because of its simple design yet durable and sturdy cages that indicate easier and quicker installation and uninstallation.
A barrier that well-developed to support posts with standard wedges and hold firmly in place.
Our wire cage enclosures are stackable, modular and all-welded.
Features very flexible that give unique security with heavy-duty assembly.
These are easy to set-up with scratch-resistance and low-maintenance consumption.
The heavy-duty KDM Wire Cage Enclosures provides high visibility that constructed with galvanized solution and welded-steel to provide durability.
With a strong and tough exterior, that minimizes the casting and bending.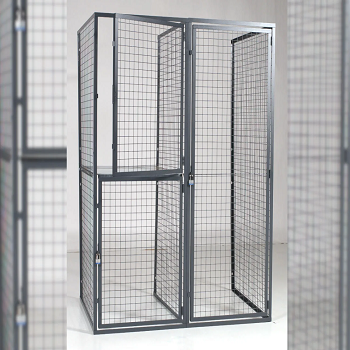 An enclosure that offers convenient option for securing and storing products and other equipment.
Additionally, these have highly versatile solid infill options to provide long service life applications.
That ensures a security in-ceiling wire panel system.
A broad variety of KDM Wire cage enclosures are available in your specifications and requirements that well-manufactured to your accurate industrial wire enclosure needs.
With 10 years of professionalism in fabricating our product, we created established and superb units.
Our industrial product wire cage enclosures can give more efficiency and productive facility.
KDM is the premier manufacturer and supplier in China.
When you purchase to KDM, you can ensure the best yet economic-cost finishes.
With the IP66 enclosure confirmed certified, you will never regret the high-standard products you will receive.
Moreover, our staff and craftsmen are always prepared to support you with all your projects.
We provide 24/7 online assistance to cater your requirements on enclosures.
We customized your demand according to the machinery equipment, project requirements, and facility. You can choose what colors you desired in your solution. We provide lock and door options. All doors and locks are durable, secure and last for longer protection against several damages and thefts.
Get the excellent and well-made Wire Cage Enclosures from KDM. Contact us now.