KDM Wire Cage Enclosures
KDM Wire Cage Enclosures are used in various industrial and commercial applications. Particularly designed to secure all types of machinery equipment guarding, computer equipment, and products whilst protecting the personnel.
Our wire cage enclosures are stackable, modular, and all-welded. Features very flexible that give unique security with heavy-duty assembly. These are easy to set up with scratch-resistance and low-maintenance consumption.
The heavy-duty KDM Wire Cage Enclosures provide high visibility that is constructed with a galvanized solution and welded steel to provide durability. With a strong and tough exterior, that minimizes the casting and bending.
Well-built Wire Cage Enclosures
Notable performances application
Functional in longevity span
NEMA certification qualified
KDM Wire Cage Enclosures Series
4-Sided cage wire Enclosures are designed with hardwearing substance to suit every client requirement. A wide variety of designs and cages are available depending on your specifications.
Adjustable wire cage enclosures are very functional enclosures. These have an adjustable panel that makes it more versatile. It will keep the equipment secure inside.
Hinged-door wire cage Enclosures are manufactured with a strong and sturdy exterior. These applications ensure to last no matter what hazardous conditions appear.
Modular wire cage Enclosures are made from high-quality elements that give a modified creation. KDM offers excellent and good-looking designs.
Powder-Coated Wire Cage Enclosures are enclosures commonly used in indoor locations. These applications contain unobstructed visibility yet provide maintenance-free.
Rack-back Wire Cage Enclosures feature a safety barrier to any device or machine. It has the ability to prevent theft by controlling access. This is easy to install wire-cage enclosures.
Send your Inquiry on KDM Wire Cage Enclosures
With 10 years of professionalism in fabricating our product, we created established and superb units. Our industrial product wire cage enclosures can give a more efficient and productive facility.KDM is the premier manufacturer and supplier in China.
These establish safe and reliable storage solutions for any kind of electrical type of equipment or materials. Applied commonly in an indoor location to prevent security, unauthorized access to the units, and unrestricted ventilation. These features a polished look, clean and advanced designs.
A premier supplier of any of your necessities
Provides heavy-duty applications
Rust and collision-resistance wire cage enclosures
10 years of professionalism in the Manufacturing Industry
Related Product with Wire Cage Enclosures
KDM Wire Cage Enclosures
These wire cage enclosures are ideal in the industry because of their simple design yet durable and sturdy cages that indicate easier and quicker installation and uninstallation.
A barrier that is well-developed to support posts with standard wedges and hold firmly in place.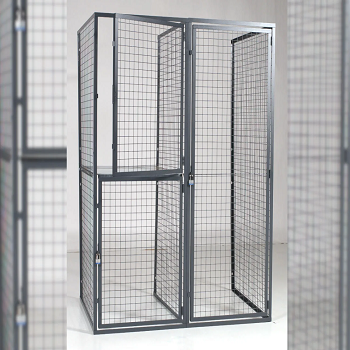 An enclosure that offers a convenient option for securing and storing products and other equipment.
Additionally, these have highly versatile solid infill options to provide long service life applications.
That ensures a security in-ceiling wire panel system.
A broad variety of KDM Wire cage enclosures are available in your specifications and requirements that are well-manufactured to your accurate industrial wire enclosure needs.
When you purchase to KDM, you can ensure the best yet economic-cost finishes.
With the IP66 enclosure confirmed certified, you will never regret the high-standard products you will receive.
Moreover, our staff and craftsmen are always prepared to support you with all your projects.
We provide 24/7 online assistance to cater your requirements on enclosures.
We customized your demand according to the machinery equipment, project requirements, and facility. You can choose what colors you desired in your solution. We provide lock and door options. All doors and locks are durable, secure and last for longer protection against several damages and thefts.
Get the excellent and well-made Wire Cage Enclosures from KDM. Contact us now.
What are Wire Cage Enclosures?
Wire cage enclosures are economical and straightforward enclosures designed to create a resilient security division and physical protection around your equipment.
It is used in entrance facilities, equipment rooms, colocations sites, multi-tenant centers, etc. 
Figure-1 Wire Cage Enclosures
What are the Key Features of Wire Cage Enclosures?
A wire cage enclosure features an open design allowing direct airflow to your equipment. 
Further features of wire cage enclosures include the following:
It has a complete partition and security for spaces and equipment. 
A wire cage enclosures contain durable locks necessary to secure all your valuable types of equipment and cabinets inside.
Simple configuration.
A series of wire cage enclosures are available in a custom cage and door sizes, styles, and locks. 
It is well-built, secure, and sturdy construction.
Each of the wire cage enclosures configures with fully-welded base plates. Its overall constructions utilize the heaviest assembly hardware and cannot interfere outside.
Easy integration into present locations.
It corresponds with lighting designs, allows free air circulations in supporting the existing cooling system and fire suppression system. 
It has an adjustable design that permits easy installations. 
The wire cage enclosures comprise flexible structural designs that allow the system to fit site requirements. The posts, panels, screws, and other components are utilized to form an enclosure. 
Figure-2 Wire Cage Enclosures
What are the System Components Does Wire Cage Enclosures Have?
Wire cage enclosures comprised of primary standard components: modular panels, adjustable panels, posts, door, lock doors;
Modular Panels
The modular panels are available in ten standard widths and two lengths, depending on your desired requirements. It has a fully welded construction from 10 gauge woven wire, steel angle, and slotted holes. 
Adjustable Panels
Uses as fillers that close the small gaps in wire cage enclosures. It can directly attach modular panels and post to create parallel walls.
Posts
A post is used in supporting modular panels. It is available in three different styles such as:
Corner Posts for L-shaped intersections

Run Posts for Straight Sections

Tee Posts for T-shaped Intersections
Doors
It refers to the grand entrance or opening of an enclosure. 
Three different door styles can use in wire cage enclosures:
Hinged Doors.

The most common doors in all enclosures. It swings while opening the enclosure. It installs this door to open from the right or left with interior and exterior swings.
Double-Hinged Doors.

It provides a wide-ranging opening of the enclosure. Standard double-hinged doors are available in custom height and width. It can attach to an open inside or outside swing.

Sliding Doors.

A sliding door consists of two-door posts, two-four-wheel trolley trucks, a gauge track, and assembly hardware. It does not need aisle clearance for the door swing. 
Clear-Span Ceiling
It can add the existing partitions without changing the overall structure. This enables multiple safeguards by inserting the top of wire cage enclosures. Moreover, the clear-span ceiling is built using the same materials as modular panels. 
Locks
It is one of the essential components of a wire cage enclosure that keeps the enclosure locked in place, ensuring that all equipements inside remains safe and secured.
There are different types of locks that can use in a wire cage enclosure:
Standard Door Locks.

It covers an outer key actuated deadbolt with an interior recessed release latch. Most of the standard locks have different keys unless it requests to have similar keys.

Electronic Door Locks.

This type of lock is frequently used for sliding gates or hinged gates. 
Figure-3 Wire Cage Enclosures
What are the Best Materials Used in Creating Wire Cage Enclosure?
Wire mesh chooses as the best material used in creating wire cage enclosures. This is due to its affordability, availability, and durability to withstand long-term services.
These are the following types of wire mesh:
1. Woven Wire Mesh.
It is considered the toughest and sturdiest wire mesh material that is primarily used in high-end security applications.
2. Welded Wire Mesh.
Excellent for storage applications. It is lighter than woven wire mesh as it is welded together at every intersection.
Why Use Wire Cage Enclosures?
Many users choose wire cage enclosures as safety enclosures due to their enormous advantages. It includes the following:
Overall Security
A wire cage enclosure is safe enough to make all your valuable equipment and tools prevent theft and misuse. 
Improved Visibility
A wire cage enclosure makes it easier to locate all the equipment and tools inside.
Better Ventilation
It allows free air circulation, which is necessary to keep the area and the equipment to ensure its optimal comfort levels.
Low Cost
The wire cage enclosures are much more cost-effective and require less labor for the installation process.
Figure-4 Wire Cage Enclosures
What are the Standard Measurement Does Wire Cage Enclosures Have?
A standard measurement of wire cage enclosures is available in 8′, 10′, or 12′ lengths and 1' to 10' width.  
But there are some instances where its overall measurements may also depend on industrial applications and requirements. 
Where Does Wire Cage Enclosure Usually Use?
Wire cage enclosure is significant in a wide variety of industrial applications. Some of them are the following:
Tenant storage

Equipment and machine security

Outdoor storage

Stockrooms

Automotive garages

Warehouses

Manufacturing

Packing and shipping

Laboratories 

Pharmacies

Hospitals

Restaurant

Residential and commercial buildings, apartments, and condos