KDM Steel Enclosure
Custom Steel enclosure with Window
Polycarbonate sheet window material
Low MOQ from 1 PC
Your Premier Steel Enclosure Manufacturer
Our support team can help you find the most appropriate steel enclosure for your application.KDM is also able to provide you with a wide selection of accessories and design features for your steel enclosures. You will be able to choose the layout, latches, hinges, mounting hardware, panels of your enclosure while adding windows, vents, floor stands, lifting eyes, or caps if needed.
KDM can manufacture steel freestanding enclosure, steel free mount enclosure, steel wall mount enclosure, steel Modular Electrical Enclosures, steel Junction Box Enclosure, stainless steel Traffic Control Enclosure and more. Therefore, just tell us your requirements or propose your drawings and we will have your desired steel enclosures for you.
Cost-effective enclosure solutions
Consistent build quality
Powder coating option
Customizable structures for specific applications
Read More
Send your Inquiry on KDM Steel Enclosure
KDM has been supplying steel enclosures for the past 17 years. By updating the manufacturing equipment, KDM can now provide powder coating options for all of its steel enclosure products.
Therefore, they are able to satisfy the requirements of almost any application, no matter indoor or outdoor as they are able to pass various NEMA or IP ratings.
Manufacturing Capacity
Enclosure Designs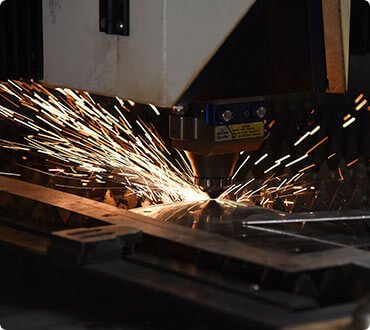 Electrical Enclosure Laser Cutting
4000W high-performance laser cutting machine, +/- 0.05mm accuracy. No burr, no scratching.
Electrical Enclosure Welding
Multi-Functioning flexible welding equipment, high accuracy, no deformation.
Electrical Enclosure Bending
+/- 0.5mm bending precision, smooth surface without bending marks.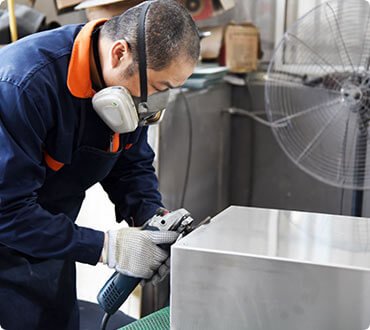 Electrical Enclosure Polishing
10+ welding experienced workers, perfect overall appearance.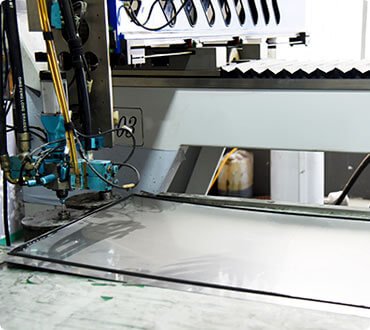 Electrical Enclosure Foaming
High speed and accuracy foaming machines, fast and qualified Gasket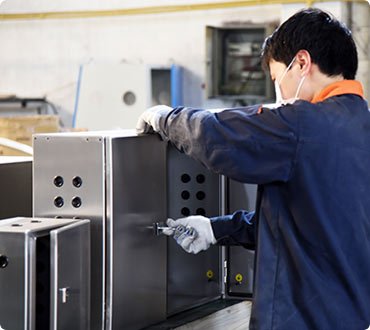 Electrical Enclosure Assembly
The expert assembling team, consistent assembly quality on every KDM enclosure
KDM: Your Professional Steel Enclosure Manufacturer
Your Professional steel enclosure manufacturer over 10 years request a quick quote on our steel enclosure for your industry.
Carbon steel is considered to be one of the most widely used steel materials around the world.
Compared to various types of stainless steel and galvanized steel, carbon steel is more cost-effective and also comes with different mechanical properties based on the amount of carbon.
KDM is able to provide you with steel enclosures for different sizes, no matter it is a large free-standing enclosure or a small junction box.
Steel Enclosures: An Important Guide for Buyers
Electrical enclosures for a very long time have become fundamental elements as far as many applications are concerned.
You'll realize that in various places you go to both residential and commercial, the use of this equipment is so common.
And by the way, they come in different sizes, shapes, designs as well as materials.
In this guide, however, I want to take you through steel enclosures, which apparently are among the popular in various applications.
So that by the end of this guide, you'll be able to understand various aspects revolving around steel enclosures.
And this will definitely make it easy especially when you want to purchase one for a particular use.
What is a Steel Enclosure?
Well, a steel enclosure refers to a cage, cabinet, or box that houses different types of electrical components and equipment.
This equipment is helpful in providing the necessary protection and casing for all the electrical components you use in different applications.
Steel enclosure
In this case, it means that this type of enclosure is made of steel material.
And as you know, steel materials come in different forms.
So it's quite apparent that you'll have to be specific when ordering for one.
The most popular type of steel enclosure that you find in various places is carbon steel.
Carbon steel enclosure is preferable because of its numerous properties which makes it ideal for enclosing electrical equipment.
Later on in this guide, I will let you know some of the typical applications of steel enclosures.
However, before we do so, let's first look at the possible reasons why you'd need this unit in the first place.
Why You Need a Steel Enclosure
The essence of having or using a steel enclosure in different applications is quite evident.
You see, this component provides housing for the electrical components.
So it means that you'll be able to organize all the equipment including the knobs and switches appropriately.
The truth of the matter, therefore, is that you absolutely need this type of unit for different purposes.
In fact, you tend to benefit significantly when using this kind of cabinet, especially in an industrial setting.
So some of the reasons for acquiring it include the following,
1) Mounting and assembling the electrical equipment
It is one of the major reasons why many people often use this cabinet.
You see, in a busy manufacturing or processing environment, it's always ideal to ensure that you organize all electrical components accordingly.
It is also imperative to mount them tightly on the casing to prevent them from falling due to vibrations from various quarters.
Of course, this becomes a little easier when you use this cabinet to assemble such components.
And when you do so, you'll realize that operating all the machines and other equipment becomes straightforward.
Also, repairing, maintaining as well as replacing the faulty components inside the box becomes a fast and easy process.
All you'll need to do is label the particular component accordingly, and the rest becomes easy.
In other words, what I'm trying to say is that having this equipment makes your work easy due to the arrangement and access.
2) Protecting the electrical equipment
This is also another reason why you need to have a steel industrial enclosure.
In most cases, it happens that you have to install the electrical components in areas prone to physical and environmental damage.
And given that most of such components are often expensive and sensitive, it would be necessary to prevent them from such exposures.
The steel enclosure thus becomes integral in offering the necessary protection given that it is hardy and resistant to many elements.
In the long run, therefore, you'll find that you secure the electrical components from possible damage or even wear out.
3) Reduces the risk of causing a fire
Ordinarily, electrical parts and components always discharge heat when in operation.
It thus means that the temperatures around always tend to rise and in certain instances can lead to an explosion.
Now when you use a steel industrial enclosure, it will control the temperature in a significant way.
And that would imply that any chances of the components causing fire will be minimal.
Primarily, this type of electrical box has numerous elements of making sure that it regulates the required temperature.
I know you can imagine how explosive an electrical component can be if you expose it to flammable materials when it's heating.
So having this unit goes a long way to ensure that you prevent incidents of fire from occurring especially in a busy manufacturing environment.
4) Increases safety of workers and components
Well, in the recent past, many cases of workplace injuries were growing day after day.
Negligence is always regarded as the primary cause of such occurrences, which in some cases could be right.
For instance, in a busy manufacturing factory, it would be suicidal to place electrical components in different spots anyhow.
Most of the time in such settings different machines and people operate and could always come across such dangerous components.
And you know electrocution can lead to severe injuries, and in some instances death.
But when you use this machine, it becomes easy to contain such incidents from happening.
Your employees will always stay safe given that you'll also mark the equipment to ensure it is clearly visible to everyone.
So you find out that it allows you to prevent accidents from happening hence giving you peace of mind.
Additionally, the electrical components which you also store in this cabinet will also stay safe.
It becomes difficult for unauthorized personnel to access them inside the cage since most of them have lockable doors.
And for that matter, you won't worry about the vandalism of such particular components.
5) Enhances the overall appeal of the surrounding
Now what many people don't realize is that improving the aesthetic appeal of a particular surrounding depends on many factors.
In fact, at times getting the right designs of steel enclosures is just the right thing to do if at all you want to improve the beauty of the surrounding.
I know it is not necessarily a priority in most cases.
The truth, however, is that the material for making steel material definitely enhances the appeal of the environment.
In fact, even in offices, you'll notice that there will be no scattering of cables everywhere since you'll have one channel for all of them.
And eventually, the aesthetic appeal of the surrounding will be apparent, and you'll definitely love it.
Well, I've talked much about the benefits of buying a steel electrical enclosure.
But I know that's not enough and for that reason, let me now explain to you the various designs of steel enclosures.
Steel Enclosure Designs
The truth is that steel enclosures come in different types.
And this always becomes an issue of concern especially when it gets to purchasing the right one that suits your needs.
Different manufacturers of this type of electrical cage often come up with a wide range of designs.
But it's always good to choose a manufacturer who can provide a customized steel enclosure unit.
Which incidentally, can enable you to solve all your needs accordingly.
In general, though, steel enclosures come in two major designs; and they include the following;
Single-door steel enclosure
This refers to the design which features one door that you use to access the various components which you mount inside the cabinet.
Being a single-door, it indicates that you can only get access to it through it.
Single door electrical enclosure
What's more, is that the single-door steel enclosures also usually come in different sizes and shapes.
So it is important always to ensure that you determine the right size, as well as shape that you're sure, will suit your needs.
Nonetheless, some of the single-door designs come with the doors placed in different sections of the enclosure.
In most cases, the single-door steel enclosures are used for relatively small-scale applications.
For instance, in residential places, offices as well as other applications that do not require numerous electrical components.
Double-door steel enclosure
This refers to the type of steel enclosure that has two doors which you use to access the interior sections of the unit.
The double-door also comes in various sizes and shapes, of course depending on the manufacturer.
Also, it might also depend on the type of customization which you need for your particular applications.
Typically though, the double-door steel enclosures are often designed for relatively large-scale applications.
Double door electrical enclosure
For instance, some are used in processing plants, train and airport stations, traffic control, and other heavy industrial applications.
The most important aspect regarding the double-door steel enclosures is that they are generally large.
So it makes it possible for you to use as many electrical components as possible.
At the same time, most of them also come with these double doors located in different sections of the enclosure.
Well, as I'd stated earlier, you can as well get other designs which of course depends on your customization needs.
For instance, you may have a steel enclosure with more than double doors – look at this:
Steel electrical enclosure
The most significant element nonetheless is ensuring that the design you choose meets the quality standards.
And talking of the quality standards, let's now have a look at some of the common ones for this type of electrical cabinet.
Steel Enclosure Standards
Some of the main standards you must consider when buying steel enclosures include:
1. NEMA
It is an abbreviation for National Electrical Manufacturers Association.
It is mainly the body mandated to determine the standards of electrical enclosure equipment of different grades in the US.
NEMA is also responsible for rating each electrical equipment to offer protection against personal access to hazardous elements.
In general, NEMA standards for steel enclosure can be rated against various vulnerabilities surrounding the environment.
And some of them include dust, oil, coolant, and water among others.
NEMA in most cases publishes applicable standards mostly when it comes to ensuring compatibility safety and efficient functioning.
This standard also allows for self-compliance which apparently is necessary mainly when it's impossible to make evaluations in the field.
2. IP Rating
This is also another common rating an abbreviation for International Protection or Ingress Protection rating.
This standard is basically for describing the magnitude of sealing efficiency of electrical boxes especially against intrusion from foreign elements.
IP Rating – Photo courtesy: LED Watcher
What you also need to know regarding this rating is that it comes with a two prefix letter, which is IP and the other two digits.
The digits generally describe the extent of protection which the enclosure offers against solid bodies.
And by the way, it's quite evident that when buying steel enclosures, you'll somewhat realize that they come with different IP rating standards.
Therefore, you must always ensure that you're extremely careful when ordering or purchasing one that suits your needs.
There are a number of these ratings, and some include IEC and RoHS.
However, NEMA and IP are the major ones that you always need to check when buying this unit.
So for now, let's shift focus and look at the technical specifications you need to look into when buying steel electrical enclosures.
Technical Specifications of Steel Enclosures
Before you finally decide to select a steel enclosure, you need to ensure that you carry out thorough knowledge of the specific type.
It can be confusing by the way to the extent of acquiring the kind that will instead mess your operations.
Luckily though, I'm here to take you through brief technical specifications of steel enclosures to look into, and they include;
Details of steel electrical enclosure
· Frame
It is the entire build that makes up the unit. It is the component that determines the shape of the enclosure.
Moreover, it also holds all the other components of the unit including the door.
The frame of a steel enclosure may vary depending on numerous factors including size, design as well as the necessary shape.
· Earthing
It refers to a type of low resistance wire that relays instant discharge of electrical energy to the earth.
The connection of the earthing is on the specific components of the unit to a conductive earth's surface.
The essence of this specification is to help in preventing the cabinet from lightning and also enhancing efficiency.
· Thermal management
It is also imperative to look into the ability of the steel enclosure you're buying to regulate temperature.
The fact that it houses electrical components means that it has to control the heat that the equipment generates from time to time.
Mostly, you'll find some that come with a device that controls this particular aspect.
It is vital since it helps in enhancing the efficiency of the enclosure.
· Door
This is arguably one of the most significant technical specifications that you can never fail to consider when buying an enclosure.
As mentioned earlier, different designs come with a different number of doors.
But the good thing is that most of them are lockable which prevent intruders from getting access to the components inside.
KDM Steel Enclosures
Ideally, if you're looking for a suitable, effective and high-quality steel electrical enclosure, then KDM steel should be your next stop.
This company manufactures high-grade steel enclosures of different grades that meet the needs of various applications.
The sizes and designs are also in accordance with your customization needs which of course increases efficiency, safety, and performance.
Conclusion
I'm sure that at least for now you've got an idea of what it takes to buy or import steel enclosure.
The guide has also touched on other several aspects including the benefits, designs and major quality standards of a steel enclosure.
And most importantly, you now know the best place to purchase this particular product from in case you need one for any specific application.
Should you have any inquiries, suggestions or questions regarding steel enclosures, feel free to contact us.