KDM Plastic Electrical Enclosures
KDM plastic electrical enclosure is a perfect way to protect your electrical components. We offer the most durable and safe plastic electrical enclosures.
Our electrical enclosure also offers the widest range of uses.KDM manufactures all kinds of plastic electrical enclosures in different shapes and sizes.
We make sure that these plastic electrical enclosures keep electrical components out of elements and any other danger and also protect the users.
Our plastic electrical enclosure can carry any large amount of electrical components with high voltages.KDM manufactures waterproof plastic electrical enclosures, IP65, PVC, plastic electrical enclosure, outdoor, hinged, wall-mounted, MCB, and IP68 plastic electrical enclosures.
Wide-range of High-quality Plastic Electrical Enclosures
Standard Plastic Electrical Enclosures can be customized
The panel is designed to resist the toughest and challenging industrial application
Avail Plastic Electrical Enclosures at the competitive factory-cost
KDM Plastic Electrical Enclosures Series
Get the best deal of waterproof plastic electrical to enclose when you shop with KDM. Keep your components safe and secured. This enclosure can best work in outdoor applications.
IP65 plastic electrical enclosure is made up of thermoplastic and ABS. The structure is lightweight and has strong resistance to heavy weather conditions.
The PVC plastic electrical enclosure offered by KDM is designed and engineered for harsh environments industrial and commercial applications. We have stock a wide variety of this product. Check out.
KDM as one of the industry-leading specialist of high-quality plastic enclosure for industrial purposes, we are engaged in designing and producing solid structure to store and protect product efficiently.
Are you looking for an excellent enclosure for your business or new site project? Count on KDM. We have a wide variety of sizes and styles that are perfect for outdoor solutions.
Hinged Plastic Electrical Enclosure features a more secure seal and latches. These enclosures with hinges can withstand harsh conditions meeting various NEMA ratings.
Our wall-mounted plastic electrical enclosure is available in a variety of styles and dimensions which fit conveniently to the house sizes of your electronics project.
Tested IP68 plastic electrical enclosure ensures that your electronic stay safe and secured even in harsh conditions. Cabinet provide excellent protection in industrial and commercial application.
MCB plastic electrical enclosure designed to provide protection from damage and other deficiency. We hold a variety of products, quality-assured. We checked and inspect the product before final dispatch.
Send your Inquiry on KDM Enclosure Plug
KDM offers hinged enclosures in a variety of styles and sizes. We are pleased to provide you with our excellent electrical enclosures.KDM manufactures and distributes high-quality and customizable plastic electrical enclosures.
We can make customization the product depending on the specifications you need. We are a one-stop solution for any customizations for plastic electrical enclosures such as custom colors, special shielding, cutouts, mold fabrication, silk-screen printing, and fire retardant materials.
Professional team of staff to design and manage all responsibility
Custom ideal enclosure based on your drawing
Fast sample production
Wide manufacturing knowledge and expertise
Related Product with Plastic Electrical Enclosures
Plastic Electrical Enclosures
The interior of each plastic electrical enclosure contains domes, opaque and transparent covers.
For the wall-mounted plastic electrical enclosures, we provide optional wall-mounting kits.
We have designed wall mounting brackets to make it easier to carry anywhere you want.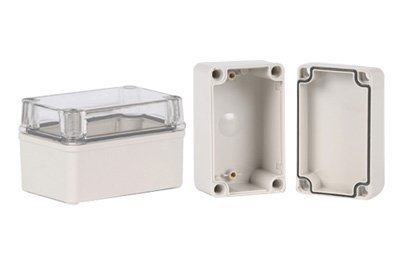 For example, our IP65 plastic electrical enclosure can do both, indoor and outdoor protections.
We guarantee that our products are safe for components with sensitive electronic assemblies or in harsh environments.
We provide all IP65 rated plastic electrical enclosure solutions which make it easy to find by customers.
We also manufacture hinged plastic electrical enclosure that makes easy access to internal components.
KDM is the leading and most trusted manufacturer of plastic electrical enclosures.
KDM plastic electrical enclosure is strictly checked and tested to make sure the products reliability and performance.
We fabricate not only the needed plastic electrical enclosures but also offer products that save your time, money and avoid frustrations.
We offer plating for enclosure to make it more conductive and more solderable.
KDM also mastered the polishing process to improve the surface finish of each plastic electrical enclosures.
Over a decade of experienced in this industry, KDM focuses on manufacturing plastic electrical enclosures with satisfactory performance.
With the help of our professional engineers and well-disciplined employees, we manage to assist and provide all the needs of our customers and clients in their needs.
We have 10 laser cutting machines, a modern technology machine that produces outstanding products.
KDM has the widest range of plastic electrical enclosures and offers great deals affordable to your budget.
We are confident that we only give the right products to our customers.
We have everything you need.
KDM guarantee that will give you a perfect solution for your plastic electrical enclosure needs.
Either you order or not, we are happy to serve and help your business grow.
We have a team of experts ready to welcome and entertain you 24/7.
We are eager to see our partnership in this industry.
For further info, be sure to contact us today!
Plastic Electrical Enclosure – The Complete FAQ Guide
When making enclosures and boxes for use in electronics, it is very important to make a proper choice of materials.
Since various electronic devices have special operating requirements, this choice becomes even more crucial.
This FAQ guide is dedicated to the plastic materials and their useful properties for the enclosures and boxes made of them.
What is a plastic electrical enclosure?
An electrical enclosure is a cabinet for electrical or electronic equipment that is used to mount switches, knobs, and displays.
It also protects users from electrical shock, as well as the inner equipment from the environment.
Thus, plastic electrical enclosures are enclosures made from various plastic materials.
What material is used for plastic enclosures?
There are several types of plastic materials, and despite similar chemical structure, they give different abilities to the ending product.
As a result, not all plastics can be used for electrical enclosures.
The following are the most popular types of plastics used for such purposes:
# 1. PVC
PVC is an abbreviation for polyvinyl chloride.
PVC is widely used as the insulation on electrical cables such as teck.
PVC used for this purpose needs to be plasticized.
Flexible PVC coated wire and cable for electrical use has traditionally been stabilized with lead, but these are being replaced with calcium-zinc based systems.
# 2. ABS
ABS stands for acrylonitrile butadiene styrene.
It is a two-phase polymer blend that provides all-round qualities for electronic enclosures.
It is best suited for use in closed rooms but it can't be used outdoor with similar success.
ABS provides good resistance against impact and chemicals, however, it is less resilient when exposed to sunlight for prolonged periods.
ABS can be used at low temperatures (-20°C), and also it has a flammability resistance of UL 94 HB.
# 3. ASA and PC blend
ASA is a short for acrylonitrile styrene acryl ester, while PC means polycarbonate.
Blending these two elements boosts performance at high temperatures and also increases the impact strength.
Combining these plastics also provides good resistance against chemicals and weather.
ASA+PC is flame resistant to UL 94 V-0.
# 4. PA (Polyamide)
PA means polyamide.
It is a tough, wear-resistant material that has good sliding properties.
It also offers very good electrical insulation properties (it is used for power tool housings and cable ties).
However, humid conditions can affect PA's performance because it can absorb moisture.
It can also be affected by acids and alcohols.
# 5. PC
As it was said above, PC stands for polycarbonate.
Part of the polyester family, polycarbonate is one of the most popular thermoplastics because of its toughness, thermal stability, and transparency.
You will find a PC in everything from CDs to riot shields.
PC can be used both indoors and outdoors within a temperature range of -20°C to 140°C.
It has good resistance to UV sunlight, however, it is not recommended for applications involving the use of strong alkalis.
# 6. PC+ABS blend (polycarbonate and acrylonitrile butadiene styrene)
Blending PC with ABS offers not just very high impact strength for your enclosures but also resilience at sub-zero temperatures and good resistance to chemicals.
PC+ABS is best suited for indoor use but limited outdoor use is also possible.
It is flame resistant to UL 94 V-0 and can survive moderately corrosive conditions.
# 7. Phenol formaldehyde resin
This material has strong qualities when it comes to chemical and thermal resistance.
It is also insoluble and non-fusible when cured.
An added benefit is the fact that phenol-formaldehyde resin is recyclable and reusable.
# 8. PMMA (polymethyl methacrylate, plexiglass)
PMMA's main benefit is that it is infrared transparent, making it perfect for use in applications requiring remote control handsets.
Some types of PMMA offer light transmission of up to 92 percent.
However, PMMA is more brittle than ABS.
# 9. PPE (polyphenylene ether) or PPO (polyphenylene oxide)
PPE+PS (Polystyrene) has extremely good mechanical, thermal and electrical properties.
It offers very good resistance to heat distortion and high resistance to chemicals.
However, exposure to UV light can cause color changes.
# 10. SEBS (styrene-ethylene butadiene styrene)
SEBS is weather-resistant with good chemical properties.
Not only does it protect enclosures, but it also feels pleasant to the touch – making it a good choice for handheld cases.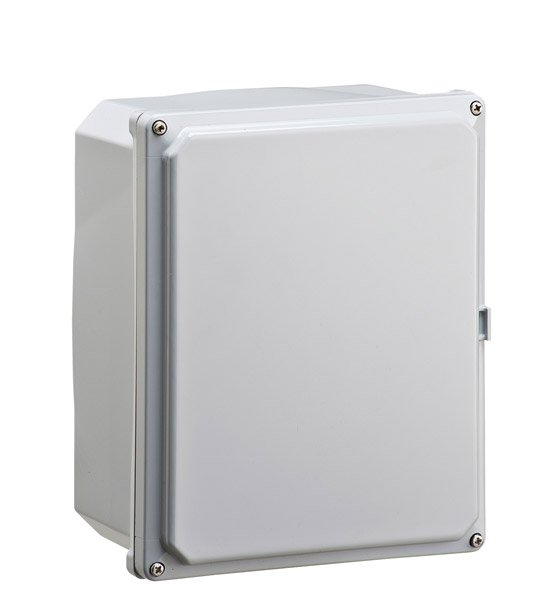 Where can I use plastic electrical enclosures?
As it was said above, the vast majority of plastic enclosures are more suitable for indoor use.
If you are looking for outdoor plastic electrical enclosures, you have to be ready for a reduced lifetime compared with enclosures made from various metals like steel and aluminum.
Also, plastic enclosures cannot be used with metal conduit, which is required in various installations, such as when wiring runs are exposed.
Mainly, plastic enclosures and boxes are used inside facilities, in closed rooms where there is a low possibility of physical impact or environmental hazards.
What are the main types of plastic electrical enclosures?
There are lots of plastic enclosure types available on the market.
Moreover, each manufacturer tries to implement new unique types of equipment in order to gain more popularity and make it's brand more recognizable.
Despite that, it is still possible to distinguish several general types of plastic enclosures.
# 1. General-purpose plastic enclosure
Plastic enclosures of general purpose can be freely used in most imaginable applications.
These cabinets can be freely used to house different electrical equipment, such as connection blocks, terminals, distribution boards, etc.
# 2. Switchgear plastic enclosure
Plastic enclosures can be used to store and protect switching equipment and gears.
Such equipment is better to store inside plastic enclosures with doors or windows to have simple access.
# 3. Industrial plastic enclosure
Industrial plastic enclosures have to give protection to the inner equipment from hazardous influence peculiar in such a case.
# 4. Plastic junction box
Junction boxes are needed to house and protect connections of electrical systems.
In this case, plastic is used not only to produce enclosure – all connection wires are covered with plastic materials as well.
# 5. Handheld plastic enclosure
Handheld plastic enclosures come in various sizes and designs.
They can be used to house toolkits, remote controllers, remote thermometers and other useful devices.
# 6. DIN rail plastic enclosure
Plastic enclosures can be mounted on DIN rails, or contain DIN rails inside to house the equipment properly.
# 7. Waterproof/weatherproof plastic enclosure
If there is a possibility of outdoor use of electrical equipment, it is better to house it inside weatherproof plastic enclosures.
Such cabinets can protect your equipment and connections from water and various mechanical impacts.
# 8. Desktop plastic enclosure
Desktop plastic enclosures are used to house various small devices, such as routers, office phones, printers, security panels, etc.
Basically, such an enclosure can be also used as a console for paper or other office stuff.
# 9. Alarm and entrance plastic enclosures
Plastic enclosures and boxes are perfect to hide parts of alarm/door entrance systems.
They can be painted in colors of the interior in order to hide them from intruders and make them look more aesthetic.
# 10. Windowed plastic enclosure
Windowed plastic enclosure provides you easy access to the inner equipment.
Windows can be made of plastic materials as well, so you don't have to worry about the possible damage if the glass is broken.
# 11. Computer enclosure
Plastic materials are great for PC and servers due to their insulation and heat dissipation properties.
How to mount plastic electrical enclosures?
Installing plastic boxes and enclosures is one of the first stages in electrical rough-in work.
It is regarded as very easy work, but there are still some common errors that DIYers frequently make.
Follow these easy tips to make sure your electrical box installations look professional and meet code requirements.
# 1. Install wall enclosures at uniform heights
It surprises some novice DIYers to learn that there are no precise code guidelines for how high wall switches or outlet enclosures should be positioned.
But professionals follow certain standards for a uniform look.
It's standard practice for wall switches to be installed about 48 inches above the floor, but this distance can range from 43 inches to 53 inches, depending on your preference.
A common practice for receptacle outlet boxes is to install them so the bottom edge is between 12 and 16 inches above the floor.
For switches and outlets above countertops, install them so the bottoms are about 4 inches above the countertop surface.
Whatever standard you choose, try to maintain uniformity for all electrical enclosures.
Irregular box heights might lead to maintenance issues in the future.
# 2. Use a drywall reference strip
In new construction, attaching a strip of drywall to the front face of studs can serve as a guide for attaching wall boxes.
Without some kind of guide, it can be difficult to install the boxes with the proper offset to ensure the front edges of the electrical boxes will be flush with the finished drywall surface.
When you install an electrical box, make sure it is flush with the surface of this drywall strip; this will ensure the boxes are at the proper depth when the walls are finished.
Most residential drywall is 1/2-inch or 3/8-inch thick, so keep a handful of drywall strips of this thickness on hand to facilitate electrical box installation.
If you are using a different wall thickness (such as 5/8-inch thick, required for some firewalls) make sure the reference strips match that thickness.
# 3. Use the enclosure's measuring tab
Plastic nail-in electrical boxes may have 3/8-inch measuring tabs along the sides.
You can use these to indicate how far to extend the electrical box from the face of the studs.
Begin by slightly pushing out the nails on the box by hand, so that when you place the box against the stud, the tips of the nails lightly pierce the wood.
This helps hold the box in place during those first couple crucial strikes of the hammer as you drive the mounting nails into the stud.
# 4. Nail/screw carefully
When nailing the plastic enclosure, use light, careful blows rather than heavy swings of the hammer.
Make sure to keep your blows perpendicular to the stud.
If you strike too hard, you risk damaging plastic material.
# 5. Alternate blows between nails
Rather than hammering in one nail fully before proceeding to the next one, it's best to alternate back and forth between the nails, hammering each nail in about 1/4 inch each time.
This will keep the box from twisting or deflecting as you attach it.
Some electricians stop just short of driving the mounting nails completely into the studs.
This allows the box to be easily removed should the layout need to be changed before the cable installation.
How to install equipment inside the plastic electrical enclosure?
While the electrons in your circuit are eager to find that lovely path of least resistance, you probably want them to take a certain route and keep all components from shorting or loosely jumbling about in the enclosure.
Thus, any exposed wires or connections that could cause a short should be insulated, and every component will need to somehow be secured in its spot to withstand any motion when fully housed.
For products that will be sold or used as promotional giveaways, you'll want to ensure everything is mounted securely to endure the wear and tear from the user.
For PCBs and other flat components, the most practical means of fastening to the case is often screwing them into the enclosure.
Many pre-made cases will have grooves molded along the walls to allow a board to easily slide in and out.
You can also add standoffs or threaded inserts for a secure point of contact
What accessories are available with plastic electrical enclosures?
There is a wide range of accessories and fitting designed to be used along with electrical boxes.
They can improve various capabilities like safety, flexibility, and aesthetics:
# 1. Box covers
After installing an electrical box and attaching the wiring from the devices, you need to use an appropriate cover.
A box plate is basically a flat plate that can be mounted on the box with screws, and there are various options available:
Indoor outlet boxes and light switches can be covered with plain or decorative covers.
Outdoor boxes require watertight covers or an in-use cover for receptacles. These allow access to the outlet while still keeping it covered completely.
Plain box covers can be used for keeping the wiring safe from the elements and accidental contact, while still allowing access for repairs and maintenance.
# 2. Braces and bar hangars
Lights and other devices can be mounted between joists using braces and bar hangars, so they can be installed in different locations with relative ease.
# 3. Extension rings
If an electrical box needs to accommodate multiple wires, an extension ring can be used to increase the total depth and provide more space for wiring.
# 4. Adjustable depth boxes
These boxes can be adjusted to precisely install electrical boxes flush with a wall's surface, regardless of the actual depth of the wall material.
What are the pros and cons of plastic enclosures compared with metal and steel enclosures?
After everything that was said above, let's conclude the pros of plastic enclosures:
Plastic electrical enclosures are less expensive and lighter than metal.
As most plastics are electrically insulating whereas metals are good conductors so plastic electrical boxes, unlike a metal electrical box, would not need to be grounded.
Also, plastic electrical enclosures have mounting pillars integrated into them which can make the installation of a plastic electrical enclosure easier than a metal one.
Lastly, plastics have a clean, smooth surface that tends to be easy to clean, look professional and work well where they have high visibility and aesthetics are important (like inside medical facilities).
They are also easy to modify by cutting holes which are often required with electrical enclosures to ensure they can do and hold the needed equipment.
Speaking of cons of plastic enclosures, plastics have limited chemical resistance relative to metal.
It is not rated for use with solvents or alkalis, but it is compatible with mild acids.
Some polycarbonates are not ideal in outdoor situations and can become brittle with extended exposure to sunlight, which can compromise it.
Also, relative to metal-plastic doesn't withstand blunt force trauma as well.
For example, metal roadside enclosures are more robust when it comes to a speeding car or truck.
If you compare plastic and metal electrical enclosures, the later ones tend to be more expensive and heavier.
Metal enclosures also have sharp edges and always have to be painted which adds to the cost of the enclosure.
Metal can also be difficult to work with and shape.
Shaping a metal part can require to die work, welding, grinding, rework, or bending to achieve design specifications and desired look which can be limiting.
Finally, the metal needs to be earthed given its conductivity which can present safety issues.
What is the lifetime of plastic enclosures? How often do they need to be replaced?
Robust plastic enclosures are long-lasting products that can be used for decades without replacement.
However, it is crucial to check their conditions from time to time in order to make needed replacements in time.
The time period of such inspections also depends on the type of equipment housed inside.