Metal Stamping Parts
World-class Metal Stamping Parts Manufacturer
KDM is a Proven and Trusted Metal Stamping Parts Supplier in China
Premier Metal Stamping Parts Supplier in China
To ensure the quality of our offered products, our quality control team has duly checked the materials on various quality parameters. Through the years, KDM has been able to come out as a trusted supplier and manufacturer of metal stamping parts.
Our range of KDM metal stamping parts finds application in devices, machines, instruments of automotive, appliance, and electronics manufacturing industries.
Reliable and dependable metal stamping parts
Offers maximum performance for every application
Carefully selected raw materials in accordance with international standards
Durable and flexible metal stamping parts are offered for the optimum solution
Inquire Now!
Read More
KDM Metal Stamping Parts Series
Are you looking for a manufacturer of headliner clips that you can save money and time? Look for KDM! We offer a competitive rate and fast delivery of headliner clips. Quality is guaranteed with KDM's headliner clip!
For the pop clip and pop display industry, you can choose KDM's retail price tag clip. We offer these products at an affordable price yet functional. Purchase now at KDM!
We manufacture a wide variety of vacuum cleaner wear plates for vacuum cleaners and power-head parts. At KDM, you can find whatever you need for a vacuum cleaner wear plate!
KDM is your one-stop-solution for all your stair brace bracket problems. With a wide array of stair brace brackets, surely, it can fit your needs and requirements.
For the siding attachment and construction part, choose KDM's siding clip! We offer a durable siding clip with resistance to corrosion. Purchase your siding clip at KDM!
If your wood connector needs a universal stair bracket, buy at KDM. We always provide a high-quality universal stair bracket. Plus, we offer excellent services are offered to you!
Send your Inquiry on KDM Metal Stamping Parts
Along with our expert's guidance, KDM metal stamping parts are fabricated by making use of excellent quality raw materials as per quality industry norms. In addition, the KDM metal stamping parts is highly demanded in the market and appreciated by most clients due to their optimal endurance.
Plus, our metal stamping parts are corrosion resistance, robustly constructed, sturdy design, and high durability.
Customized metal stamping parts for your specifications
Professional and team of experts designed and engineered our metal stamping parts
Metal stamping parts fabricated through modern equipment
Functional and cost-effective metal stamping parts
Related Products of Metal Stamping Parts
KDM Metal Stamping Parts
KDM is equipped with professionally trained mold debugging and mold design team.
KDM can design and development of fine bending, blanking, stretch, and other precision stamping dies.
In China, we are a popular supplier and manufacturer in this industry.
We are committed to offering superior quality metal stamping parts.
KDM metal stamping parts we deal are widely used in consumer electronics, connector terminal, and connector shield for pc mainboard.
KDM is engaged in supplying consistent quality metal stamping parts to our customers within the set time frame.
All of our metal stamping parts are manufactured at our modern manufacturing unit.
These are constructed using tested quality materials.
Metal stamping parts from KDM are available in various grades and sizes.
Our offered products can assure durability and excellent structural strength.
The metal stamping parts from KDM can also be stamped in customized structural and dimensional configurations as per the customer's demand.
KDM metal stamping parts are appreciated by most clients for providing low maintenance requirements and hassle-free installation.
It has an accurate and precise profile, robust structure, and assures perfect fitting.
KDM expertise is optimized for custom metal stamping production which exceeded ISO 9001 quality norms.
KDM custom metal stamping parts services have uses a conjunction of progressive dies, high-speed presses, and multi-slide presses.
This can provide the most profitable solution for high volume manufacturing.
We build and design specialized fabricating cells by making use of automation for low cost, high volume production.
Delivering a quality custom metal stamping parts throughout the world, KDM provides to all customers a precision stamping technology and world-class quality assurance.
Stamping your parts from aluminum, stainless steel, or other metals precision.
Through our ISO 9001 quality system registered, KDM assures you a defect-free metal stamping parts with compact tolerances you need.
Whether you are seeking for volume-high value metal stamping potentiality and you are starting a project or looking for a quality-driven manufacturer and supplier, please let KDM quote your metal stampings.
Contact us today!
Metal Stamping Parts: The Complete FAQ Guide
Metalworking is an art, without any doubts.
This phenomenal human skill allows us to produce complex parts from tough metals, like stainless steel or aluminum.
Today we'll talk about metal stamping – one of the metalworking techniques that can be used to produce similar multiple parts.
What is the stamping process in sheet metal?
Stamping is the metalworking process during which flat sheet metal is placed in either blank or coil form into a stamping press.
There, a tool and die surface form the metal into a net shape.
Stamping includes a variety of sheet-metal forming manufacturing processes that will be discussed later in this FAQ.
Some parts require a single-stage operation while others could occur through a series of processes.
Stamping is usually carried out on sheet metal, but can also be used on other materials, such as polystyrene.
Depending on part complexity, the number of stations in the die can be changed.
What kind of metal stamping techniques are performed to make various parts?
Metalworking is a tough and complicated process, that consists of hundreds of techniques.
In the case of metal stamping, the following procedures may be performed to produce parts:
Bending is the process when the material is deformed or bent along a straight line.
Flanging is the process when the material is bent along a curved line.
Embossing is the metalworking procedure when the material is stretched into a shallow depression.
During blanking, a piece is cut out of a sheet of the material, usually to make a blank for further processing.
When coining is performed, a pattern is compressed or squeezed into the material. The name itself comes from the process of making coins.
During drawing, the surface area of a blank is stretched into an alternate shape via controlled material flow.
Deep drawing is the same with drawing, except here the depth of the drawn part exceeds its diameter.
When stretching is performed, the surface area of a blank is increased by tension, with no inward movement of the blank edge. It is mainly used to make smooth auto body parts.
During ironing, the material is squeezed and reduced in thickness along a vertical wall. This method is widely used for beverage cans and ammunition cartridge cases.
Reducing/necking procedure is needed to gradually reduce the diameter of the open end of a vessel or tube.
Curling is the process of deforming material into a tubular profile. Door hinges are a common example.
During hemming, edges of a metal part are folded over onto itself to add thickness. The edges of automobile doors are usually hemmed.
What are the main tools for metal stamping?
The stamping process is impossible without two main tools: presses and dies.
Also, it is quite important to use lubricants during the stamping process to avoid scratching of tools and blank surfaces.
What are the main applications of metal stamping parts?
It is hard to mention industry and applications where metal stamping parts are not used.
Automotive, aircraft manufacturing, furniture industry – you just name it.
The following applications, however, are the most dependent on metal stamping parts.
# 1. Electrical tools and components 
Within a single power and electrical industry, stamped metal parts serve countless needs to make perfect electrical components.
Clips, holds, cups, covers, fasteners, sensitive electronic assemblies: these are only a few examples of stamped metal parts used in the electrical industry.
# 2. Construction industry
Construction is a high-demanding area where extreme durability and robustness of used tools are mandatory factors.
And stamped parts are exactly what is needed in such case: they are long-lasting, can resist temperature strains, maintain integrity under the threat of rust or corrosion.
Metal stamping serves the needs of power tools, panel fastening systems, industrial switches and connectors, and even complex custom assemblies for construction projects.
# 3. Hardware products
From doors and shelves to lighting fixtures, switches and sockets – stamped metal parts can be found both in public and private premises.
Specialty stamped hardware products include:
catches, latches, and locks;
household tools;
power tools;
doors and handles;
mounting brackets and chassis;
components of lighting fixtures.
# 4. Fastening equipment
The precision and durability of stamped metal components are the main requirements for perfect fastening solutions.
Hooks, bolts, lock systems, and their parts, as well as more complex contact elements, can all be stamped.
# 5. Appliances
Appliances encompass a dramatic range of sizes, shapes, designs, and functions, both for residential and commercial purposes.
This industry demands an equally complex suite of parts and components for many appliance types.
The custom finishing solutions offered by metal stamping are an especially effective fit for appliance work.
How does a stamping machine work?
A stamping press is a metalworking machine that can easily shape or cut metal based on certain specifications.
The press consists of a bolster plate and ram.
The stamping process is a procedure of forming the metal between two halves of the press tool.
The upper member is attached to slides of the press, while the bottom member is attached to the stationary bolster plate (or bed).
In some large presses, there is also a die cushion integrated into the bolster plate to help apply blank holder forces.
We'll discuss types of presses used for metal stamping later in this guide.
What is a metal stamping die? How do you make it?
A stamping die is a unique precision tool that cuts and forms sheet metal into a desired shape or profile.
The die's cutting and forming sections typically are made from special types of hardenable steel called tool steel.
The first step is to design the stamp.
You can simply make a drawing or sketch of the size and shape of the mechanism.
However, it is best to leave this step to a professional stamp die, manufacturer.
What are the types of dies used for metal stamping?
There are several types of dies used for stamping in metal fabrication.
# 1. Progressive dies
This type suits for high-volume production and high-speed operations.
This metal forming process is widely used to produce parts for various industries, such as automotive, electronics and appliances.
Progressive die stamping station consists of several individual work stations, each of which performs one or more different operations on the part.
The part is carried from one station to another by the stock strip and is cut out of the strip in the final operation.
# 2. Transfer dies
This type is also used for high-volume manufacturing.
Transfer die stamping is similar to a progressive die, but the part is transferred from station to station by a mechanical transport system.
This procedure is used when the part has to be free from the strip to allow operations to be performed in a free state.
A transfer die can be a single die by itself or several dies, or machines arrange in a row forming a production line.
# 3. Line dies
Line dies can come in two types: manually and robotically loaded.
They work well for low-volume production, as well as for large parts that cannot be produced efficiently in one press.
Often each station that forms or cuts the sheet metal represents a single operation die.
# 4. Steel rule dies
Steel rule dies, also known as knife dies, were initially used with soft materials such as leather, paper, or cardboard.
However, modern knife dies can easily cut through metals like aluminum, copper, and brass.
The steel strip used for the cutting surface is designed to match the needed shape.
So it is important to figure out the characteristics of the material to be cut, such as its thickness and hardness.
It helps to understand what material is better to use when creating such die, as well as how thick the cutting blade should be.
What is automated stamping?
Automated stamping is any kind of stamping procedure performed with the help of automated machines.
As you may assume, practically any modern stamping press works automatically.
However, there are still procedures that can be performed manually.
How to differ metal stamping and metal fabrication?
Metal fabrication is a more complex concept that includes various metalworking techniques and processes.
It is generally used to produce more complicated parts that require multiple operations, whereas metal stamping is often used to create simple flat parts.
What metals can be stamped?
As you may know, all metals can be categorized according to their softness/hardness.
And while some soft metals (like copper and aluminum) do not require special treatment, hard metals (like stainless steel) have to be stamped with extreme care.
Actually, even the stamping tools used in such cases vary greatly.
Answering the question, practically any kind of metal can be stamped, however, the harder the metal the bigger the would be costs
In the picture below, you can see the comparison of different metals due to their softness.
How to minimize costs when stamping metal parts?
# 1. Use cost-effective metals 
It might sound simple, but in reality, the right choice of metals is maybe the most necessary part of manufacturing.
And while some companies recommend choosing the cheapest metals, we think that this approach is wrong.
Instead, you have to think of the requirement for a future part, e.g. its purpose, loads that such detail has to withstand, and so on.
After figuring everything out, KDM Steel can come up with the most appropriate and cost-effective options.
# 2. Use modern metalworking technologies
If some application requires hard and strong material, it doesn't always mean that you have to use metal with such qualities.
Modern metalworking practices help to improve the strength of not so robust metal.
For example, you can use thin embossed steel as a good aluminum's alternative: it provides the same strength and lightweight qualities at a significantly lower cost.
# 3. Avoid useless scrap
You can effectively cut costs by reducing the amount of scrap produced in a production run.
Try to create the layout so you can fit as many parts as possible on one sheet.
# 4. Try to make the most of a single manufacturing run
It is logical that the more parts you can manufacture at one time, the less it will cost you eventually.
It can be explained by setup times and their costs.
You see, such things as switching out machines and dies, re-calibrating them, getting the materials in place, etc. are money-consuming processes as well.
When you place a large stamping order, your manufacturer can set up his equipment once and produce it in a short time, which will greatly decrease your eventual costs.
However, in some cases, you can't avoid low volume orders (e.g. when ordering sample products).
# 5. Use the most effective tools
Needless to say that modern machinery and dies perform much better than the vast majority of old tools.
However, some manufacturers prefer to use outdated equipment due to its cheapness.
This is not the case of KDM Steel, which upgrades its tools and technology frequently.
# 6. Reduce costs of tools' maintenance
Are frequent maintenance breaks cutting into your manufacturing time?
Too little and too frequent maintenance can increase your metal stamping costs.
Also, figure out if you can make design changes or change the tooling to decrease required maintenance.
# 7. Automation of metalworking processes
When it comes to stamping metal parts, the better part of processes can be automated.
The cost of manpower is one of the biggest factors in manufacturing pricing.
The more your manufacturer can automate, the less you have to pay for manpower.
# 8. Design optimization
Good manufacturing engineers can help to optimize your design and save you a lot of money in the long run.
Manufacturing engineers are trained to understand what design factors make the manufacturing process as efficient and cost-effective as possible.
You can easily rely on KDM Steel top professionals in this instance.
What is a heavy stamping?
Heavy stamping refers to the process of stamping a raw material with above-average material thickness.
To achieve a metal stamping made from a thicker grade of material, a more powerful stamping press is required.
It has to have a higher tonnage to properly process thick metal.
Blanking and forming thick metals requires considerable expertise in specifying proper materials, presses, and dies, designing and building satisfactory tooling, and using the best lubricant.
KDM Steel performs hard and soft metal stamping with similar success.
What tolerances are held when stamping metal parts?
The answer hugely depends on the material and type of part you want us to manufacture.
You can find various guidelines on the Internet, where the better part of specialists "recommend" to hold 0.005-inch tolerances for every imaginable part.
However, this is not the case, especially when we are talking about hard metals and custom parts.
When designing parts for a sheet metal application, you must take a realistic view of the material characteristics, consistency of makeup and temper, yield strength, tensile strength, grain direction, and material thickness.
KDM Steel engineers can perform the most precise calculation to minimize your costs as possible.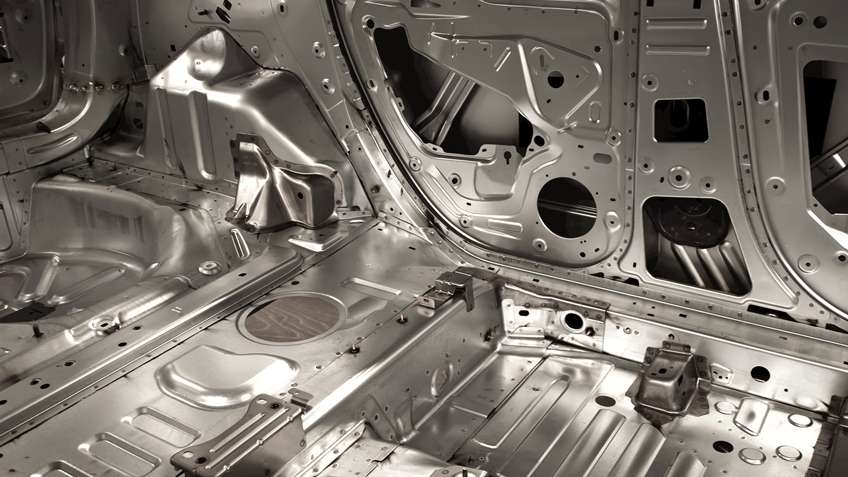 How to perform custom metal stamping?
Custom metal stamping is a more complicated process because it requires custom tooling and techniques to produce specified parts.
First of all, KDM specialists have to achieve a drawing of your future parts.
If you can't create them yourself, we can help you with it as well.
When we'll have in mind what kind of parts you want to achieve, we can start preparing dies and presses for manufacturing.
As you may assume, custom metal stamping requires custom dies to be used, so it might require some time to prepare them.
Otherwise, custom metal stamping is the same with general metal stamping.
What kind of stamping presses are used to produce metal parts?
There are a lot of classifications of stamping presses on the Internet.
Each category derives its name from the drive source that generates the pressure (force) on the die to form the finished stamping.
Thus, stamping presses can be divided into four main categories: mechanical, hydraulic, servo, and pneumatic
# 1. Mechanical press
Mechanical presses differ due to the type of drive transmission that pushes the die.
Flywheel, single-geared, double-geared, double-action, alternative slide motion (ASM), and eccentric-geared mechanical presses are available.
All of them are powered by an electric motor.
To stop and start the press, you use electronic control to a clutch and brake.
Most clutches and brakes are spring-applied and have either pneumatic or hydraulic releases.
The stopping time of the clutch and brake is critical in determining both the speed that the press can be run and the safety of the operator and die.
# 2. Hydraulic press
A hydraulic press is using the power of a hydraulic pump that moves the cylinders that drive the slide down.
Pressure can be preset beforehand, and once the needed level is achieved, a valve activates pressure reversal to avoid overload.
With this press design and its applications, the die is guiding the press, so the guiding systems do not have to be as accurate as with a progressive-die mechanical press.
Over the past decade, hydraulic presses have become very advanced due to new scientific technologies and improvements.
Such type of stamping presses is especially suitable when using deep-draw technique because it can apply full tonnage over the complete length of the stroke.
Also, you can program the velocity that the slide travels as it closes the die.
You can program the return stroke for fast return, and you can adjust the stroke to any distance you need, thus achieving the maximum SPM available with the pump design.
Despite all its advantages, the hydraulic press has one certain flaw: its production speed is lower than in the case of a mechanical press.
# 3. Servo-driven press
The servo-driven press is similar to various mechanical presses, but instead of the main motor, flywheel, and clutch, the driven force is created with the help of servomotor.
With a servo motor, you can easily apply the needed velocity, dwell and stroke length based on the application.
Consider a part that requires forming through a 3-inch stroke, and say the slide on the press stroke is 7 inches.
You can set the stroke length so you travel only 3 inches, allowing for a certain height to clear a flange after it's formed up.
Eventually, you can come down at a fast velocity, then slow down that last quarter inch to make the form, then speed back up to a 4-inch dimension height to clear the flange.
So, this makes the servo press to perform progressive forming under one die.
# 4. Pneumatic press
Pneumatic presses are machines that apply heavy-duty force (created by compressed air) to metal parts.
Compressed air powers this machine by increasing/decreasing pressure within an enclosed surface.
The main advantage of pneumatics is its cheapness.
Also, such presses can successfully perform for a long time.
Since they run on air pressure, and the pressure doesn't wear as much on machine parts, pneumatic presses are used as a part of any efficient manufacturing system.
Many pneumatic parts are also inexpensive relative to mechanical or electric parts, so even repairs won't take a chunk out of emergency savings.
Finally, such stamping presses are the safest, because they don't use hazardous gases, and some of them even don't use electric currents to start the machine.
Air also doesn't combust, so using pneumatics reduces the chance of potential workplace fires.
How to design metal stamping parts?
Initial sketch of metal stamping part can be created manually, however, you have to create a virtual model if you want to use automated presses.
Such mockups are drawn with the help of special soft, known as 3D CAD.
3D CAD files are created using a host of different CAD packages and then converted into machine code, which controls machines that precisely cut and form the sheets into the final parts.
Sheet-metal parts are known for their durability, which makes them great for a wide variety of applications.
We highly recommend the following guide for those of you who wish to learn tips for designing metal stamping parts.
If you can't perform the design of desired parts, KDM Steel specialists would be glad to help you.
What is precision stamping?
Precision stamping is quite a cost-effective solution when it comes to manufacturing large quantities of complex products.
Three main precision stamping components currently used by manufacturers worldwide are as follows:
micro-precision stamping;
intricate precision metalworking;
prototype design.
As we already know, metal stamping uses high tonnage presses and stamping dies to forge sheets of metal into needed parts.
Precision stamping can be highly automated, making the process well-suited for high-volume because labor costs drop as production levels increase.
Upfront tooling costs, however, make precision stamping quite an ineffective way of manufacturing for smaller production runs.
Other negative factors to consider include long lead times and difficulty making design changes once the tools have been created.
Micro-precision stamping is capable of making minute stamps, cuts, bends and folds in a workpiece.
Typically, micro-precision stamping machines support tools with diameters on the micro-level.
These micro-stamping combine photo etching technology and 3D computer software to perform highly exact operations.
What is hot metal stamping?
Hot metal stamping can be performed in three steps:
The press-hardenable material is heated to more than 900 degrees to an austenite temperature in an oven.
The material is transferred quickly to a press, and the part is formed while the material remains its liquid state under high temperature.
Then the part is quenched by being held in a water-cooled die cavity for a few seconds at the bottom of the stroke.
Eventually, the material's grain structure is converted from an austenitic state to a martensitic state.
Please, read the following guide if you want to learn more about hot metal stamping.
Can KDM Steel make metal stamping parts from my sample?
Yes, KDM Steel can make parts from your drawing of even from a real part that you've sent us.
Also, you can require a sample product to check if it complies with your application.
We can produce CAD drawings of needed parts within one working day, while the creation of a sample part will be finished in three working days.
However, if you want us to produce parts from your own sample, the manufacturing time will depend on the time needed to deliver such a sample part from your premises.
What is KDM's MOQ when ordering metal stamping parts?
KDM Steel does not set minimum order quantity (MOQ) for its clients.
You are free to order any likable amount of metal stamping parts.