KDM Kiosk Enclosure
KDM kiosk enclosure provides a better base for any required product being set up. These enclosures come in different forms and styles such as wall-mount, portable, tabletops, stand up, etc.
You can also custom design standard kiosks, modify units, and produce a new, unique and smart kiosk enclosure. Our kiosk enclosure tends to be popular as they are more attractive and sophisticated than others. We have lots of clients coming from different countries. We are dedicated to offering the best product and services for every customer we deal with.
Our enclosure is formed through a mixture of fabricated raw materials and effective tools. The structure has been a more flexible panel to work from. Also, this can be added with accessories to support displays and components firmly.
High-quality Kiosk Enclosure for All Application and Vertical
Affordable models can be customized to configuration and own design
Easy, efficient, and cost-effective kiosk enclosures products
Full line of kiosk enclosure design professionally engineered by experienced staff
KDM Kiosk Enclosure Series
KDM manufacture electrical kiosk enclosure using high-grade materials and effective tools. This offered a reliable structure to protect components from environments and personnel to electric shock.
KDM can offer full service in designing, engineering, and manufacturing custom floor standing kiosk enclosures. From concept to production, KDM got your back.
If you want a huge selection of desktop kiosk enclosures to choose the right for your business, then you can't ignore KDM. We offer desktop kiosk enclosures at a favorable price.
KDM offer a highly-engineered, durable design steel kiosk enclosure that can be customized to its own specifications. Combined with a skilled team and advanced production equipment, we assure you of high-quality products.
KDM design landscape kiosk enclosure that best supports your business requirement. You can choose with our wide variety of products and discuss your details.
KDM brings the highest quality, powerful construction wall mount kiosk enclosure that will surely enhance your brand in the market. And will surely satisfy your customers.
Send your Inquiry on KDM Kiosk Enclosure
KDM design kiosk enclosure provides more versatility for any digital display including camera, media player, and other advertising devices. Your customers will be delighted with this reliable and fashionable enclosure. They will have a complete engaging kiosk experience.
Whether you need this enclosure for advertising or any business need, you can definitely make an outstanding product for your audience. These enclosures can fit a variety of display sizes and thicknesses. There is a wide range of aesthetic options you can choose from.
A comprehensive selection of functional kiosk enclosure
Flexible standard design best for a custom solution
Kiosk enclosure perfect for both indoor and outdoor application
Rich industry experience to design quality kiosk enclosure
Related Product with Indoor Water Heater Enclosure
KDM Kiosk Enclosure
For advertising or branding requirements, this product can match the situational and promotional brand.
Whether you need to deploy kiosks in retail stores, shopping, you can assure high-quality enclosure to your devices.
It provides maximum protection with every system simple to complex projects.
Our kiosk enclosure can be custom-made to specific designs.
Our engineers and expert designers work professionally with you, to ensure that enclosure robustness and durability are efficient.
We can custom design enclosure perfect use with exposure in extreme high and low temperatures.
As a professional enclosure manufacturer with over 10 years of specialization, we can engineer and fabricate custom kiosk solutions.
KDM can provide full service from concept to final production and delivery.
We can offer perfect kiosk hardware solutions.
Our range of kiosk enclosure reaches is manufactured with the latest technology, machinery, and tooling.
Our enclosures have been acknowledged as it has a user-friendly design, high-performance design, compact and portable, and long service life span.
We can supply kiosk enclosures at the most competitive prices.
In designing the enclosure, we make use of high-grade materials to manufacture standard and custom kiosks.
KDM is a leading kiosk enclosure manufacturer providing the highest-quality cabinet, we can custom any type of electrical enclosures for your project.
With a decade in the making, we can create acquirable kiosks enclosure and related products excellently.
With our rich manufacturing experience of kiosk enclosure, we are able to offer the best product that can work for both indoor and outdoor applications.
We can provide different kiosk enclosures to meet your needs.
For your orders, please feel free to contact us today!
Kiosk Enclosure – The Definitive FAQ Guide
Modern society demands are high, especially when it comes to the distribution of goods and services.
To prevent large queues and reduce costs for human labor, self-service kiosks were introduced in the past few years.
Such booths utilize tablets and other devices to become fully automatic, replacing physical marketing with a more effective solution.
Logically, these kiosks and inner devices have to be protected from outer influence, mainly with the help of corresponding enclosures.
What is a kiosk enclosure?
A kiosk enclosure is a secure and stylish cabinet made of robust materials that can display some electrical devices, like tablets or iPads.
Such enclosures can stand in public places and promote your business without the use of manpower.
Let's discuss the main applications of kiosk enclosures.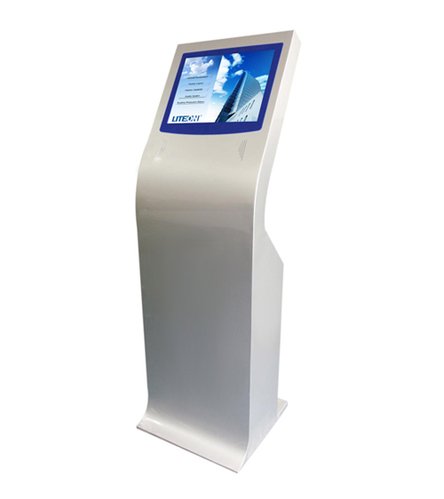 How to use a kiosk enclosure?
There are lots of ways how to effectively use the technology of kiosk enclosures.
Let's name some of them.
# 1. Retail
In the retail sphere, kiosk enclosures can be used to help your staff to serve customers faster and without delays.
Thus, you can use kiosk enclosures for:
coupon printing;
product display;
endless aisle;
wayfinding;
phone charging.
# 2. Hospitality
The hospitality industry highly depends on modern technologies which make the process of servicing clients smoothly.
In this case, kiosk enclosures can be used for:
check-in;
wayfinding;
directories display.
# 3. Ticketing
Kiosk enclosures can also be used to trade tickets in:
theme parks
casinos
night clubs
museums
sports facilities.
# 4. Entertainment
The media and entertainment industry highly depends on the use of kiosk enclosures.
If you ever watched massive gaming events, you might spot kiosk enclosures that provide:
video game dashboard;
video recording;
loyalty programs.
# 5. Education
You can often see kiosk enclosures inside education facilities.
In this matter, they can be used to store:
directory;
digital trophy case;
wayfinding service;
video wall.
# 6. Government
Governmental facilities also have huge benefits from the use of kiosk enclosures.
This equipment helps to minimize queues and can be used to show:
various directories;
wayfinding services;
memorials and other legal documents.
# 7. Financial
The best example in such a case is banks: it is hard to imagine a modern banking facility without kiosk enclosures.
With their help, you can manage:
transactions;
payments;
products;
loyalty programs and so on.
# 8. Vending
Vending needs special devices that can sell goods and perform certain tasks without the participation of the seller or other employees.
Kiosk enclosures can hold tablets that contain:
informational hub;
product dispensing;
loyalty program.
# 9. Health care
The healthcare industry requires fast servicing of customers because every wasted second can be crucial for someone's health eventually.
In this case, kiosk enclosures and inner tablets can be used for:
payment management;
wayfinding.
# 10. Commercial
Finally, kiosk enclosures can be used in any other commercial facility, for example, inside the car parts shop.
Using the tablet, you can access:
digital signage;
virtual receptionist;
directories;
product information.
What kind of electrical devices can be stored inside the kiosk enclosure?
Logically, each kiosk enclosure stores some kind of tablet or iPad that contains the software needed for your purposes.
However, there are also additional electrical devices that might (or might not) be stored inside the kiosk enclosure.
Let's have a look at some of them.
# 1. Cash acceptors
By integrating cash acceptors into the kiosk enclosure, it becomes suitable for many different applications, from POS terminals to betting terminals.
# 2. Adapters and hubs
There is a huge variety of additional adapters that might be integrated inside the kiosk enclosure.
From chip and pin to USB adapters, these devices help to ensure a complete business solution.
# 3. Contactless equipment
Contactless applications such as Apple Pay require contactless devices to be integrated within tablet enclosures, such as RFID, Mifare, and NFC.
# 4. Readers
By integrating readers into the kiosk enclosure, tasks such as ID checking or magnetic card reading become able to be performed.
# 5. Scanners
Scanners can be utilized for a variety of different applications, from ticket reading to POS systems.
# 6. Printers
By integrating printers into the kiosk enclosure you'll achieve a machine that can print various documents, from tickets to receipts.
# 7. Surveillance system
Despite that kiosk enclosures are made so they can't be easily broken or opened, there is always a possibility of theft, especially if your kiosk accepts cash.
So, it is always important to have additional security measures in the form of cameras that will record possible intruders.
What kind of materials are used to produce kiosk enclosures?
Steel and aluminum are two materials that work well with kiosk enclosures.
The main reason is the robustness of metals: kiosk enclosure often becomes a popular target for vandals and prowlers.
Thus, it is necessary to build an enclosure that can withstand different mechanical impacts and protect inner devices from the breach.
Your kiosk enclosure might also accept cash so the security question will be even more crucial.
Besides human influence, kiosk enclosures are exposed to environmental factors, such as humidity, heat, penetration of small particles inside the enclosure, and so on.
Especially, such environmental hazards become a huge factor while using kiosk enclosures outdoors.
Steel and aluminum are materials that can protect inner devices from all the above-mentioned effects so they are mainly used to make kiosk enclosures.
Also, kiosk enclosures can be produced from plastics, however, such enclosures are not so strong when it comes to physical breach.
Despite this, plastics are widely used to manufacture secondary kiosk enclosure parts, such as tablet holders, rivets, additional shelves inside the kiosk, etc.
Also, plastic is used as a coating material for all wires, as well as an enclosure material for small connectors.
What types of kiosk enclosures are available?
In general, all kiosk enclosures can be categorized into five groups.
# 1. Self-service kiosks
Self-service kiosks are mainly used for providing a service such as taking clients' payments, printing certified documents, issuing licenses/ID cards, or performing a booking or a reservation.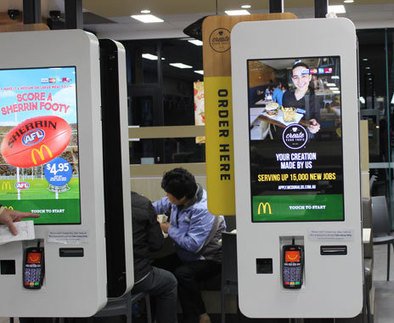 # 2. Information kiosks
Information kiosks, on the other hand, are used to provide information to the users of the system.
Information will be clear and concise, detailed where necessary with no need to rely on an advisor.
# 3. Internet kiosks
Internet kiosks can be easily found in public waiting areas such as airports, train stations, libraries, museums to name a few.
They are used to either provide free or paid internet service at that location.
# 4. Wayfinding kiosks
Wayfinding kiosks as the name suggests are kiosks providing a service to help people establish where they are exactly within a location, and what is nearby, and how to get there.
Each kiosk is geo-fenced and is aware of its current location and all the locations around it.
The map data is centrally controlled, and any updates are automatically uploaded to all kiosks at the same time.
# 5. Advertisement standing displays
Advertisement standing displays, standing totems, and standing kiosks all have the same function and that is they have the characteristics of being striking in look and being a standing kiosk unit that can be seen by passers from a distance.
Speaking of the KDM catalog, you can find the following kiosk enclosures:
# 1. Electrical kiosk enclosure
Electrical kiosks can store various electrical equipment such as transformers and distribution boards.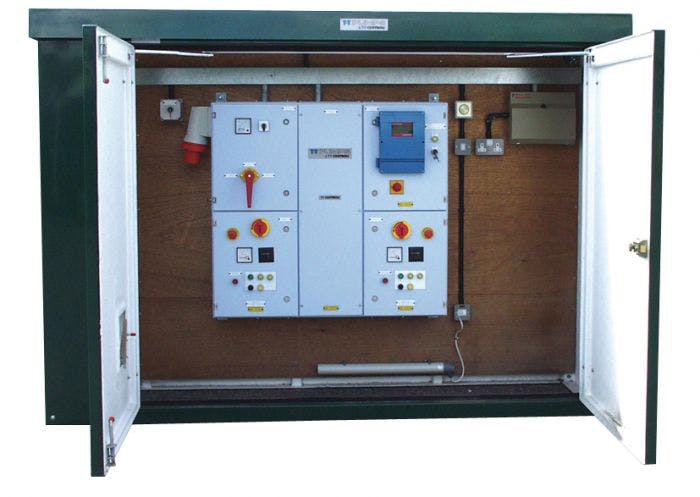 # 2. Floor-standing kiosk enclosure
Floor-standing kiosk enclosure can be easily mounted practically anywhere and have a different size in accordance with your application.
# 3. Desktop kiosk enclosure
Desktop kiosk enclosures are compact cabinets that can be stored on office tables and other furniture.
# 4. Landscape kiosk enclosure
Kiosk enclosure can be landscape-oriented so you can display your products/services with a better perspective.
# 5. Wall mount kiosk enclosure
Wall-mounted kiosks can save a lot of space inside your facility and provide additional versatility.
# 6. ATM kiosk enclosure
ATM kiosk enclosures have to be made of tough materials to prevent unwanted intrusion.
Thus, KDM Steel uses high-grade steel and other robust metals that can guarantee your safety.
# 7. iPad kiosk enclosure
iPad kiosks are designed to store all modern Apple tablets.
Also, such enclosures can protect such devices from theft and other hazards.
# 8. Custom kiosk enclosure
If you have special requirements for the kiosk enclosure, you can always rely on KDM capabilities.
We can produce all types of enclosures from your drawings or even help you to create such drawings.
What types of stands can be used with kiosk enclosures?
# 1. Counter mounted
Counter mounted is where the enclosure is bolted through the counter and is highly secure.
# 2. Countertop
The countertop is where the enclosure is mounted on a plate that is not bolted down and therefore easily moved.
# 3. Wall-mounted
As it was said above, wall-mounted enclosures can save a lot of space inside your facility.
Such enclosures are typically mounted to the wall directly with the help of bolts and fasteners.
# 4. Glass mounted
Glass-mounted kiosks are widely used in malls, restaurants, and other public facilities.
Special glass and fasteners are needed to mount kiosk enclosures.
# 5. Floor standing
Floor standing kiosk enclosures are typically mounted to the floor so they can be kept safe from theft.
What is a bezel?
The bezel is a term used to describe the outside frame of a computer, monitor, or any other computing device (in our case, tablets).
This is important for product developers and designers in evaluating the overall perimeter of the device/component and its possible ramifications.
The bezel serves to hold the screen in place, and perhaps also reduce unintentional inputs on a touch screen.
Newer device designs such as the iPad have extremely narrow bezels, allowing for more screens.
This has become an increasingly important design factor for consumers.
Are KDM kiosk enclosures VESA compatible?
Yes, KDM kiosk enclosures can be made to meet VESA standards and specifications.
If you want to learn more about VESA standards, visit the following page.
How to install tablets inside the kiosk enclosure?
All KDM kiosk enclosures have special grooves where tablets can be easily inserted.
Also, all our kiosk enclosures contain all holes needed to connect the inner equipment to powered wires.
Before installing the tablet inside the kiosk, you should switch to a certain mode to prevent an incorrect experiences.
It is recommended to use premade software that will perform only those tasks needed for your business.
Huge companies prefer to create their own apps to highlight their brand identities, however, you can use free software if you don't have enough resources.
Can KDM help me to find devices for kiosk enclosures?
In general, KDM Steel does not offer either devices or their suppliers.
The main reason is that we prefer to stay focused on our main tasks to gain brilliance for each order.
Are KDM kiosk enclosures waterproof or IP rated?
When it comes to outdoor kiosks, IP or NEMA tests are a must.
As you may know, IP stands for ingress protection and this rating shows how enclosures can withstand penetration of water and small particles, such as dust.
NEMA rating is similar to IP – it is also used to categorize enclosures following their ability to protect inner equipment from various hazards.
However, while the NEMA code is used mostly in North America, IP rating is a European standard.
You can find IP/NEMA-rated kiosks and enclosures in the KDM catalog.
Is it hard to assemble kiosk enclosures? What kind of tools are needed?
KDM kiosk enclosures come preassembled, which means that you'll have a minimum hassle while installing them.
KDM tries to supply most of the tools needed for a successful installation.
However, some items such as screwdrivers will not be included.
Depending on the unit and the location of the installation you may need additional tools, such as:
Power drill.
Screwdrivers.
Tape measure.
A pencil or china marker.
Utility knife.
Glass cleaner.
Cleaning rags.
How to keep the tablet charged inside the kiosk enclosure?
All our enclosures have cable management to keep tablets charged continuously when in use, however sometimes the environment in which your enclosure is housed won't allow for this.
Therefore we recommend portable chargers for instances when continuous charging isn't available and the tablet needs to be used for more than the tablet battery life.
How to manage heat inside kiosk enclosures?
Some tablets and additional equipment (such as LEDs) might require heat stabilization systems integrated inside the kiosk enclosure.
There are several ways of managing heat inside the enclosure including:
Use of holes and openings.
Use of fans and coolers.
While the first option can't guarantee you 100% success, especially with large power-consuming devices, the use of fans and coolers can become a must for the vast majority of kiosk applications.
Integrating the correct HVAC unit maintains the optimal temperature and humidity level within the kiosk.
When choosing the right system, consider the environment.
Even if you are dealing with a closed system there will be exposed to the outside air.
Choose components wisely and design your unit to maximize natural cooling and heating.
Another heat consideration is cooling off your touchscreen when it gets hot.
Finally, you have to think of direct sunlight in a warm climate when using a kiosk outdoors.
Please, let us know what kind of devices will be stored inside the kiosk enclosure so we can come up with the best cost/performance selection.
Can I use KDM kiosk enclosures with OEM devices?
OEM stands for Original Equipment Manufacturer.
OEM devices are manufactured for purposes of other companies, so you can brand such equipment without actually manufacturing it.
If you wish to order the KDM kiosk enclosure that will contain the OEM device, please, provide us with the technical specification of such a device.
KDM custom kiosks can fulfill all possible requirements when it comes to OEM and other non-standard tablets.
Can you prevent access to the buttons or camera?
Using various bezel designs we can prevent access to the tablet in the following ways:
The home button/home bar is revealed.
Home button/home bar concealed.
Camera revealed.
Camera concealed.
All buttons concealed.
All buttons revealed.
All buttons and cameras were revealed.
If you require access which we haven't listed, we can create a unique bezel according to your exact specifications.
Can I brand a kiosk enclosure when ordering from KDM?
All KDM kiosk enclosures and their bezels can be branded with your own company's design to promote it even better.
This design solution can be implemented either by custom coloring or by creating a branded bezel.
KDM offers three common types of branding:
Permanent bezel solution that cannot be removed in the future.
The vinyl bezel is a semi-permanent solution but can be removed and updated if you need it.
Changeable magnetic paper layovers can be used with steel bezels and changed to suit different brands or promotion campaigns.
Also, KDM Steel specialists can help you with the creation of design, or you can provide us with drawings and specify other requirements.
Please, contact our customer support crew to get more information.