KDM Diesel Generator Enclosures
KDM diesel generator enclosure protects every generator from the harshest and toughest weather conditions. Consequently, the enclosure also comes with built-in components and accessories which allow for accessible and continuous operations.
KDM diesel generator enclosure is ideal for use for industrial and commercial facility emergency equipment packaging. They are able to protect and preserve equipment from the element which caused them harm. This container can be applied in the simplest and complex component configuration.
Whatever your power generation requirements, we will provide you with a complete solution. Plus, the great news is we can customize containers with your own design. All the custom container options can be obtainable with specific pricing.
MOQ from 1pc of cabinet
Custom-made enclosure for your own requirement
Strict QC team to manage production
2-3 weeks orders delivered
KDM Diesel Generator Enclosures Series
KDM small diesel generator enclosures meet and exceed the international requirement for quality standards. These are built to world-class standards, no wonder you can get a reliable cabinet with us.
The 30kW Diesel Generator Enclosures intelligent design offers high efficiency. These enclosures are fully certified and Rohs compliant.
The 150kW Diesel Generator Enclosures set and its components are fully factory-built tested and production-tested. Our cabinets are available at an economical cost.
Every 1000kW Diesel Generator Enclosures are being tested and checked in our facility QC system. In order to meet the international standards and yours, we support the strictest quality testing.
KDM silent diesel generator enclosures are manufactured and engineered with the best quality material and technology. These enclosures come in a comprehensive range therefore you can find a great selection for your site.
The industrial diesel generator enclosure can be avail at a competitive rate. The enclosure can be customized according to your need and protect your values efficiently.
Send your Inquiry on KDM Diesel Generator Enclosures
When providing bespoke services, you will require to connect with us in every single procedure of the production. From the start, which is designing, to packaging and delivering, we can execute it within the facility. With our modern, high-tech set of manufacturing units, we will develop your ideal container into reality.
Additionally, we can provide add-on accessories for your component. Diesel generator enclosure engineering and designing are performed in our modern production unit.
Professional manufacturer with wide manufacturing knowledge
Wide selection of features and accessories
Full certification and testing report for every enclosure
Certified ISO9001 manufacturer
Related Products of Diesel Generator Enclosures
KDM Diesel Generator Enclosures
KDM diesel generator enclosure protects every generator from the harshest and toughest weather conditions.
Consequently, the enclosure also comes with built-in components and accessories which allow for accessible and continuous operations.
Easy and quick functioning is supported.
Trouble-free and hassle-free operation is achieved with KDM diesel generator enclosures.
As a professional enclosure manufacturer in China, we stand by you.
We will provide you with the best and appropriate cabinet for your requirements.
Rely on your purchasing moment with KDM, we are your reliable single-source.
The container is meticulously constructed to detail the intended application by considering the main factors, such as environmental aspects, site area, and others.
Through enclosing the generator you can ensure complete protection for your system.
Proper overflow of your system is guaranteed.
Custom-built enclosure house and protect the whole tanks. Diesel generators of all sizes, shapes, and styles and can secure, ventilate and protect equipment efficiently.
KDM diesel generator enclosure serves as a protective barrier for all generator houses.
Whether need for short-term and long-term operation, our enclosure can standby power system operationally and reliability of the system.
Specifying the best enclosure for your business, or establishment, and personal project need, you can count on KDM.
Every diesel generator enclosure is fully tested and validated through different quality parameters.
In order to ensure it meets standards to fit your specific needs.
The overall cost of the enclosure will depend on your specification.
Ease of installation is proven and tested over 10 years of performance.
Our diesel generator enclosure is available in several types including weather protection, sound accustom, and buyer.
We will provide qualified support for all the processes of production.
Your standard is really mattered to us.
KDM is a professional and leading diesel generator enclosure manufacturer and supplier in China.
We know the best and appropriate solution for you.
Our well-trained team of experts can work with you to meet your exact specifications.
The KDM team will provide you with an enclosure equipped with optional features and accessories for your application.
If you are interested in obtaining a specific enclosure, please get in touch with us.
Fill up forms and mark the options you want.
We will be glad to help you.
Diesel Generator Enclosure: The Complete FAQ Guide
A diesel generator is a powerful tool in various domestic and industrial applications.
It can be the heart of a complex system, so its failure would cause significant issues.
Thus, all means of protection are needed, including special enclosures, that are discussed in this FAQ.
What is a diesel generator? Why do I need an enclosure for it?
A diesel generator is a device that combines a diesel engine with an electric generator (often an alternator).
Together they are used to create electric energy.
A diesel engine combined with an electric generator forms the so-called Genset (generating set).
The aforementioned diesel engine is a simple compression-ignition engine that can be run on diesel.
However, some diesel engines can run with the help of other fuels as well.
Diesel generators can be used in a broad variety of applications, including domestic and industrial purposes.
It is logical that such a mechanism has to be placed inside the robust enclosure to guarantee its safety and long-lasting operation.
Thus, special diesel generator enclosures were introduced – these cabinets help to protect the inner equipment from different dangers.
What are the types of diesel generator enclosures available for sale?
# 1. Industrial diesel generator enclosure
Industrial generators typically have a huge size and can produce a large amount of power for a long time.
To do so, they utilize a lot of devices, including:
Engine.
Alternator.
Fuel system.
Governor.
Voltage regulator.
Cooling and exhaust systems.
Lubrication system.
Flywheel.
Logically, enclosures for industrial diesel generators have to be equipped with sections that would store the above-mentioned devices.
As the name suggests, such generators are used mainly in industries where power demand is high.
# 2. Residential diesel generator enclosure
Residential generators are small in size and provide power up to a specific range.
They are ideal for use in households, small shops, and offices.
Despite the small size, such generators require the same level of protection, so the most robust enclosures are used in this case as well.
They are made in a way that you can get easy access to the inner equipment, and easily move the generator.
However, they also give great protection to stored devices.
# 3. Air-cooled diesel generator enclosure
Air-cooled diesel generators utilize air to provide additional cooling for the generator.
To do so, an air intake system is used, so your diesel generator enclosure has to have space and holes for its operation.
# 4. Water-cooled diesel generator enclosure
Same as with the previous case, water-cooled generators utilize natural resources (water) for cooling.
Thus, water-cooled generator enclosures have to contain an additional place for parts of the water cooling system (such as pumps, pipes, etc.)
Please keep in mind that water-cooled generators require more maintenance than air-cooled types.
# 5. Enclosure for the power output diesel generator
The power output range of diesel generators is very wide and can be classified accordingly.
A 3 kVA diesel generator can be used to run power tools or appliances such as ACs, computers, multiple ceiling fans, etc.
They are suitable for use in small offices, shops, and houses.
Whereas a 2000 kVA diesel generator would be suitable for use in big industries or places with high power demand.
# 6. Standby diesel generator enclosure
A standby generator is an electrical system that operates with an automatic transfer switch that commands it to power up a device when the power is lost.
Standby generators might be used in safety systems for elevators, standby lighting, medical and life support equipment, and fire protection systems.
Such generators are typically placed in the storeroom and they might be not used for a month.
However, it is crucial to protect them no less than other diesel generators.
So, the standby diesel generator enclosure has to be able to withstand rust, moisture, protect the equipment from fungus and other environmental effects.
# 7. Portable diesel generator enclosure
These diesel generator enclosures can be used as residential, but their main advantage is their portability.
Only small diesel generators can be placed inside the portable enclosure and then moved between various sites.
What kind of materials are better for diesel generator enclosures?
There are several materials used while making the diesel generator enclosure:
201 stainless steel.
304 stainless steel.
316 stainless steel.
Plastics.
The above-mentioned materials are used to make the cabinet itself, however, some parts of the Genset can be made with the help of special components including:
On sound attenuated units, the insulation is performed by the mineral wool with perforated aluminum liner.
If the industrial generator requires easy visual checks, the fiberglass window is used.
Various plastic materials are used to make secondary details.
Note: KDM has a massive circle of qualitative material suppliers.
If your application requires the use of special materials, please, leave us a quote, and we'll get in touch with our partners to fulfill your order.
When should I use a diesel generator?
Industrial diesel engines and diesel-powered generators have construction, marine, mining, hospital, forestry, telecommunications, underground, and agricultural applications, just to name a few.
Power generation for prime or standby backup power is the major application of today's diesel generators.
Most state-of-the-art- hospitals, five-star hotels, business process outsourcing centers, manufacturing plants, telecommunications organizations, commercial buildings, data centers, emergency facilities, large industries, and mining companies require uninterrupted power and have backup diesel engine generators.
Can I order a customized diesel generator enclosure from KDM?
Despite that there are various standards for the size and construction schemes of diesel generator enclosure, there is always a possibility that you might have some unique specifications in this matter.
Thus, we are glad to offer the customization option for all our devices, cabinets, and other available items.
What size of the diesel generator enclosure do I need?
As we already discussed above, diesel generators might come in various sizes, so you should follow some simple steps that would help you to pick the most appropriate parameters.
Determine your needs. If you need to run an industrial machine, you'll require a big generator, while portable gensets run inside small enclosures.
Think of the means and tools your diesel generator will need to power up. They also have to be stored inside secured enclosures (in most cases, motor and pumps would be used to feed the generator).
Calculate the wattage for the motors and pumps frequently used. Always use starting watts when determining the correct electrical load requirements.
We suggest to size the generator 20-25% over the size you determine your needs to be.
This will allow room for future growth.
For example, if you determine that you will need a 15 kW generator then it is advisable to purchase an 18 kW generator to accommodate future expansion.
Note: Power requirements must be determined to properly size your generator.
We are providing some steps to assist you in approximating the size generator for your power needs.
Please keep in mind that unless you are qualified, you should use a certified electrician to determine your power needs.
What is meant by a diesel generator silent enclosure?
As you can suggest by the name, silent diesel generator enclosures are made in a way to create a minimal amount of noise.
These enclosures are designed to be soundproof and cause minimum vibrations.
How to prepare a site for the diesel generator enclosure installation?
Before you start planning the installation of a diesel generator, be sure to check the national and local guidance.
The actual process begins with a drawing of both the generator and all of the additional equipment included in the electrical system.
Here you should be aware of several key points:
The supply of fuel must be easily accessible by fuel trucks or other sources.
Don't forget to take into account the space for the security fence.
Think of the above- or below-ground electrical and fuel connections before placing the generator and its enclosure.
These decisions have to be made according to the type of diesel generator.
As an example, a simple 1000 kW generator set might have the following requirements:
Generator Dimensions: 6.5 m by 3.5 m.
Generator and fuel tank total weight: 20,000kg.
Fuel consumption rate: 320 liters per hour.
Can a diesel generator enclosure be used during adverse weather conditions?
First of all, when you install a diesel generator enclosure outdoors, pad placement is the most important factor in safeguarding your generator from flooding.
You should thoroughly survey the property where the generator enclosure will be installed, and choose the highest ground possible.
The area should be mostly flat and level where the generator will be placed.
The downhill grades should lead away from the site to prevent standing water from accumulating under your unit.
Also, you should always check the ground under the generator enclosure, even if you are dealing with a huge device.
Water can accumulate slowly and lead to failure in the future.
Despite that a good design of your enclosure and proper placing can secure your diesel generator from the accumulation of water, it is not the long-lasting method.
If you are not using the so-called IP/NEMA enclosures, there is no real guarantee of equipment safety in cases of heavy rains, floods, high levels of moisture, and so on.
How to anchor the diesel generator enclosure?
Securing the generator set and backup fuel supply tank is usually completed using concrete anchors.
Typically, the generator and fuel supply are both attached to the pad via concrete anchors.
There are three main types of these anchors:
# 1. Heavy-duty concrete anchors
These must be installed before the concrete is poured.
Measurement and placement must be exact.
# 2. Adhesive bond anchors
After the concrete has cured, a hole is drilled, and studs are affixed using epoxy.
The studs must be perfectly level and square.
# 3. Mechanical bond anchors
After curing, the concrete is drilled, then the mechanical stud is set and tightened.
These are the least robust of the three types.
What is the most likely the cause of a diesel generator failure?
In the case your diesel generator fails to start, the most common issues might be as follows:
Fuel contaminated by sludge, water or asphaltenes.
Dead or weak starting batteries.
Failed engine-cooling systems.
The key to maintaining good fuel quality is in understanding the processes that cause fuel degradation.
Diesel is an organic fuel that starts the decaying process as soon as it is refined.
The formation of sludge is an organic process caused by bacteria, fungus, and other biological agents-especially in the presence of water.
So, the first thing you should keep in mind is a proper diesel generator enclosure design.
The cabinet should have a construction that will not accumulate water near holes, and prevent the water from getting inside the fuel tank.
Fill caps must be watertight, especially in underground fill boxes where water could accumulate.
Interstitial leak detectors should be installed in the annular area of double-walled tanks.
These can discriminate between water and oil and activate an alarm to notify facility personnel of a problem.
Even with proper fuel-system design, it is possible to get water in the fuel tank as part of the delivered fuel and by condensation through fuel vent lines.
Condensation is an especially serious problem in the climate zones, where the relative humidity tends to be high and ambient temperature changes are frequent.
Most fuel-filtration systems include a coalescing filter to remove water from fuel.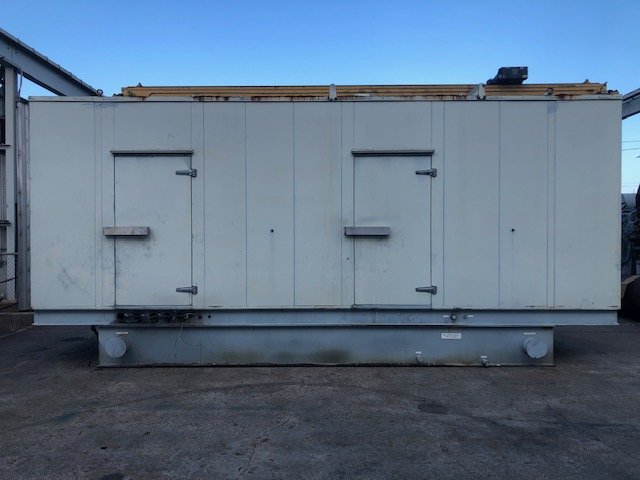 Can I order a sample enclosure from KDM?
Yes, we would be glad to produce sample products so you can be sure of the quality of our items.
In general, it takes 3 days to produce even the most complex equipment and enclosures.
What does a shining LED light mean on the control panel of my generator?
Most often, if you see a shining LED light on the control panel of your generator, this is a maintenance reminder for regular maintenance.
You can reset the light by pressing the Enter key on the control panel.
Service reminders include inspecting a battery, changing oil and filter, changing an air filter, inspecting spark plugs, and changing them in time.