Stainless Steel Polishing Services
Excellent and Reliable Stainless Steel Polishing Services in China
You're In The Right Place! KDM is One Of The Best Provider To Rely On.
Mastery-based Stainless Steel Polishing Services
Avail Services for Competitive Rates
100% Satisfying Polishing Performances
Provides Fast and Accurate Services
Your professional Stainless Steel Polishing Services Manufacturer and Supplier in China
KDM stainless steel products carry various features and characteristics including benefits for ideal applications. We ensure to meet upon upgraded and modern standard systems to meet your project needs. We equipped advanced machinery to produce obtainable designs and stainless steel product dimensions according to your layout.
KDM Stainless Steel Polishing Services Series
KDM`s Stainless steel bar polishing services are obtainable for affordable yet competitive prices. Whether round or flat bars, we can provide polishing services in abrupt yet most precise ways.
KDM offers custom stainless steel exhaust mufflers polishing services for over 10 years now. In able to highlight the premium quality of the product, frequent polishing treatments are required. It resists high temperature, performs long life service, and rustproof as well.
Send your Inquiry on KDM Stainless Steel Polishing Services
KDM proudly offers polishing services for your stainless steel product orders. We are using high-tech machines helped through well-trained production engineers and designers.
If you're a wholesale, retail, or distributor business, KDM offers competitive services. We offer stainless steel polishing services at a very low rate. We handle the finest manufacturing and great performance for a quality output.
Stainless Steel Polishing Services for Competitive Rates
Premium-Quality Polishing Services
Masters in Providing Guaranteed Polish Services
Polish Services for your Stainless Steel Products
Related Products of Stainless Steel Polishing Services
KDM Stainless Steel Polishing Services
KDM is an expert in providing polishing services to all stainless steel products. As responsible makers in China, we are glad to offer high-quality stainless steel in most competitive prices. We are glad to be part of your business` success! We are making fast and precise polishing services that are helpful to rise your business!
We designed different kinds of products that come from high-quality stainless steel. However, we used stainless steel because it has the potential to make the product last longer.
All of our stainless steel products carried different features, characteristics, and benefits to your business.  We strictly ensure they meet upon upgraded and modern standard systems to meet your satisfaction.
You can demand any stainless steel products from our factory which is obtainable in various designs, dimensions, etc.
KDM highly offers polishing services to your ideal stainless steel products for fantastic and budget-friendly prices. To have fully polished stainless steel products, we used our modern technology and high-graded raw materials. In China or any part of the world, we continuously offer stainless steel polishing services with greater building applications. Our mission is to supply the most satisfying product and services for your brand.
If you`re a wholesaler, distributor, or retailer and require polished stainless steel products from us, great news! KDM offers complete polishing services for any stainless steel products you need. At a very low and competitive price, you can avail our one of the best services.
As the finest manufacturing leader working in China, KDM also performs custom polishing services. Stainless steel products are good for building projects, households, commercial restaurants, and more applications. When you decide to have KDM to guide you, no worries! We have a fully skilled services team that is employed to provide ultra-functional, safest, and advantageous services for your trading industry.
KDM is the most reliable manufacturer and has over 10 years of experience in providing stainless steel polishing services worldwide. If you`re interested with the services we offer or do you have technical inquiries, contact us today! We will give accurate answers abruptly!
Stainless Steel Polishing: The Definitive Guide
Today, I will show you how to achieve a high luster, mirror like finish on stainless steel.
It is a process I use to remove oxidation, corrosion, contaminants or scratches on metal surfaces.
Whether you want a mirror like finish on stainless steel electrical enclosure, furniture, jewelry, fittings, flanges, valves, clamps or cookware – metal polishing offers a perfect solution.
This guide covers both simple (do-it-yourself) to technical stainless steel polishing processes.
So, whether you're a newbie or professional, this guide is perfect for you.
Let's get started.
What is Stainless Steel Polishing?
Metal polishing, also known as buffing or finishing is the process of improving surfaces.
You can use it to remove scratches, abrasion, oxide or contaminants on metal surfaces.
It produces bright and clean surfaces.
That is, you can achieve a mirror-like and high luster surface.
The best part?
You can use it to process a range of metals such as silver, stainless steel, copper, aluminum, brass, etc.
However, for the scope of this guide, the main focus will be on stainless steel polishing.
Now.
Stainless steel polishing is a set of procedures or process you can use to produce a high luster or mirror-like surface.
Polished stainless steel IBC
In a nutshell, through polishing, you can improve the quality of stainless steel accessories and equipment.
Later in this guide, I will take you through 14 different stainless steel polishing techniques – keep reading.
I know you could be asking yourself this question: Why should you polish stainless steel?
Here we go:
Benefits of Stainless Steel Polishing
As you will see in this section, there are many reasons for polishing stainless steel.
And, they include:
Polished electrical enclosure
a) To make the surface of stainless steel products aesthetically pleasing
With polishing, you can easily remove all possible nicks or scratches on the surfaces of stainless steel products.
By polishing surfaces, you will have a bright and mirror-like surface, which is attractive.
b) Increase the lifespan of stainless steel products
When you polish metal, you'll protect it from possible oxidation or contaminants that can reduce its service lifespan.
Therefore, you will not worry about corrosion or rust.
Obviously, such stainless steel products will serve you for years.
In fact, by using processes such as electro-polishing stainless steel, you will have a chromium rich surface. Such a surface will improve stainless steel's resistance to corrosion.
Furthermore, you don't have to worry about wear and tear due to friction.
Polishing reduces stainless steel surface roughness, hence, minimizes friction.
c) Polishing produces a surface that is easy to clean and maintain
Polishing stainless steel leaves a smooth and mirror-like surface.
It implies that:
You can easily spot dirt or any other contaminant on the stainless steel surface
The smooth surface makes it easy to clean stainless steel surfaces
It is for this reason that you will find cGMP requirements emphasizing on having stainless steel pharmaceutical machines and equipment.
Other industries are also opting for stainless steel products.
A good example is a stainless steel electrical enclosure:
Stainless steel electrical enclosure
Furthermore, polishing stainless steel surface reduces the possibility of dirt adhering or sticking on its surface.
With such surfaces, you can easily maintain high hygiene.
Apart from these three, when you polish stainless steel, you can also:
Improve decontamination behavior
Remove hydrogen from stainless steel alloy – a process known as degassing
Eliminate sharp edges
As you can see, this is an important process in stainless steel fabrication.
Now, how can you go about it?
I will show you how.
But first, let me take you through some quick safety measures when polishing stainless steel.
Stainless Steel Polishing Precautions
In any industrial processing technique, safety is an important aspect you cannot ignore.
That is, the safety of:
Technician or engineers handling the process
Tools, equipment, and machine
Workpiece or product you're processing
Now, below are important aspects you must observe whenever you're polishing stainless steel:
Choose the right stainless steel polishing tool and equipment
Go for a suitable solvent for the polishing process
Wear all the necessary personal protective equipment such as gloves, face shields, safety gloves, industrial boots, industrial overall, dust mask, etc.
Consider applying barrier creams on exposed skin. They prevent skin from absorbing metal polishing chemicals.
Ensure the machine is in good working condition – maintain it regularly
The metal polishing machine must conform to the necessary safety measures. That is, they should produce low noise, have the necessary safety measures such an electric shield, etc.
Read the manuals or instructions on the metal polishing chemicals or machines
With all these in mind, let move straight to other important aspects of this guide – how do you polish stainless steel?
Let's find out.
Stainless Steel Polishing Techniques
Depending on the situation at hand, you can choose any of the different techniques of polishing stainless steel you will learn here.
As you can see, you have many options at your disposal.
In the next sections, I will explore these processes in detail.
Stainless Steel Polishing with Angle Grinder
An angle grinder, also known as a disc grinder, is a powerful tool that possesses a geared head that that be operated by a pneumatic mechanism or an electric motor.
The former tend to be less powerful than the latter, but better suited for use in tight spaces.
Angle grinders rotate at between 8,000 and 11,000 revolutions per minute.
They can be directly connected by a cord to its power source, or cordless, with a rechargeable battery affixed to the device.
Different types of discs can be attached to its geared head, including polishing pads, grinding stones, sanding discs, cutoff discs, polishing pads and wire brush wheels; these can be of different diameters.
The parts of a corded electrical grinder. The spindle lock is used to remove or reattach the grinding wheel, while the side handle allows for better control. The wheel guard deflects shards away from the operator
The grinder is a versatile tool and can be fitted with many different discs, some of which are shown above.
What are the Safety Concerns when Using Angled Grinder to Polishing Stainless Steel?
Safety is a matter of pressing concern when using an angle grinder, and personal protective equipment is required before polishing the stainless steel surface.
PPE should include earplugs, a face shield or goggles, and safety gloves.
This is because contact between the angle grinder and the stainless steel surface generates a lot of noise, and will result in shards of metal, sparks.
On the odd occasion, the disc itself may be worn down to the point of breaking, and this protective equipment is meant to forestall any grievous harm.
In addition to wearing protective equipment, always ensure the grinder has been correctly fitted before commencing polishing and inspect the disc in place for any damage.
You should also secure the piece being worked on, by using a vice, or a clamp to hold it in place.
Please read the angle grinder's manual for further directions on how to best utilize the grinder in your possession.
When using the grinder, position it so that the disc spins away from any sharp edge, and the shards are thrown downward and forward.
If the disc spins towards a sharp edge, the edge is likely to snag the disc, resulting in an accident such as the disc getting dislodged from the grinder.
The process of polishing stainless steel using a grinder depends on the material that requires polishing.
If for instance, it has an undesired paint or an uneven surface, the wire wheel will be the first disc to be installed on the grinder to remove such paint or give the piece a generally even surface.
In other cases, a grinding pad will be first attached to the grinder to remove any excess bits of stainless steel.
This grinding pads must, however, be used in the proper sequence, with respect to the grit, which gives a measure of how smooth or rough the abrasive or grinding surface is.
The lower the grit number, the coarser the grinding surface is, and the higher the grit, the smoother and more suitable for refined finishing the grinding or abrasive surface is.
The ideal sequence is thus to start with a heavy grit, say 36 grit, and use grinding plates with greater grit numbers, say 50, followed by 100, then 120.
When done with the grinding disc, one needs to fit the abrasive flap discs.
These are what you require to give the actual polished finish.
So, if the material has no need for prior grinding, then the two aforementioned discs can be bypassed straight to this disc type.
Like all other disc types used in an angle grinder, the abrasive flap discs have varying grit numbers and can go beyond 320.
An abrasive disc
To get that polished finish, use abrasive flap discs with progressively larger grit numbers evenly on the surface of the stainless steel until you attain the level of reflectivity that you desire.
Angle grinders are especially important when finishing welds on stainless steel surfaces.
In case you don't want the angle grinder, you can try this method of polishing stainless steel:
Polishing Stainless Steel with Sandpaper
Sandpaper is the quintessential polishing device, such that even most other polishing devices use some form of sandpaper to achieve the perfect shine.
Commercially available since the 1800s, sandpapers first either made of glass or sand, with the latter being the more affordable version.
Nowadays, however, the abrasive surface is likely to be aluminum oxide or silicon carbide; Emery, diamond, or chromium oxide.
The sandpaper comes in very many forms. The one depicted above is used manually, though many other types of sandpapers can be molded to be used specifically with other polishing tools
As with other polishing procedures, one will need wet sandpaper of different grits, from 100 to 2,000 grits.
As well as a bottle of water in a spray can (add a drop of dishwashing liquid), buffing wheels, aluminum polish (e.g. Mother's Mag, as they also polish stainless steel), and microfiber or terry towels.
The buffing wheels and towels should be pure cotton.
Commence the polishing after donning PPE, including heavy-duty gloves.
When set, place the sandpaper on the surface and move in a consistent motion, in line with the grooves that are most likely visible on your stainless steel surface.
Remember, most non-polished steel do actually have a rough and dull finish.
Use subsequently finer sandpapers, going from say 100 grit to 220 grit, to 320 grit.
After the 600 grit sandpaper, it is likely that the surface will start possessing a shine.
The reflectivity will only increase as finer sandpaper is used, i.e. 1000 grit, 1,500 grit and finally a 2,000 grit.
At this point, it is very reflective, but it can be made shinier.
Dip the buffing wheel in the polish, and buff the surface of the stainless steel.
The water and towels are used to clean up the surface as the polishing progresses.
Now, do you want to try a basic or homemade procedure?
You can try out this:
Polishing Stainless Steel with Toothpaste
In oral hygiene toothpaste works as an abrasive paste that removes food particles and plaque, making toothpaste an abrasive paste even if not specially formulated for stainless steel.
Common abrasives in toothpaste include hydrated alumina, calcium carbonate, dicalcium phosphate, and hydrated silica.
Polishing Stainless Steel with a Buff
Common buffing wheels include:
Sisal buffing wheel
Spiral sewn wheel
Loose cotton wheel
Finger buff
Sisal rope buff
Mushroom buff
Facer buff
Vented buff
Denim buffing wheels
Cushion buffs
String buffs
Felt Bobs
Hourglass buff
These are often used together with a buffing compound e.g.
Tripoli bar
Emery bar
Blue rouge bar
Jeweler's bar; for stainless steel
The appropriate buffing compound is the white rouge bar and the stainless steel bar.
Sisal, spiral sewn and loose buffs, are recommended for use in the initial stage, intermediate finish, and final polish respectively.
The green bar is used for the last two stages of polishing stainless steel using a buffing wheel.
When using a buffing compound, apply a small amount of polish to the buffing wheel.
Then, with the buffing wheel in motion, apply a very light pressure on to the surface of the material so that the buffing wheel brushes against the surface.
If after this run the surface isn't as bright as desired, switch to a finer buffing compound.
Like other polishing materials, buffing/polishing compound exist in various forms, from coarse to very fine.
Use progressively finer buffing compounds to attain the desired luster.
It is advisable to use different buffing wheels for each progressive step.
If for some reason this isn't possible, then use a buffing wheel rake to remove the previous buffing compound before adding the next.
If you have attained the desired level of luster, clean the surface by washing it with warm soapy water.
This is basically to get rid of excess buffing compound and any traces of dirt or flecks of metals that may have accumulated.
Thereafter wipe it with a dry soft wool.
Still, you can also try this.
Polishing Stainless Steel with Drill
To use a drill to polish stainless steel, one needs a stainless steel polishing kit specifically made to fit any drill, so that instead of a drill bit, one affixes a buffing or polishing wheel.
This kit may include:
Felt cones
Buffing wheel
Felt Bobs
These are usually pre-attached to a shank so that they can be easily fitted on to the drill.
Flap wheels, which are pleated sheets of resin-bonded aluminum oxide, are often used with drills to polish stainless steel.
Another common attachment for the drill is a sanding drum, which tends to be made of a rubber frame pepper with a rough surface to sand and polish stainless steel.
Polishing Stainless Steel with Olive Oil
Used together with a microfiber cloth, olive oil can be used to polish stainless steel.
Add a little bit of the olive oil onto the cloth, and use the cloth to impart a thin layer of olive oil on the stainless steel equipment.
Polishing stainless steel with olive oil
When this layer has been added to a more or less uniform spread, use the cloth to buff the entire surface, in circular motions.
Do this repeatedly, and with consideration to the direction of the striations on the surface, so that your motions remain largely along the striation.
Thereafter, use another clean cloth to wipe off excess oil; touch the surface to see if there is oil, and it the surface feels oily, continue wiping until it's completely dry.
Leaving the olive oil on the surface will dull the surface in the long run, so the surface should be completely dry.
Polishing Stainless Steel with Vinegar
Vinegar is yet another kitchen resource that can be used to polish stainless steel.
All types of vinegar can be used to polish stainless steel.
But if you are choosing between cider and white vinegar, the difference between the two is that cider vinegar leaves the material with a pleasing scent.
Vinegar
If such aromas are undesired, then white vinegar is what you need to use.
These two may, however, be ineffective if the surface is very dirty.
A high degree of grime/muck requires cleaning vinegar, which has a considerably higher acidity than the previous two.
Before commencing polishing check for striation marks on the material, the equivalent of grains on wood.
Once spotted, make sure you work in the direction of the grain, not against, as going against will likely lead to vinegar being trapped within.
Going with the grain also makes it easier to reach these tiny grooves while cleaning.
If the polishing task is light, then use dilute vinegar, e.g. 2 quarts of warm water mixed with 1 cup of vinegar.
If the surface is heavily stained, however, just use the vinegar undiluted.
Use a spray bottle to spray the vinegar on the surface of the stainless steel, or daub the vinegar on a soft cloth and use it to put a thin layer of vinegar on the surface.
Wipe off the layer off vinegar using the soft cloth, and repeat the process until content with the level of luster.
Polishing Stainless Steel with Sanders
To describe them simply, sanders are power tools with detachable sandpaper attached in one of several configurations.
The attached sandpaper, often in a disc or a belt is moved rapidly by a mechanism and abrades the surface of stainless steel until it attains the desired level of luster.
Sanders is often portable, and handheld though can be set within a frame to operate in a stationary location.
A common type of sander is the orbital sander, where the sanding disk spins in small circles, the orbits that give it its name.
It is commonly used only for the final polishing.
From the orbital sander, the random orbital sander was developed to overcome some of the shortcomings of the orbital sander, such as the presence of swirl marks on the finished surface and low speeds.
A random orbital sander with sandpapers in the foreground.
Now, you will concomitantly spin the sanding disc and moving the disc in an elliptical path.
The random orbital sander ensures that the sanding occurs in a very random manner on the surface of the stainless steel, so swirls are eliminated.
Orbital sanders often come with vacuum holes and a dust bag to collect fragments while the polishing is being carried out.
Another type of sander used to polish stainless steel is the belt sander, in which a roll of sandpaper is attached in a loop kept in motion by a motor.
You can think of them as sandpaper on a conveyor belt.
Belt sanders are considerably faster than orbital sanders and tend to be used for the initial stages of the polishing process.
A belt sander
The pipe sander has a polishing belt that moves through three points, one being flexible enough to allow the sander to wrap itself up around a pipe up to an angle of 270
Before using any sander, make sure you've won PPE, especially goggles and gloves, and that the material being polished is firmly held in place in a vice or clamp.
Thereafter, start polishing the surface, by attaching coarse sandpaper to the sander first.
Then, using progressively finer sandpaper until the desired level of the luster has been achieved.
Polishing Stainless Steel with Dremel Tool
The Dremel is a line of products with different tools that can be used for sanding, polishing and cleaning equipment composed of different materials, including stainless steel.
These tools are best suited for small tasks, as they are small, handheld devices ranging in weight from 0.5 to 5 kg.
They are best known for rotary tools, resulting in their trademark, Dremel, becoming genericized in the same manner as "Jacuzzi".
Consequently, "Dremel" may in some instances be used by people to refer to such small rotary tools, even if they are not necessarily made by Dremel.
Thedremel 3000 rotary tools and its full kit
The Dremel 4000 and its kit
While it is a rotary device like the drill or the angle grinder, the Dremel differs in that it a high-speed but low torque device, the exact opposite of the former.
The Dremel operates at between 5,000 and 35,000 rpms, but for most polishing tasks, it is advised that the rpm doesn't exceed 15,000 rpm.
Consequently, this means that, unlike when using a drill or an angle grinder, you shouldn't apply pressure on the surface you are working on.
Its minimum rpm is higher than the maximum rpm for most drills, and caution is advised when using it to avoid the risk of burning while working on a deep groove.
Applying such force could also damage the attachment.
Similarly, lingering over one spot for too long will create blemishes on the surface.
For a more comprehensive guideline, the product manual should be consulted to find the optimum operating range for any material.
The kit contains polishers of different shapes-cylindrical, knife-edged, wheel etc.
And brushes and bristles from different materials; these can all be attached to the front end of the tool.
To polish stainless steel, aluminum oxide abrasive wheels are recommended.
Its operating principle is similar to that of an angle grinder.
It has a shaft lock which is used to switch between the different types of attachments required, though it also has a collet, a nut used to hold the removable attachments in place.
The general guideline is as follow:
You first begin with the sanding drum, which you attach firmly to the Dremel while it is disconnected from power.
After you switch on the Dremel, move the sanding drum slowly over the material, applying strokes going from side to side.
Use sanding drums of increasingly finer grits until you are satisfied with the luster developed.
Thereafter, clean up your material using a dry cloth, to remove any flecks that may have been left on the surface.
The Dremel has one major limitation; it can only be used for very small items.
As noted, Dremel equipment is tiny, and its brushes and wheels are often 1 inch in diameter.
This size makes it useful when dealing with small items, say jewelry, but frustrating when attempting to even polish something like a stainless steel blade.
Stainless Steel Electrolytic Polishing
Also known as anodic polishing or electropolishing.
This is an electrochemical means of removing ions from the surface of stainless steel to eliminate roughness.
Alterations to the process mean it can be used to deburr, brighten or passivate the stainless steel.
The high cost of mechanical polishing makes this an attractive option.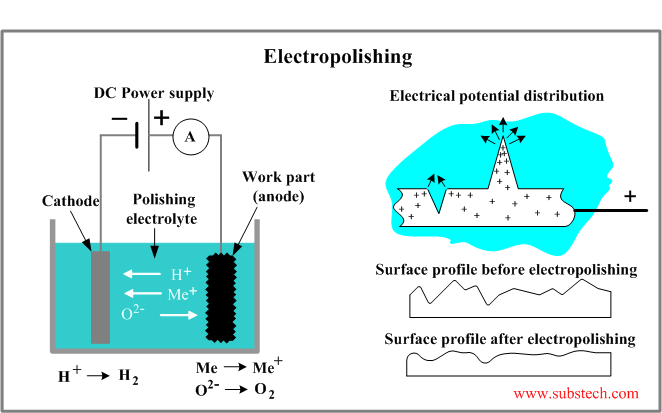 Figure 15 Electropolishing
The advantages of using this process is that it:
Improves corrosion resistance and durability. This it achieves by removing iron from the surface of the stainless steel while enhancing the level of chromium.
Makes for easier cleaning of the surface, as it can remove raised points and create a smoother surface
Results in optimal reflectivity
It can be reproduced with a high level of precision
It can be used on mechanically fragile components as it doesn't involve physical forces to create its polished effect. The changes are caused on an elemental level.
Standards that guide electropolishing include ASTM B 912-02 (2008) and ISO 15730:2000.
Typically, the process occurs in a lead-lined or plastic tank holding a solution of temperature-regulated electrolytes.
The piece of stainless steel to be worked is connected as the anode (positive terminal) of the electrical terminals dipped within the electrolyte.
This is done by placing the piece of stainless steel on a rack made of titanium, lead or copper.
The rack in turn connected to the cathode terminal.
Lead, stainless steel and copper are used to form the cathode (negative) terminal.
Direct Current electricity is then run between these two terminals, resulting in ions from the anode dissolving selectively.
The illustration below demonstrates the setup in principle.
Electrolytic polishing setup
The rectifier converts AC to DC, generating between 8V and 20V.
Titanium is best suited to serve as a rack on the cathode, as it will last longer than other alternatives such as copper.
Additionally, copper can form an undesired layer that will reduce the quality of the finish.
Another recommendation is to use a silica coated immersion heater to regulate the electrolyte's temperature.
Alternatively, a quartz or titanium heating tube could be used.
It is advisable that the cathode strips are about 150 to 200 mm wide, to get the desired current density of 50-75 amp/ft2.
The cathode is to be regularly brushed so as to eliminate the layer of scale deposited due to usage.
The terminals should also have a clearance of 10-20 cm from the surface of the electrolyte.
Make sure that you have set the proper operating conditions, i.e. current, voltage, temperature, and duration of electropolishing before commencing the process.
These are critical parameters in determining the amount of metal removed from the surface.
Generally, the operating parameters are:
Current density: 5-25 A/dm2
Temperature : 40 oC -75 oC
Duration: 2-20 minutes
Electropolishing is divided into three stages:
i. Preparation
ii. Polishing
iii. Post-treatment
Preparation involves cleaning the surface of the stainless steel, removing grease and other contaminants, using either a degreaser or an alkaline cleaner.
Dry the material after cleaning.
Set in the rack and run the current.
This will remove the elements of the stainless steel at different rates, with iron and nickel atoms being removed at a higher rate than chromium.
Burrs on the surface become points of greater local current.
Thus elements are removed at a faster rate at these elevated points than on flatter surfaces along the material, hence the deburring effect.
This process generates a lot of precipitates, and the electrolyte's vicious nature makes it likely to adhere to the material.
Hence the need for a thorough rinsing to eliminate possible etching or staining.
Once the second stage is completed, post-treatment in an acidic solution is carried out.
This can be in 20% v/v nitric acid at 50 oC, or in 5% volume sulphuric acid at room temperature.
This passivation removes remaining traces of iron and other contaminants from the final product, such as phosphates and sulfates formed during electrolysis.
Thus giving it a clean finish without changing in any way its appearance.
Cold water is then used to wash off all traces of nitric acid before a hot water rinse to spur flash drying along the material.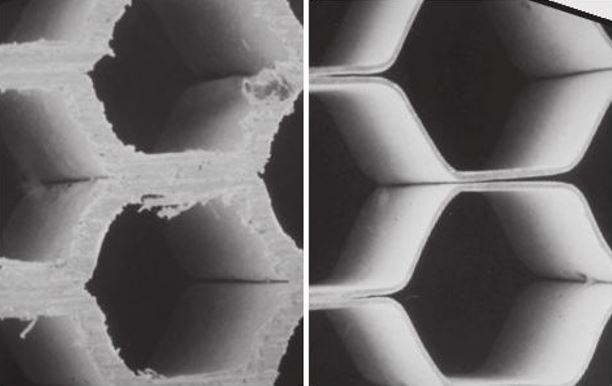 A microscopic view of a piece of stainless steel before (L) and after (R) electropolishing. The process is very precise
It may, however, be necessary to use other drying methods.
These may include heated air chambers and centrifugal dryers to achieve complete drying of your electropolished material.
Polishing Stainless Steel with Abrasive Belts
Abrasive belts are preferred for larger surface areas and can be grouped into two main classes- coated, and surface conditioning.
Coated belts are used for the initially polishing steps, while surface conditioning belts are used in the end stages.
Abrasive belts for polishing stainless steel
Belts coated with zirconia have been the main implement for polishing stainless steel.
But ceramic grain belts are being increasingly used to this end, as they last longer and generate far less heat during the finishing process.
Surface condition belts create a linear brushed finish on the surface.
With abrasive belts, the polishing process can be divided into three main stages- rough grinding, shaping and dimensioning, and finishing and polishing.
And by the way, you can use the carbide burr for the rough or fine finishing.
In rough grinding, the abrasive belt is between 24 to 50 grit.
Grits 60-150 are dedicated to shaping and dimensioning, while grits 100 to 400 are for the final polishing.
These are for offhand polishing in which an operator has to hold the stainless steel equipment to be polished.
In centerless grinding, where the material is placed on a work blade, the rough grinding is recommended at 40-50 grits, while 60-120 grit is used for intermediate polishing.
If platen grinding is in use, then rough grinding is performed using 36-50 grit belts.
While the intermediate polish is achieved by 60-120 grit belts, and grit 150 or more belts are used for finishing and polishing.
Narrow belts are another form of abrasive belts.
These are between 6" to 8" wide and 355" long.
Stainless Steel Polishing Grades – Know the Right Grade for your Applications
Just how polished (or shiny) do you want your stainless steel surface to be?
In the industry, there are different finishing grades, ranging from the dull finish to a mirror finish.
At the moment, there isn't a universal grading system of these standards.
So, you can either choose the American standards, or the European standards, which use different notations for their grades.
Polished stainless steel electrical enclosure
American Grades for Stainless Steel Polishing
The American grades are:
Number 0 finish
Number 1 finish
Number 2D finish
Number 2B finish
Number 2BA finish
Number 3 finish
Number 4 finish
Number 6 finish
Number 7 finish
Number 8 finish
1. Number 0 finish
This is also known as hot rolled annealed (HRA).
It's the most basic of finishes, as no pickling or passivation is effected on the material, leaving it with a scaled, black finish.
The lack of passivation means that, despite being stainless steel, it isn't fully resistant to corrosion and is mostly unsuitable for general uses.
Its application is limited to some high temperature tolerant applications.
2. Number 1 finish
The plates of this grade are hot rolled, annealed, and then, unlike the number 0, are pickled and passivated, resulting in a slightly rough, and dull surface.
The surface may also bear grinding marks.
3. Number 2D finish
To get this finish, the stainless steel is cold rolled, annealed then pickled and passivated.
Cold rolling, as opposed to a hot rolling of the previous two steps, hardens the material and renders a dull matte (silver gray) finish on its surface.
The three grades above are essentially unpolished, as there is no active polishing process involved.
The grades below involve polishing processes to the point of a mirror finish.
4. Number 2B finish
This is a 2D finish whose last cold rolling process happens through polished rolls, making it brighter than the 2D and semi-reflective.
5. Number 2BA finish
Also described as a bright annealed finish, as it has a smooth and bright surface, the result of being passed through highly polished rolls during the cold rolling process.
The process is usually conducted in an environment with a controlled inert atmosphere, thus precluding the possibility of scaling or oxidation.
6. Number 3 finish
Its exposed surface is polished with an 80-120 grit abrasive, which may result in visible grit lines on the product.
Depending on the final desired polishing grade.
It may be considered good enough or the starting polishing grade, to be worked on after the material has been fabricated or formed.
7. Number 4 finish
This sometimes also known as a satin finish A number 4, or a brushed finish.
The abrasive used to achieve this finish is from 150 to 220 grit.
It has fine grit lines, compared to a number 3 finish.
These grit lines are uniform and appear in one direction.
It isn't very reflective.
It is suitable as a finish on equipment that is likely to face regular rough handling while in use.
8. Number 6 finish
This is a polished finish achieved by using a 240 grit abrasive.
Usually, an abrasive paste applied on cloth mops such as muslin, linen or Tampico fiber, which are passed over the stainless steel material in a rotary manner.
Because of the rotary motion, its texture is non-directional, unlike the previous finishes, which bear unidirectional finishes.
9. Number 7 finish
This is a polished finish achieved by using a 320 grit abrasive on the material.
And, using a buffing compound afterward to get a highly reflective surface with barely any grit lines visible.
10. Number 8 finish
This is a true mirror finish, achieved by using at least a 320 grit belt or wheel, followed by either sisal or color buffing to create a blemish-free surface with a high level of image clarity.
The process is essentially similar to the number 7 finish.
The only difference being that the number 8 finish uses much finer buffing compounds in its final stages.
NB: The stainless steel polished finishes 4-8 are usually done one side of the material.
Often the exposed side, while the other side will have a simpler finish, such as a number 2B or 3 finish.
European Standards for Stainless Steel Polishing
As aforementioned, there's a variation in the notation for American and European standards.
With the European standards, the finishes are classified using a system combining numbers 1 and 2, and letters.
1 denotes a hot rolled steel, while 2 denotes cold rolled steel.
The letters define subsequent processing on the stainless steel.
They can be broadly classified as:
Mill finishes
Mechanically polished and brushed finishes
Patterned finishes
Bead blasted finishes
Electropolished finishes
Colored finishes
Colored finishes
Surface coated finishes
Specialist decorative finishes
Polished stainless steel flange
Mill finishes
These are the most basic state of stainless steels and can either be hot or cold rolled.
To remove scales formed during processing they are pickled, which enhances their resistance to corrosion.
In this basic state, they can be used for standard building components but they require further processing to most other purposes.
Examples include 1D,  2D, 2B, and 2R.
Mechanically polished and brushed finishes
This involves the use of abrasive materials such as emery, fiber brushes or gritted belts that provide low roughness, a high luster or a silky sheen.
Examples include 2G, 2J, 2K, and 2P.
2G at different grits. the top piece was polished at 180 grit while the bottom piece was polished at 240 grit
Patterned finishes
This is finishes formed by pattern rolls to imprint the desired pattern and exist in two main types:
2M, in which only one side of the stainless steel is patterned
2W, in the pattern, is visible on both sides of the stainless steel sheet.
A sample of patterns possible on the 2M stainless steel
Bead blasted finishes
As the name implies, the steel surface is blasted by beads that can be composed of different materials including ceramic, glass, aluminum oxide, nut shells and stainless steel particles.
The one precaution to take in this process is to NEVER use conventional iron or carbon steel as this will contaminate the stainless steel surface.
Similarly, sand may contain traces of iron and isn't recommended for bead blasting.
Electro-polished finishes
This is an electro-chemical process that leaves a smooth surface with enhanced reflectivity.
However these two attributes are dependent on the state of the initial material.
At time, it may not achieve the same level of mirror reflectivity possible with mechanical polishing processes.
Colored finishes
The insertion of color in stainless steel is achieved by a chemical process and then locked in by electrolysis.
Austenitic stainless steel is best suited to this process, which will result in a colored film ranging in thickness from 0.02 microns to 0.36 microns.
The table below lists the codes for stainless steel finish/polish grades according to EN 10088/2 standards.
| | | |
| --- | --- | --- |
| CODE | SURFACE FINISH | DESCRIPTION |
| 1U | Covered with scale from rolling | Hot rolled, without further heat treatment or descaling, rendering it only suitable for further processing |
| 1C | Covered with scale | This grade is neither heat treated nor descaled, only heat treated.  Suitable for heat-resisting devices of further processing. |
| 1E | Scale free | Hot rolled, heat treated and mechanically descaled using different methods such as shot blasting or coarse grinding |
| 1D | Scale free, non-reflective, rough surface | Produced by hot rolling, heat treatment and pickling. It's the most common hot rolled finish. |
| 2H | Bright | Cold rolled and work hardened |
| 2C | Smooth, but scale present | Heat treatment smoothens it despite the presence of scales |
| 2E | Dull and rough | Mechanically descaled |
| 2D | Smooth | Cold rolled, heat treated and pickled, creating a ductile material without the smoothness of 2B. |
| 2B | Smoother than 2D stainless steel | Most common cold rolled mill finishing. It's also heat-treated, pickled and skin passed to ensure flatness, smoothness, and good resistance to corrosion. Is dull grey and slightly reflective. |
| 2R | Reflective, smooth and bright | Cold rolled, bright annealed, and may be skin passed, resulting in a bright reflective finish. |
| 2Q | Scale free | Hardened and tempered after cold rolling. Specific to martensitic steel |
| Special Finishes | | |
| 1G or 2G | Coarse surface but variable so | Unidirectional finish |
| 1J or 2J | Smoother than 1G or 2G. | Poorly reflective, texture is unidirectional |
| 1K or 2K | Satin polish | |
| 1P or 2P | Bright polished, reflective | Mechanically polished with non-directional finish. |
| 2F | Non-reflective matte surface | Bright annealed or annealed and pickled |
| 1M or 2M | Pattern on one side | |
| 2W | Corrugated | Pattern visible on both sides |
| 2L | Colored surface | Chemical process produces a wide range of colors that coats the surface of the stainless steel |
| 1S or 2S | Surface coated with other substance | Aluminium, titanium among compounds used to coat this stainless steel |
FAQs on Stainless Steel Polishing
As you have seen from the previous sections, polishing stainless steel is a demanding task.
Therefore, you must choose the right method and process.
Also, I know you could be having some questions about stainless steel polishing.
That's exactly what you will learn in this last section of stainless steel polishing guide.
What grit gives a bright polish?
The answer is predicated on several factors, including the finish already present on the stainless steel.
That said, from grit 600 the sandpapers is relatively fine and gets finer as the grit numbers rise.
It's usually best to have an extra ample of the stainless steel material to help you figure out which grit is best for your current task.
What causes discoloration on polished surfaces?
Discoloration can occur for a variety of reasons, such as extensive exposure to acids or salts.
Similarly, leaving stainless steel in contact with rust -prone carbon steel can result in a discoloration at the point of contact.
Discoloration can also be due to flecks of contaminants, such as iron filings, on the surface of the stainless steel.
Cleaning up stainless steel surfaces will thus help avoid such discoloration.
How would you get rid of ordinary stains on otherwise polished surfaces?
Commercial cleaners are usually available for a wide variety of common stains.
However, coffee and tea stains can be removed by a solution of baking powder and hot water, while methylated spirits and acetone can be used to get rid of oil, grease, and fingerprints.
What is tea staining and how does one get rid of it?
Tea staining is the discoloration of the surface of stainless steel, caused by gradual corrosion.
This corrosion is topical and doesn't compromise the integrity of the stainless steel, just its aesthetic appeal.
Tea stained stainless steel has a rusty look, caused by environmental factors such as proximity to oceans and being installed in areas experiencing high humidity.
To avoid tea staining, ensure the proper grade of stainless steel is installed, and conduct regular maintenance, i.e. cleaning, to wash off any accumulated salts.
For installations within households, this may even be once a year.
While for locations with a high exposure to salts and water, such cleanings may need to be done between 4 to 12 times a year.
What is the difference between pickling and passivation?
Pickling is a process by which oxides or other undesired compounds are removed from the surface of stainless steel.
While passivation is the process of forming a passive layer over the surface of the stainless steel.
Both processes can involve the use of nitric acid.
How good are stainless steel cleaners at cleaning stainless steel?
It is best to be cautious when using such cleaners, as they may contain abrasive paste and/or acid that will corrode the surface (especially hydrochloric acid).
To know whether the cleaner you are using is any good, use it on a spare piece of stainless steel or and a non-visible section first.
Are there different types of stainless steel?
Indeed, there are, classified according to the relative concentration of alloy metals. These are:
Austenitic – contains 16-26% chromium, 6-22% nickel, is non-magnetic.
Martensitic – has 10.5-17% chromium, magnetic.
Ferritic –contains 17-27% chromium and is magnetic.
In a nutshell, you can polish and stainless steel equipment – talk of the electrical enclosures, flanges, jewelry or any other accessory.
For more information on stainless steel polishing ideas (or any questions on stainless steel polishing), feel free to talk to our engineers.
Conclusion
Stainless steel is a highly versatile material and you can subject it to a wide range of finishing procedures.
As you have seen in this guide, you can achieve a mirror-finish or restore its luster by choosing a suitable stainless steel polishing procedure.
You can choose from complex stainless steel polishing processes like electrolytic polishing or a simple one like the use of olive oil.
In case you're wondering which procedure is suitable for you – simply talk to KDM Steel technical engineers.